Keep your Thanksgiving table light, bright and fun, by adding DIY decor that's easy, inexpensive and so cute, it might even grab the attention away from the turkey! Instead of loading your tablescape with bulky gourds, real or faux, embellish dishes and table settings with colorful DIY paper pumpkins, folded, twisted and stacked to perfection! These fun paper crafts projects are so splendidly simple that you can make whole pumpkin patches of decoration for your tablescape, porch display or mantel.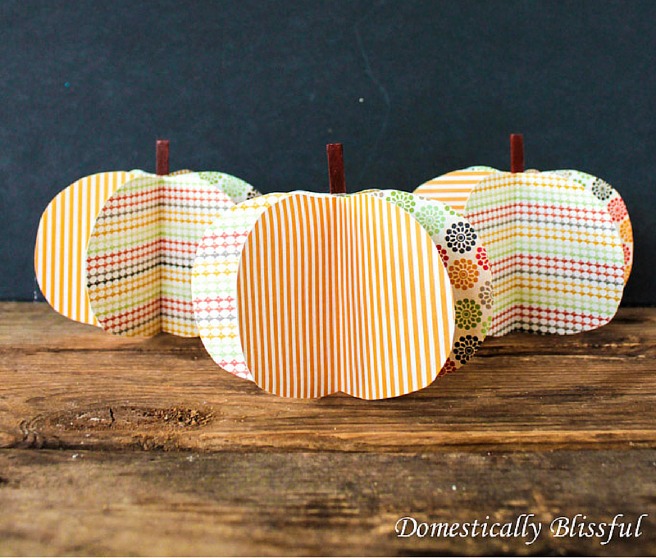 Photo via Hometalker Domestically Blissful
9 super cute DIY paper pumpkins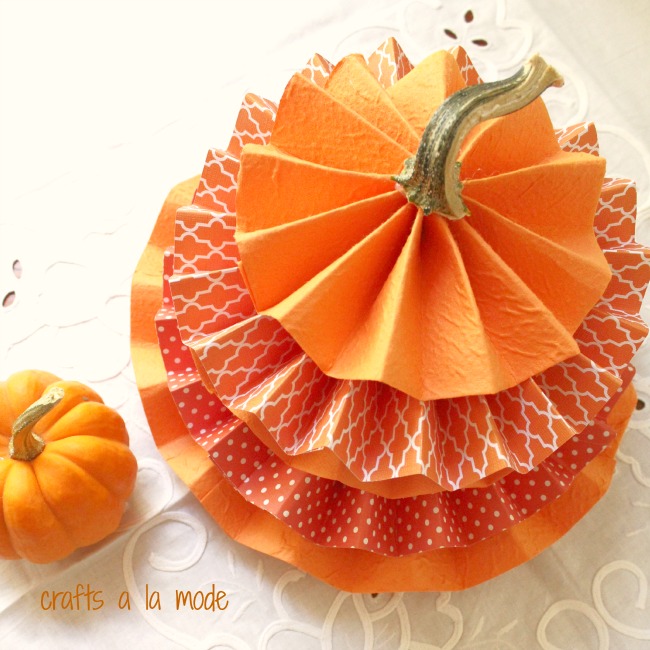 Orange Paper Pumpkin via Hometalker Linda @Crafts a la Mode
1. Stacked Rosettes
This orange and bright stacked paper pumpkin is as easy to make as those paper fans from schooldays spent fidgeting during class. Simply create scrapbook paper fans, attach the edges using a hot glue gun, and stack them up! The best part? Add a real pumpkin stem to give it some authenticity!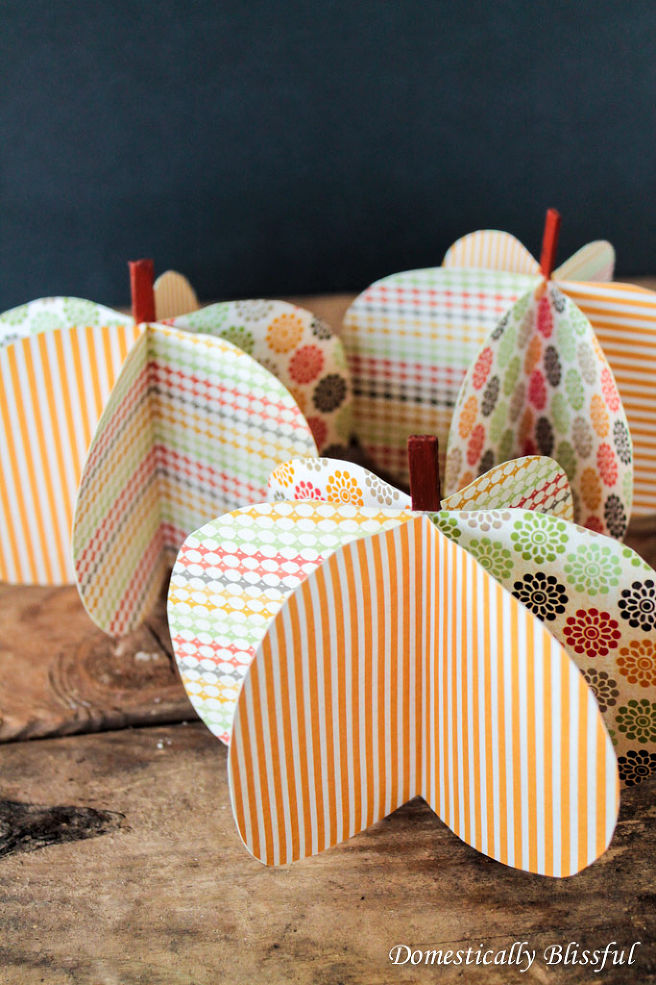 3-D Pumpkins via Hometalker Giustina @Domestically Blissful
2. Pumpkins in 3-D
These cute little pops of color are an excellent highlight for your Thanksgiving table. If you're having more informal Thanksgiving celebrations, use these sweet small paper pumpkins to add some fresh and fun detail, with just folded colorful papers, some glue and a couple skinny craft sticks!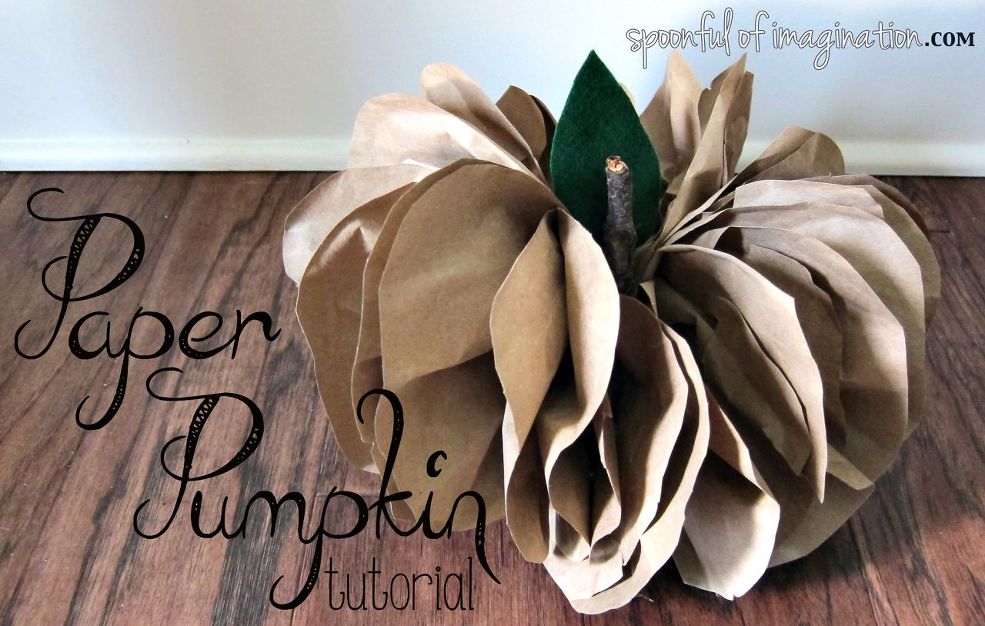 Rustic Paper Pumpkin via Hometalker Erica @Spoonful of Imagination
3. Brown Moving Paper Pumpkins
If you've got packing or moving paper lying around, you can make this rustic paper pumpkin without spending a dime! To complete your farmhouse fabulous Thanksgiving style, add these brown paper pumpkins to every corner of your holiday home. It's a textured and funky new take on the traditional Thanksgiving image, and it's incredibly easy to make!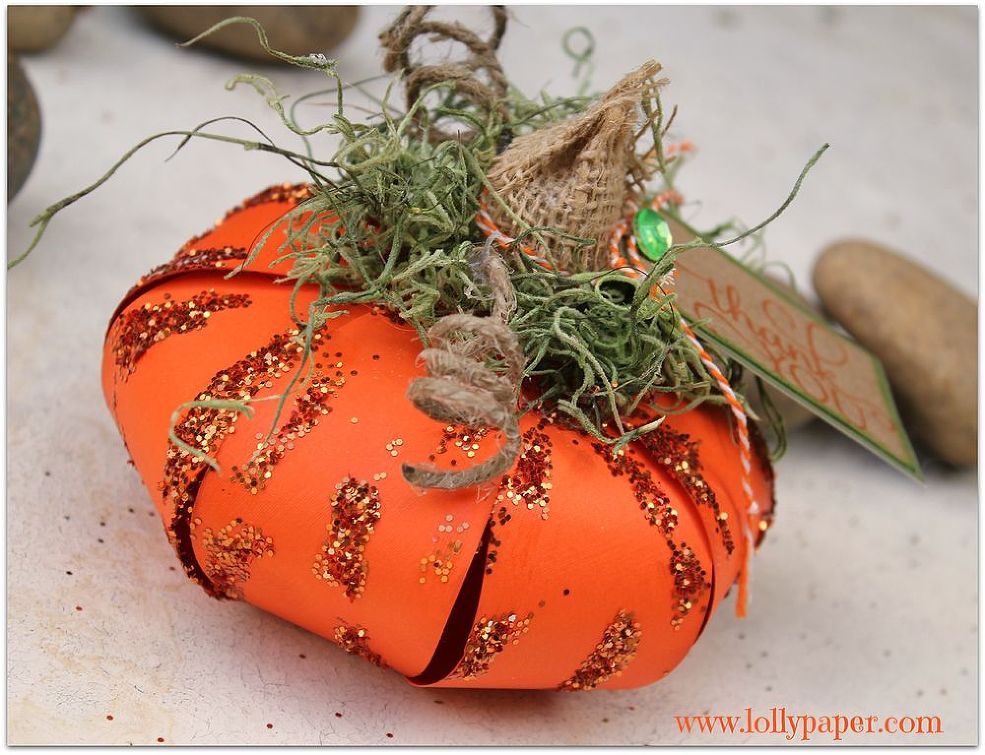 Paper Pumpkin Tutorial via Hometalker Jenice @Lollypaper
4. Glittery and Grateful
Make pumpkin table settings for guests, or simply set a couple up along your table or mantel — either way, these incredibly detailed and sparklingly sweet little DIY paper pumpkins will be a holiday hit! Start by cutting a simple flower pattern in orange construction paper, connect opposite petals using your hot glue gun, and then add the embellishments, with glitter, a burlap-wrapped stem, coiled twine, Spanish moss and a friendly card, to get your visitors in the spirit.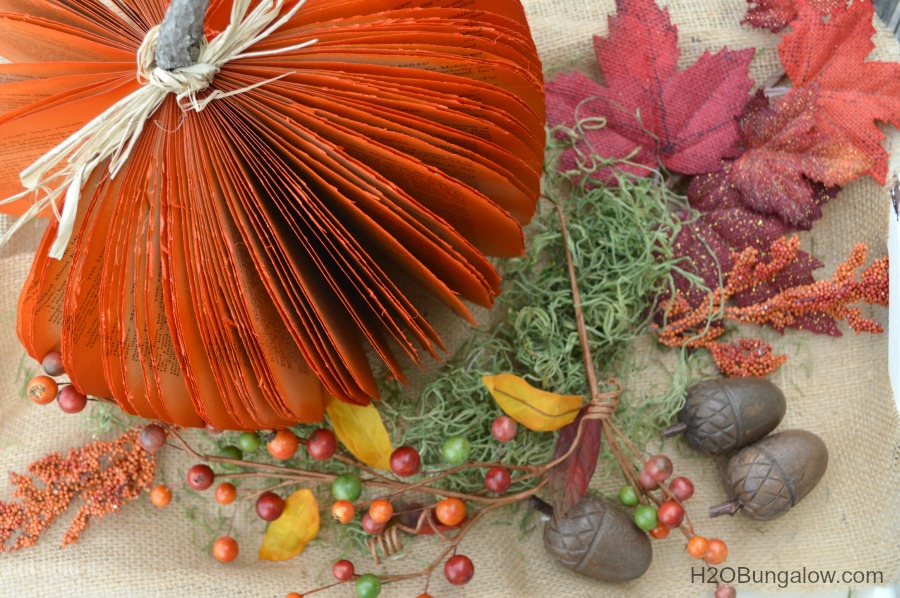 DIY Book Pumpkin via Hometalker Wendi @H2O Bungalow
5. Repurposed Book Pumpkin
With just one old book, you can create a pumpkin-perfect centerpiece for your Thanksgiving tablescape. Use a book with missing pages that's already the worse for wear, to avoid any book-lover's guilt, and cut your coverless book into a semi-circle, a couple pages at a time. Then hot glue the spine edges together, spray paint your creation orange, and then just add a stick from your front yard and a few strands of raffia — voila! Pages of pumpkin perfection!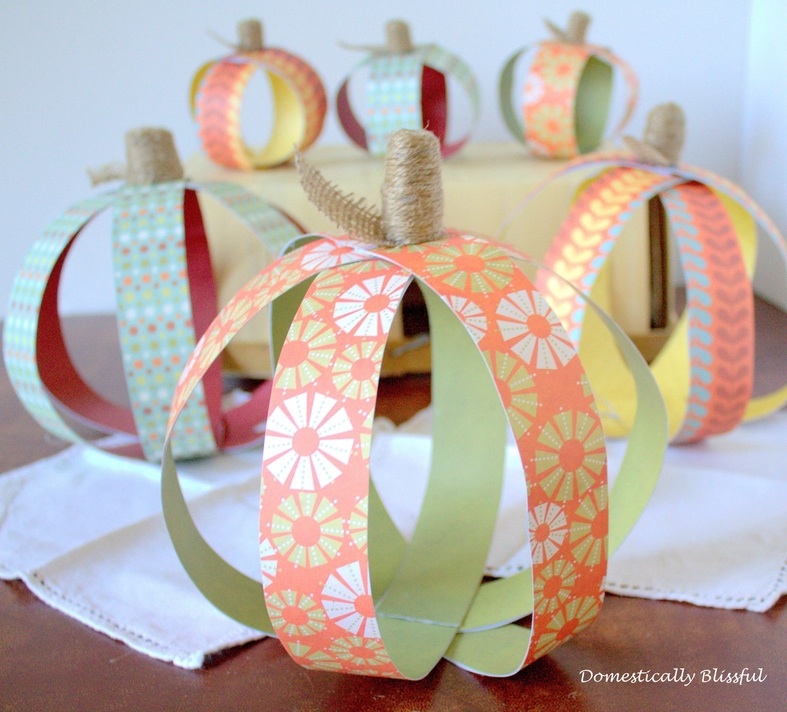 Cute DIY Pumpkin via Hometalker Giustina @Domestically Blissful
6. Strips of Scrapbook Paper
Create some fun geometric gourds, with DIY paper pumpkins made from strips of colorful scrapbook paper. These little pumpkins are easy to make, won't even dent your holiday budget, and add beautiful color, but the best part is the effect they have on your tablescape — the little windows in the sides of the pumpkin let all the decor blend together in a fabulous festive mix of colors and patterns!
[box type="shadow"]
Looking for more creative uses for your leftover paper scraps? Download our FREE eGuide 6+ Stash-Busting Paper Crafts Projects, filled with 24 pages of fun tutorials and project inspiration!
[/box]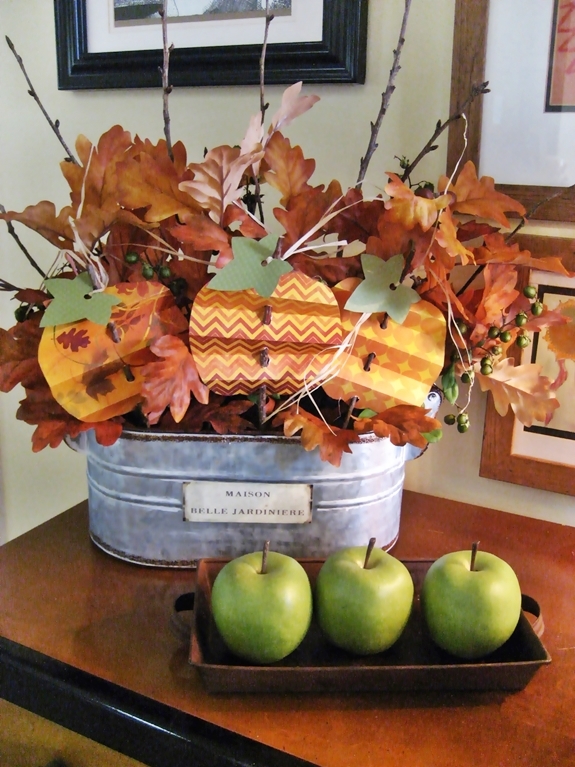 Pleated Paper Pumpkins via Hometalker Debbie @Confessions of a Plate Addict
7. Easy Planter Pumpkins
If you've been looking for a way to spruce up your garden, planters or flower boxes with some fall flavor, you've found it! These easy-to-make pleated pumpkins are cute and colorful, perfect for sticking anywhere to add some fall festivity. Using the tutorial's simple cut-out stencils and a handful of sticks from your yard, you can have a great paper decoration in no time at all. Add some to a bucket of leafy branches for a great fall vignette!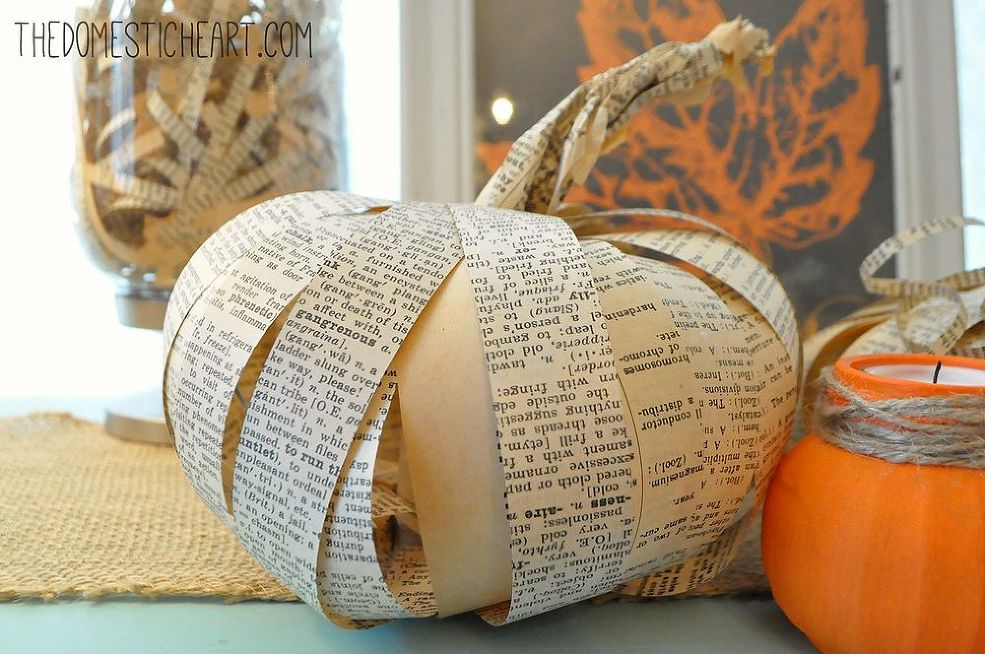 Book Page Paper Pumpkins via Hometalker Shelly @The Domestic Heart
8. Book Page Pumpkins
Strips of old book pages are the perfect pumpkin crafting material to add some neutral-toned rusticity to your tablescape. Paired with colorful details, this design is a fresh take on the classic pumpkin appeal, and requires no extra materials than the old crinkle-paged tome you've been saving for a classy craft.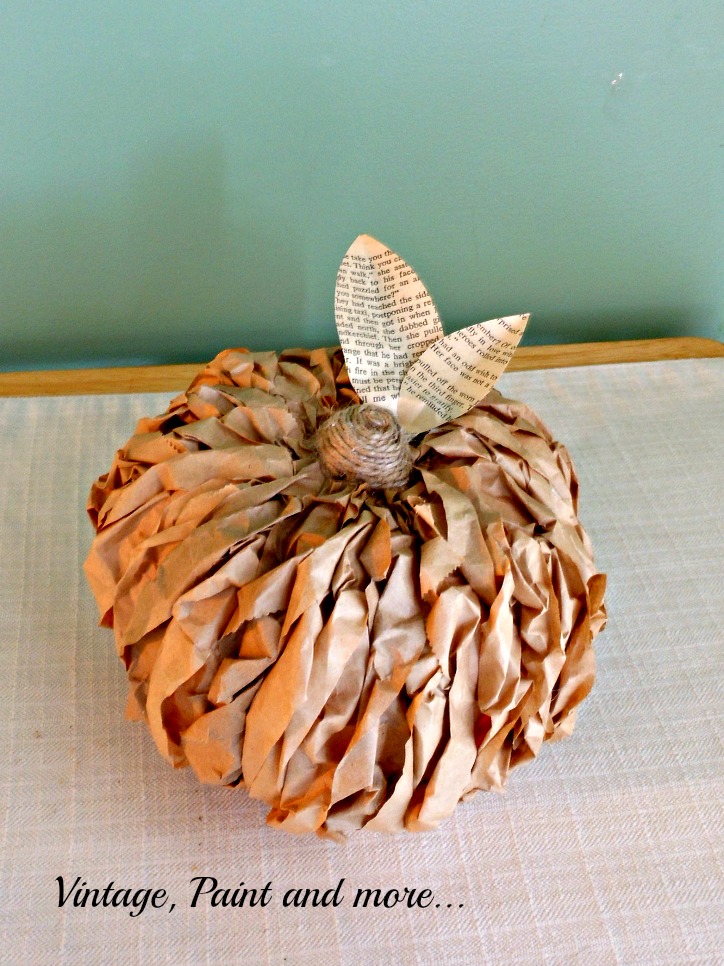 Lunch Bag Pumpkins via Hometalker Cathy @Vintage, Paint and More
9. Rustic Look With Twisted Lunch Bags
To get the look of a hefty harvest pumpkin using paper, enlist the help of the fall favorite dollar store plastic pumpkin. Simply take a plain faux pumpkin and cover it with twisted strips of brown paper lunch bags. Hot glue the strips to the top and bottom of the pumpkin, keeping the strips tightly packed to cover the orange base. When you're done, add some twine for the stem and a couple paper leaves — if you did projects 5 or 8, you can use your leftover book page scraps!
For more fun and easy ideas to decorate for the holidays, check out the Thanksgiving Decorations page on Hometalk!