How many of us have scraps of patterned paper and card stock littering our craft areas? Keeping them contained and organized is one issue, but using them up tends to be the the frustrating part!

Read on to see some ways to get creative and use your scraps as paper embellishments — and make some cute greeting cards in the process!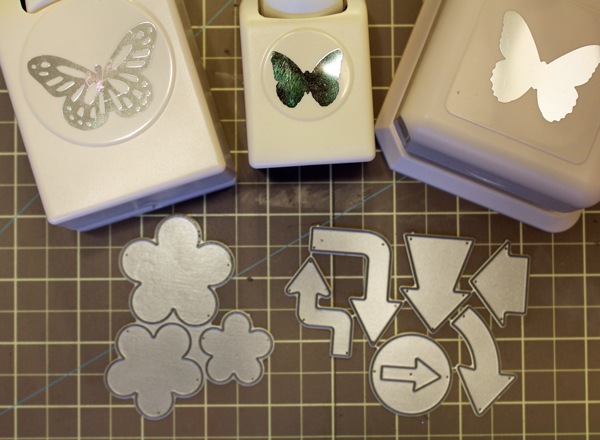 Supplies needed:
Patterned paper and/or card stock scraps
Various shape punches and/or dies
Your favorite adhesive
Stamps, card stock and embellishments as desired to finish your cards
Note: I used a few of my favorite punches (I have a thing for butterflies) — all by Martha Stewart — and a couple of different dies — one in flower shapes and one of arrows both from My Favorite Things.
Idea #1: Keep it simple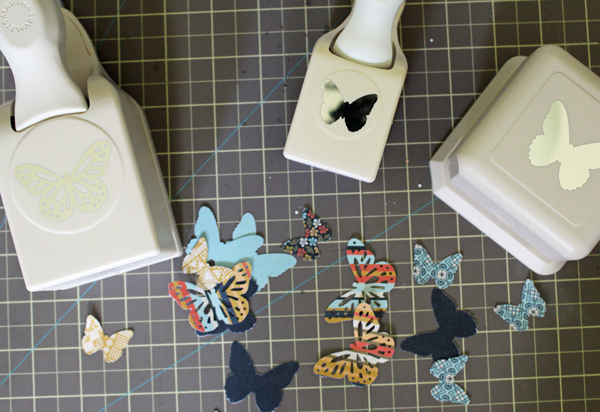 You can keep things simple by just punching out your images from various scraps of patterned paper. If you want to take it up a notch, you could start layering and embellishing your punched shapes to create more intricate embellishments. The sky's the limit!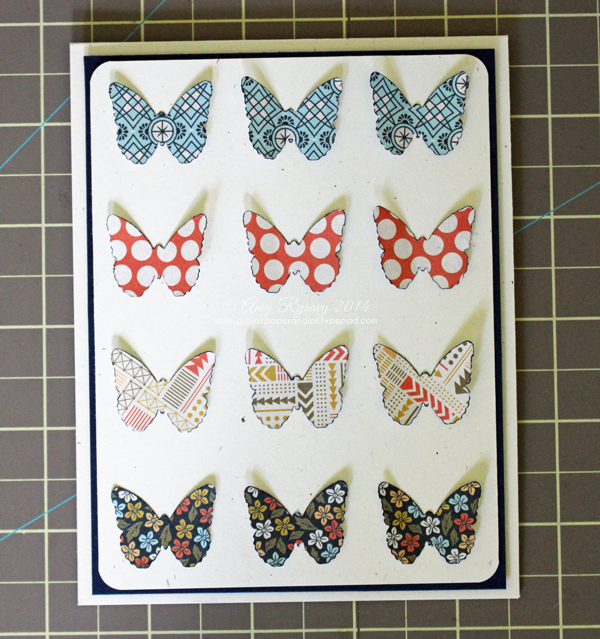 I created a quick and simple card by simply punching out three butterflies each from four different patterns of scraps. Then I edged the shapes with a navy blue marker to define the edges. I adhered the pieces to the card stock with my favorite liquid adhesive (Tombow Mono Multi), applying it to just the bodies of the butterflies so that the wings could be bent up for a bit of extra dimension.
Idea #2: Add a stamped sentiment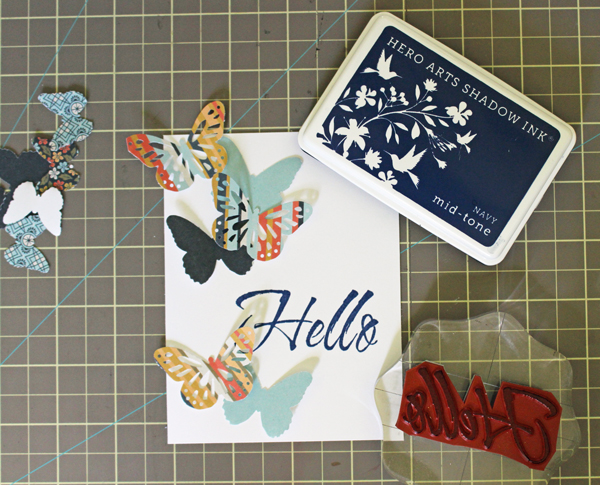 For the second card I stamped a large "Hello" sentiment (AmyR Stamps Scripted Sentiments) with navy ink, then arranged larger punched butterflies along the edge of the card front.
I again adhered the butterflies by just the bodies and bent the wings up, which creates more dimension and interest with very little effort!
Idea #3: Add more dimension
Finally, to create more dimensional paper embellishments, I die cut several flower shapes from some of the scraps. I then sprayed the die cut pieces lightly with water and used a large stylus on a foam pad to press into the flowers to create some shape. The water helps soften the paper so that it bends and curls easier, and as long as you don't completely soak the paper it will dry fairly quickly. You'll still have plenty of time to press and curl the petals and I think it's fun to see how much you can alter the shape! With these flowers I didn't curl them too much as I wanted to layer them and not have them be too "bulky" on a card.
Once they're dry, you can layer them by either keeping them the same pattern-wise, or alternate the patterns as I did here. You could also use different floral shape dies, or if you don't have dies, simply hand cut simple flower shapes like this. Once you wet and curl them it won't matter.
With flowers, I never feel like they're "finished" until something is added to the center. Buttons work great, as do brads or even enamel dots. If you're not sewing on a button or piercing through a brad, you need to use a strong adhesive to attach the pieces together.
Idea #4: Miniaturize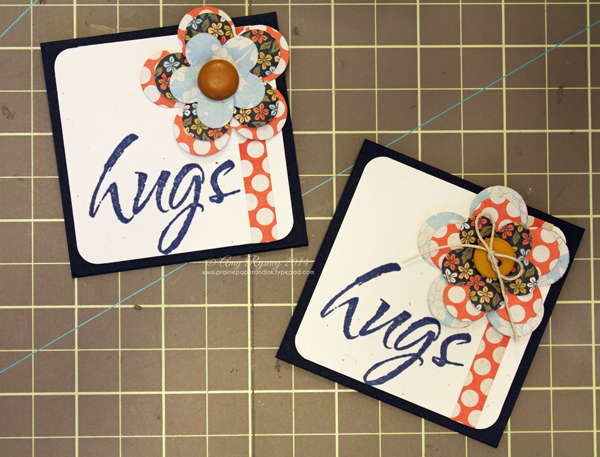 I also created two "mini" cards with these embellishments. They each measure 2.75″ square. If you only have little bits of paper left, these can be great fast projects that efficiently use up your scraps.
Idea #5: Combine die cut shapes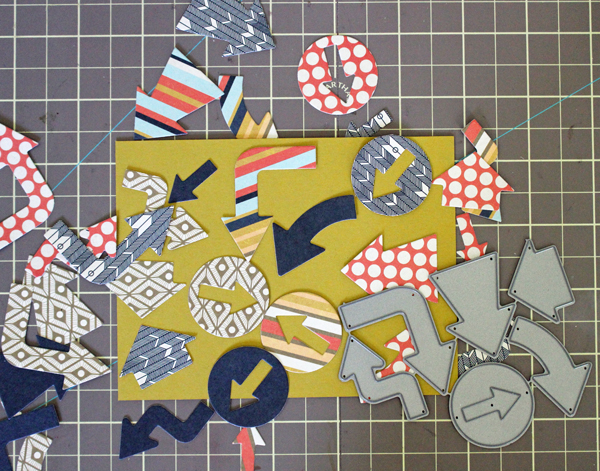 I created a more masculine card by die cutting the arrow shapes from several different patterned paper scraps. Once I'd adhered them to my card front, I trimmed off any of the pieces hanging over the edge with scissors. You can see the finished card in the picture below.

I hope this gave you some ideas on how to use up those bits of patterned paper that seem to pile up! Rather than toss them in the garbage, pull out some punches and dies (or your scissors!) to create some fun accents and embellishments for cards!