What easier way to celebrate the holidays than to make a tiny bunting from a charm pack? Make a just a few if you want to decorate with a short little garland, or make one long enough to wrap around the tree!

Once you know how to make one triangle, you can make as many as your heart desires. So grab your favorite holiday fabric add some ribbon, and get started!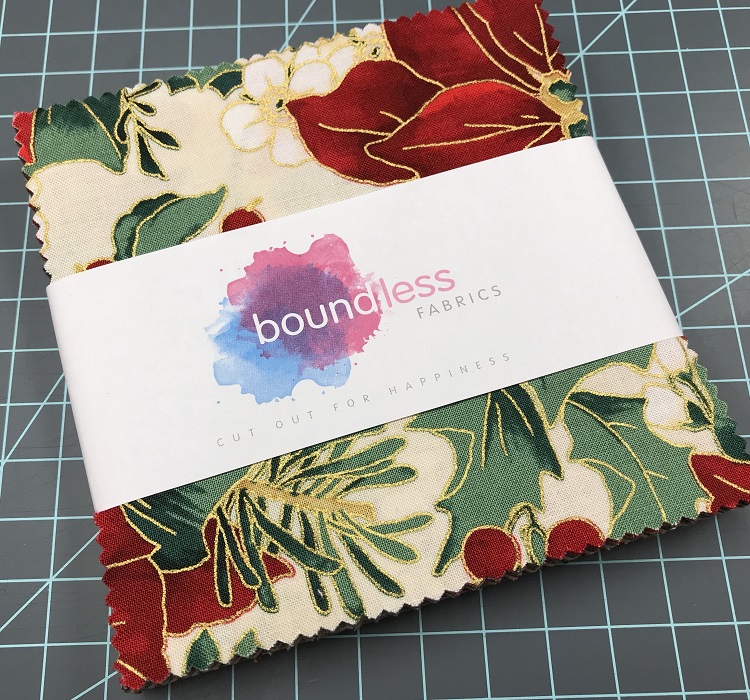 Holiday bunting sewing tutorial
Supplies needed: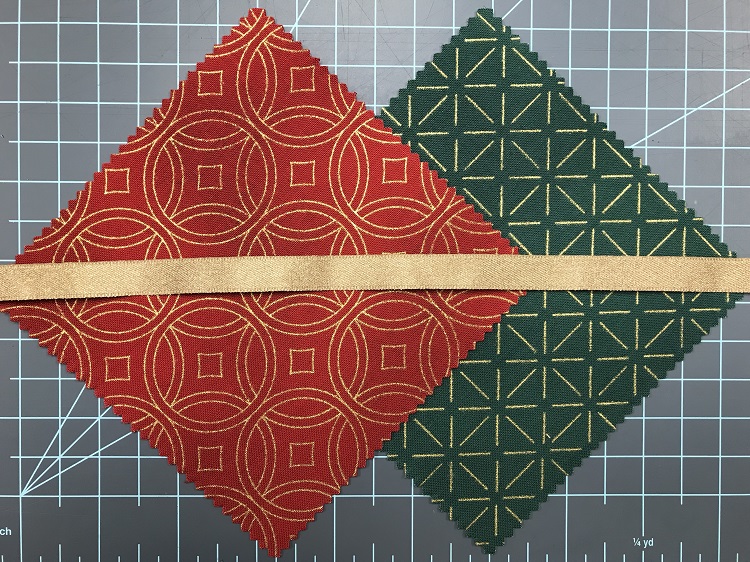 Charm pack (or cut 5″ squares of fabric)
Ribbon
Matching thread
I used Boundless Home for the Holidays fabric for this tutorial.
Step 1: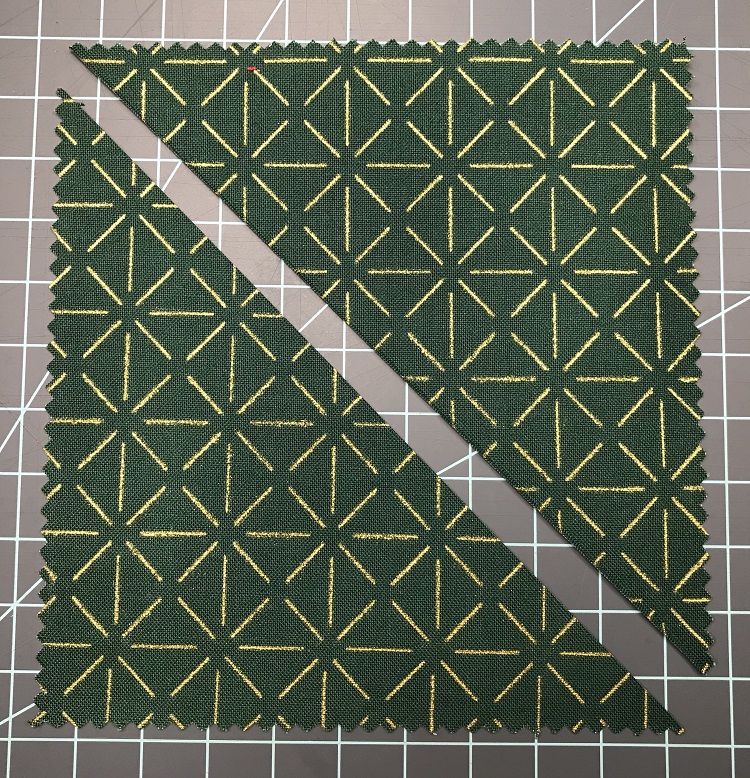 Each charm square will make two triangles for the bunting. Cut one charm square in half diagonally, from corner to corner. Then fold both triangles in half, right sides together.
Step 2: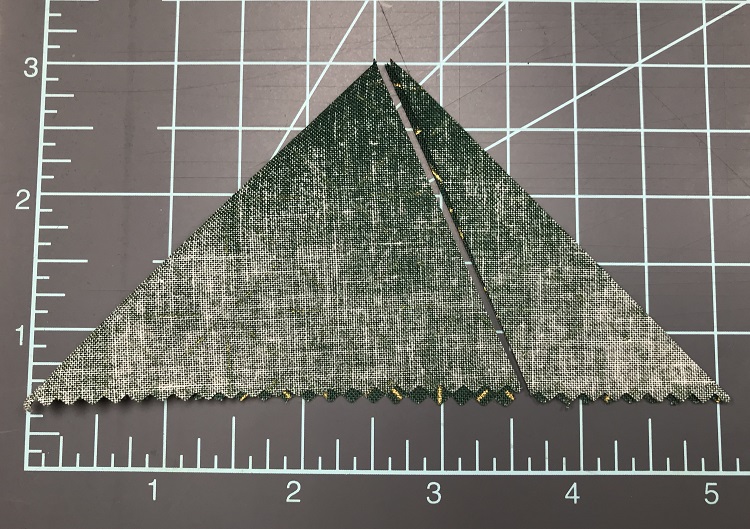 Place your folded triangle on your cutting mat so that the pinked edges are parallel to the bottom. The, align your ruler with the folded point of the triangle and 3½" mark on your cutting mat. Trim off the raw edge side in a straight line.
Step 3: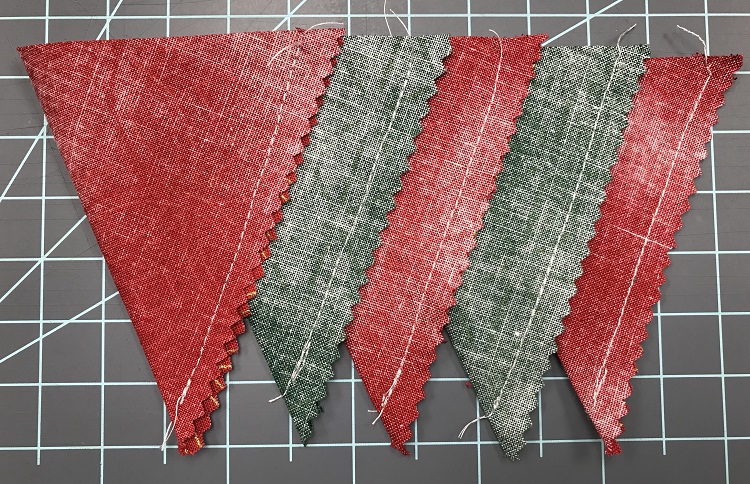 Sew the pinked edges together, using a ¼" seam allowance. Backstitch a few stitches at the pointed end as shown. 
Step 5: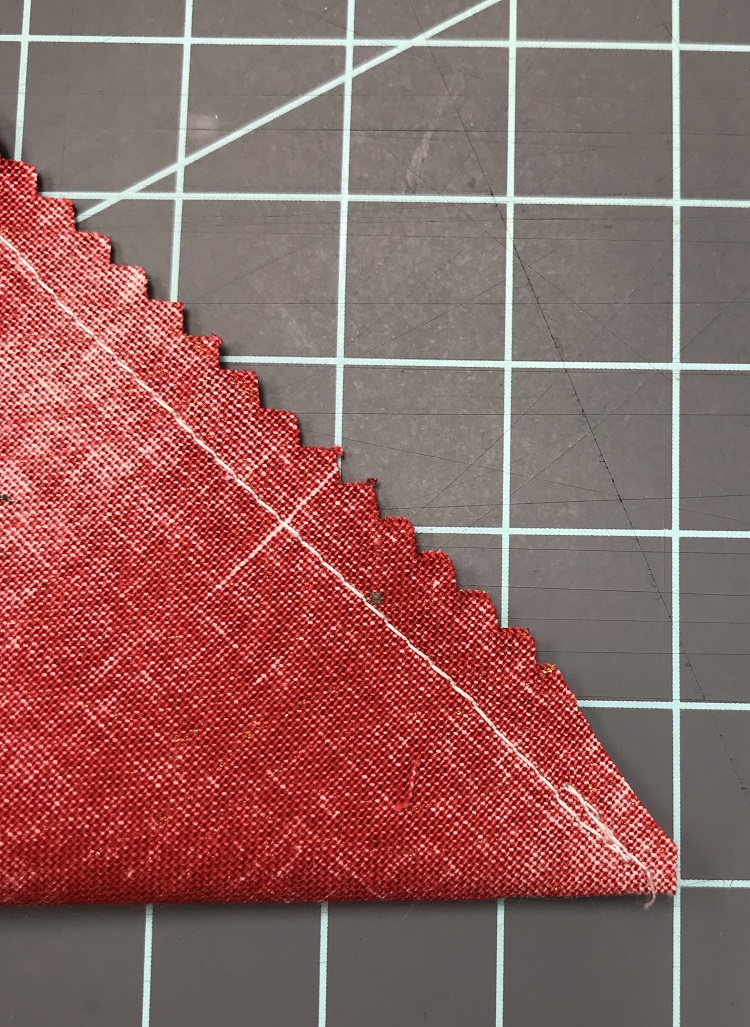 Trim the seam allowance at the pointed end as shown above. This reduces bulk, giving you a sharper point on your bunting. Turn the triangles right side out and press flat. Repeat, making as many triangles as you like.
Step 6: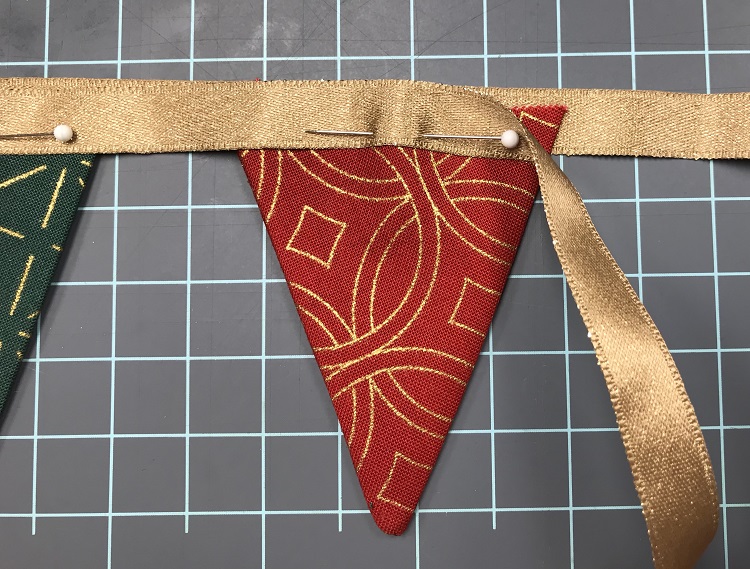 Layer the raw edges of the triangles (the open side) between two pieces of ribbon and pin in place. Space the triangles about 1″ apart along the ribbon.
Sew the ribbon closed along both edges, securing the triangles in the seam allowance between the two ribbons. Use thread that matches the ribbon so the stitches will not show.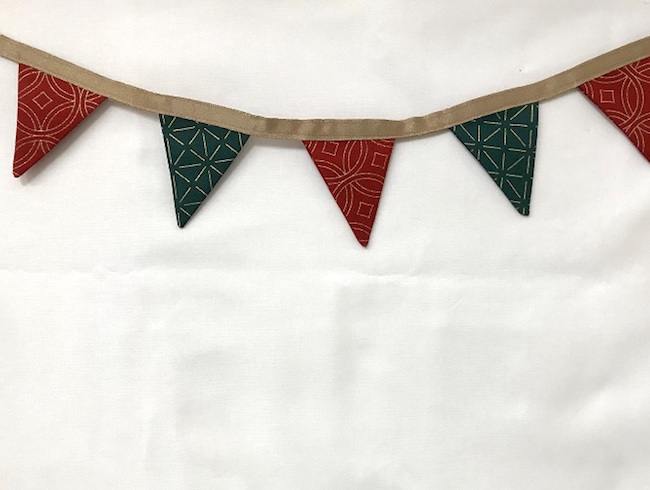 Decorate with your itty bitty bunting by adding it to wreaths, greenery, a mantle or wrap around a gift! Add it to a center piece, hang it from a door frame, or make it long enough to circle around the tree.
Like to embroider? Add a letter to each triangle and announce your holiday wishes on your bunting. How about HoHoHo, Joy or Merry?
You'll have so much fun making these little buntings for Christmas, that you'll be looking for fabrics to make them for every holiday, birthday or celebration. Try substituting ric-rac or other types of ribbons for stringing the triangles.  Or layer small triangles with larger ones for a bigger bunting.