Designer distressed denim jeans have some hefty price tags, but you can create the same look with a few tools, a little elbow grease, and some creative flair.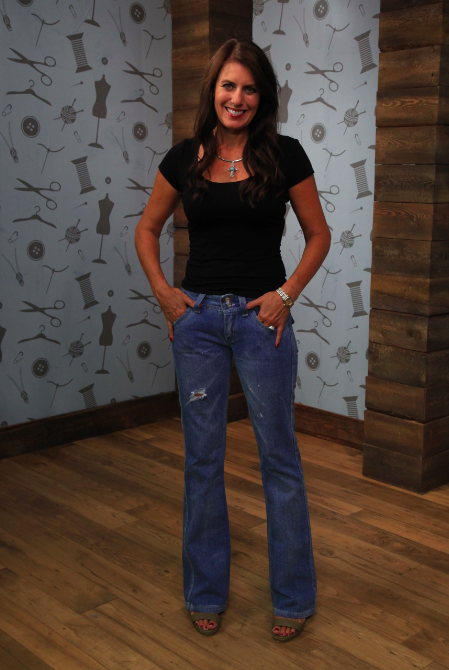 Photo via Craftsy instructor Angela Wolf
It is a good idea to start with a pair of jeans that already show a bit of wear. You can find plenty of gently-loved jeans from your local thrift or consignment store if you don't want to sacrifice a pair in your closet. It's not a bad idea to practice on a pair that are not your all-time favorite jeans, anyway. That way if things go a bit awry, you can always discard them and try again on another pair.
Ways to distress denim
Remember the K-I-S-S principle? Start with a few simple techniques first, and see how you like the effect. Maybe come back in a day or two and decide if you still think your jeans need a bit more distressing. Remember, it is easy to add more, but hard to recover if you have made too many really large holes or bleach stains!
Protection
It's really a good idea to slip something inside the leg of your jeans so any areas where you do not want the distressed look are protected. A piece of lumber, a small ironing board, or any firm surface will help keep your efforts where you want them.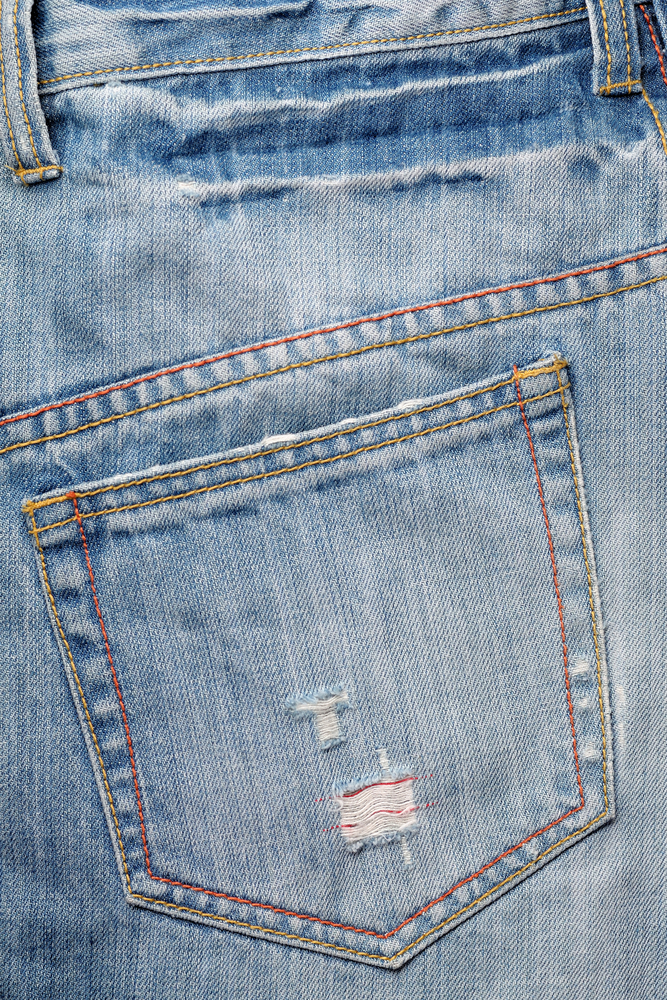 Photo via Shutterstock/NorGal
Rips and tears
A simple handheld cheese grater does a great job of adding little rips and tears to denim. Don't rub too hard, or you may end up with more impact than you intend! There are plenty of other tools that can be used to cut holes in the denim, including a serrated knife, scissors, shaving razors, and more. Start small, as you can always add more openings or enlarge ones you already have later on.
Aging
Common household bleach is an easy way to help your jeans have that well-worn appearance. Be sure to work in a well-ventilated area, and wear gloves to protect your hands. You can daub a little bit of bleach around the edges of the holes, or dip a washcloth or sponge in the bleach and rub it over a larger section of denim. Conversely, you could use an eye dropper to drop small amounts of bleach, or dip a toothbrush in bleach and fan the wet bristles to get a splatter effect on your jeans.

Photo via Craftsy instructor Angela Wolf
Sanding
Coarse sandpaper provides a well-worn look to denim. You can rub gently to lighten the wash of your denim, or with a little more vigor you can even fray the edges a bit as well. Other tools that can produce a similar effect include nail files or pumice stones if you have either of those handy.

Photo via Shutterstock/lazlo
Remove a few stitches
A seam ripper will make fast work of pulling out a few stitches from one of your back pockets. Make sure you don't remove too many stitches; a 1″ – 2″ opening is sufficient to give your jeans a special designer look.
Wash and wear
After all your special treatments you will need to wash your jeans several times before wearing. Washing will both soften the denim as well as emphasizing the fraying you have added. If you applied bleach, washing will also "set" the bleach effect.
Reinforce
If you want to contain the size of the holes you added to your jeans, consider adding some hand stitches around the edges to control the size of the hole. Another technique is to add a little iron-on interfacing to the wrong side of your jeans around the hole. Both stitching and interface will help prevent the holes from enlarging more than you want over time.
If you're not satisfied with the fit, details or price tag of designer jeans, make your own!
In her new class Sewing Designer Jeans, designer Angela Wolf walks you through every step of creating your own pair, from constructing the jeans to adding design details, like distressing, to make them your own.
 Do you like the look of distressed denim?