Memory cards are a necessary piece of equipment for any digital photographer. Most cameras do not come with built in storage, so you need some way to record the images that our camera sensors capture. Luckily, navigating the world of memory cards is not that difficult and it's fairly easy to figure out what you need for the type of photography you do.
Here are the four specs you need to keep in mind when selecting a memory card.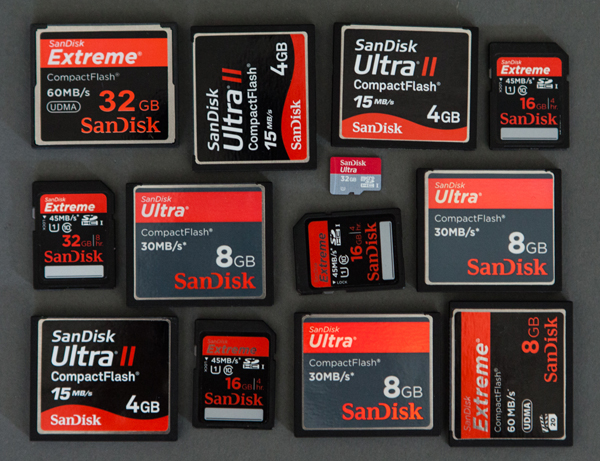 Format
First, you need to find out what kind of card your camera uses. The two important formats are Secure Digital (SD) and Compact Flash (CF). Most cameras use a version of SD cards, either plain old SD, SDHC or SDXC.
SDHC stands for High Capacity—meaning between 2 and 32 Gigabytes. The SDXC allows an even higher capacity in the same size card—up to 2 Terabytes. Compact Flash cards are much bigger in physical size and, these days, are typically only used in higher-end cameras and video cameras. Like the name implies, these cards use flash memory to record data. You can get cards from 2GB up to 128GB. In years past, Compact Flash cards were faster and could hold higher capacities than SD. However, in 2014, the difference between the two is difficult to see.
Memory size on the card
When I say the size of the card, I'm referring to the amount of data it can hold. When choosing a capacity, consider how large the files you need to store are. Are you shooting RAW files or JPEG files? Are you working with an 8 Megapixel camera or a 50 megapixel camera? Depending on the capacity of the card you could hold a few dozen images or a few thousand images. If I'm photographing something important, I prefer to use several smaller cards. On the outside chance one of the cards becomes corrupt, I won't lose ALL of my images. 8GB cards hold about 300 images for my camera. Every 300 or so images I'll change cards.
Speed
Cards are assigned a class based on their write speeds, either 2, 4, 6 or 10. Class 10 cards are able to write at least 10 MB/sec, while Class 6 cards can write at least 6 MB/sec. In addition to the class, memory cards will have a speed rating. This is the maximum write speed. Some are 30 MB/sec and some are 45 MB/sec, etc. The faster your card can write data, the more photos you can take in a row, and the higher definition of video you can continuously record. If you are a casual shooter with a relatively low resolution camera, you will be good with a Class 4. If you take photos often, ever use burst mode, or shoot HD video, you should use a Class 6. If you shoot a lot of HD video or need speed with a high resolution camera, you should use a Class 10.
Reliability
I would recommend brand name cards as the way to go when choosing a memory card. You can certainly find great deals on off-brand cards, but you run the risk of them being cheaply made or not carrying a warranty. When it comes to accurately preserving your photos until they get to your computer, it's not worth the risk of using a sketchy memory card. Unfortunately, even the best manufacturers have cards that fail. Pick a brand with a good reputation for quality and you minimize your risk.
[box type="shadow"]
For even more tips on digital photography, check out the new Bluprint class The Basics of Digital Photography, where your learn all the essential techniques for mastering your DSLR!
[/box]
What cards do you recommend? Have you ever had a card fail? What cards do you not recommend?