Have you found the most beautiful artisan made bead but have no idea what to do with it? I hear that often. Don't fret! I have a quick and easy tutorial on how to make a unique pendant using artisan beads!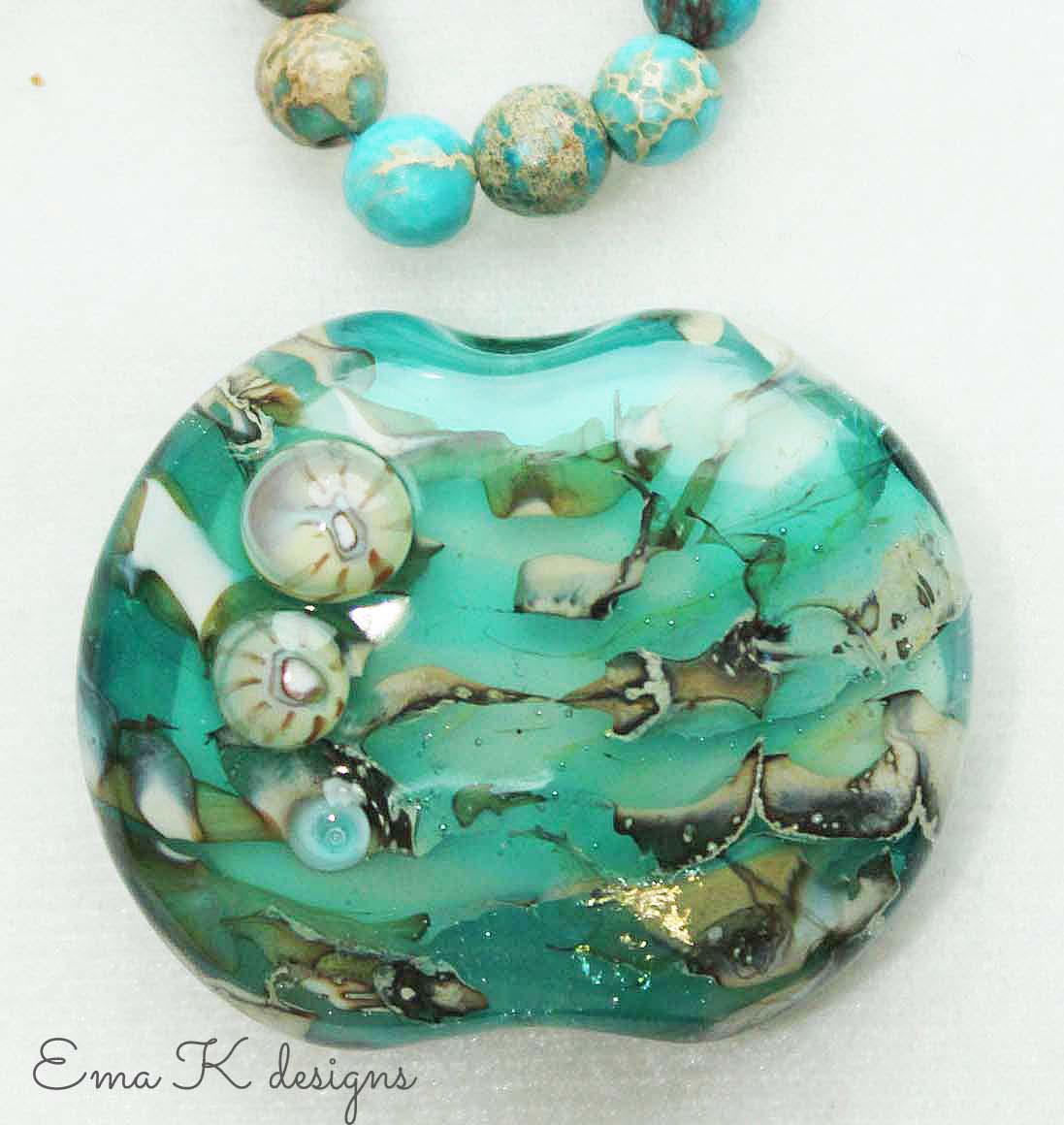 How to make a pendant with art beads
My jewelry style is simple bohemian with a touch of sparkle. One of my favorite things to do with a large focal bead is to turn the bead into an easily wearable pendant. In this tutorial, I'll show how to make a pendant using your artisan made bead.
Materials you will need:
Large lampwork focal bead
2 – 5 mm sterling silver round balls
Sterling silver headpin (3-inch minimum — the actual size depends on size of your bead)
Sterling silver bail
Round-nose pliers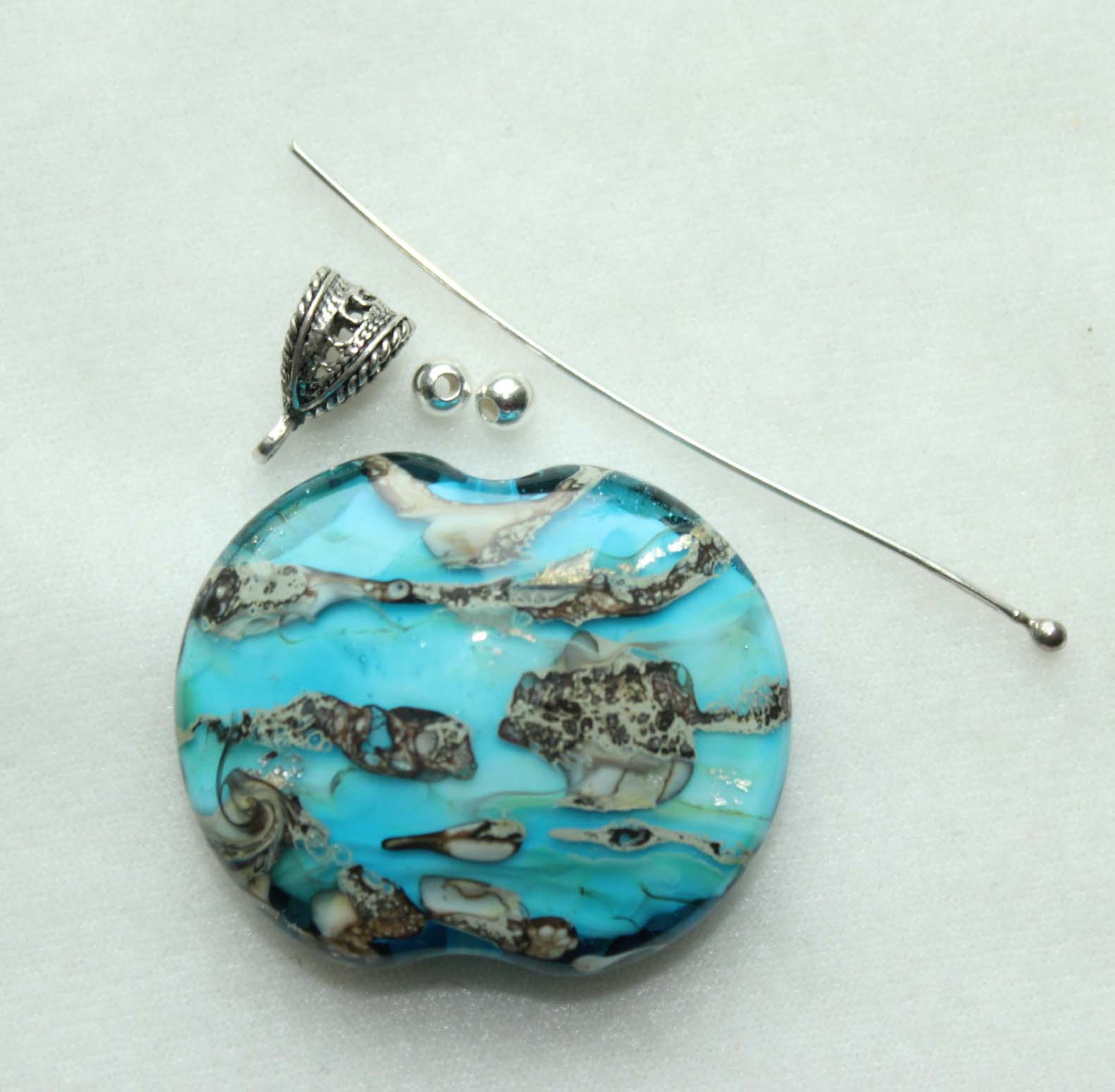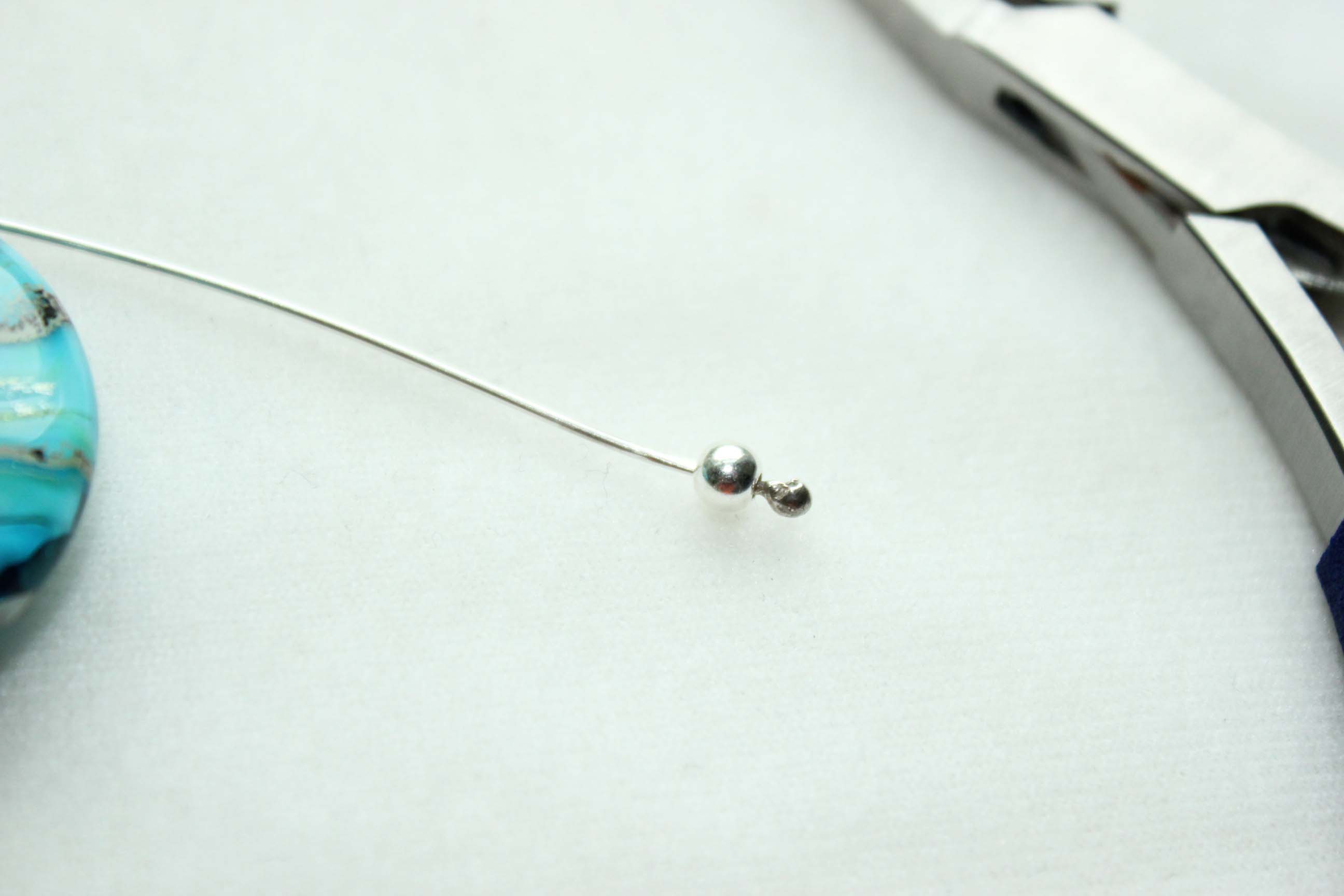 Step 1:
Add one sterling silver round to the headpin.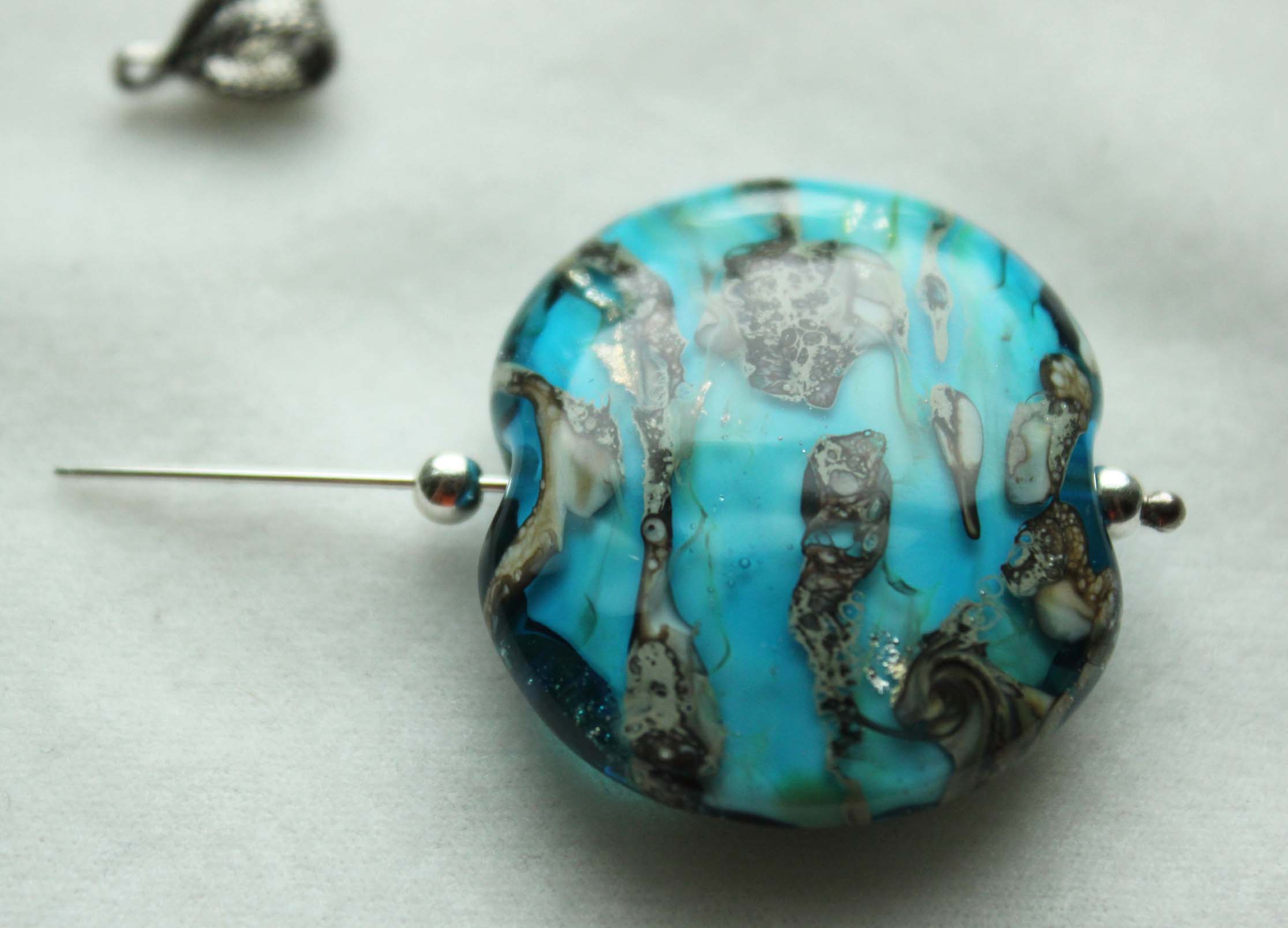 Step 2:
Add the lampwork focal and the second sterling silver round to the headpin.
Step 3:
Using the round-nose pliers create a wire-wrapped loop to add the bail.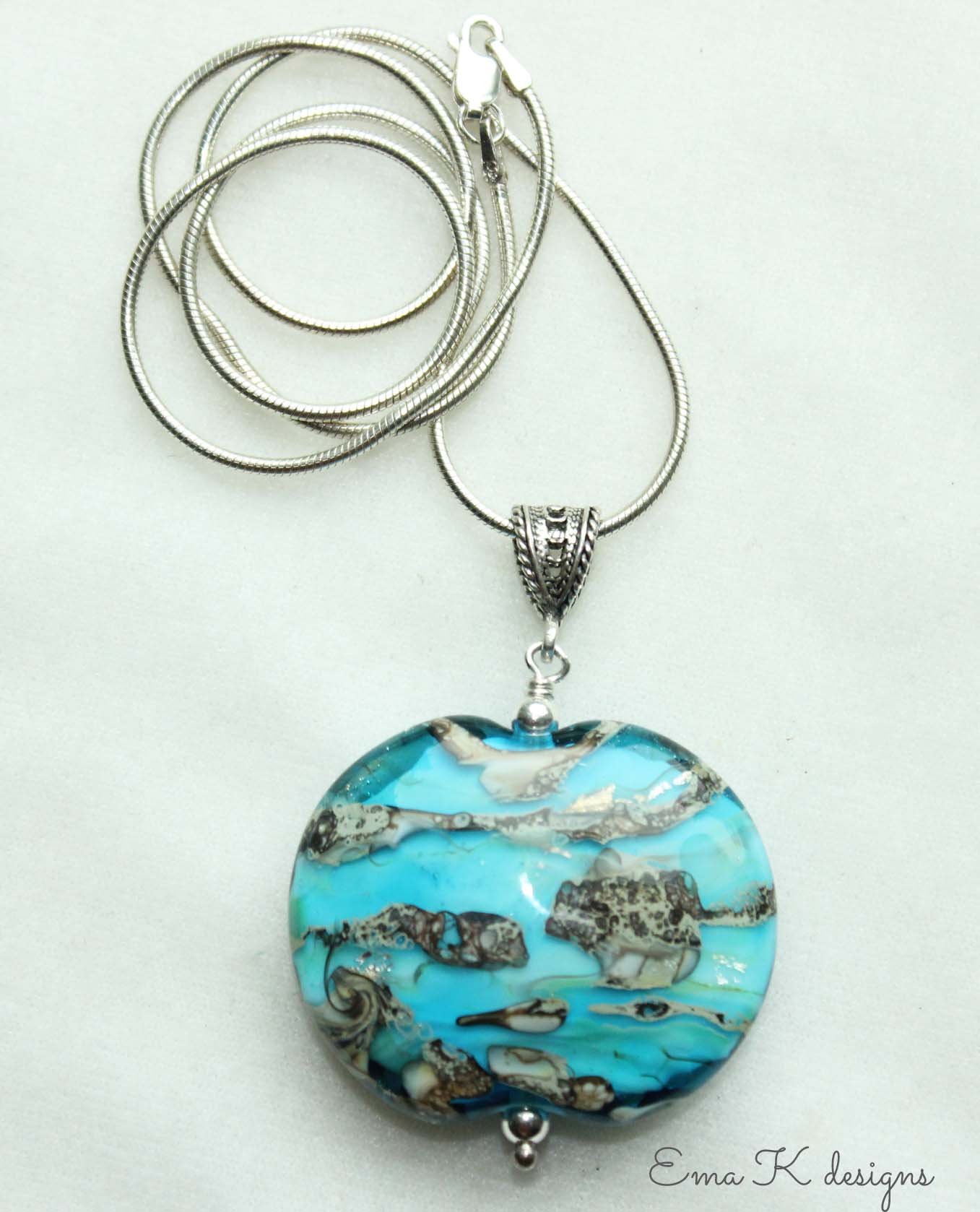 Step 4:
Simply slide the bail over your favorite chain and you're ready to go. Simple, quick and easy!
Maybe you'd like more to your design. String coordinating beads and the pendant onto beading wire to accent your art bead.
More inspiring art bead jewelry designs
Are you looking for more inspiration? Some of my bead making friends and jewelry designing friends were willing to share their designs with us.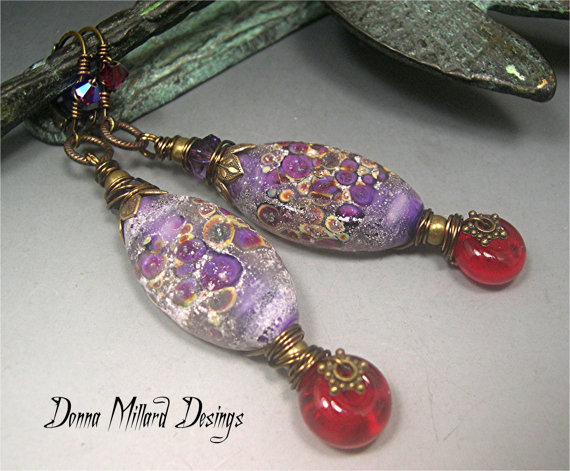 Photo via Donna Millard
Artisan made beads can be used to create unique earring designs. Donna Millard's earrings represent a beautiful use of lampwork beads as a focal element in the earring design. They also add a nice pop of color in the dangle portion of the earring.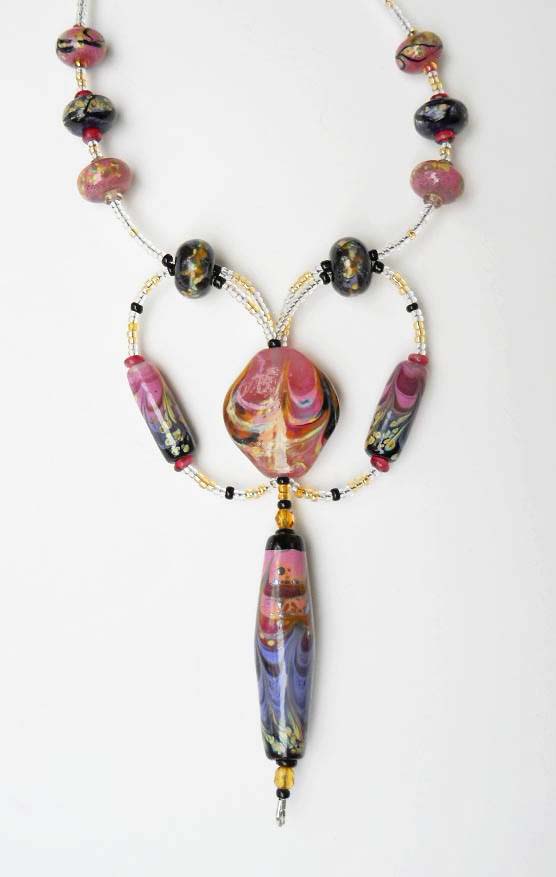 Photo via Isinglass
Laurie Ament created the lampwork beads and the necklace in her original jewelry design. Laurie uses a variety of handmade lampwork glass beads throughout the necklace.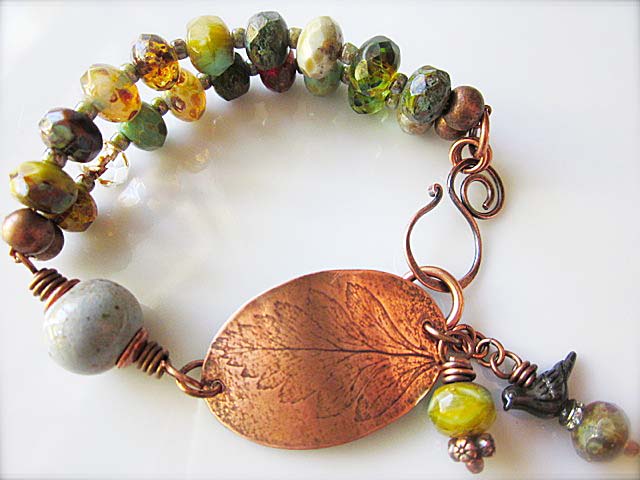 Photo via Ema K Designs
Lynn used simple stinging techniques along with wire-wrapping beads to create a lovely bracelet design, which nicely highlights the artisan made bead.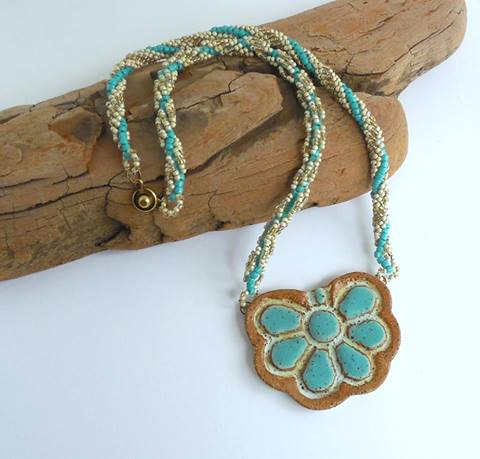 Necklace via Beadwork by KAS; focal via Suburban Girl Studios
I like how Kristen used seed beads to create the necklace portion of her design and accented the artisan made focal by carrying the colors of the art bead throughout the necklace design. Kristen's creation is a perfect example of how incorporating a variety techniques, crocheting, kumihimo braiding or viking knit, when designing the necklace can beautifully spotlight an artisan made focal.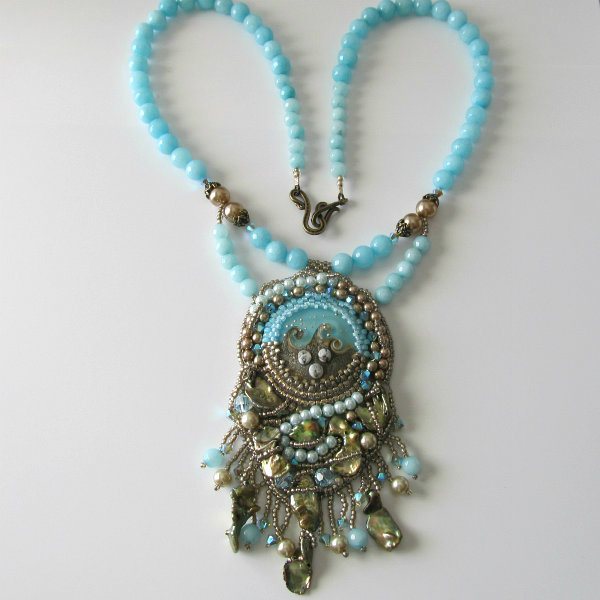 Photo via Pacific Jewelry Designs
Paula Huckabay of Pacific Jewelry Designs has surrounded an artisan made lampwork bead with beautiful seed beads. Her work is a beautiful of example of incorporating the artisan made bead into the focal portion of your design. Paula created a nesting spot for a handmade glass cabochon using seed beads and built on her design from there.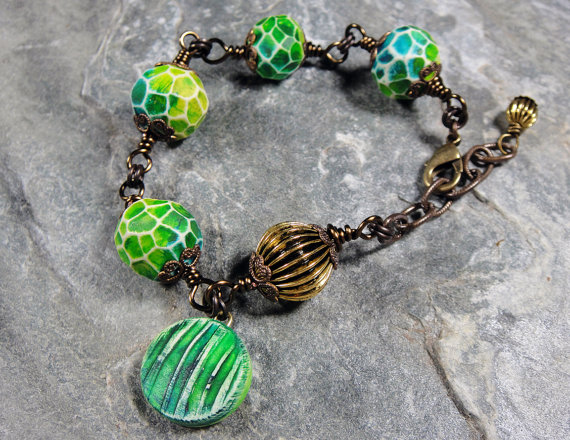 Photo via Patti Vanderbloemen
And last but not least, here's a look at Patti Vanderbloemen's beautiful art bead bracelet. She uses artisan made beads in her jewelry designs and donates 50% – 100% of the sale to Miracle Horse Rescue. You can learn more about Patti and her association with Miracle Horse Rescue on Patti's About page on Etsy.
How do you incorporate art beads into your jewelry designs?