So, you have purchased an embroidery machine, and now you are interested in digitizing embroidery designs. But where do you begin this machine embroidery journey? We've brought together an expert panel to give you tips on how to design embroidery patterns, to help you turn your creative images into stitched realities!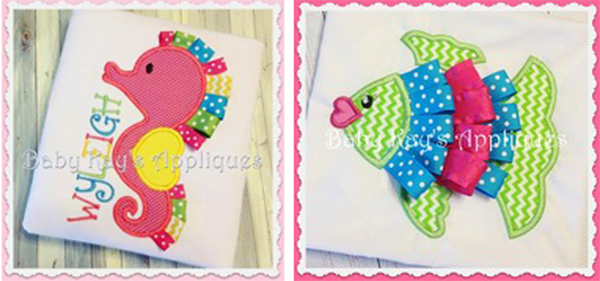 3-D Ribbon Seahorse and Ribbon Fish by Bluprint member Baby Kays
In this expert panel roundtable, eight digitizers share their experiences and provide insight on what you need to know before you start designing machine embroidery patterns. These ladies are not only knowledgeable, but are generous in sharing what they have learned to help new digitizers get started.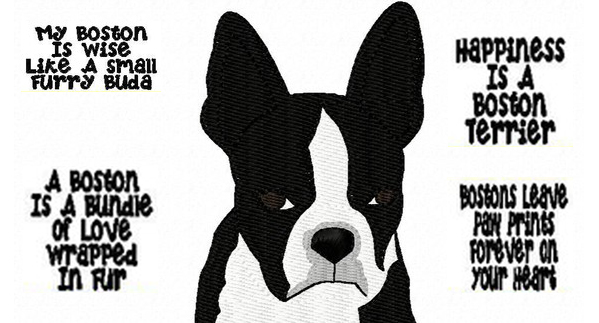 The Boston Terrier pattern is a tribute to a beloved Boston by Bluprint member Izabellas Closet — proceeds benefit the MidAmerica Boston Terrier Rescue.
Let's take a look at our panel of embroidery experts!

Car Buddies and Airplane Adventures embroidered books are a family creation by Sew Inspired by Bonnie. Bonnie digitized the stories written by her husband and youngest daughter.
Here are 4 things you need to consider when digitizing embroidery patterns:
Tip #1: It takes time.
Digitizing artwork for embroidery requires specific software. The consensus is to thoroughly research the options and choose the software that is right for you. Know that the investment goes well beyond cash. It takes a lot of time to learn software and sharpen your digitizing skills.
"Are you willing to invest the time it will take? Do you love computers? Digitizing can be very rewarding but it does take time to learn. I've heard it said from much more experienced digitizers than myself that digitizing takes 'about a year' to learn. I believe that to be very true. You didn't learn to sew overnight and digitizing is a whole new art form. Just like with sewing, there are always new things to learn." — Bonnie

"Expect to spend time to digitize a quality design and to take the time to learn the software. There's a great Bluprint class, Digitizing Machine Embroidery Designs, by Cookie Gaynor that is a good introduction to digitizing." — Marjorie

"Research, research, research. Ask questions. Be empowered with knowledge, develop your skills, take time to learn, and be happy at what you do." — Edie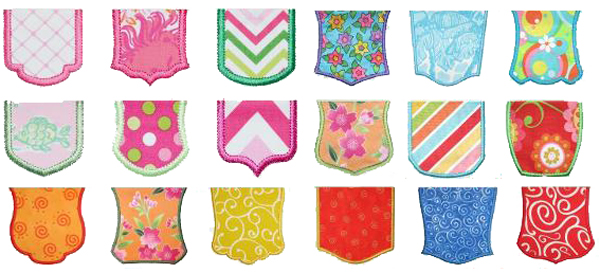 Pocket Appliqués 1, 2 and 3 by Edies Designs
Tip #2: Start small.
One of the best ways to develop new skills is to break them down into smaller, less complicated components. As you begin to understand the digitizing process, take on more challenging projects.
"Start with small, simple projects, and learn a new feature with each project that you create." — Marjorie

"Just be patient: It is a long learning process. Don't expect too much right away. Start small!" — Shanel

The zippered Phone Wallet pattern and Cat Zipper Case pattern by EmbGarden are both created in the hoop. Challenging to design, they are professionally finished and fully lined with no raw edges!
Tip #3: Patience IS a virtue.
It is easy to become discouraged when learning any new art form but, as they say, Rome wasn't built in a day.
"Be patient. There will be A LOT of trial and error." — Shanel

"Digitizing isn't for everyone and it isn't learned overnight. To do it, and do it well, takes time and practice.  You not only need to learn a software program, but also will need to learn how thread interacts with fabric, pushing and pulling as stitches are formed, and how to compensate." — Bonnie

"Be patient. It is not easy and if it is, you're not doing it right." — Teresa

Cute Cars pattern, digitized by Bluprint member Marjorie Busby, includes eight different appliqué designs that coordinate with the AccuQuilt GO! Cute Car.
Tip #4: We can't say it enough, but practice really does make perfect!
Learning is a cumulative process — the more you create, the more you learn and the better you become!
"You will not have wonderful results right away. There is a bit of a learning curve to digitizing.  After many years of digitizing, I still learn new things all the time." — Shanel

"Enjoy. Don't expect perfection with the first stitch out." — Marjorie

"Have fun. Know that it will take patience, time and practice, practice, practice." — Reen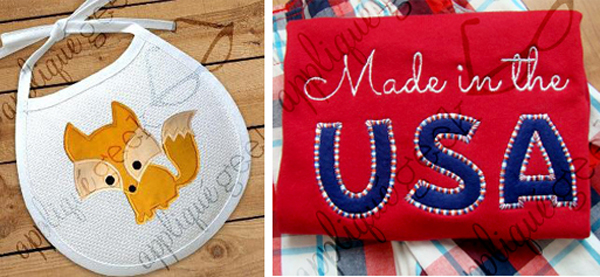 Bluprint member Appliqué Geek combines the talents of artist Marissa and digitizer Kassondra to create patterns like the Fox Appliqué and Made in the USA
"Don't copy other digitized designs. Be creative and come up with your own. There are plenty of ideas out there waiting to be created." — Teresa

"Practice, practice, practice: It takes time and lots of practice to master the skills." — April

"It is a new adventure, there is so much to learn, try new things. Enjoy your new adventure and share with others when opportunity comes along." — Edie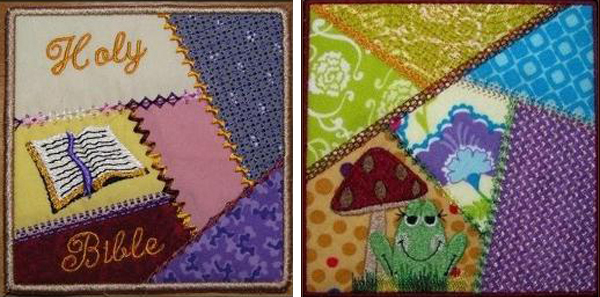 In the hoop crazy patch Bible and Frog blocks by Bluprint member Sanity5
Bottom line: digitizing takes a lot of hard work, patience and practice. But, in the end, you'll learn and exciting new skill that opens up a whole world of creativity!
Check back on the blog soon for part two, where we'll cover digitizing software in more depth!
[box type="shadow"]
As you work to learn the art of digitizing, nothing makes it easier and less stressful than the help of an instructor! Check out one of these two great digitizing classes by Cookie Gaynor: Artistic Digitizing: From Inspiration to Stitch and Digitizing Machine Embroidery Designs. These online classes are yours forever once you buy! Plus, you'll be able to ask Cookie as many questions as you want, right from the comfort of your own home!
[/box]
Other experts out there: What tips do you have for beginning digitizers?