By themselves, fabrics and embroidery stitches are nothing spectacular, but combining decorative embroidery stitches adds a whole other dimension to both hand and machine embroidery. Even the most ordinary of embroidery stitches, whether created by hand or machine, can be made decorative with the addition of color, texture, dimension, and even embellishments like beads and buttons.
Many hand embroidery stitches are mimicked quite well by machine. The biggest advantage to machine embroidery is that it finishes much faster, but with decorative stitches such as bullions, that require looping or knotting, it nearly impossible to stitch them any other way than by hand.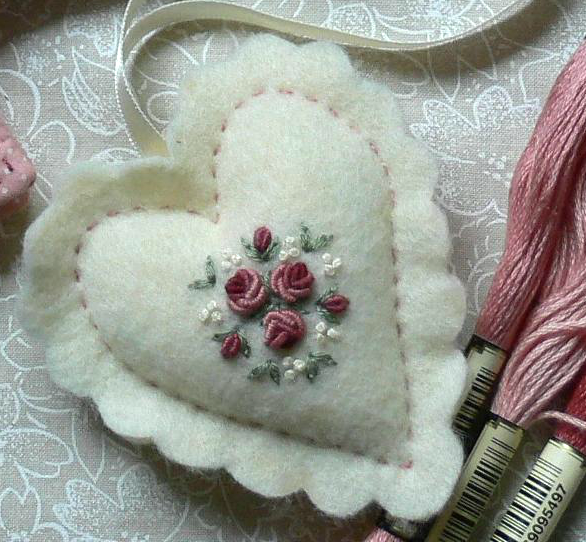 Photo via Craftsy member Val Laird Designs
What makes embroidery decorative?
The term "decorative" means different things to different people. Here, it refers to anything other than structural stitching, as in seams. Decorative hand embroidery, like the exquisite bullion roses of Craftsy member Val Laird, are almost impossible to create by machine as each bullion is looped around the needle before carefully securing it to the fabric. It is very dimensional. Lazy daisy stitches, such as those in Val's leaves, are much the same. Looped if stitched by hand (3-D), and created as flat, individual running stitches if made by machine.
Let's take a look at the different decorative embroidery stitch styles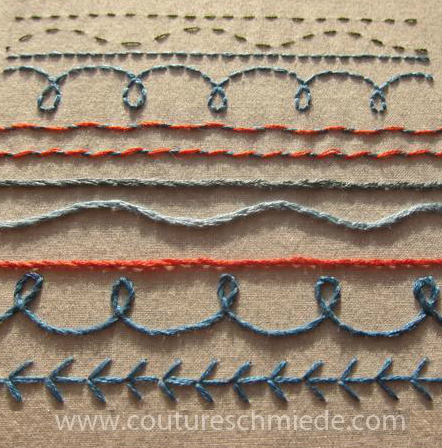 Photo via Craftsy member Frabjous
Flat stitches
As part of Craftsy's Design It, Stitch It: Hand Embroidery class, instructor Jessica Marquez demonstrates a variety of hand stitching techniques. Students learn seven flat stitch variations including the running stitch, used to outline; back stitch, used for emphasis; stem stitch, used in many floral designs; and the fern stitch, used in crazy quilt embroidery.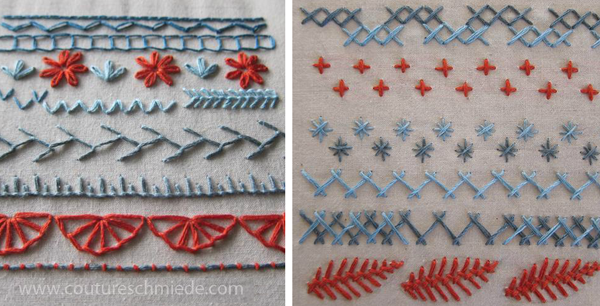 Photos via Craftsy member Frabjous
Looped and crossed stitches
Looped and crossed stitches do exactly what their name suggests — loop and cross. Looped stitches include the lazy daisy, used in flowers and leaves; feather stitch, used in crazy quilting; and buttonhole stitch, used in quilting and creating cutwork embroidery by hand. Crossed stitches have several versions such as the St. George Cross stitch, star stitch, herringbone stitch and leaf stitch.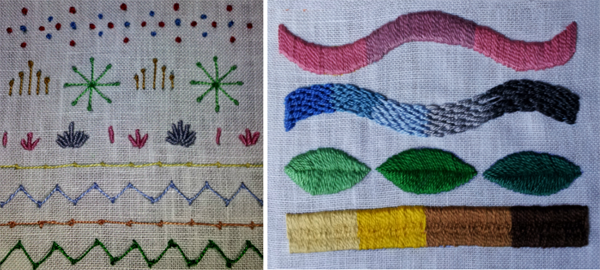 Photo via Craftsy member MBoaventura
Knotted and fill stitches
Knotted embroidery stitches, such as the French knot, used for candlewicking; and Bullion stitch, used to create roses and dimensional flora; along with fill stitches like the satin stitch, used in appliqué, madeira embroidery and cutwork, add dimension and shading to hand embroidery.
Projects and patterns featuring decorative embroidery stitches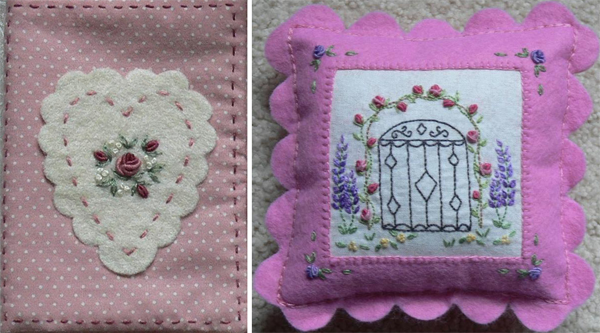 Photos via Craftsy member Val Laird Designs
Bullion roses
Craftsy member Val Laird of Val Laird Designs uses beautiful bullion roses in many of her hand embroidery patterns.  The pin keeper from her Roses, Roses Sewing Set, above left, and the Garden Gate Pincushion, right, show gorgeous bullion roses with lazy daisy leaves and French knots.
Get Val's FREE tutorial on stitching bullion roses here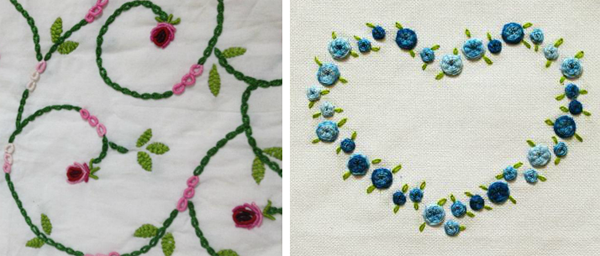 Photos via Craftsy members ak 47 and LaMariacha

The embroidered flowers project, left, by Craftsy member ak 47 incorporates both chain stitching and bullion roses. Right, Craftsy member LaMariacha uses the woven rose or spiderweb rose technique in her Embroidery Heart pattern. Both the bullion and spiderweb roses are very dimensional, sitting high on the fabric surface.
Machine embroidery bullion designs typically lie flatter on fabric than their hand-stitched counterparts. Even though they have underlay stitches to build upon, embroidery machines cannot wrap thread around the needle like hand embroiderers do when creating bullions.
Photo via Craftsy member BeccaBaalmann
Lazy daisy
Offset by French knots, lazy daisy stitches make up the flower petals and leaves on this pillowcase by Craftsy member BeccaBaalmann. The simplistic elegance of the lazy daisy makes it an heirloom favorite.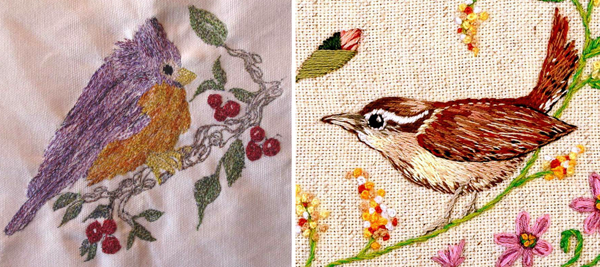 Photos by Craftsy members QuiltzbytheSea, left, and Beadseller, right
Crewel
Machine embroidery can be made to look like hand embroidery. It is hard to believe that Craftsy member QuiltzbytheSea created Little Bird (above left), stitching freehand by machine while taking the class Machine Embroidery, Hand-Stitched Looks. In the Craftsy course Artistic Digitizing with Cookie Gaynor, Craftsy member Beadseller digitized the Happy Wren< machine embroidery design (above right).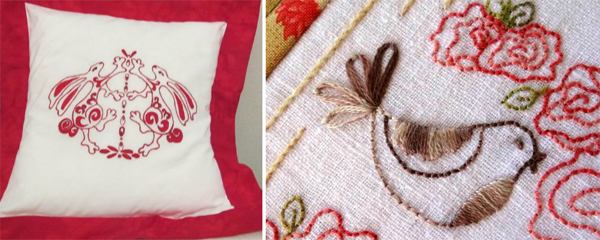 Photos via Craftsy members Angel 66, left, and Elefantz, right
Craftsy member Angel 66 also took the Machine Embroidery, Hand-Stitched Looks class, creating the redwork pillow above using freehand machine embroidery satin stitches and running stitches. The Romeo Roses pattern, right, features hand running stitches and satin stitching. Because hand embroidery typically uses two to three strands of thread, hand-embroidered crewel projects are much more dimensional than traditional machine embroidery.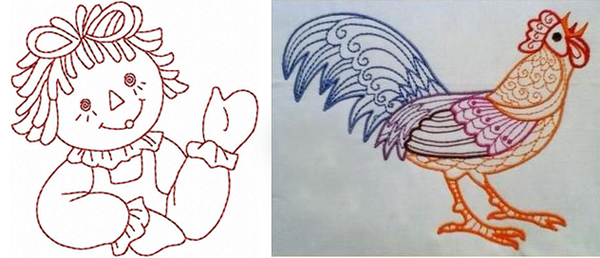 Photos via Craftsy members StitchX Hand Embroidery, left, and Sanity's Machine Embroidery Designs, right
Redwork
Raggedy Ann is made using another traditional heirloom stitch. Redwork is also stitched as bluework or blackwork. Modern variations mix colors in the rooster but still maintain line stitching and add satin stitching.
What is your favorite decorative embroidery stitch?