Cutwork in machine embroidery is arguably the most elegant of all embroidery techniques. It can form a center window in fabric or a decorative scallop along the edges. As difficult as it may appear, it is actually easy to create, producing stunning effects and elegant designs.
Let's explore the beauty of cutwork in machine embroidery.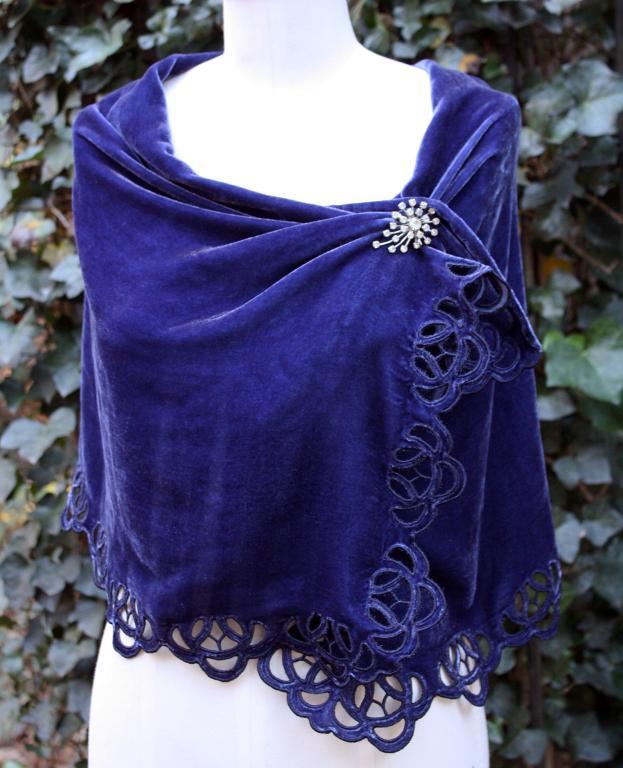 Photo via Bluprint instructor Evy Hawkins
[box type="shadow"]
Interested in learning how to create this intricate and impressive look with your embroidery machine at home? Then you should consider taking Machine Embroidered Cutwork with Evy Hawkins, where you'll make three lovely cutwork projects to help you master this gorgeous technique.
[/box]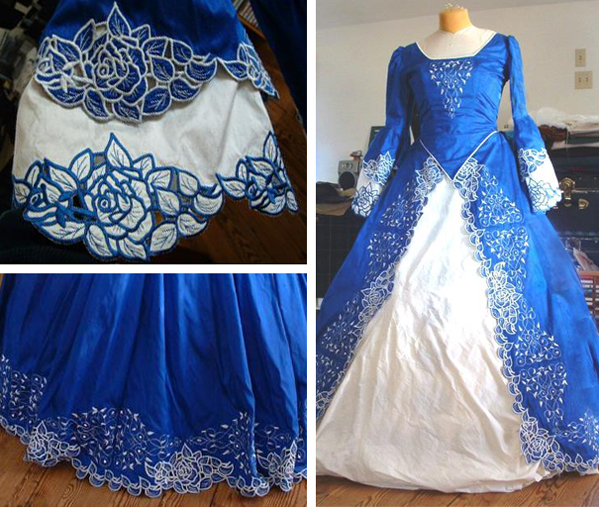 Cutwork wedding dress photos by Karen Godfrey Meuler via Advanced Embroidery Designs
What is cutwork?
Originally created entirely by hand, cutwork, or richelieu embroidery as it is sometimes referred, was much more labor intensive than it is today. The heirloom technique was highly treasured, most often featured on decorative linens reserved for special occasions. Fortunately, modern embroidery machines and expertly digitized designs available today produce beautiful cutwork that can be easily stitched out in a fraction of the time.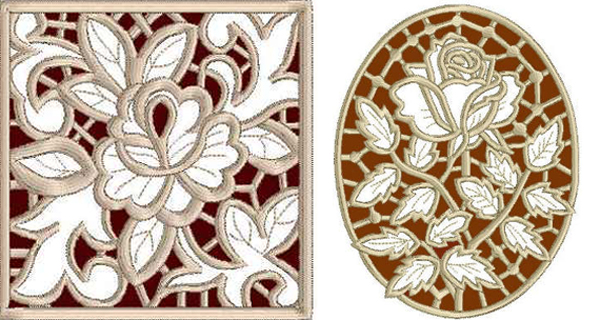 Images via Advanced Embroidery Designs
Get the Square Rose Lace design here
Get the Rose Lace III design here
Cutwork is one part freestanding lace and the other part appliqué in reverse. Where appliqué adds fabric to the design, cutwork takes it away. Often, that is where the freestanding lace component comes in.
In an original cutwork piece, areas of the fabric to be cut away are outlined in running stitches. Then each open area is cut away and painstakingly hand-stitched. Raw edges are finished with buttonhole stitches. Richelieu bars, thin connecting button stitched thread bands, help secure open areas to the fabric.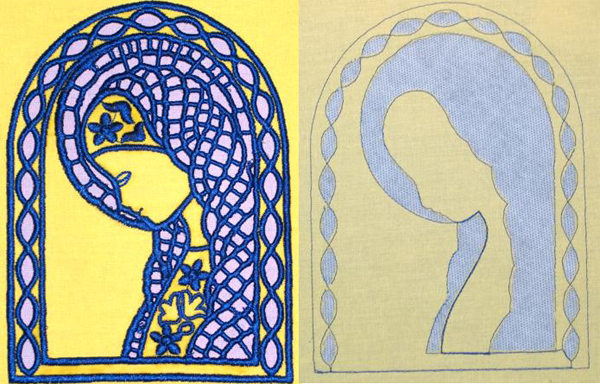 Our Lady Lace photos via Advanced Embroidery Designs
Traditional cutwork
Modern embroidery treats the negative area as you would when creating freestanding lace. Preliminary stitches outline areas of fabric to cut away. The embroidery design covers open areas with intricate windows and connecting bars using freestanding stitches. Raw edges are enclosed with satin stitching.
When complete, the piece has elegant windows where the base fabric once was. The Our Lady Lace cutwork design above is beautiful but would be extremely tedious and time consuming if created entirely by hand.

 (Left to Right): Butterfly Cutwork Lace; Butterfly Cutwork Lace 7 via S-Embroidery
Traditional cutwork was primarily stitched as whitework, matching the thread colors to the linen or using a natural cream or taupe colored thread to frame the design and fabric windows. Eyelets are often featured and some cutwork resembles Battenburg lace.
Cutwork designs
Not just any embroidery design can be used to create cutwork. Designs must have color stops built in for trimming, underlay to support satin stitched edging and connecting richelieu bars to support the delicate windows.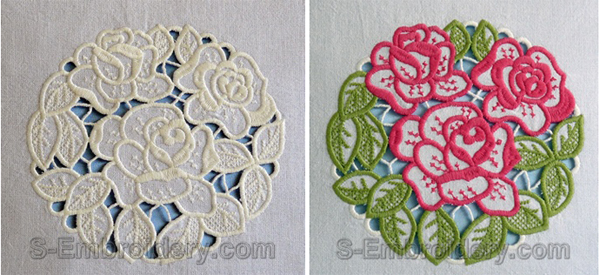 Roses Cutwork Lace photos via S-Embroidery
Designs created for cutwork are similar to those created for appliqué. Although the thread color does not necessarily change, the stitch sequence provides color stops for removing the hoop and trimming fabric where needed. Roses Cutwork Lace is digitized as a medallion design to be surrounded by fabric, just like an appliqué.
Image via Kreative Kiwi
When color stops are used, as in these three and four color cutwork designs, the impact is even more evident. If you like the design but want it more traditional, stitch all color stops in white.
Get the Large Cutwork designs here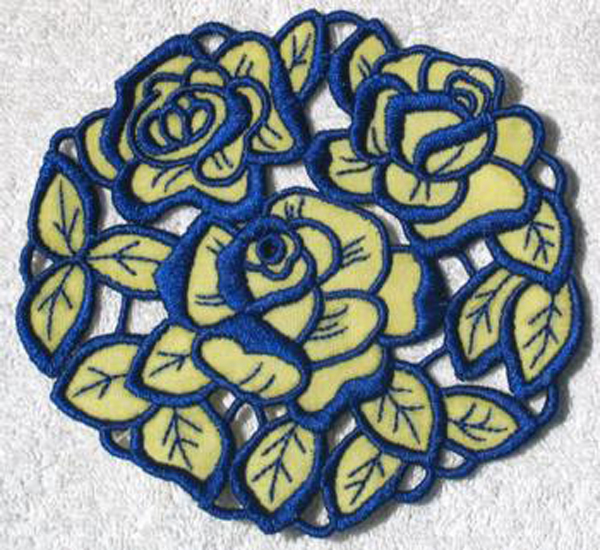 Three Rose Doily photo via Advanced Embroidery Designs
Similar in design to Roses Cutwork Lace, the Three Rose Doily in blue is digitized to stitch out like freestanding lace. Although the tone-on-tone look is true to heirloom style, adding color to cutwork creates more interest and contrast in the design.
Get the Three Rose Doily design here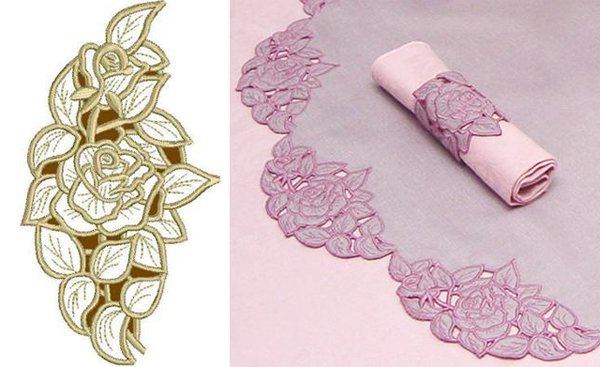 Emma Bowhan table cover photo via Advanced Embroidery
Because the edges are finished in satin stitches, cutwork designs are ideal for edging linens.
Get the Rose Lace II design here.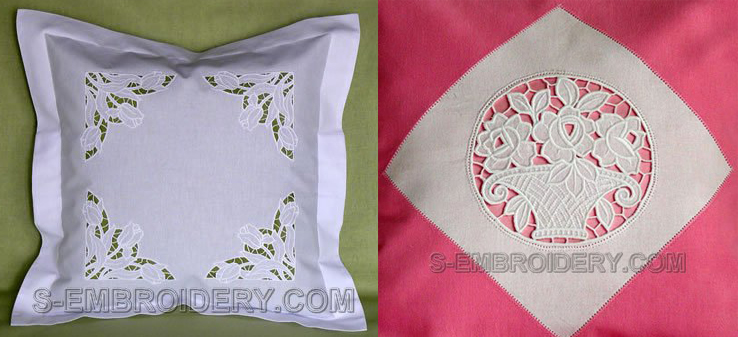 Photos via S-Embroidery
Placing contrasting fabric behind whitework makes the designs pop.
Get the Tulips cutwork lace corner design here.
Get the Cutwork Lace Rose Basket design here.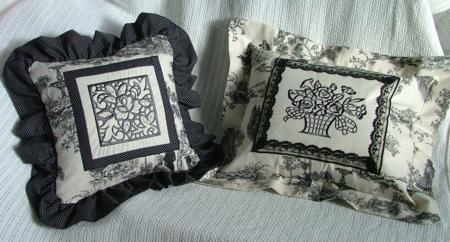 Photo via Advanced Embroidery Designs
Using complementary thread colors when stitching cutwork designs without cutting fabric away gives the appearance of toile to these pillows.
Get the Basket of Roses Design here.
Get the Square Rose Lace design here. 
What have you created with cutwork? Are your inspired to try it if you haven't yet?