Gift cards are the perfect one-size-fits-all gift. Who couldn't use a gas card, grocery card, movie card or restaurant card? To make the gift really special, create you own custom gift card holder with this FREE pattern, and add embroidery for a fun, personal touch. Keep reading to learn how you can create this fun and fast project 
How to make a custom gift card holder
Materials needed:
5" by 9" piece of felt
Embroidery design of choice, 1.5" x 1.5" maximum
Thread to match
Adhesive tear-away stabilizer
Air-soluble marking pen
Step 1:
Cut felt to the size of the pattern. Mark the intersection of the crosshairs on the felt with an air-soluble marker. This is where the embroidery will be placed.
Step 2:
Hoop adhesive tear-away stabilizer and lightly score inside the hoop edge, careful to cut through only the paper backing. Tear the paper away from the hoop to expose the adhesive stabilizer.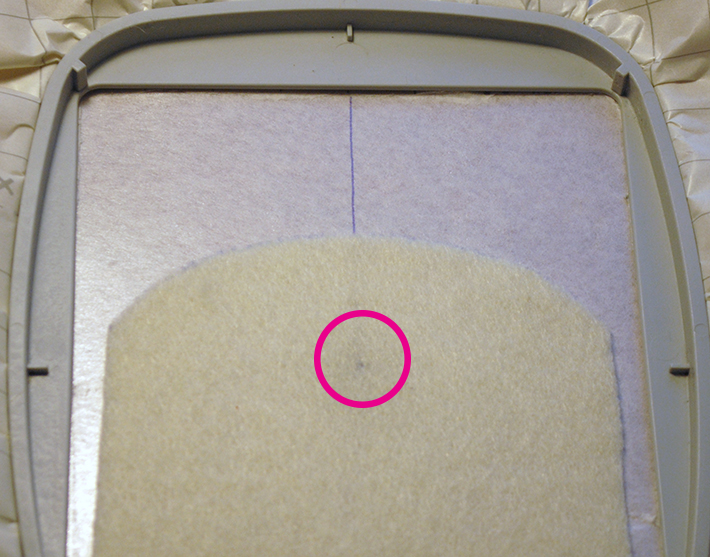 Step 3:
Finger-press the felt in place, lining up the center marks of the hoop with the crosshair on the felt for central design placement.
Step 4:
Stitch out the design of your choice. Carefully tear the adhesive stabilizer away from the felt.
Step 5:
With the stitched design right-side down, fold the bottom square end of felt up 2 ½" to the fold line to create the gift card pocket.
Step 6:
Starting from a bottom corner at the fold, stitch up the side, around the front flap, and down the other side to close the pocket using a blanket stitch or overcast stitch.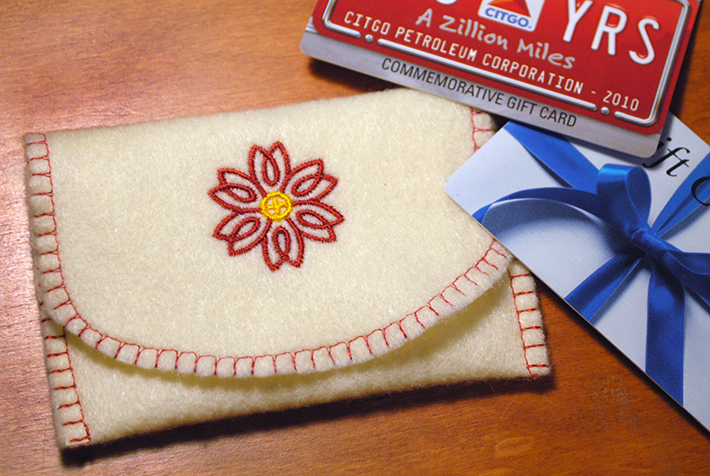 Step 7:
Fold the flap to the front and the holder is ready for a gift card.
They can be used like this and inserted in a card or attached to another gift, or use a decorative cord or ribbon to make a cute tree ornament.
This free gift card holder pattern can easily be adapted for any occasion: birthdays, baby showers, weddings or "just because" gifts, depending on the embroidery design chosen. Make several to have on hand when you need them.
Tips for further customizing your gift card holder:
Personalize with a small monogram.
Use metallic thread for a more luxurious appearance.
I like the dimensional contrast in this project, but if you don't want your stitches to sink into the felt quite as much, use a water-soluble stabilizer on top of the felt.