During your time quilting, have you ever worked with a curved piecing foot? This special presser foot allows quilters to sew together curves without using any pins.
Like every tool on the market, the curved piecing foot takes a little getting used to, but many quilters find it to be an invaluable tool for quilting curves.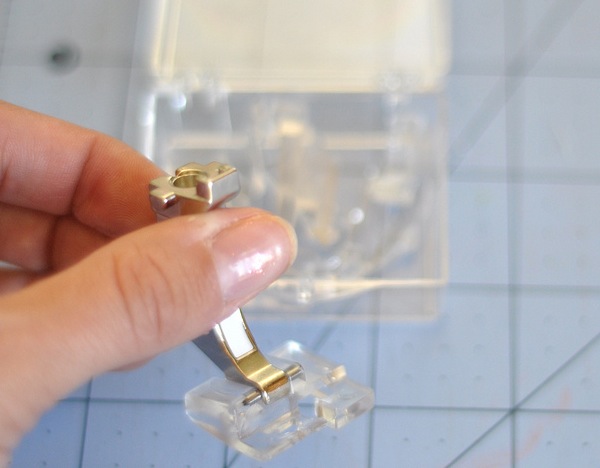 Photo via A Crafty Fox
The Curve Master Presser Foot was developed by Sandra Chandler, who wanted to sew a Drunkard's Path quilt more accurately and without any pins. Typically, stitching together a convex curve with a concave curve can create wrinkles or cause stretching along the bias, making the blocks line up unevenly. But with the curved piecing foot, quilters should be able to get a perfect 1/4" seam along curves without using pins.
I've read a few reviews on the curved piecing foot, including some glowing and less favorable reviews. When comparing your experience with that of others, it's important to make sure you follow the directions accurately in order to get the best results.
Some tips from the Curve Master Web site include:
Sewing with a stiffer fabric on top
Lifting the top layer of fabric as you sew
Using bent-tip tweezers to grasp the top fabric when you near the end of the curved block
Amanda of A Crafty Fox reviewed the curved piecing foot, and she found it to be a real time saver when sewing curves. After two to three Drunkard's Path blocks, she says she started to get the hang of it, and was sewing perfect curves every time with no pins.
Many different shanks are available, so you can fit the presser foot to your specific machine.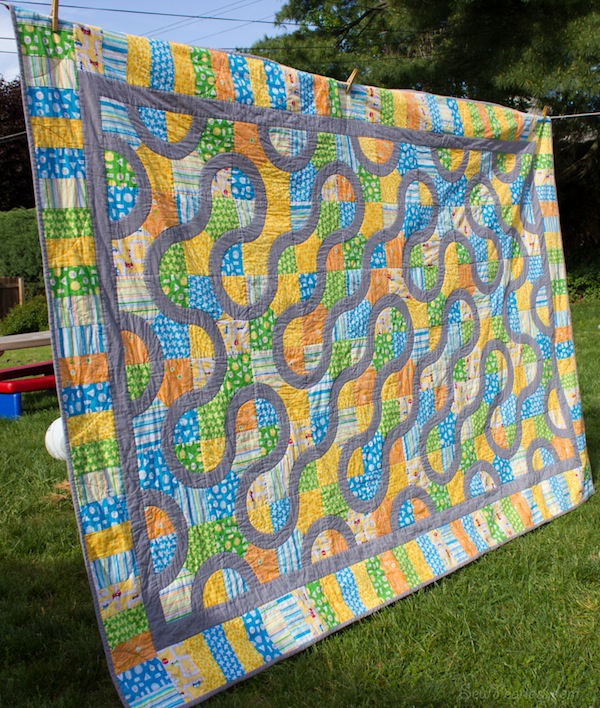 Jodi also reviewed the curved piecing foot on her blog, Sew Fearless. She says, "I definitely goofed up a good several times and had to pull out the seam ripper. I also had to go very slowly at first, but I was a little faster by the end." After adjusting to sewing without pins, Jodi was able to finish her stunning Roads Quilt, seen above, pieced with several perfectly curved seams in each block.
If you are feeling brave, you may wish to try this method of pinless curves with a regular quarter-inch foot.
Kate of Kate Conklin Designs shares her tips, along with a video tutorial, for how she sews curves without pins or a curved piecing foot. She used this method to piece together the blocks of her Grand Designs Quilt, seen above. "It can take a little bit of practice to get this down pat (especially on such a tight curve needing a high degree of accuracy), but it's worth giving it a go because it could save you a lot of time," she says.
If you've given the curved piecing foot a try and it's just not working for you, try Angela's curved piecing tutorial. She relies on pins to sew accurate curves with edges that line up perfectly every time.
Ann Petersen, expert seamstress and instructor of the popular class Playing with Curves, says that, "a simple, gentle curve can be one of the easiest things you can sew." It is simply a matter of getting a hang of it. There's no right or wrong way to sew curves, and it's important to try a few methods and see what works for you!
Have you ever sewn inset circles in a quilt block? These reverse circles in a pieced block by Cheryl Arkison give a fun pop of patchwork to quilts and other pieced projects. Cheryl teaches many methods for sewing curves and circles in her class Inset & Appliqué Circles by Machine.
Have you used a curved piecing foot to help with your quilting? Would you recommend it to others?