Carnitas have never been simpler! This delicious Mexican dish is slow cooked in the Crockpot until the meat falls apart and melts in your mouth. To keep it authentic, the pork is pan fried for a few minutes just before serving for that crunchy, caramelized layer that Carnitas are famous for.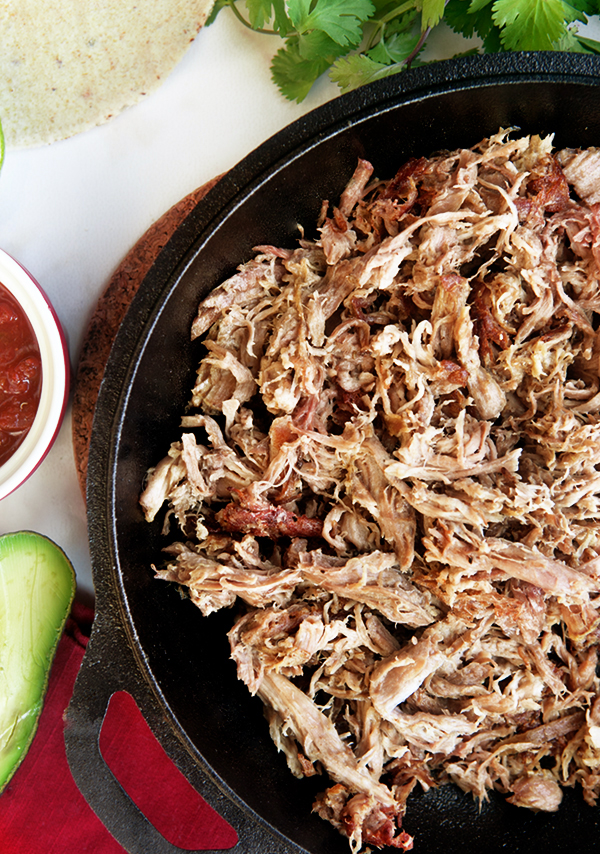 Photos via Some the Wiser
Tacos are one of my family's favorite meals. They are simple, tasty, and can be easily deconstructed to fit everyone's taste preferences.
Given our love for tacos, and my love for simple and quick family dinner recipes, these Slow Cooker Carnitas have become a fast family favorite. They require so little effort, but cook up to a delicious dinner that everyone looks forward to.
The biggest win for this recipe is how flexible it is. You can serve them in lettuce wraps for a low carb and gluten free meal. You can make the best burritos you ever had and pack your favorite flour tortillas with Carnitas and all the toppings.
Most often, we pile them tostada style onto corn tortillas and top them with cilantro, avocado, salsa, and cheese. The tender, juicy, flavorful pork is star the of the meal, no matter how you decide to eat it.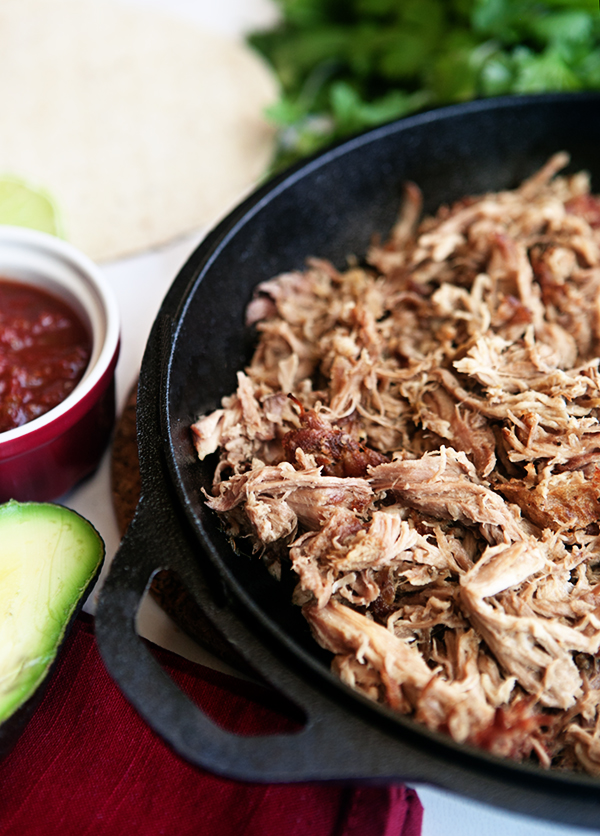 Straight out of the slow cooker, this pork will already have your mouth watering. The citrus flavors, combined with a bit of spicy heat, really add up to a very tasty meat. But, it wouldn't quite be Carnitas if they didn't have that crunchy, fried layer of goodness.
To keep it authentic, while still taking advantage of the magic of a crock pot on a busy week night, you simply pan fry the slow cooked meat just before serving. It adds less than ten extra minutes onto the cook time, but it takes this slow cooker meal to the next level.
Slow Cooker Carnitas Recipe
Ingredients
2 1/2 pounds bone in pork shoulder
2 teaspoons dried oregano
2 teaspoons ground cumin
1 teaspoon ground coriander
1/4 teaspoon cayenne pepper
2 teaspoons salt
1/2 teaspoon black pepper
1 tablespoon olive oil
4 cloves garlic minced
1 medium onion, coarsely chopped
1 orange, halved
1 lime, halved
1 jalapeno (seeds and ribs removed), chopped (optional)
3 tablespoons vegetable oil
Directions
Rinse and dry the pork shoulder. Combine the spices and rub the meat all over with the spice blend. Drizzle with olive oil. Place the meat in slow cooker and top with garlic and onion. Squeeze the juice from the citrus over the meat, then add the citrus halves to the slow cooker as well. Cover and cook on low for 8 hours or until meat is cooked through and very tender.
Remove the cooked meat from the slow cooker. Shred with two forks. In a large cast iron pan, heat the vegetable oil over medium high heat. Add the shredded meat and fry until crusty on one side, about 5 minutes.