Crochet baby layette sets consisting of blankets, hats, sweaters and booties used to be quite common, but these days there are new baby trends on the scene. Diaper covers and colorful animal hats have nearly overtaken the baby gift world with their ruffles and animal ears.
If you're a crochet enthusiast and you've found yourself navigating this new baby world with hesitation, let us help. These crochet baby patterns range from the traditional layette set to cute little sweaters and blankets. If you want to make any of these a complete set, it's simple enough. Just buy extra yarn and crochet other pieces to match. If you're not comfortable designing items like booties and blankets, dig up one of your favorite go-to patterns and crochet them using the same yarn you use to crochet the sweater. The baby won't notice if the stitches in the set aren't exactly the same, anyway.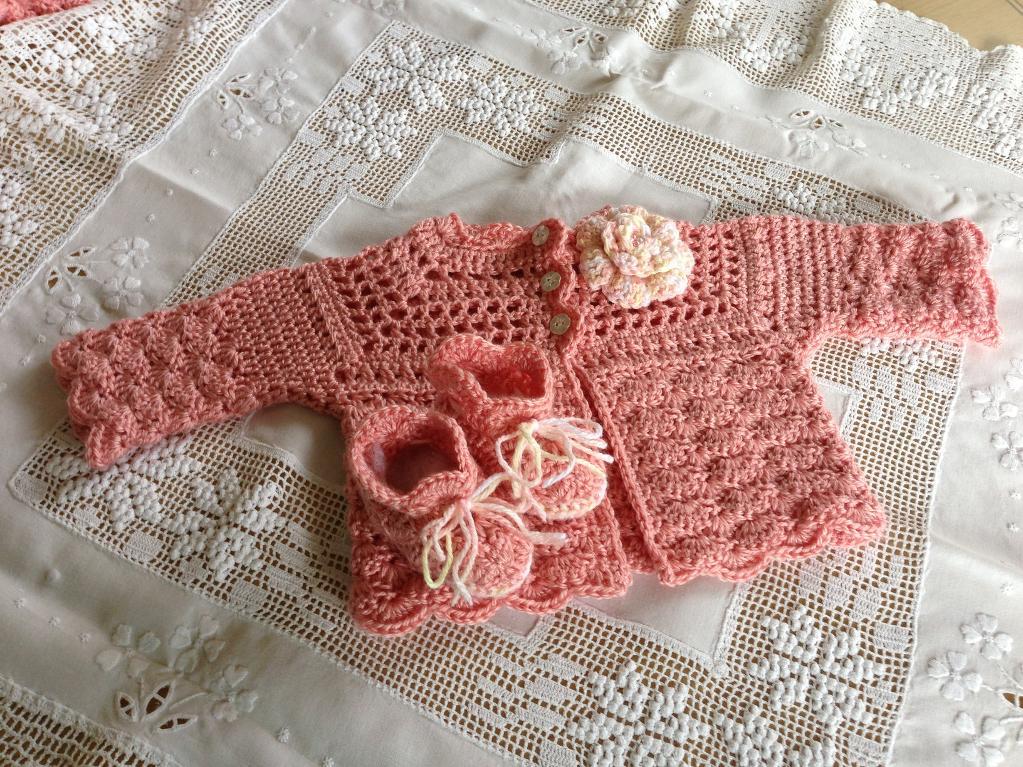 Photo via Bluprint member PatternParadise
Shelly sweater and booties
If you're looking for a very traditional layette set, this pattern is perfect. Crocheted shells are the basis of this sweater and bootie set, and the rose embellishment is totally optional. The rest of the layette patterns are sold separately; be sure to check out the Shelly blanket and the Shelly hat and diaper cover to complete the set.
Get the Shelly Sweater & Booties pattern.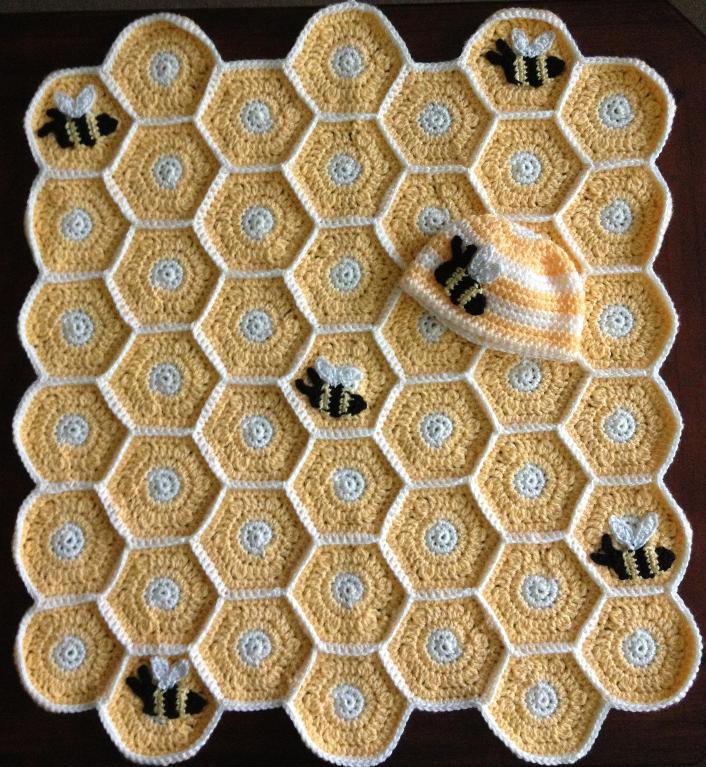 Photo via Bluprint member Sara Leighton
Sweet as honey blanket and hat
Fans of granny squares will love making this bee-themed blanket that's made up of several squares seamed together. Because it's crocheted and constructed using individual squares, you can easily add more length and width to the blanket if you'd like. The matching hat continues the buzz-worthy bee theme.
Get the Sweet As Honey Baby Blanket and Hat Set pattern.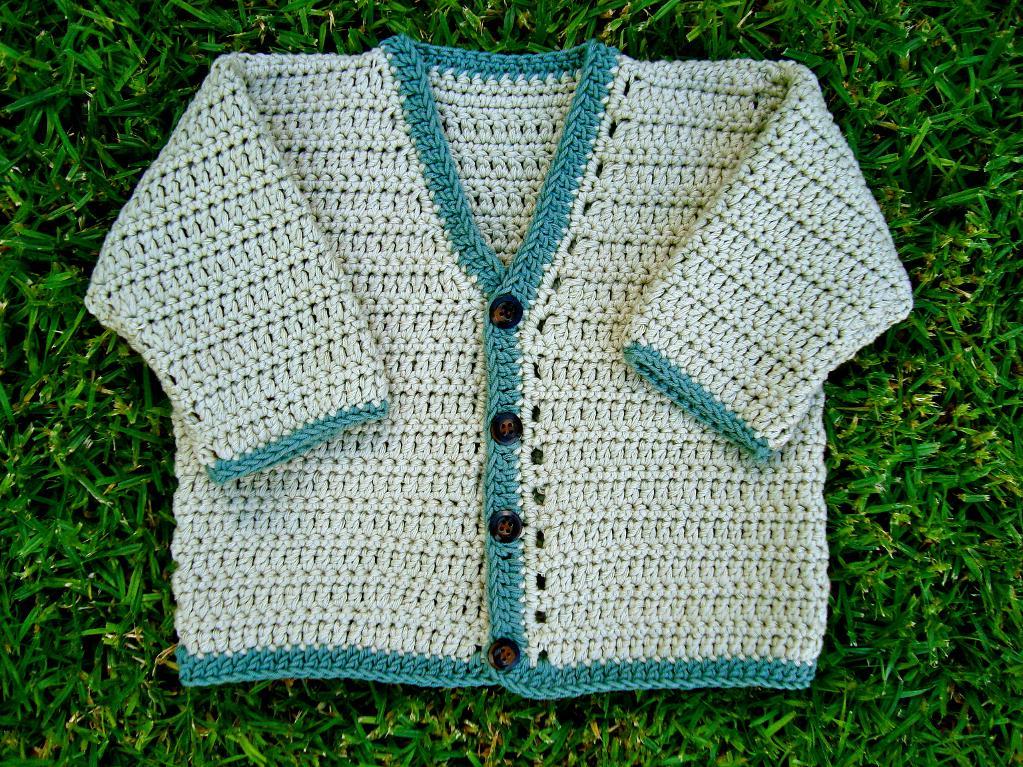 Photo via Bluprint member colourmyworld
Baby cardigan
Making a blanket to match this sweater is super simple since the sweater uses very basic crochet stitches. Bluprint member colourmyworld crocheted this cardigan while enrolled in Linda Permann's Crochet: Beyond Rectangles class. If you're a beginner and need some extra help with increases and decreases, let Linda walk you through crocheting a cute baby sweater that's ideal for a first-time shaping project.
Read more about the baby cardigan.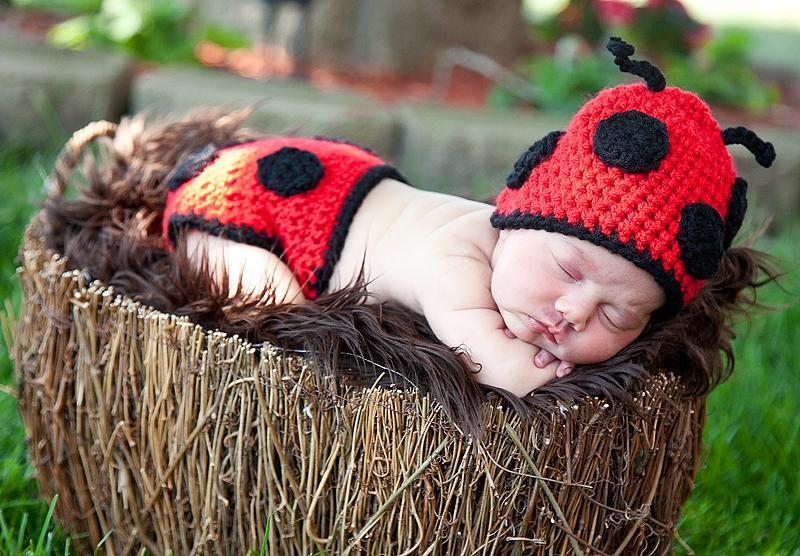 Photo via Bluprint member TTBoutique
Ladybug hat and diaper cover
If you've been cruising the Internet for baby crochet patterns, you've undoubtedly noticed the diaper cover trend. This cute little set comes with a pattern for a diaper cover and matching hat. For a matching blanket, how about crocheting the same ladybug pattern with a black border around it?
Get the Ladybug Hat and Diaper Cover Set pattern.
[box type="shadow"]If your little one needs a toy to match your layette gift, sign up for Amigurumi: Woodland Animals with Stacey Trock. The little raccoon, bluebird, bear, and deer are so cute that you might even want to make a few for yourself![/box]
What do you typically crochet for babies? Any baby trends you've noticed?