Perfect for the beach, crochet barefoot sandals just might become your favorite summer accessory! These decorative straps are mostly worn in the summer and at beach weddings, but these unique crochet sandals can actually be worn with shoes as well, making them a versatile accessory throughout the year.
Ready to embrace the barefoot sandals trend? Start with these 10 patterns!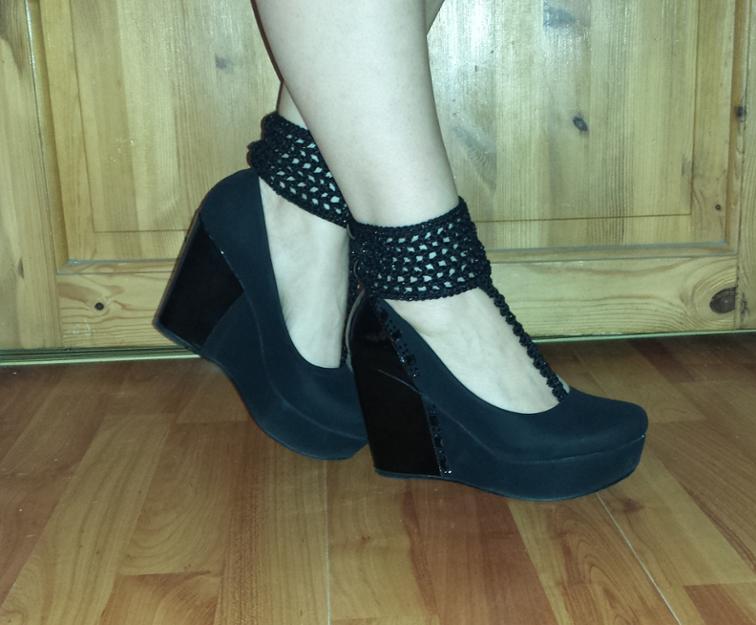 Photo via Bluprint member BareWolfPatterns
1. Crochet Nude Shoes
BareWolfPatterns is one of the leading crochet designers when it comes to barefoot sandals patterns, offering many different styles to choose — from gladiator sandals to belly dancer foot jewelry. The pair shown here is a thick ankle cuff with a thin strap. It's a perfect example of sandals that can be worn yearn round with heels.
Get the Pattern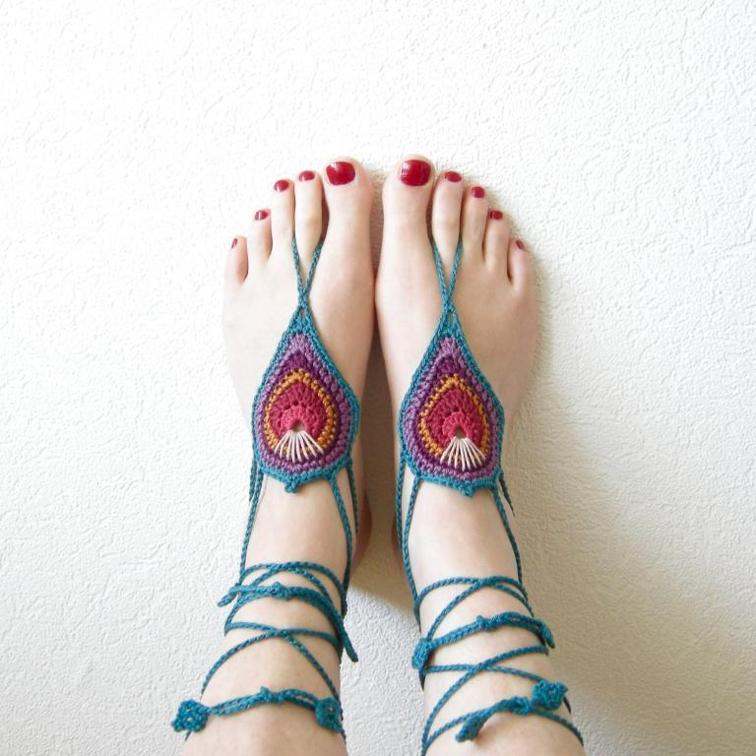 Photo via Bluprint member TheCurioCraftsRoom
2. Peacock Barefoot Sandals
Practice intricate motifs as you stitch the centerpiece of your new "shoe." This pretty pattern has an elegant peacock feather design and long ties that can be wound around the legs, espadrille-style, for additional decoration. Designer TheCurioCraftsRoom offers several different versions of peacock feather patterns that you could use if you wanted to adapt this design.
Get the Pattern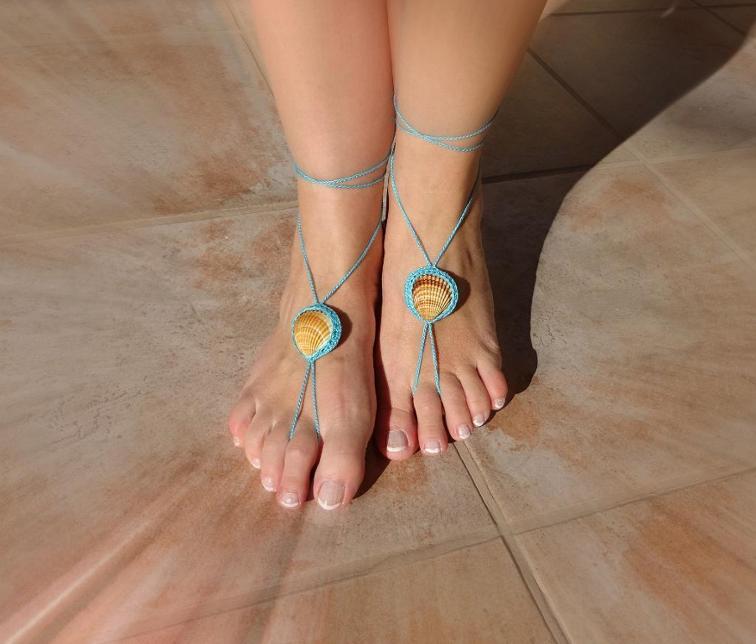 Photo via Bluprint member Spring Fresh
3. Barefoot Sandals With a Shell
This is a super simple crochet pattern for barefoot sandals with one exception: You crochet around a real shel! Since these sole-less shoes are especially popular as beach wear, it makes perfect sense to upcycle beach materials in their design.
Get the Pattern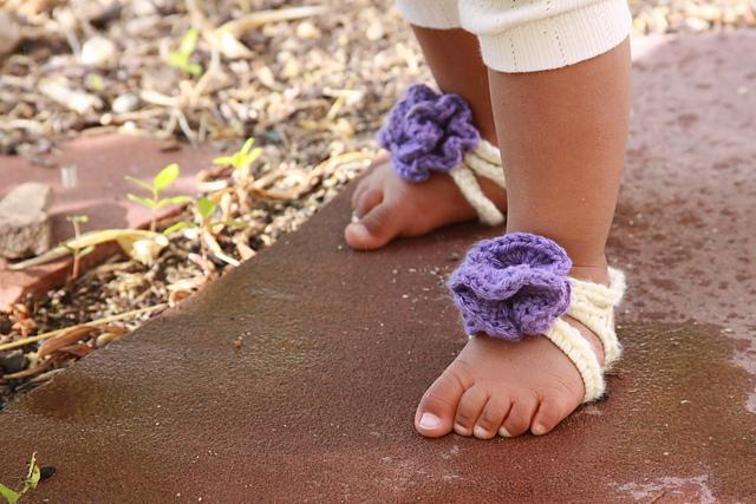 Photo via Bluprint member Bowtykes Designs
4. Baby Barefoot Strappy Sandals
Barefoot sandals are popular for babies because they're so darn cute. Typically, they're designed for babies who aren't walking yet, although there are designs for all ages. This pattern comes with instructions for thick, cozy straps along with five decorative motifs (three flowers, a leaf and a bow).
Get the FREE Pattern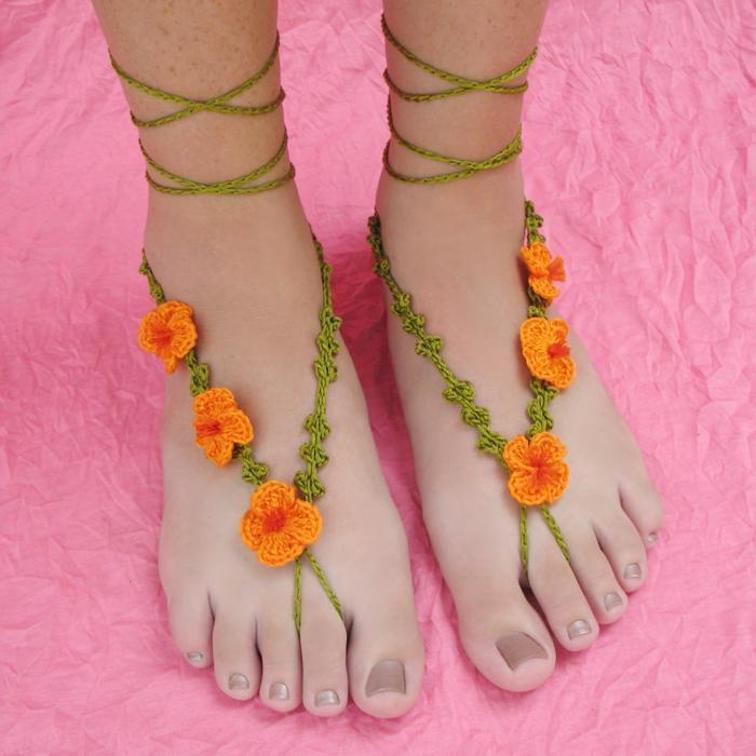 Photo via Bluprint member Gleeful Things
5. Poppy Barefoot Sandals
This pretty pattern comes in two versions — one made in thread and one made in worsted weight yarn — to accommodate different preferences and experience levels. The poppy flowers are easy to make and can be easily attached to personalize the design of your own sandals. Crochet designer Gleeful Things offers several crochet patterns for barefoot sandals, all of which have a colorful boho style.
Get the Pattern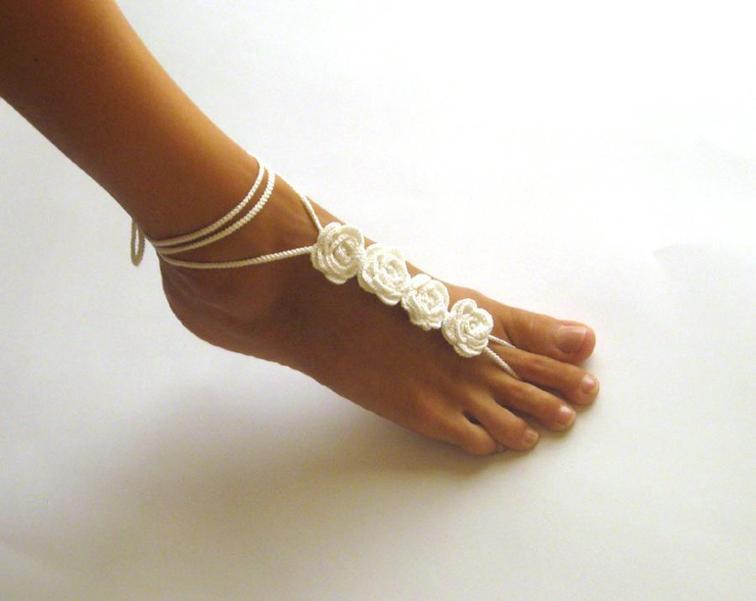 Photo via Bluprint member Aimarro Patterns
6. Rose Barefoot Sandals
This eye-catching crochet pattern is a perfect example of a design that works great for brides. These can be worn to a beach wedding as a fabulous accessory that matches the dress.
Get the Pattern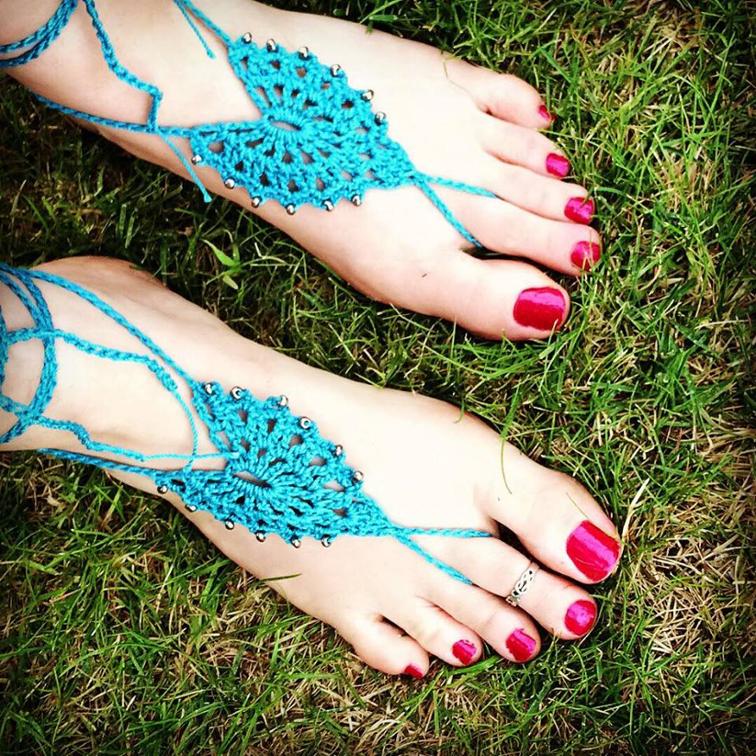 Photo via Bluprint member Knotted Magic
7. Beaded Boho Barefoot Sandals
One fun way to decorate your crochet sandals is to incorporate beads. This pattern has a simple variation on the classic pineapple motif — a popular choice for barefoot sandals — with small beads on the edge for just a little bit of bling.
Get the Pattern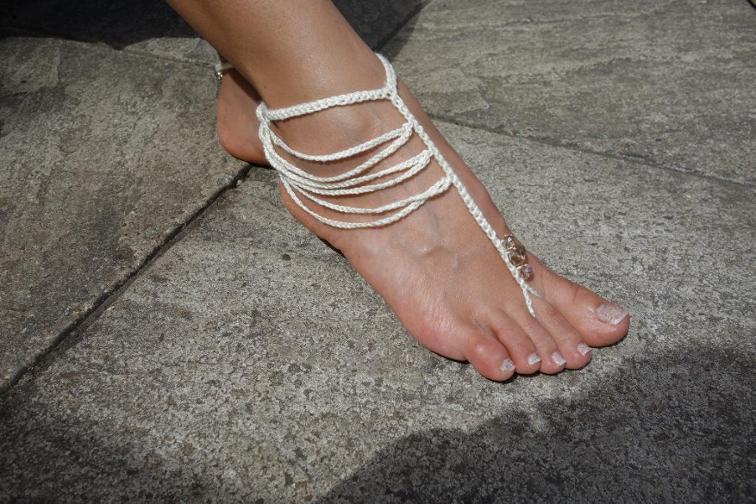 Photo via Bluprint member Camexia Designs
8. Boho Barefoot Sandals
You can't help but notice these boho barefoot sandals — and yet, they're super simple to crochet. They only use chain stitches for the entire design. If you wish, you can incorporate beads into the toe area (with instructions provided on how to do so). With small, medium and large sizes, this design could work for everyday beach wear or bridal shoe alternative.
Get the Pattern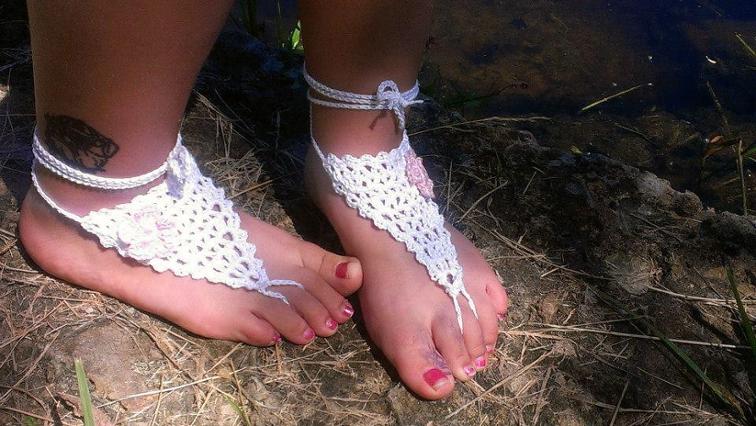 Photo via Bluprint member Hooked2yarn
9. Summer V Barefoot Sandals
This free pattern uses the popular V stitch to create a lacy, open design. The long ties can be secured around the ankle as shown or drawn farther up the leg for a more attention-grabbing design. The crochet flowers are optional; you could also add your own small appliqués to this design in the same manner.
Get the FREE Pattern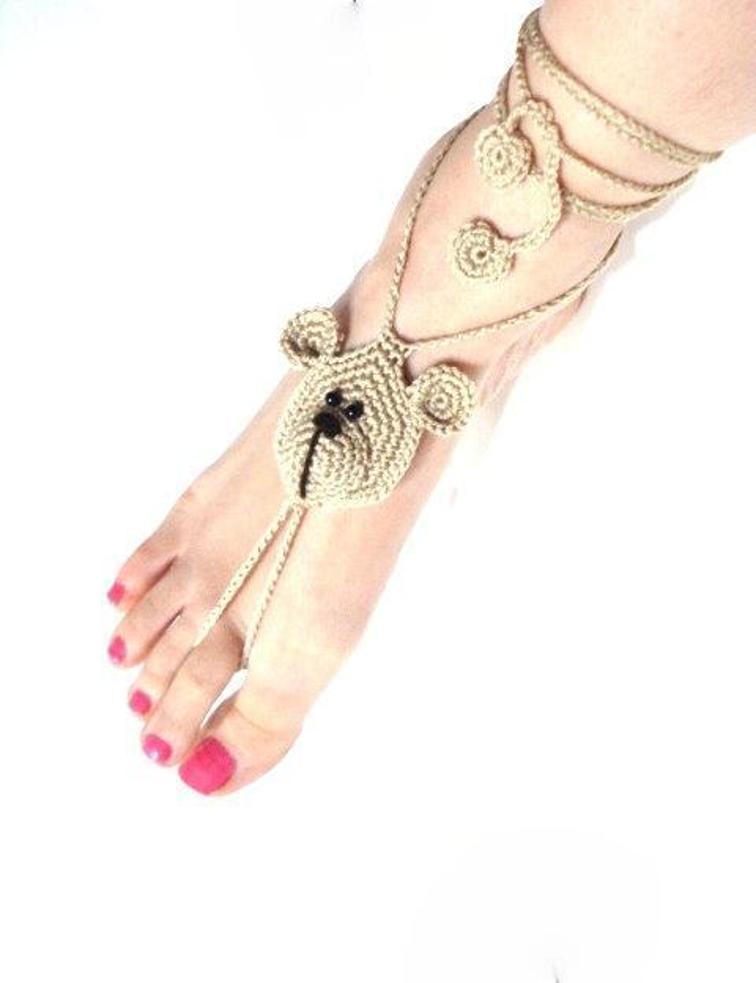 Photo via Bluprint member AllSoCute
10. Crochet Bear Barefoot Sandals
Any crochet motif can be used to make barefoot sandals, giving you lots of options for coming up with your own fun designs. This adorable teddy bear pair is a great example of fun inspiration for barefoot sandals — perfect for wearing to a kid's outdoor party or just something to make you smile as you walk around your home.
Make Your Own Crochet Flip-Flops!
With our crochet kit, you'll get a designer pattern and a perfectly paired yarn for these fun, trendy kicks.Get the Kit