Whether you're a new crochet or an expert at wielding a hook, scarves make great projects. With so many ways to construct scarves and so many designs for creative crochet scarves, you'll never get bored with a scarf.
Read on for 10 creative crochet scarves with fun, unexpected details!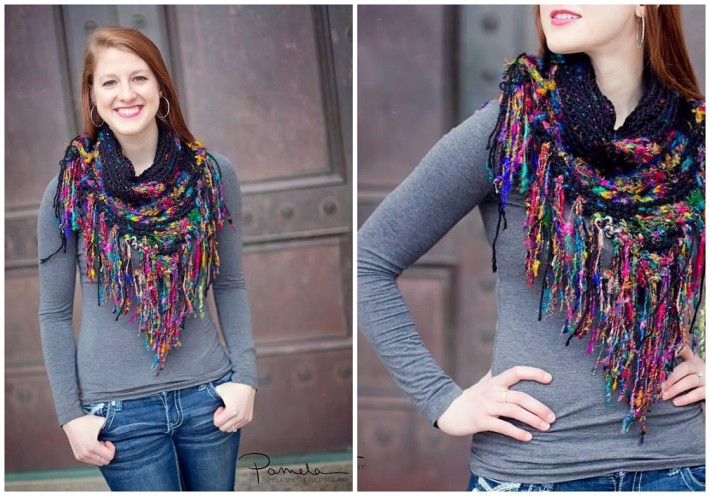 Photo via Bluprint member Just Be Happy
1. Urban Scarf
Adding a fringe to the edges of your scarf can turn even the plainest piece of crochet into something spectacular. Made in a richly colored silk-mix yarn, this scarf is bold and adventurous with contrasting textures and colors. If you want to add a fringe just to the short ends of your scarf, remember that you don't have to use the same yarn as your scarf.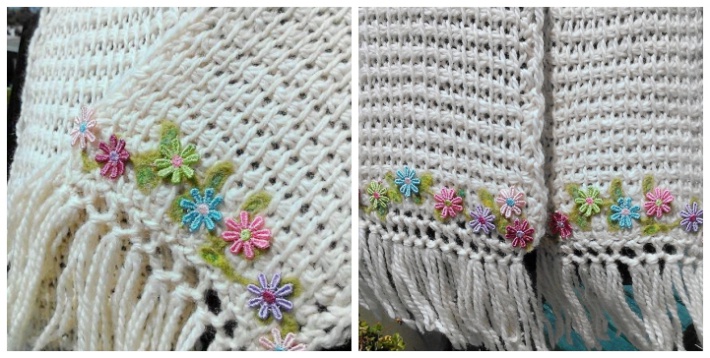 Photo via Bluprint member Lenas Legacy 
2. Quick and Easy Flower-Edged Scarf
Once you have added a fringe to a plain scarf, you might think its still a little too bare. You can crochet some small flowers and add them as appliqué work. Or you can embroider or buy ready-made flowers to sew onto your scarf.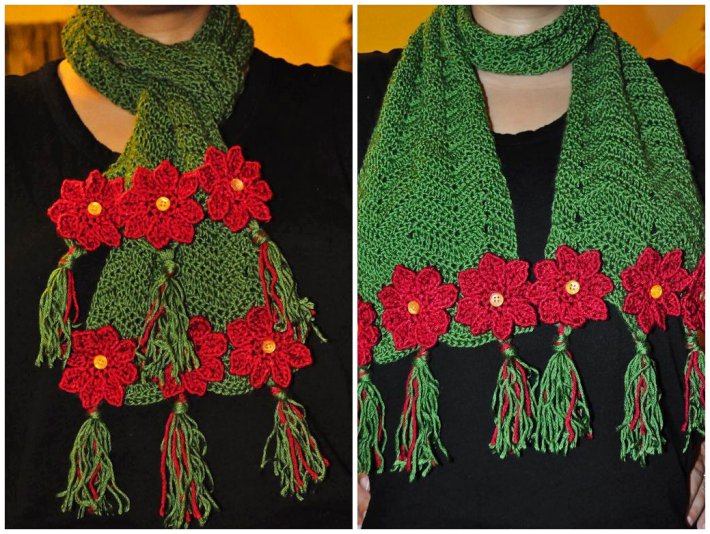 Photo via Bluprint member 5Packs Crochet
3. Poinsettia Scarf
This shows how a plain scarf made with the ripple stitch can be dramatized by adding contrasting flowers and gorgeous tassels. The green and red color combination looks perfect for the holidays, but switching out the colors would make this scarf appropriate for any season.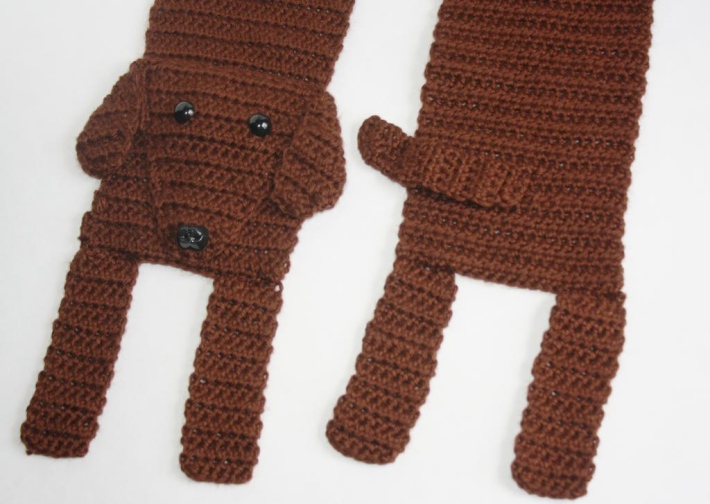 Photo via Bluprint member Crochetions
4. Crochet Dachshund Scarf
Making a plain scarf in rows is a good way to practice crocheting with a neat, straight edge. Once you have mastered that, you can really have fun and customize the ends of your scarf to make a cute little Dachshund. A little shaping, which is all described in detail in this pattern, forms the face. Add a nose and eyes, and your scarf will really come alive.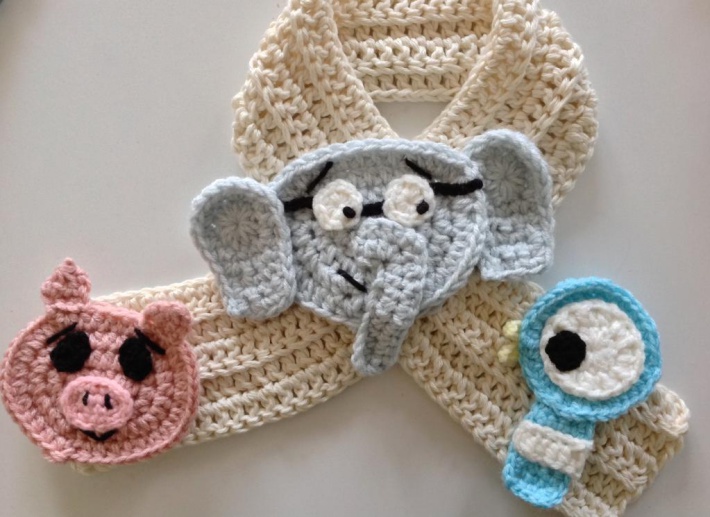 Photo via Bluprint member Prettythings55
5. Elephant Piggy Pigeon Scarf
Here's a lovely scarf idea for a child who loves animals. This cute pattern shows how to make a simple scarf and then decorate it with instantly recognizable animal heads. This is adorable and just about the most perfect gift to make if you have grandkids!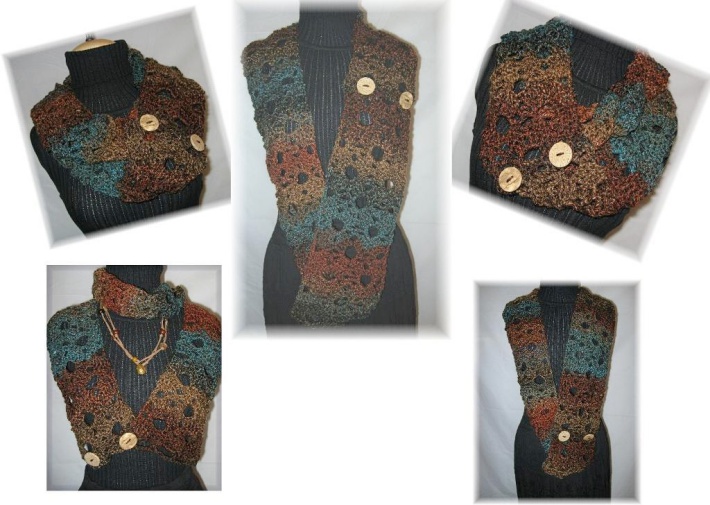 Photo via Bluprint member Carrie-Sue from Hooked on Crafting
6. Convertible Infinity Scarf
You can wear a plain scarf a couple of different ways, but why not embellish it with some super-sized buttons? This pattern shows how adding two buttons to a lacy design creates many more ways to wear your scarf.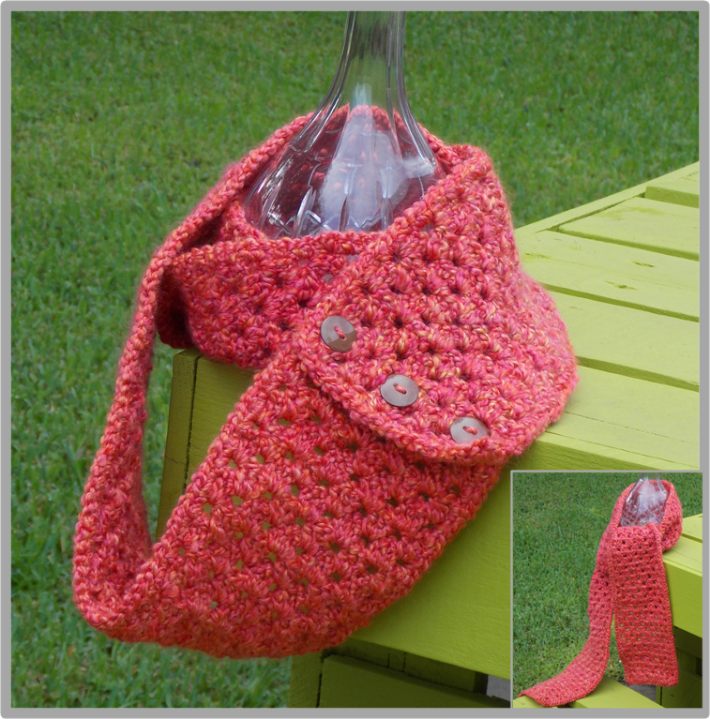 Photo via Bluprint member Thoughtsknotsstitch
7. Soft and Chunky Scarf
Here's another idea for adding buttons. This chunky scarf is long and plain, and it can be converted to an infinity scarf by closing the three buttons into the holes made by the traditional granny pattern.
Photo via Bluprint member Crafternoon Treats
8. Sammhain Scarf in Rich Fall Colors
I made this scarf and I wanted to include it to show how a simple row of petals can work to add drama to the edges of a scarf. I was inspired for the colors of the scarf by the traditional oranges and purples of Halloween, and I like to think of the edging as being little pumpkins.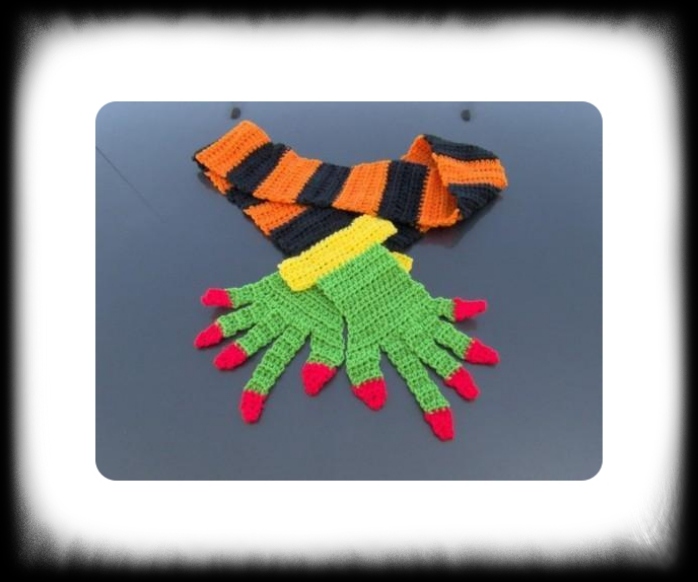 Photo via Bluprint member RsIslandCrafts
9. Witch's Hug Scarf
Speaking of Halloween…would you look at this! A simple stripy scarf with the added drama of a pair of witches' hands that give you a warm hug when you wrap the scarf around you. Perfect for going out trick or treating — or just keeping you warm on a chilly night any time of year.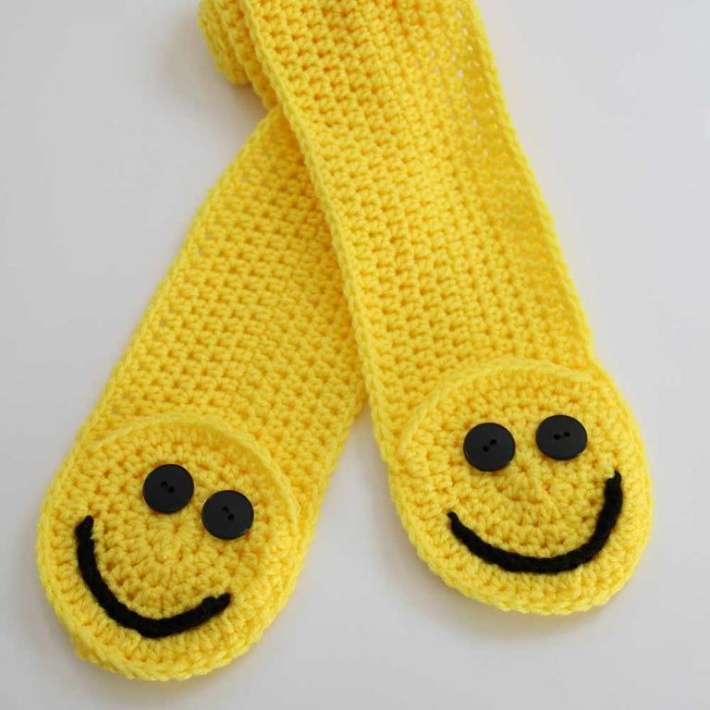 Photo via Bluprint member Lori Thompson of LoriTDesign
10. Smiley Pocket Scarf
This simple scarf gets the simple embellishment of a circle — but the addition of two eyes and a big smile really makes this scarf fun and fabulous!
Get Creative With Your Crochet!
Go beyond the basics with your crochet! Expand your horizons with lace, cables, garments and more with 7 HD online video lessons.Enroll Now »