Do you struggle with fabric choices? How do you produce that "sparkle" in your quilting projects that makes them stand out? Contrast! Using contrast can help add that extra touch to take your quilt from good to great!
Here are a 5 key tips for selecting fabric with eye-catching contrast for a quilt that really shines!
Tip #1: Be fearless.
I struggled with contrast for a long time, until one day a quilt teacher threw a bright green Fat Quarter my way and said, "Add this into your mix." I shook my head thinking, "That's crazy!" But, good student that I am, I did as I was told. When the quilt was all finished, my instructor was right! That bit of bright green added a "sparkle" to my quilt. Without it, my quilt top would have appeared a bit flat and uninteresting.
Tip #2: Go bold.
A common suggestion to consider when choosing the right combination of fabrics for a quilt is to have a variety lights, mediums and darks. This will add depth and contrast. Don't be afraid to add a touch of the brightest brights or the darkest darks in your quilt too!
Tip #3: Take a step back.
Years ago, I made this floral appliqué quilt. My "sparkle" is the brighter blue fabric, adding an extra pop of color to create interest throughout the quilt.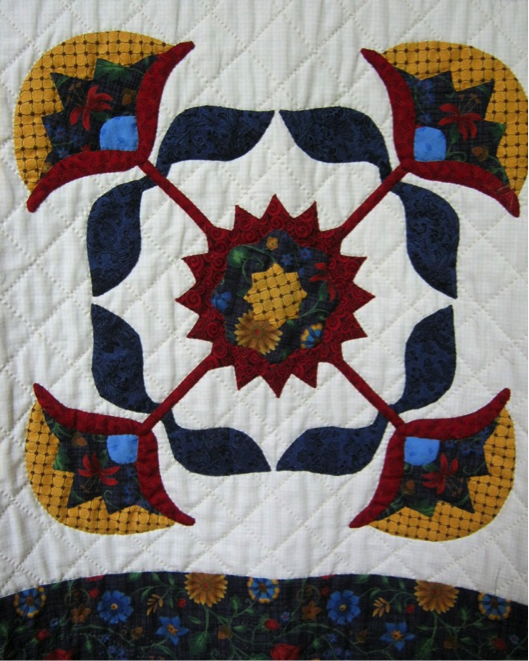 However, if you look closely at this block, you might notice an obvious lack of contrast that makes me cringe. Can you find it?
The center appliquéd gold star is touching a gold flower in the background fabric, causing the shapes bleed into each other and loose contrast.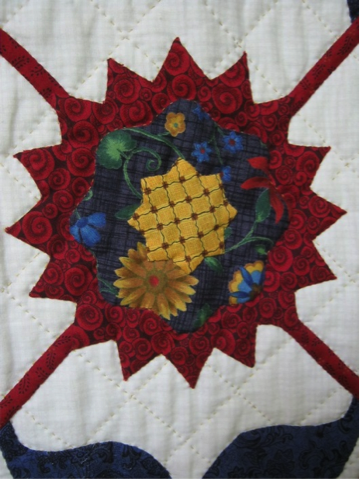 When auditioning fabrics for a quilt and specifically for individual quilt blocks, many times fabrics will appear to have the perfect contrast when viewing them close together. However when you step back away from the chosen fabric, a completely different view is revealed.
The block on the left has great contrast. The block on the right has very little contrast in the middle 9-patch, and the contrast diminishes the farther away one views the quilt.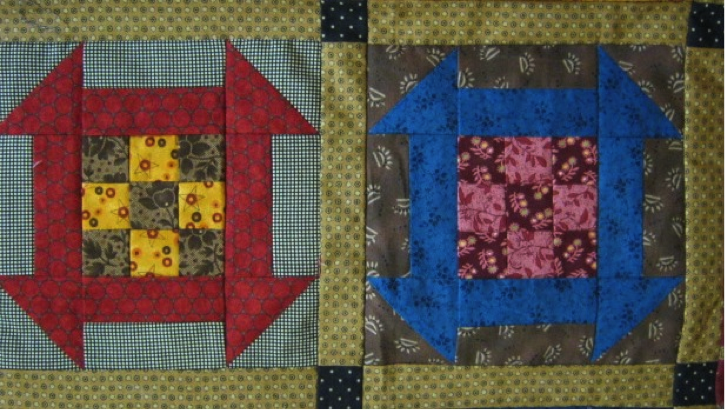 To avoid a lack of contrast, place fabrics on a design wall and stand back a few feet or more. Can you really see the difference in the fabrics? Do they stand on their own or get lost next to each other?
Tip #4: Mix prints.
Contrast can also be achieved with small and large print fabrics. Here's an example of a big and small prints mixed in contrast.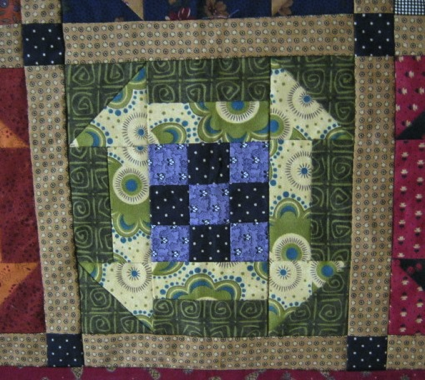 Even though the green background fabric is touching the green in the Churn Dash fabric, the large fabric print stands on its own, unlike the applique example above. The farther one stands back from this block, the green background fabric appears solid, creating more contrast.
Tip #5: Snap a quick pick.
Another tip when determining contrast is to take a picture of your fabrics together. Load the photo into your computer and save it as your desktop. It provides a great visual perspective!