Whether drawing, sketching or creating a character for a series of illustrations for a picture book, the key to creating an expressive, compelling piece is the ability to capture emotions in your artwork. But how do you create different emotions when you're drawing or making fine art?
6 essential tips for capturing emotions with your characters
Here's a collection of helpful tips on capturing emotions for your drawn or illustrated characters. As you'll see, subtle differences can make big difference when creating emotions with your characters — which means that there's a world of emotion just waiting to be captured on the page, whether you're working in pen and ink, pastel, or oil.
So grab the medium of your choice and get ready to express yourself.
Tip #1: Practice makes perfect.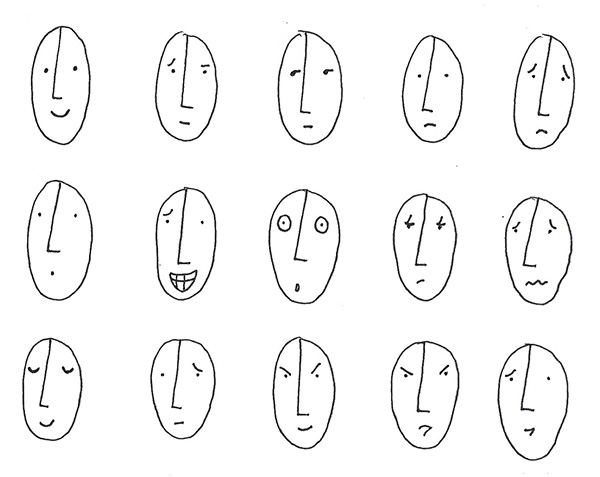 Illustrations via CakeSpy
Don't expect to get an expression or emotion perfectly on your first try. Practice makes perfect. As part of, or in addition to character studies, make expression studies. One fun way to do this is to make a sheet full of blank faces. They can be human, kitten or creature faces — whatever you'd like. You can even make a photocopy of the page of blank faces you've made, so that you always have a canvas at the ready to test out expressions. Try out variations of expressions on this page until you've gotten it just right.
Tip #2: Increase your brow know-how.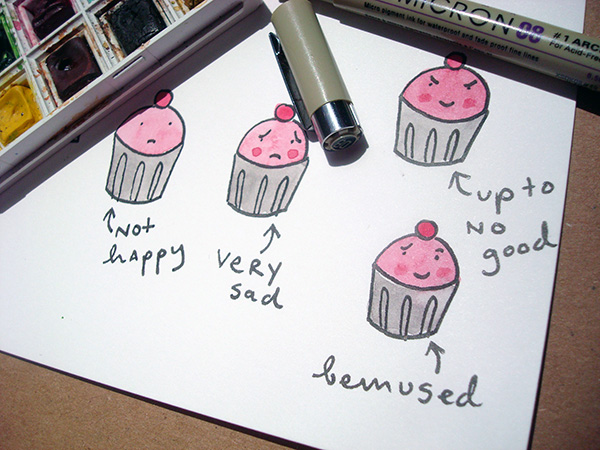 Eyebrows can convey so much feeling. They can heighten an emotion: For instance, they can take mildly unhappy to deeply sad. But, they can also contrast a facial expression: A happy face, for instance, can instantly become devious when paired with downward slanting brows, or bemused when paired with wonky brows.
Tip #3: Twist and pout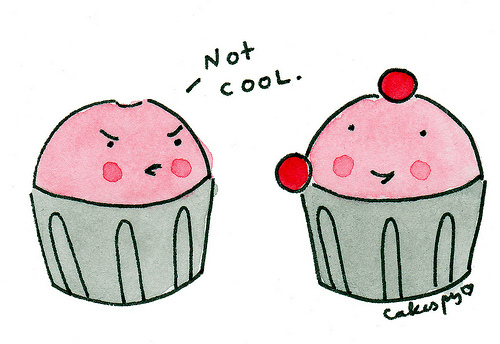 The mouth. We talk, smile, frown, blow bubbles with it… These are all things that you can show with your drawing.
Subtle changes can refine mouths in drawings. For example, a smiling mouth can convey happiness while a smiling mouth with teeth can show outright joy (or could come across manic or sinister when paired with different eyebrow expressions!). A slightly parted mouth can imply talking or conversation. An effective trick is to angle not only the eyes at the subject matter the character is looking at or speaking to, but also the mouth.
Tip #4: Eyes on the prize.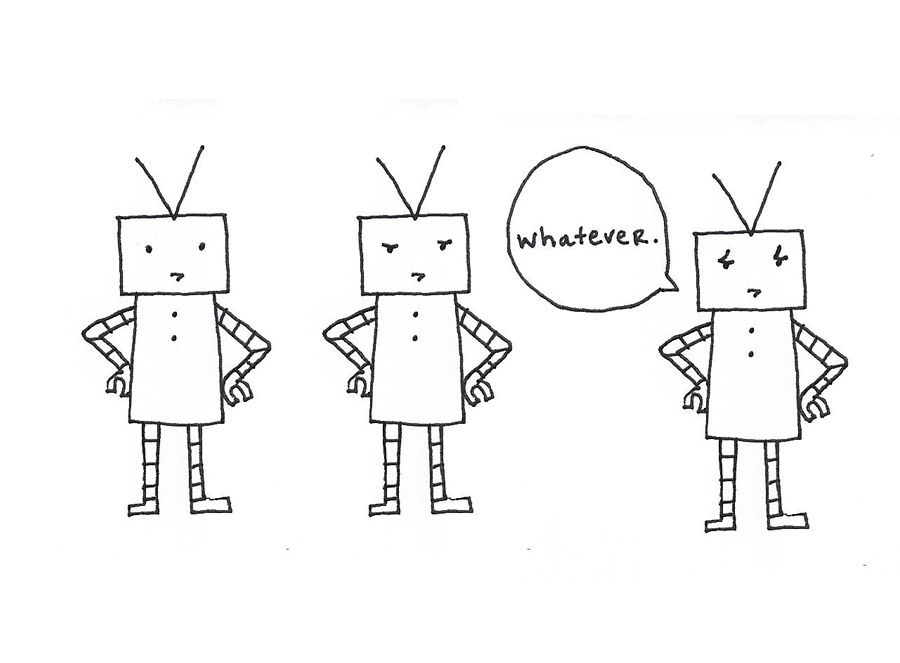 The eyes are the window to the soul. And whether they're realistically rendered or simple dots, they have the ability to be extremely expressive in your drawing.
Take a look at the three robots pictured above. It's actually the same robot form three times, but with subtle differences in the eyes. Starting from the left, you have two simple dots for eyes and a fairly neutral expression. Then, in the middle image, two small lines over the eyes imply annoyance. A simple flick of the pen forms an eyelid in the robot image furthest to the right, which gives it a world-weary expression.
To give another example of how effective eyes can be in creating an effect, check out this cartoon featuring a cupcake learning the facts of life. In the bottom panel, the simple eyes show great surprise by showing whites on all sides. How different would the outcome of this cartoon be without showing the whites of the eyes?
You can also have further fun with the eyes. Little spirals can show confusion; little x's can imply death, inebriation, or even zombie-fication (as featured in the illustration below).
Tip #5: Show your true colors.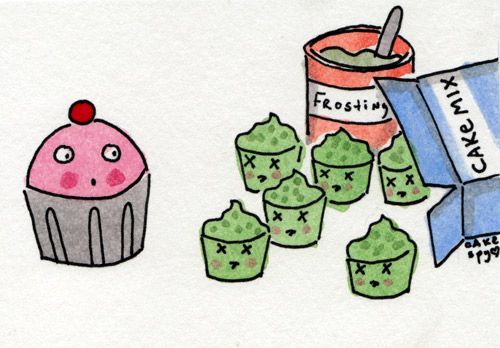 Color can also help convey emotion. For instance, a happy face with red cheeks can imply shyness or embarrassment; an angry face colored red can show anger; an unhappy face tinted green can convey jealousy, squeamishness, or (should it ever be necessary) the fact that your character has become a zombie.
Tip #6: Make the face you're drawing.
This might sound like a downright silly trick, but don't knock it til you've tried it. Just as making the voices of characters as you read a bedtime story to children, making the face you're drawing is surprisingly effective.
If making faces while you're drawing is distracting, taking photos of friends or even selfies with the expression you need can help you capture these moments, so you can translate the expressions into your own drawings later.
[box type="shadow"]
Special offer!
Learn all about creating expressive characters and explore fun new illustration techniques in Drawing Anime Style, taught by Sailor Moon animation artist Cotty Kilbanks. As a special offer to Bluprint blog readers, we're offering an exclusive 25% when you sign up today! But hurry! This offer expires on July 30, 2014!

Click here to save 25% today >>

[/box]
What's your favorite tip for conveying emotion in your illustrations?