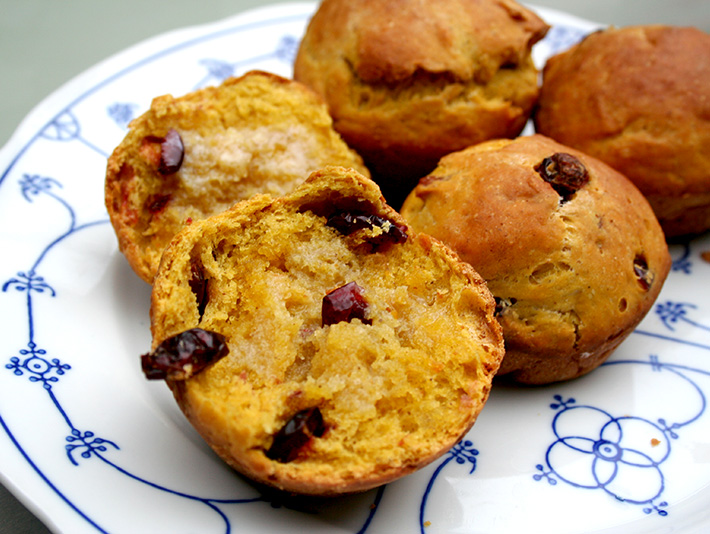 Your Thanksgiving dinner plate is about to be perfectly well-rounded, thanks to these delicious (and gorgeous!) cranberry pumpkin rolls. They're sweet, flavorful and, oh yeah, you're going to want them long after Thanksgiving is over.
Cranberry Pumpkin Rolls
Yield: 16 rolls
Adapted from King Arthur Flour
Ingredients
4¾ cups all-purpose flour
2 teaspoons pumpkin pie spice 
3 tablespoons packed brown sugar
1½ teaspoons salt
1 tablespoon instant yeast
¾ cup pumpkin puree 
2 large eggs, room temperature
¾ cup room temperature water, divided 
4 tablespoons unsalted butter, melted and slightly cooled 
¾ cup dried cranberries 
Pro Tip: Depending on which brand of canned pumpkin you use (or if you're using homemade pumpkin puree) there can be variances between the water content in this recipe. Be mindful when making the dough. If your dough seems overly sticky, add a little more flour; if it seems too dry, add a little more water.
Instructions
1. Combine all ingredients except the cranberries in a large bowl. Knead by hand using a wooden spoon and/or flexible dough scraper, or in the bowl with a stand mixer until the dough comes together in a soft and fairly smooth texture. It will be somewhat sticky. If it is too sticky to handle, add a little bit more flour.
2. Near the end of the kneading process, add the dried cranberries and continue to knead only long enough to evenly distribute the berries.
3. Place the dough into a greased bowl and cover with a slightly damp towel or plastic wrap. Allow the dough to rise at room temperature for about 90 minutes, or until it's doubled in size.
4. Gently deflate the dough. Turn it out onto a non-stick surface, and divide into 16 equal portions.
5. Using slightly wet hands, form each portion of dough into a loose ball. Place the balls into the wells of two greased, standard-sized muffin tins, or place them on a lightly greased or parchment-lined baking sheet. Baking in the muffin tin will keep balls compact; baking them on a sheet will allow them to spread out.
Pro Tip: When handling the dough during the deflating and shaping process, make sure your hands are slightly wet to discourage the dough from sticking to your skin.
6. Allow the shaped rolls to proof for 30 minutes to an hour at room temperature, or until they look puffy. Near the end of the proofing period, preheat the oven to 350 F.
7. Bake the rolls for 25 to 30 minutes, or until deeply golden. If you're unsure of doneness, use an instant-read thermometer to check the temperature of one of the rolls: the interior temperature should be about 190 F.
8. Remove the rolls from the oven and allow to cool on wire racks and enjoy warm.