If you have hardwood floors in your house, like me, then you too are probably dreading the oncoming cold weather. The idea of putting my feet on the chilly floor each morning makes me stay in bed even longer. This year, I've decided to solve that problem by knitting up some cozy socks to keep by the nightstand, so I can cover my feet before they even hit the floor.
Do cold feet get you down in the fall and winter? Start knitting one of these cozy pairs of socks now to avoid a chill.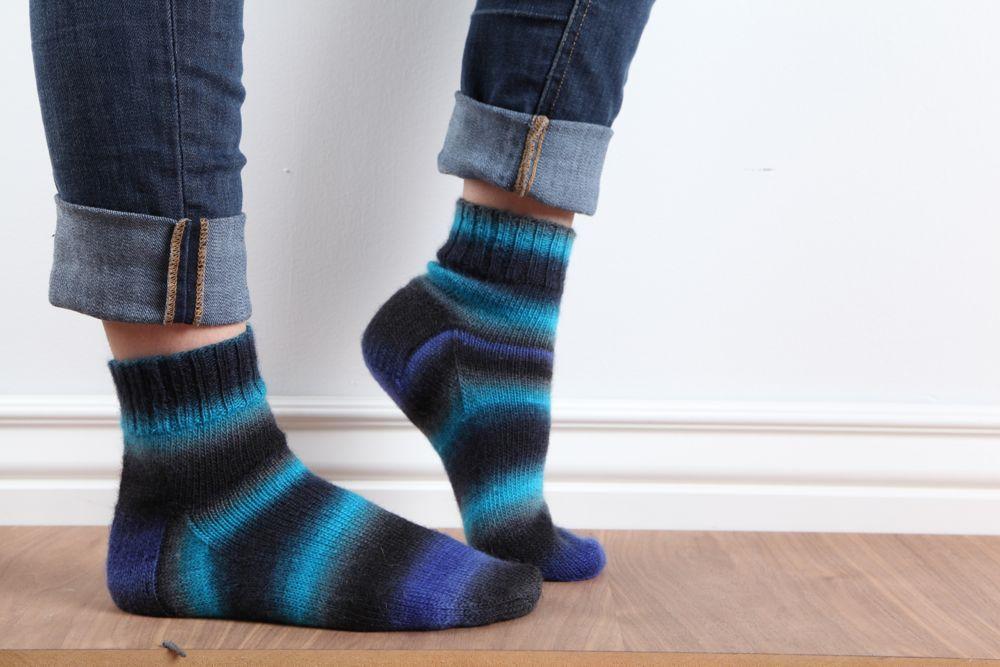 Photo via Bluprint instructor Lucy Neatby
Cuddly Socks
I like my socks to be super cuddly, especially if I plan to wear them around the house a lot. This pair is perfect for knitters seeking that cuddly comfort. The pattern is available exclusively to Bluprint members enrolled in My First Socks with Lucy Neatby — join the class today and you'll knit pairs of socks that fit perfectly to your foot length. Not sure how to do that? No worries! Lucy will show you the ropes.
Read more about the Cuddly Socks pattern here.
Enroll in the My First Socks class here.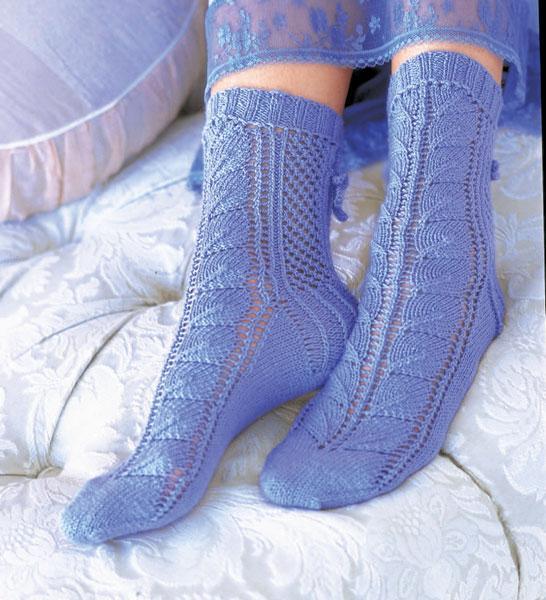 Photo via Bluprint member Vogue Knitting
Lace Socks
Knitting a cozy pair of socks doesn't mean skipping out on an elegant design. These lace socks feature a leaf lace pattern, plus a fishnet design on the back. They even have a little tie on the back that peeks out when worn with your favorite flats.
Get the Lace Socks pattern here.

Photo via Bluprint member ImpeccableKnits
Spectral Dispersion Socks
I dare you to find a pair of socks more fun than these! I was originally drawn to all the colors, but then I took a closer look at that slip-stitch design. Wow! These look like they're fun to knit — and fun to wear.
Get the Spectral Dispersion Socks pattern here.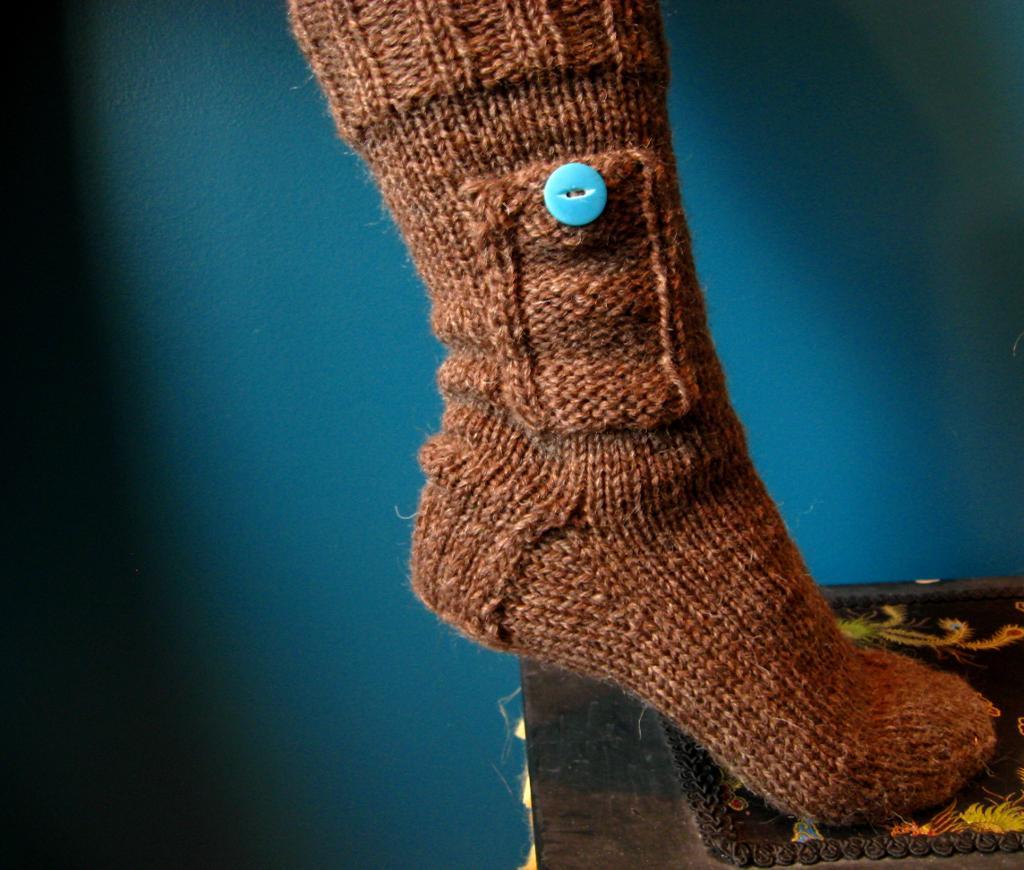 Photo via Bluprint member kraftling
Pocket Socks
If your socks had a pocket, what would you put in there? Now's the time to find out. Use the recommended Lion Brand Fisherman's Wool yarn, available right here on Bluprint, and you'll only need half a skein to make a pair — meaning you can make one more pair for a friend!
Get the Pocket Socks pattern here.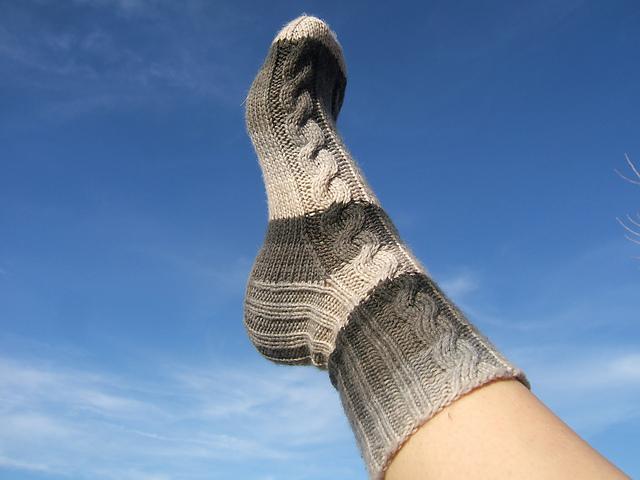 Photo via Bluprint member SaraElizabethS
Eirene Socks
I love sock yarn that does all the striping for you. Pair that with a simple rib and cable pattern and you've got yourself a sock knitting pattern that's much easier than it looks. This pair is named for Eirene, the goddess of peace and springtime, but that doesn't mean you need to limit yourself to wearing these in the spring.
Get the Eirene Socks pattern here.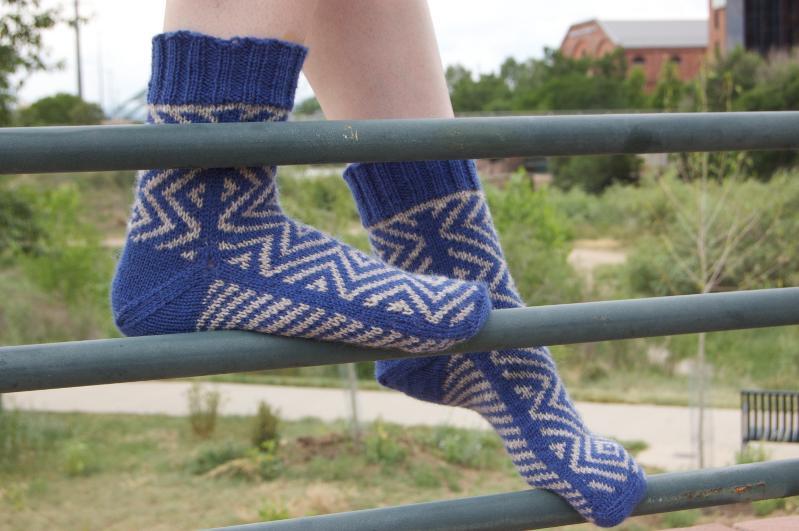 Photo via Bluprint instructor Donna Druchunas
Bosnian Colorwork Socks
These socks are so cool, and all the students in Knit Sock Workshop know it. The socks use a colorwork technique that creates awesome diamond designs. The pattern is available only to students enrolled in the Knit Sock Workshop with Donna Druchunas, so check it out to knit these socks and learn all kinds of helpful tips for sock knitting.
Read more about the Bosnian Colorwork Socks pattern.
Enroll in Donna's Knit Sock Workshop class here.

Photo via Bluprint member TheSexyKnitter
Bonneterie Socks
Looking for a sock that isn't just for wearing around the house? TheSexyKnitter has you covered. These gorgeous socks are worked from the toe up and are finished off with a beautiful lace edging. The mustard color shown here would be perfect for fall, don't you think?
Get the Bonneterie Socks pattern here.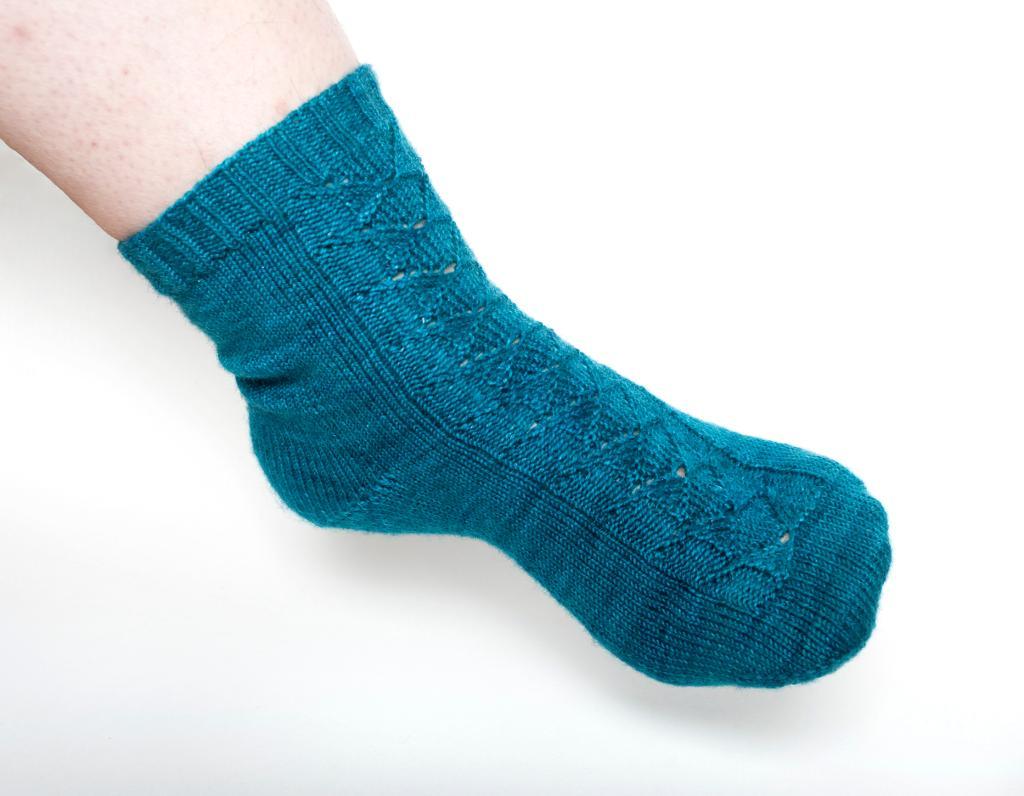 Photo via Bluprint member meriffic
Width Socks
At first I was drawn to these socks because of the color, but then I read that they can be customized to fit a wider foot. My size 10 feet salute you, meriffic, for designing socks with a larger foot in mind!
Get the Width Socks pattern here.
Do you prefer to knit your socks toe-up or cuff-down?
FREE Guide: Need-to-Knows for Knitting Socks
Knit cozy treats for any feet with a pair of custom socks! This guide covers the essential tips and techniques that will help you get started.Get my free guide »