Quilters tend to be very passionate about their sewing machines. Most have either a love or a hate relationship with their machine, and they are very adamant about it! Finding the right machine is crucial for quilting at every level. Rather than recommending a specific brand, which is a very personal and subjective topic, let's look instead at how to choose a sewing machine for those just learning how to quilt.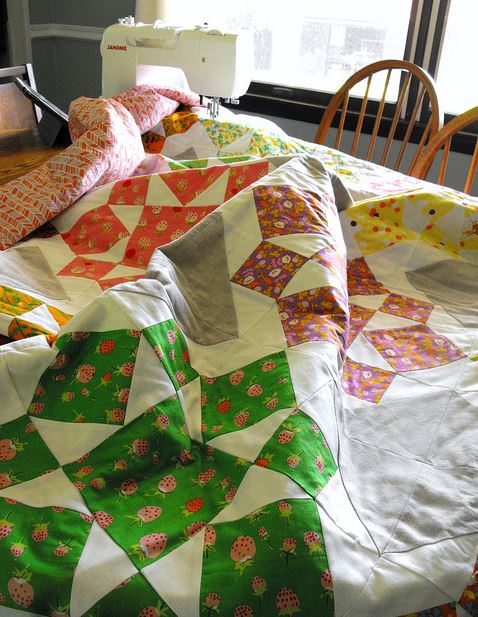 Photo via Fussy Cut
Here are some useful tips and considerations to keep in mind when you are choosing your first sewing machine:
1. Intent
Before you spend your hard-earned money, take a realistic look at your quilting intent. Is this a pastime that you are dabbling in, or is this a craft that you intend to truly devote your time to? This will help you determine how much money you are willing to spend. The less expensive machines aren't as durable as those that cost a bit more, so if you'd like yours to last, be prepared to spend accordingly.
2. Cost
What are you comfortable spending? There are two basic price ranges for beginner-level machines:
Machines in the lower range (like Brother and Singer brands) can be purchased at regular convenience and craft stores, like Target, Walmart and JoAnn's. They are mechanical and electronic machines that feature all of the basics that you need, including multiple stitches, backstitch, and ample lighting.
Machines in the $200 – $600 range include extra features that quilters appreciate. Some of the bonuses that can be found on machines of this range?
needle down position
start/stop button
wider throat (the space between the needle and the rest of the machine) to hold bigger quilts
uniformity and high quality stitches
easy electronic button features instead of dials and lever
hundreds of useful and decorative stitches
3. Educate and research
Do your homework and become familiar with sewing machine brands. Baby Lock, Bernina, Brother, Elna, Husqvarna Viking, Janome, Sears/Kenmore, Pfaff and Singer are all popular. Visit company Web sites to see which ones have a machine in your price range, and check reviews on Amazon and Consumer Reports.
4. Visit local dealers
It helps to see these machines in person! Once you are there, ask the store employees questions, view demonstrations and test-drive the machines. Many stores encourage you to bring in the fabrics you like to sew with. All of this will allow you to really know what you are purchasing.
5. Shopping local vs. online
This applies especially to those machines in the $200 – $600 range that can be purchased from local dealers. Buying those machines online might let you save a few dollars, but I recommend you purchase them directly from a local shop. Most sewing machine dealers provide instruction on how to use your specific machine and free quilting classes. Those stores are also where you can take your machine for maintenance and repair. These services are invaluable for beginning quilters. Many shops also sell used and refurbished machines, which can be very cost effective!
If you're new to quilting, Craftsy has some great online quilting classes that are perfect for beginners! Check out Machine Quilting the Home Sweet Home Quilt with Frieda Anderson and our FREE mini-class Piece, Patch, Quilt: Basic Quiltmaking Skills with Gail Kessler!
What sewing machine do you recommend for a new quilter? What are your shopping tips? Please share!