Chocolate and peanut butter. Respectively, both of these foodstuffs are great. But together? They fuse together in a deliciousness that practically defies logic, a taste that fills your taste buds (and possibly your soul) with a perfectly balanced sweetness and richness.
Here's a collection of 12 recipes rich in the addictive combination that is chocolate and peanut butter.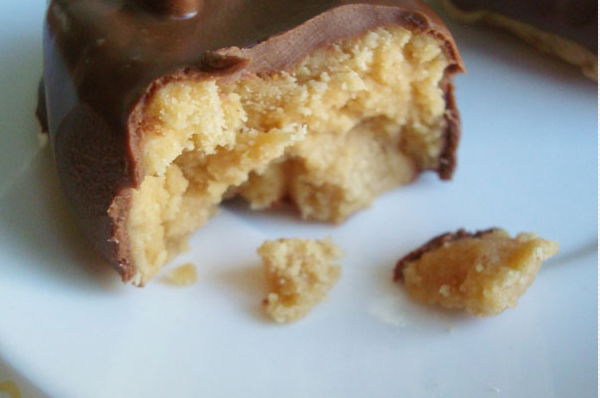 Photo via CakeSpy
While this sort of union might inspire songs, storybooks and legends, it's far more tasty to celebrate this fantastic fusion by sharing recipes for candies, cookies, cakes and pies.
Cookies and confections
Chocolate-and-peanut-butter eggs:
Give the Easter Bunny a break and make yourself some of these addictive truffles, with a sweet, firm peanut-butter filling encased in a dipped chocolate shell. They're easy to make, and you can shape them in different ways for a yearlong treat. Pictured top. Recipe here.
Chocolate-peanut-butter cookies:
An easy way to up the ante on your peanut butter cookies? Simply add chocolate. You'll wonder why this isn't done every single time. This version is made with chocolate peanut butter, too. Recipe here.
Chunky peanut-butter bars:
These chewy and rich bars are made with a cake mix doctored with, among other things, sweetened condensed milk, chocolate, coconut and peanut butter. Recipe here.
Inside-out peanut butter cups:
Love peanut-butter cups? Why not turn them inside out, with peanut-butter shell encasing gooey chocolate inside? The result is an unexpected confection that will delight. Recipe here.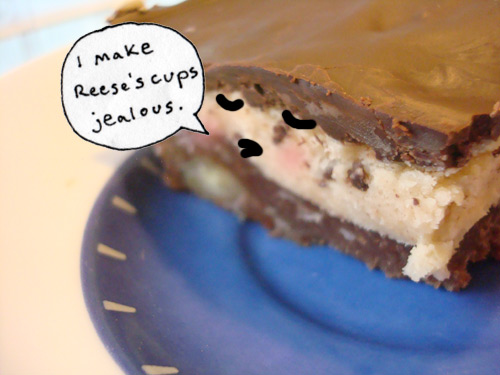 Photo via CakeSpy
Peanut-butter Nanaimo bars:
If you've never heard of Nanaimo bars, you're in for a treat. These ultra-decadent no-bake bars were invented in Canada, but are delicious everywhere: a coconut-graham-cracker-chocolate crust, a rich buttercream middle layer (try using this delicious buttercream recipe), and a chocolate topping. This version has peanut butter in that middle section. Recipe here.
Chocolate-peanut-butter Special K bars:
Sort of like a tricked-out version of Rice Krispies Treats, these use Special K cereal and employ peanut butter as a binder and chocolate as a topping. Or, try using this recipe as the base instead. Recipe here.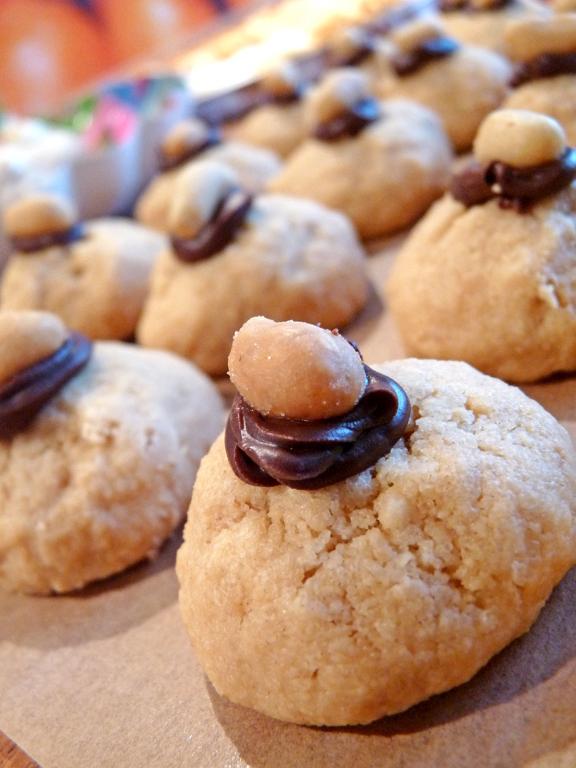 Photo via Bluprint member bake.sew.craft.
Peanut sighs:
Proceed with caution. As Bluprint member bake.sew.craft. says of these peanutty (they include peanut butter and peanuts) cookies with chocolate ganache, " I generally eat half the tray myself before anybody ever gets to see them." Recipe here.
Peanut-butter-chocolate pillows:
They look like little ravioli, but the taste is all sweet. These dough pillows are stuffed with a peanut butter and chocolate mixture that will make you want to cuddle up. Recipe here.
Pies, pastries and cakes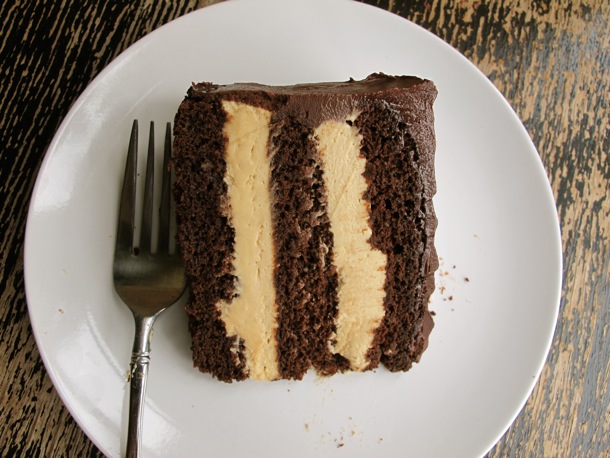 Photo via Yvonne Ruperti
Chocolate cake with peanut-butter filling:
Cream cheese is the secret to this cake's well-rounded flavor. As pastry chef Yvonne Ruperti says, "Plain sweetened peanut butter often lacks a certain something, and the slight tang of the cheese fills out the flavor perfectly." Add chocolate cake with chocolate icing and you've got yourself an extremely well-rounded flavor. Recipe here.
Chocolate and peanut butter toaster pastries:
True, this recipe is just for peanut-butter-filled homemade Pop-Tarts. But doesn't it seem to be crying out for a chocolate drizzle on top? Recipe here.
Chocolate-peanut-butter-cookie-dough s'more cupcakes:
Don't ask what these cakes have — ask what they don't have. There's not much missing. They've got chocolate, peanut butter, a chocolate chip cookie dough center, and a toasted marshmallow topping. Open wide. Recipe here.
Chocolate-peanut-butter pie with crushed-pretzel crust:
Talk about a showstopper of a dessert! A rich, creamy peanut butter pie with a pretzel crust sealed together with a chocolate layer. Yum doesn't even begin to address this. Recipe here.
Peanut butter and chocolate: it's a marriage made in heaven! Which peanut butter do you favor with chocolate: smooth, or creamy?