It's so satisfying to arrive at a friend's house for dinner with a little token of appreciation. It's even more satisfying when you've made that gift yourself. Of course a bottle of wine is always welcomed, but why not skip a trip to the store and head into the kitchen instead.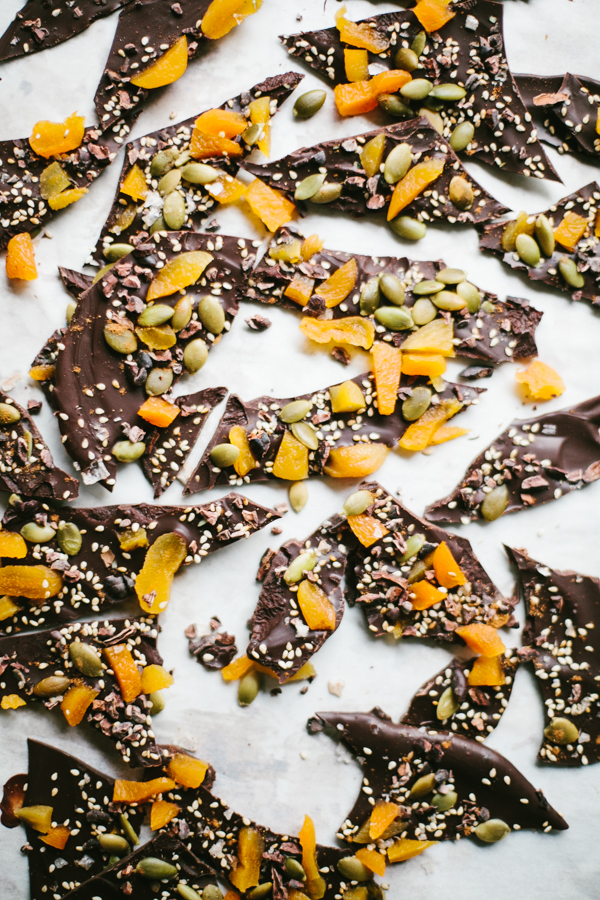 Making chocolate bark is like giving yourself the opportunity to play Willy Wonka.
It's like making your own candy bar. Essentially you melt chocolate then spread it out thinly before topping it with any number of delicious things.
I tend to think of my chocolate bark toppings in two different categories: texture and flavor. I always want something a little soft and chewy and something a bit harder and crisp. And for flavor I tend to want something sweet, bitter, slightly savory and then salty. For these reasons I generally always include some sort of dried fruit dried — apricots and ginger are both really great options. Apricots and cherries have a tartness I really love, and their texture is a lovely balance against the firm chocolate.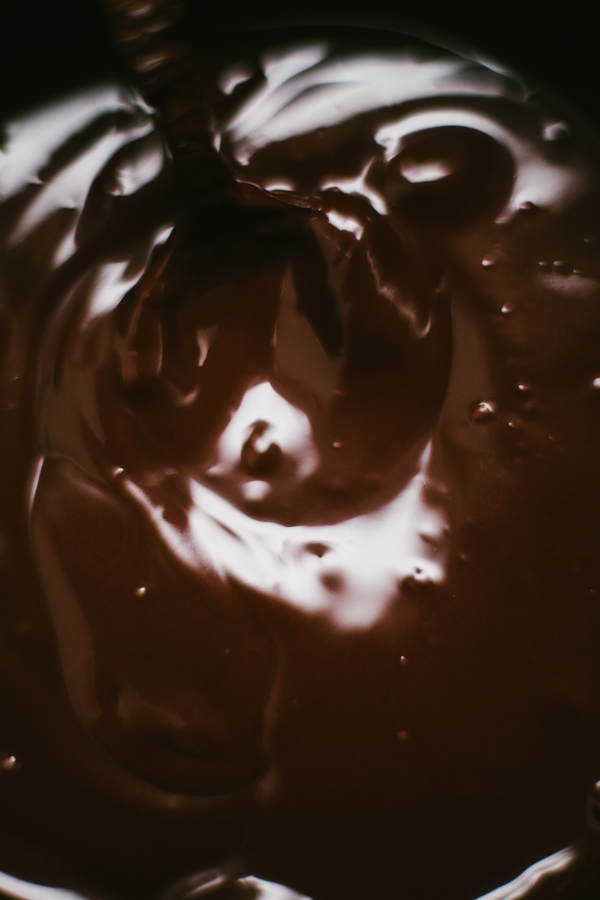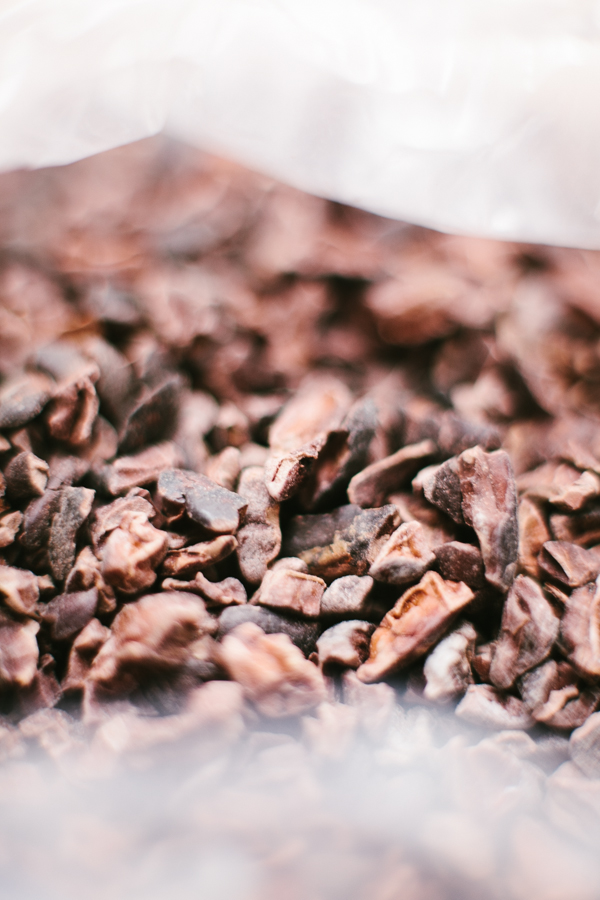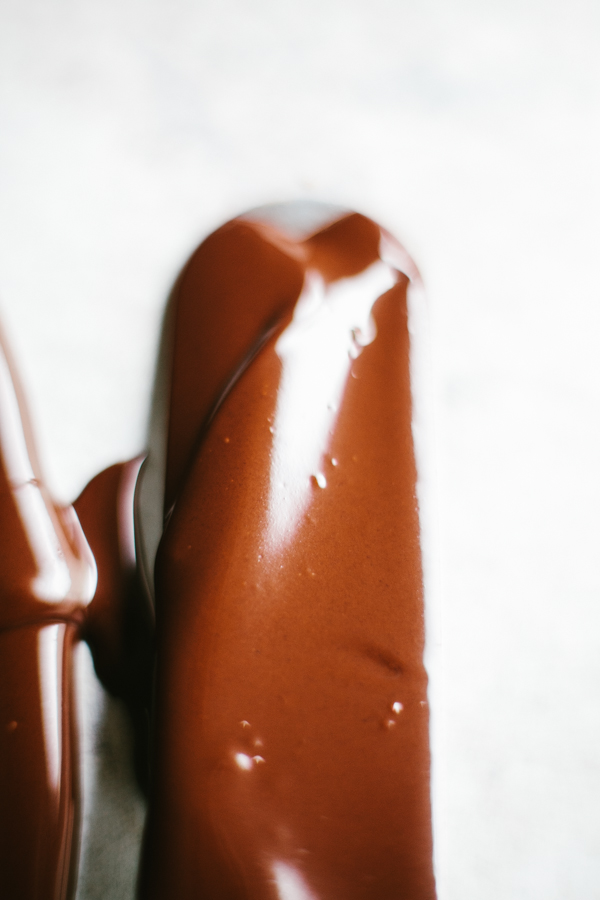 It's always best to include an ingredient that sort of catches people off guard. One that you wouldn't expect to see paired with chocolate. For example, flakes of salt, sesame seeds, chili flakes or poppy seeds; all of which add a bit of a popping texture when you bite and a flavor that balances the sweetness beautifully.
So often the bark is dependent on what is in my pantry. It forces me to get creative and think about pairings that I would never have imagined.
The chocolate bark recipe I share below is a perfect example of that. All of these ingredients I had lying around and before I set out to make this recipe I had never topped a bark with toasted sesame seeds before and I loved it! I also at the last minute decided to add just a whisper of five-spice powder, which is a blend of fennel, white pepper, cloves, cinnamon and star anise.
Use your own pantry and creativity as your guide. Of course you are welcome to follow my chocolate bark recipe, but like I said, the fun of this is to act as your own chocolate maker. Have fun with it and push the boundaries a bit.
Chocolate bark recipe
Ingredients:
8 ounces chocolate (I prefer using bittersweet chocolate chips), melted (**See note on bottom)

1/4 cup diced dried apricots
2 tablespoons toasted and salted pumpkin seeds
1 tablespoon cacao nibs
1 teaspoon toasted sesame seeds
Pinch five-spice powder
Flake salt
Directions:
1. Spread out the chocolate in a thin layer on an inverted sheet pan with a piece of parchment on top. An offset spatula is the best tool for this job.
2. Scatter all the ingredients evenly over the top.
3. Set the sheet pan in the fridge for 10 minutes to set up the chocolate.
4. Break the chocolate into small-ish pieces.
5. Add several pieces to a glassine bag or small box, tie with a ribbon and give them away (reserving a few pieces for yourself, of course).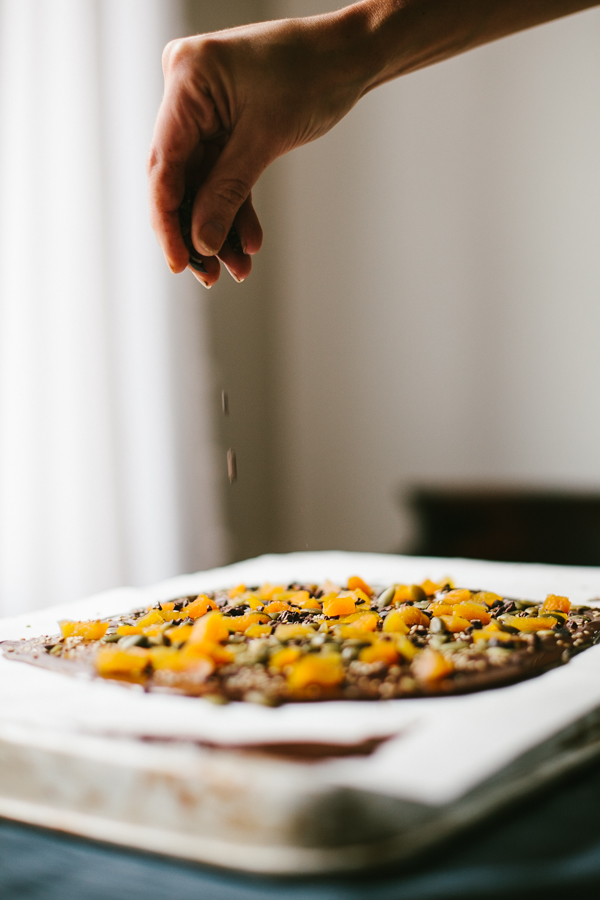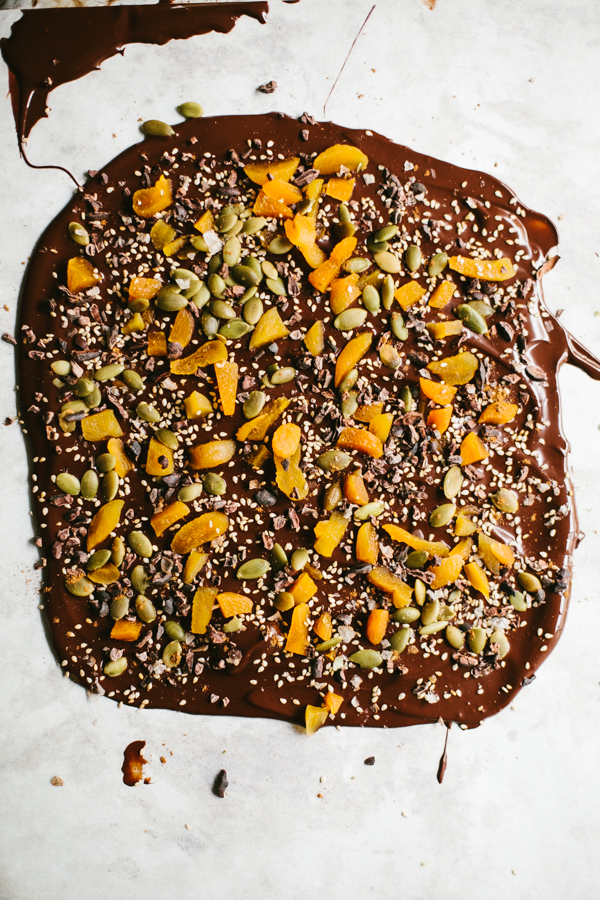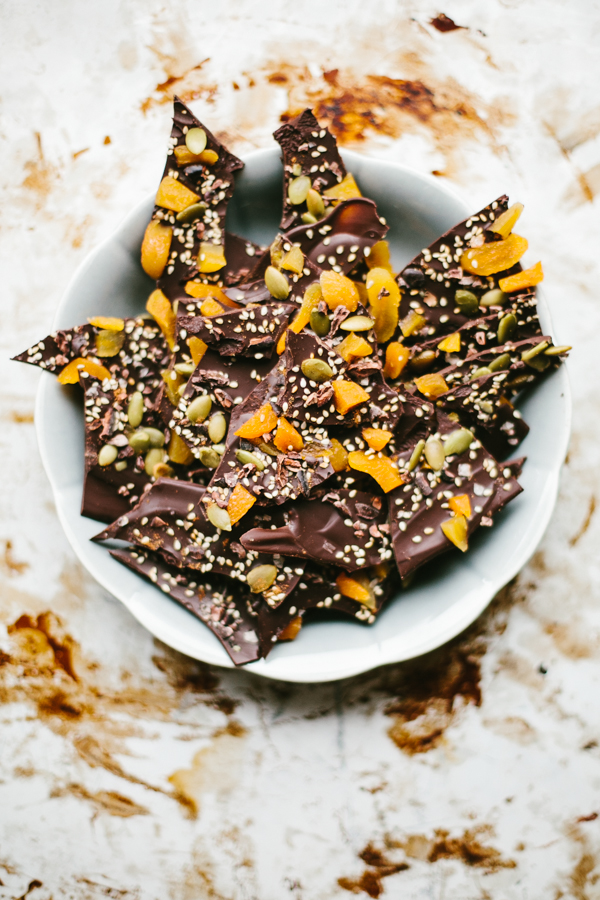 A note on melting the chocolate:
The key to melting chocolate is to do so gently. There are two easy ways to do this. The first is to set up a bain marie which, is merely a French way of saying "a simmering pot of water with another pot or bowl resting on top". The bowl on top holds the chocolate and should never touch the water below. Stir and melt this until just a few pieces of chocolate remain in the bowl. Remove from the heat and let the residual heat melt the rest.
The second method is to melt the chocolate in the microwave. You'll need a microwave-safe bowl and a spoon or rubber spatula. Begin by melting the chocolate in 15 to 20 second intervals. Stir well after each heating. You may not see much change in the first few rounds but the slow and steady heating will ensure that the chocolate won't burn. There's no going back from burnt chocolate.
Continue to melt in this way until a few pieces of unmelted chocolate remain in the bowl. Let the residual heat finish the melting process.