Chicken pot pie is one of my favorite comfort foods — but I don't make it all that often. It's relatively time consuming to make, thanks to the long baking time required by the pastry crust, which makes it tough to whip up on busy days. For an easy, weeknight-friendly version of chicken pot pie, I turn to a delicious chicken pot pie pasta instead.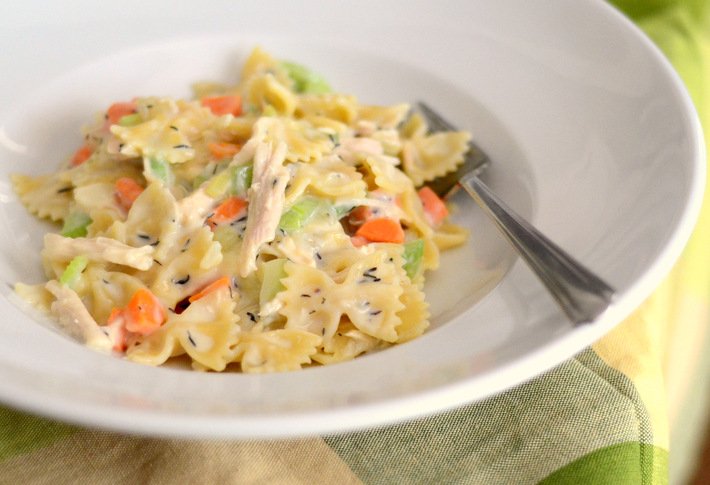 This chicken pot pie pasta taste just like a traditional pot pie, but comes together in way less time.
This pasta dish's sauce is similar to the filling of a chicken pot pie — flavorful, creamy and comes together in about 10 minutes on the stovetop.
While you're making the veggie filling, you can cook the pasta on another burner. Both components of the dish will be ready at just about the same time!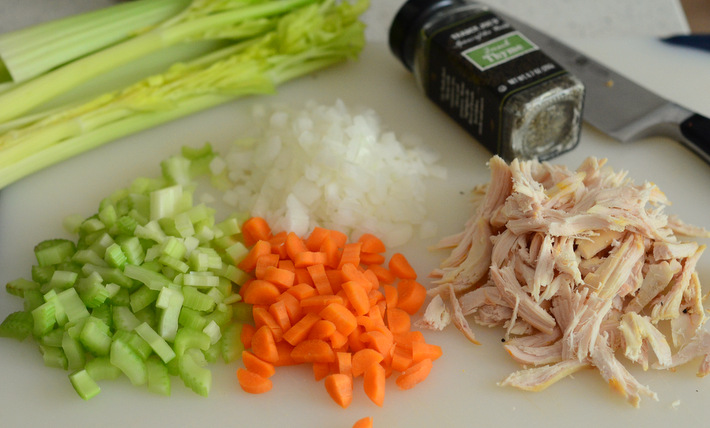 The pasta sauce tastes just like the filling of a chicken pot pie.
The sauce starts with a mirepoix of onion, carrots and celery. I recommend dicing up all the vegetables to be about the same size, but you might want to cut your carrots a bit smaller than the others. In a regular pot pie, the carrots get extra cooking time in the oven. In this recipe, they are cooked on the stovetop and you don't want to hold up the whole process for some large chunks of carrot.
Flour and milk make up the base of the sauce. Reduced-fat or whole milk are best. I wouldn't recommend a non-fat milk because it won't give your sauce much body. It will work, but the sauce will be thinner and less creamy. The flour keeps the milk from scalding as it cooks, producing a velvety smooth sauce.
Finally, you'll add shredded chicken to the sauce as it thickens. This recipe, incidentally, is a fantastic way to use up some leftover roast chicken!
And the noodles step in as a substitute for a chicken pot pie's tasty crust.
When it comes to the type of pasta, you can use anything that you have in your pantry. I used farfalle for this batch because I find that the little bowties catch the sauce nicely.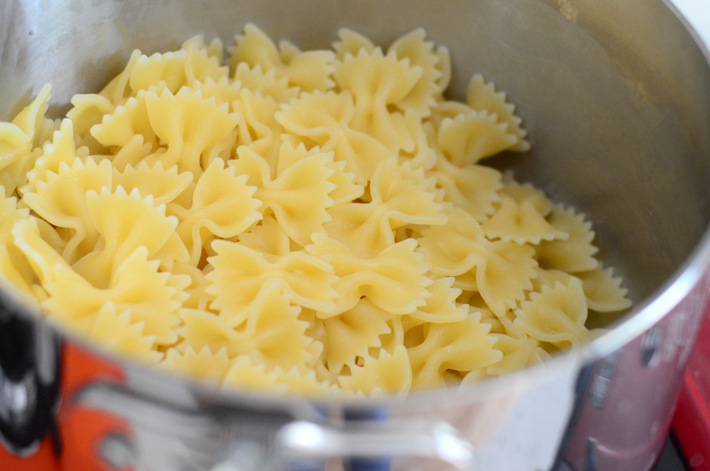 Penne would be a good choice, as would a flat noodle like fettuccini, as this sauce has a similar consistency to a creamy Alfredo sauce.
Since the cooking times of different pasta shapes vary, you might find that your pasta takes a few more minutes than the sauce. If that is the case, simply remove the sauce from the heat for a few minutes and stir it into the pasta once it is cooked. 
Chicken pot pie pasta recipe
Stay organized and start your week off right with our handy Weekly Meal Planner Printable (it's free!)
Serves 6 people
Ingredients
3/4 pound pasta
2 tablespoons butter
1 cup diced onion
1 cup diced carrots
1 cup diced celery
1 teaspoon dried thyme
1/2 teaspoon garlic powder
1/4 cup all-purpose flour
2 cups milk (preferably whole or reduced-fat)
2 cups cooked, shredded chicken
Salt and pepper, to taste
Step 1:
In a large pot, bring salted water to a boil for the pasta.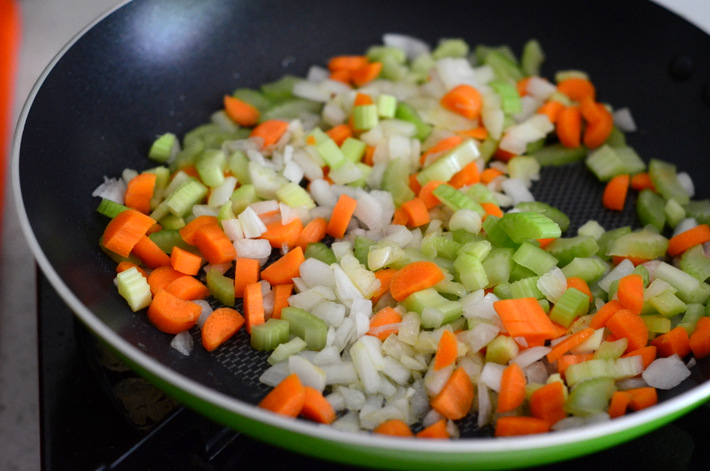 Meanwhile, melt butter in a large, non-stick skillet over medium heat. Add in diced celery, onions and carrots and cook until carrots are tender, about 5 minutes. 
Step 2:
Add pasta to the boiling water and cook to desired doneness.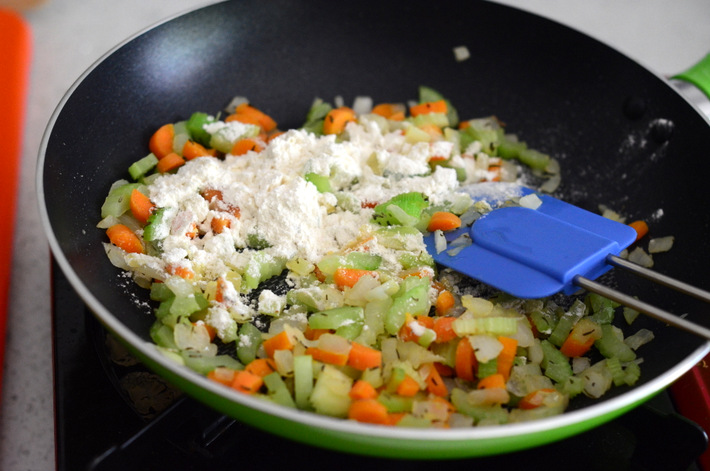 While pasta is cooking, add herbs and flour to the vegetables in the skillet. Cook, stirring with a spoon or spatula, for 1 minute.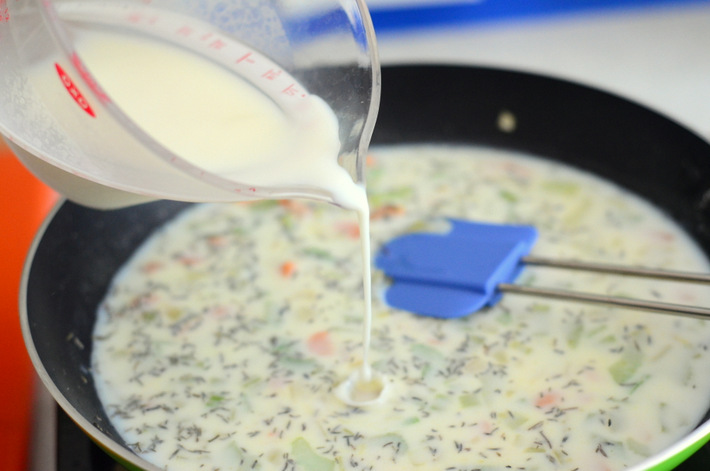 Add in the milk and cook, stirring regularly, until liquid comes to a simmer.
Step 3: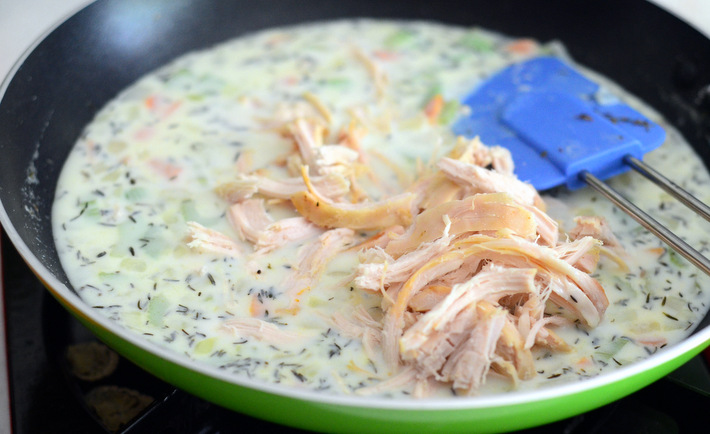 Stir in shredded chicken and cook until sauce begins to thicken, about 2-3 minutes. Remove from heat. Season with salt and pepper, to taste. 
Step 4:
Drain pasta thoroughly. Add sauce to pasta in large pot or serving bowl and stir to combine. Serve hot.