Did you enjoy Craftsy's Christmas in July series? Well let's not let the seasons stitching stop with July! It's never too early to start thinking about the holidays. So, today we'd like to invite you to join in a special holiday-themed charity sewing project! If you'd like to join us, read on for more details on how you can help!
Join in on the Craftsy charity sew-along!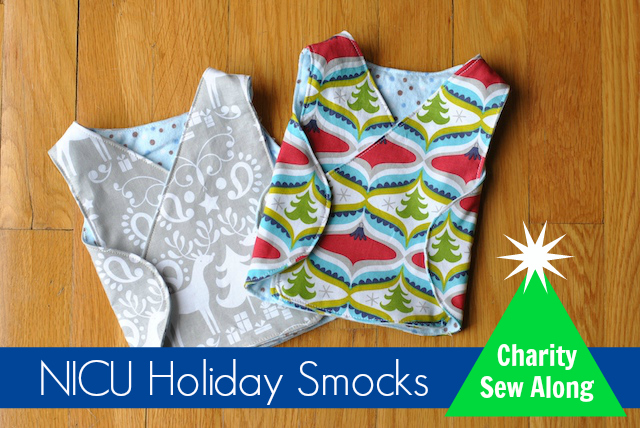 What is it?
For this project, we'll be sewing outfits for babies in the Vanderbilt Children's Hospital Neonatal intensive-care unit (NICU). These teeny, tiny smocks are designed to fit babies weighing 3 to 5 pounds! When babies are in the NICU, getting dressed in normal baby clothes can be impossible with all the monitors and wires. Seeing their babies dressed in a cute outfit can be a great encouragement to the parents of preemies.
This charity sew along is sponsored by the Music City Modern Quilt Guild and Blend Fabrics. If you enjoy sewing for children, you'll love whipping up teeny, tiny holiday smocks to dress preemie babies staying in the NICU this holiday season.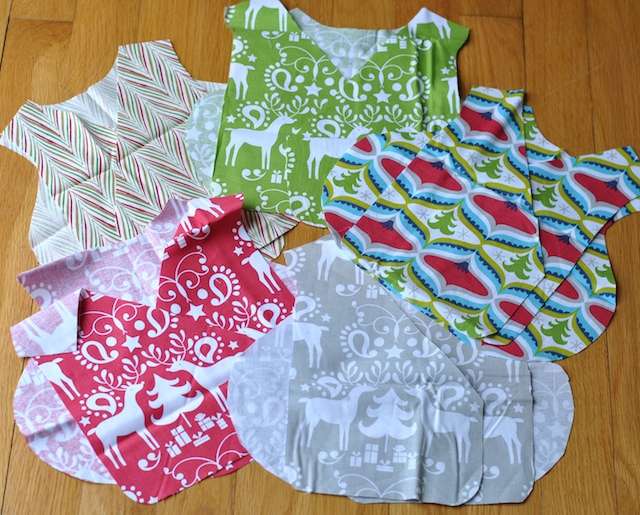 How can I help?
No matter where you live, we'd like to invite you to sew along with us! This charity sew-along runs from August 1, 2014 to November 14, 2014. This gives you three months to sew up one or more NICU smocks (each takes an hour or less to sew) and donate them to a great cause!
The NICU smocks pattern is a FREE download from Everything Your Mama Made.
Get it here on Craftsy!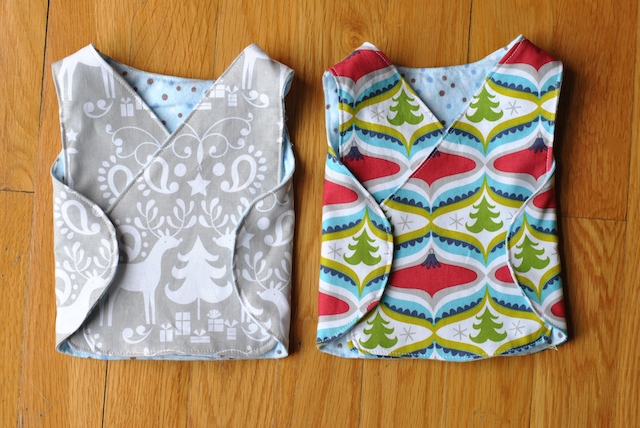 Here's what the finished smocks look like. Donated by Blend Fabrics for our guild to sew with, the deer and ornament prints you see above are Treelicious by Maude Asbury. The chevron design (below) is from the Yuletide Greetings collection by Anna Griffin. To sew along with us, simply pair a quilting cotton in a holiday print with any coordinating felt lining.
According to the pattern, you can either finish with a serger or sewn them together as pictured (pressed and top-stitched). With a serger, these would go together in no time at all. I estimate that this method took less than one hour from start to finish.
Join us!
In the spring, the Music City Modern Quilt Guild donated 40 NICU smocks (pictured here), and we'd love to double or triple that number this season. If you don't have any holiday fabrics, we're always on the lookout for cute boy-friendly smocks like these animal prints from Ann Kelle that can be used any time of year.
Alternately, you are welcome to sew along and donate outfits to your local NICU. Get together some friends and sew a whole bunch of smocks if you'd like. Tip: Make sure to call ahead and see if they are willing to accept this kind of donation.
Want to sew along with us? Here's how it works:
1) Download the FREE NICU smock pattern on Craftsy.
2) Print off the last six pages, and follow the directions for the 3- to 5-pound size.
3) Sew one or more NICU smocks in cheerful holiday fabrics or child-friendly prints. Please use quality quilting cottons for the outside and any coordinating flannel for the lining. You may pre-wash your fabrics or not — it's up to you!
4) Fill out this Google Form if you plan to sew along, and we'll e-mail you back with a mailing address to donate your sewn smocks to our guild's charity drive to benefit Nashville's Vanderbilt Children's Hospital.
5) Mail your smocks to the address provided. All smocks must be postmarked by November 14, 2014.
Do you plan to sew along? Please let us know in the comments!