Chalk lettering isn't quite as simple as scrawling something on a classroom chalkboard, but it's a fun medium and style to play around with. There are so many variations and styles you can try once you have the basics mastered.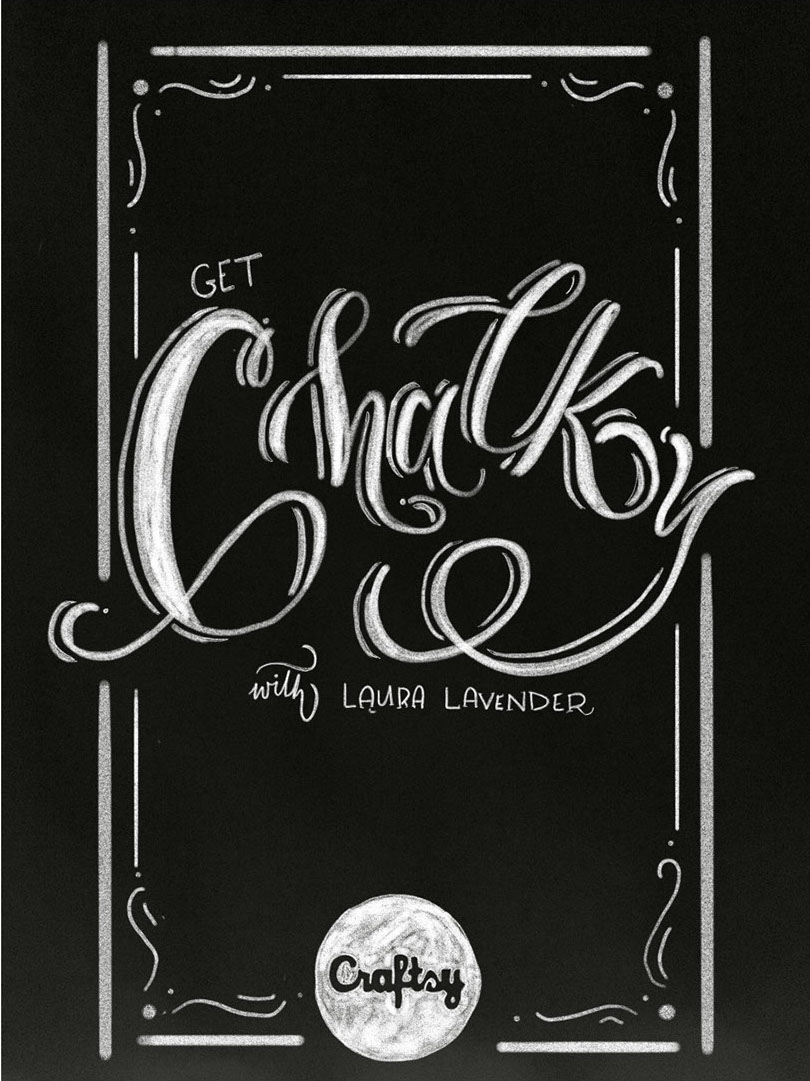 Every chalk artist has their own unique twists of the chalk, but there are a few common elements that really characterize this trendy style. These elements can be used in a number of ways to add that "chalky" look to your project.
Materials for chalk lettering
For chalk lettering, all you really need is a nice piece of sharp chalk and a blackboard. But there are a few additional tools that can make the job easier:
Chalk (just regular old school chalk!)
Chalkboard surface
A pencil sharpener and craft knife for sharpening chalk
Chalkboard eraser, rags and cotton swabs
A ruler
French curves
Round items for tracing circles
Why write in chalk?
1. Contrast
Unlike with some other writing mediums, chalk gives you great contrast between the dark blackboard and the white chalk. Use this contrast to your advantage to create eye-popping results!
2. Impermanence
Chalk is by nature an impermanent material. This is a great advantage to you as an artist, as you can repeatedly work on your design until it is perfect. This impermanent quality makes it easy to jump right into chalk work.
3. Variety
These days, chalkboard anything is very easy to find! Additionally, with the availability of chalkboard paint, anything or anywhere can become a chalkboard, so you'll have no shortage of surfaces to write on.
4. Inexpensive 
No great expenditure is required to get into chalk art, so it is an affordable way to try hand lettering.5. 
5. Non-toxic
Unlike some inks, chalk is a safe material, even for children.
Quick tips for chalk lettering
Get the chalk look without the chalk dust
You don't actually need to use chalk to achieve a chalk-inspired style. Chalk style can be incorporated into many different projects using a variety of mediums:
There are chalk pens, some of which are permanent, but with a chalky look to them.
Try white paint pens or gel pens on black paper or canvas.
White crayons and colored pencils can be interesting.
Acrylic paint and a brush on wood works well, too.
Before you begin, prepare your surface
If you plan to use a freshly painted black surface or just cleaned chalkboard, be sure to prepare it. Before you begin on, lightly rub the whole thing down with some chalk dust. This will actually give you a smoother writing surface.
Chalk lettering style ideas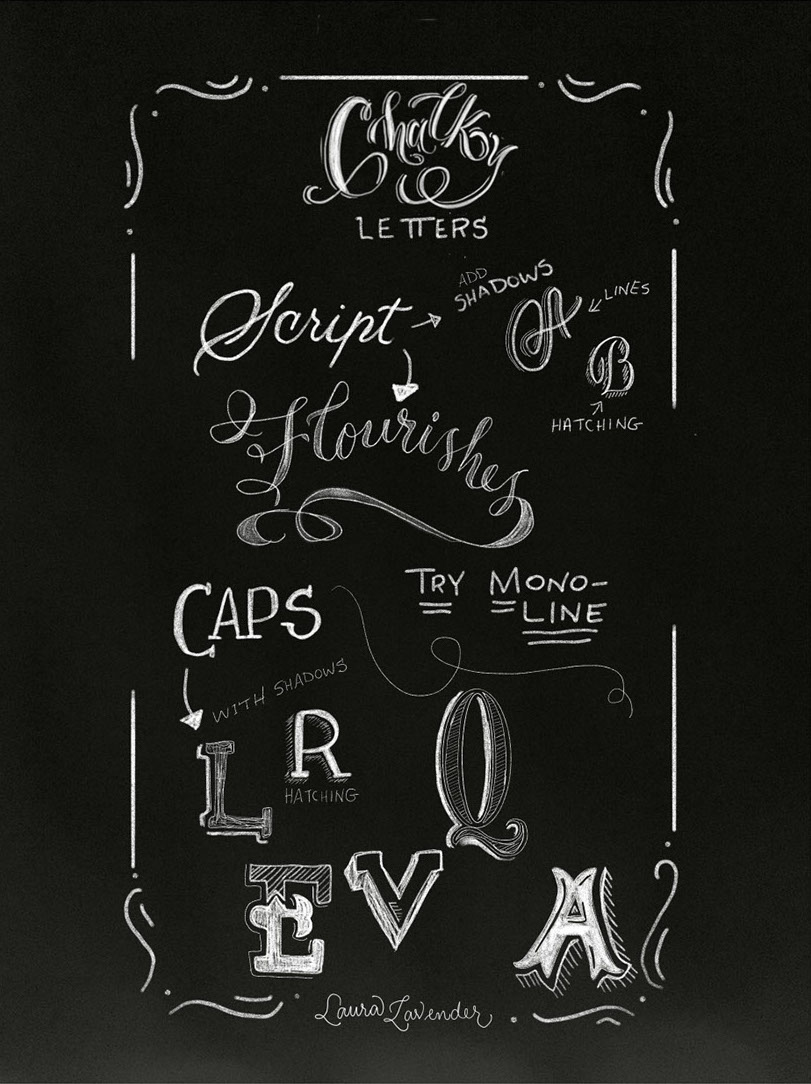 The above illustration shows a variety of chalk style lettering that could be incorporated into a project to give a "chalky" feel! Here's what I've included, starting from the top:
Script lettering: Try writing a monoline cursive, shown in the word "script." Additional details — such as shadowing with either a single line, double line or hatching — really makes words pop!
Faux calligraphy: In the word "flourishing," I added some flirty flourishes to spice things up! Add flourishes to any word by extending the entrance and exit strokes. I started writing the word "flourishes" as a monoline and thickened it up with the technique known as "faux calligraphy," where you add extra thickness to all the downstrokes.
Monoline: The phrase "Try Monoline" is written in just that — a monoline, or letters drawn with a single line. These simple letters add nice contrast to other lettering styles.
Capital letters: The last section this illustration shows some capital letter style. As with the script lettering, you can add some real pop to your any capital letters with shadowing and cross hatching.
Stylistic details for chalkboard writing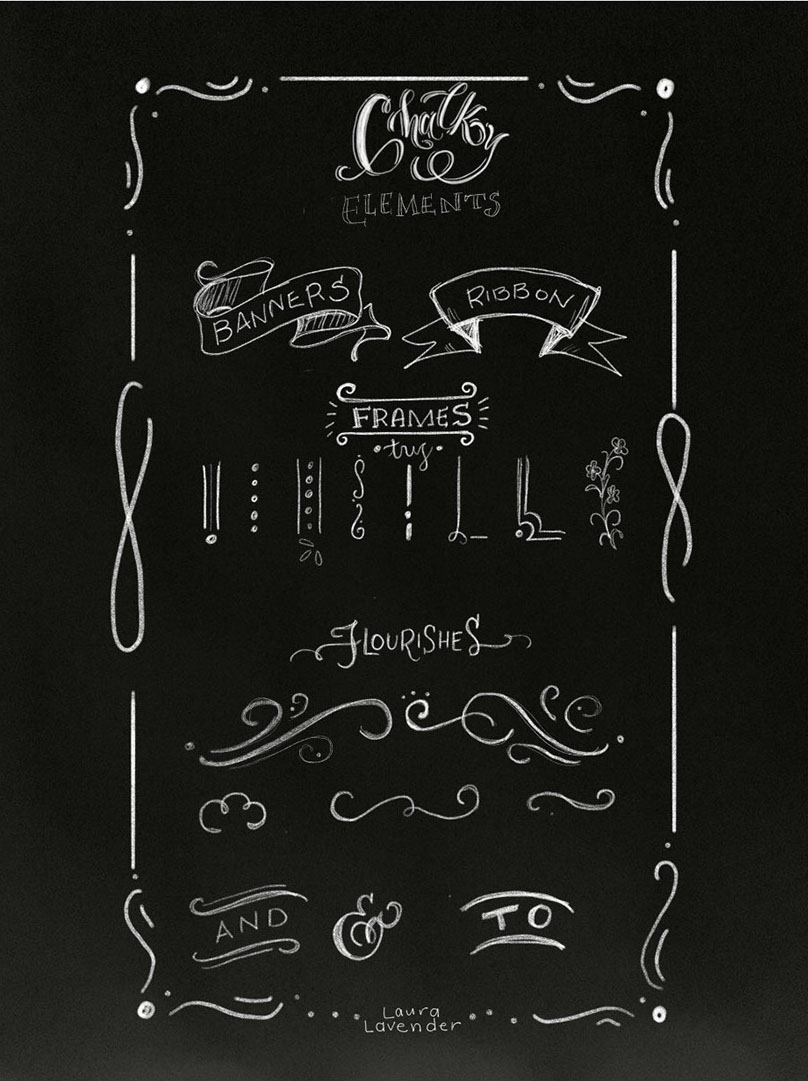 The above illustration shows some stylistic details that really give your work a chalky feel. Here's what I've included, starting from the top of the illustration.
Banners and ribbons: Try placing some of your lettering in a stylized banner or ribbon. This is a sure way to add focus to your quote, so choose a word or phrase you would like emphasized.
Frames: Next, you see elements that can be used to frame your piece. Try using these a borders, or in between lettering to break up the phrase or add emphasis.
Flourishes: Try adding these flirty flourishes to the corners of your piece or around words. Flourishing also look great around banners and ribbons.
Framing small words and punctuation: The last part of the illustration shows little design elements that really characterize the chalk style. Framing conjunction words such as "and" or "to" can really add some punch to a chalk piece. Lastly, a fancy ampersand or other punctuation is a great way to add an additional decorative bit to chalk art!
Format and layout for chalk lettering designs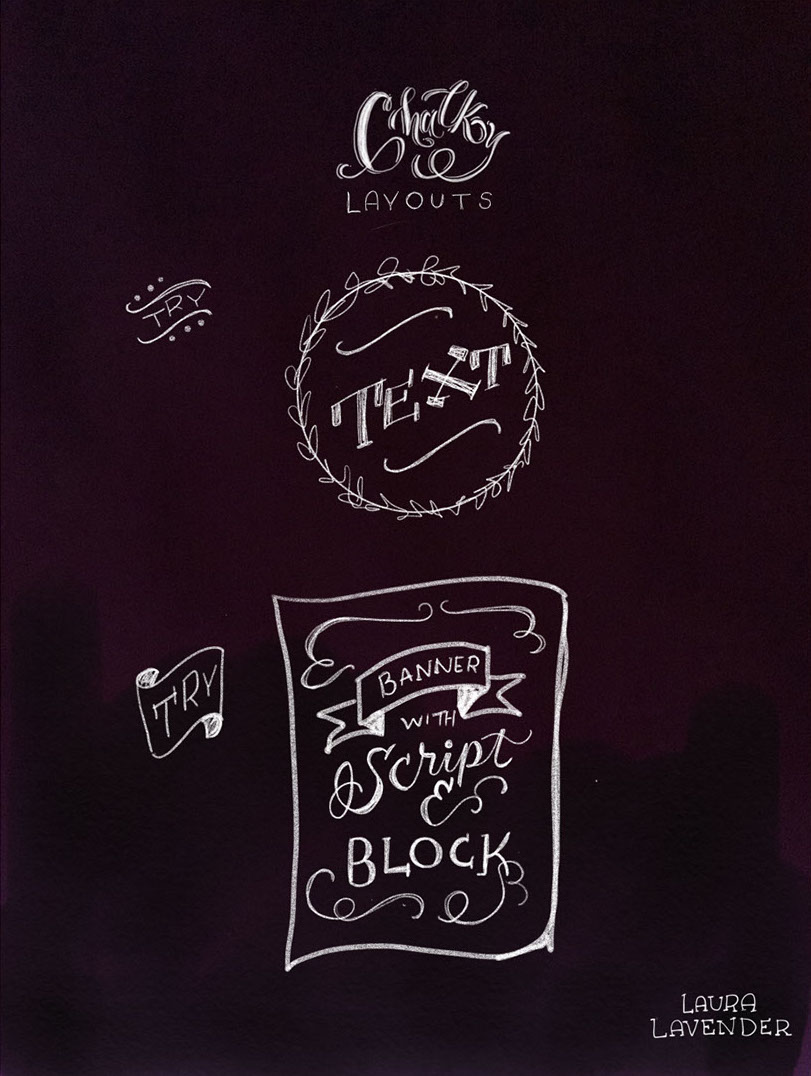 This last illustration shows two classic chalk layouts! For the first design, try a wreath. Lay out your text at an angle, and make the wreath as elaborate as you like. Here, I used a simple stylized laurel wreath, but a blossoming floral wreath would be nice, too.
For the second design, I went with a tried-and-true chalk layout of a banner, with script and block letters. Add some flourishes for a finishing touch!
Shake things up!
Remember, chalk lettering doesn't have to be done with chalk at all.
For that traditional chalk look without the chalk dust, try white paint pens on black paper. For a more permanent piece, try black stretched canvas. Black painted wood is great too, and has nice texture.
Chalk lettering doesn't have to mean white on black.
These elements can be used in any number of colors, as long as there is high contrast. How about white lettering on dark purple? Perhaps dark blue on yellow? Rainbow lettering on black? The options are endless!