I live in the San Francisco Bay Area, where it is year-round cardigan season. It's also year-round cardigan season in many offices, where air conditioning can bring a chill even on a hot day.
Finding the work-perfect cardigan — the one that'll tie your outfit together, fight off chills and look professional — doesn't have to be difficult. And, importantly for a knitter, it doesn't have to be boring to knit. Here are nine great cardigan knitting patterns in a wide variety of yarn weights, sleeve lengths, constructions and styles, all ready to round out your wardrobe!
If you want to learn how to modify your cardigan to fit your body perfectly, check out Knit to Flatter, Amy Herzog's Craftsy class in which you will learn how to make your sweaters just right for you.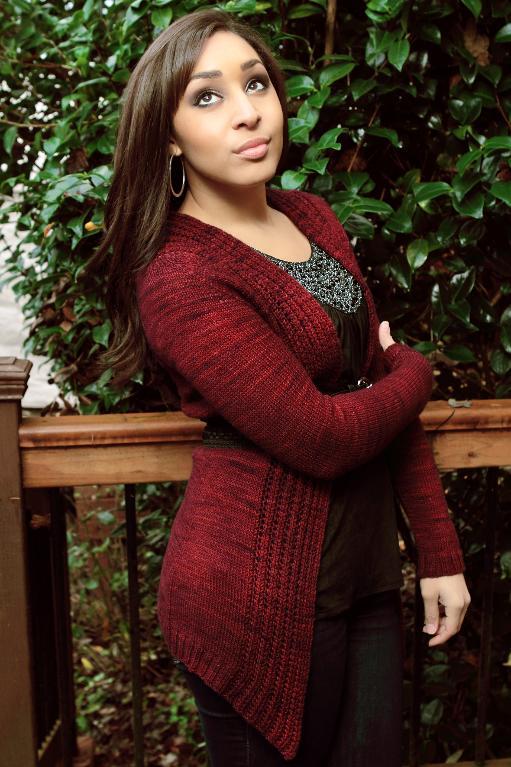 Photo via Craftsy member Vanessa Smith
Ardelise
Belted or open, the Ardelise cardigan is a great, versatile garment. Long, loose cardigans without closures are currently in style, and Ardelise is on trend without being the sort of trendy item you'll set aside when the fad is over. Knit in a sport weight yarn with lots of drape, it promises warmth without too much weight. The suggested yarn is a blend of merino, silk and cashmere, just like the lovely Mrs. Crosby Hat Box. Pick a color that coordinates well with your work wardrobe and you'll be able to wear it with almost any outfit.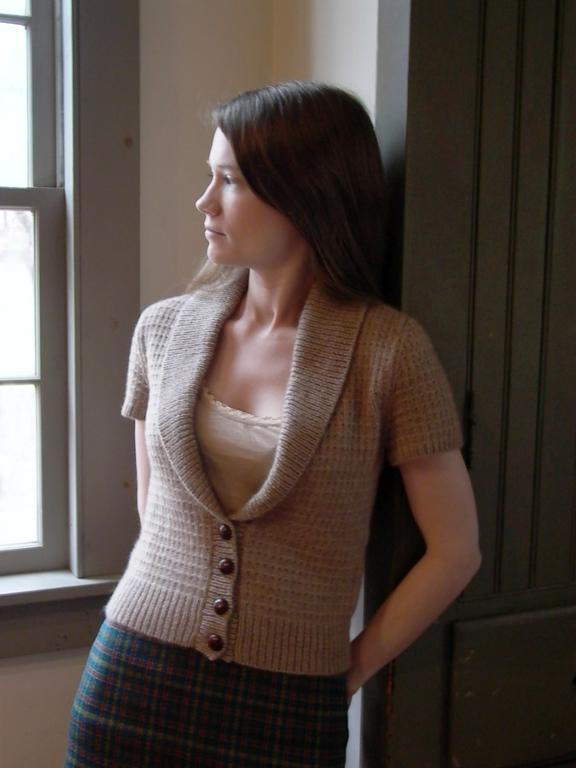 Photo via Craftsy member neoknits
Somerset Cardigan
The Somerset Cardigan makes use of a classic shawl collar and gentle shaping and updates the look with short sleeves. Pair with a pencil skirt or fitted slacks for a classic and understated look that will be equally at home in a library or an office. Rowan's Wool Cotton would be a great choice for a breathable fabric that won't get too hot.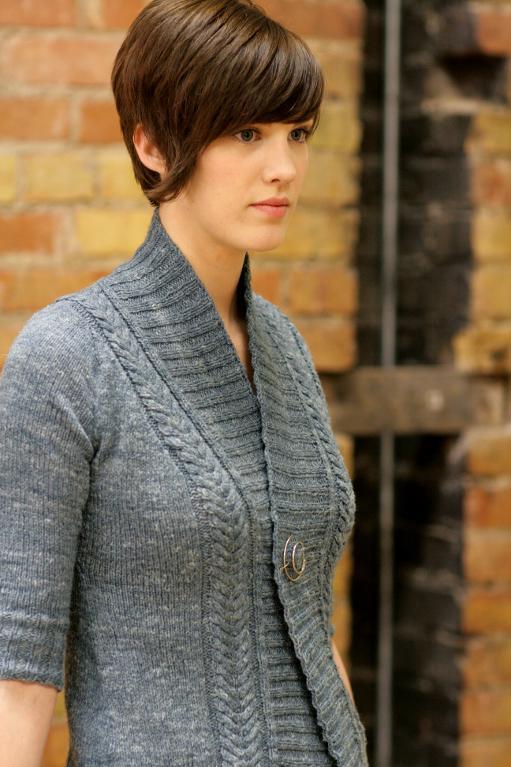 Photo via Craftsy instructor Miriam Felton
Rivel Cardigan
Elbow-length sleeves are an underused but versatile look. The Rivel Cardigan uses clever chevron cable placements and fitted elbow sleeves to make a totally modern piece that is simultaneously a classic. Pinned shut or worn open, it'll serve as a great staple in your wardrobe, especially in an attractive neutral color.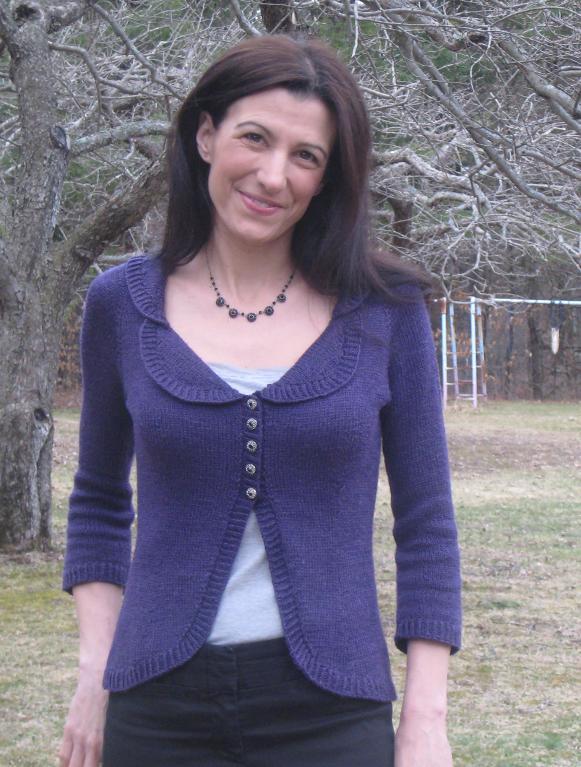 Photo via Craftsy member Mary Annarella
Kiss Me Kate
With the perfect work cardigan, it's all in the details. You want something versatile enough to wear with many different outfits and not so flashy that it overwhelms you, but also not visually or technically dull. With Kiss Me Kate, the details that make it special are the unusual doubled collar, the short button placket and the curved hem on the open fronts. Simple, but not too simple — a perfect work cardigan.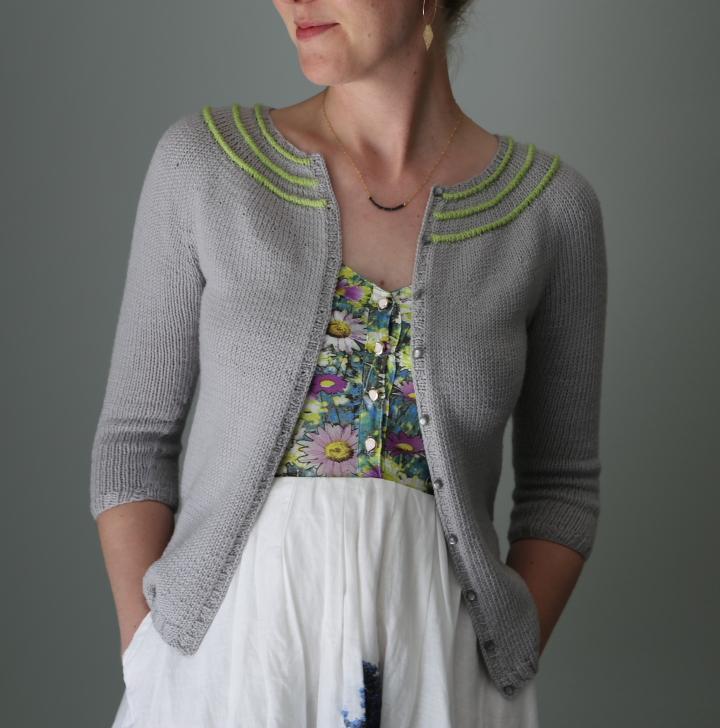 Photo via Craftsy member theyarniad
Cassini Cardigan
The details are what count for the Cassini Cardigan, as well. A simple stockinette cardigan is enhanced by top-down yoke shaping, outlined in beautiful welted rings that pop in a contrasting color. I love and wear many plain cardigans, but a well thought-out little detail like this is what takes a garment from plain to special.
I realize that a fingering weight cardigan can make people anxious, but fingering weight sweaters have quickly become my favorites. They're similar in weight to many store-bought cardigans, but in nicer materials and colors with a fit you can customize. Although it may sound daunting, fingering weight cardigans often don't take much more yardage than a heavier weight sweater, and the smooth, fine yarn knits up fast. You could knit the body in a workhorse yarn like Cascade Heritage, and save a special skein of bright sock yarn for the contrast rings.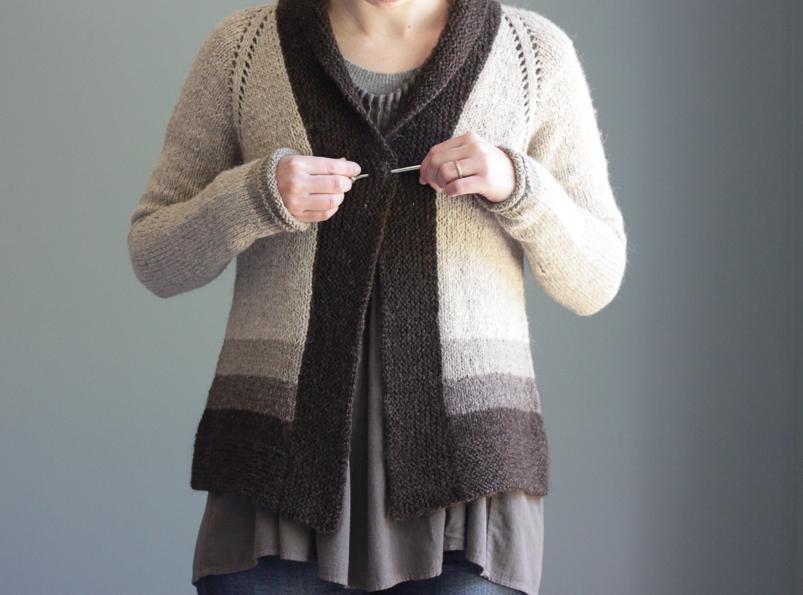 Photo via Craftsy member thebrownstitch
Anora
Clever color blocking makes neutrals into the stars of the Anora cardigan. A subtle gradient from light to dark nods to another trend, while wooly yarn in natural hues harkens back to old-fashioned rusticity.
Speaking of neutrals, let's talk a little about unintuitive neutrals — the range outside of black, white, brown and gray. There are a number of colors that pop a little more, but can function similarly to neutrals in a wardrobe, rarely clashing with other colors or fighting for supremacy. In my wardrobe, my unintuitive neutrals are a slightly muddied mint green and a deep golden yellow. To find your own, look at the overall color palettes you tend to choose. For someone like me, with a warm color palette, gold is a natural choice. If you tend toward a cool palette, a denim blue or a grayish-purple might work for you. Play around to find the perfect shades.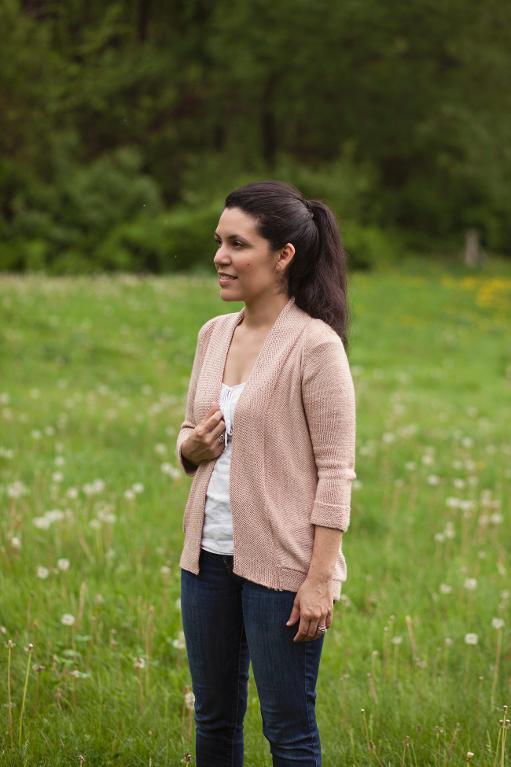 Photo via Craftsy member andrea_knits
Dandelion Meadow
Unusual construction makes the Dandelion Meadow cardigan a winner for knitters. Knit as a top-down raglan to just below the armpits, the body is worked separately as a sideways-knit panel, and garter stitch adorns the sleeves and open fronts. The drape is affected by these changing directions, resulting in a light, lovely piece that hangs beautifully. Since all the stitches are simple, there's room to play with a tonally dyed yarn that will become the star of your sweater. Madelinetosh Tosh Sock would make a great choice!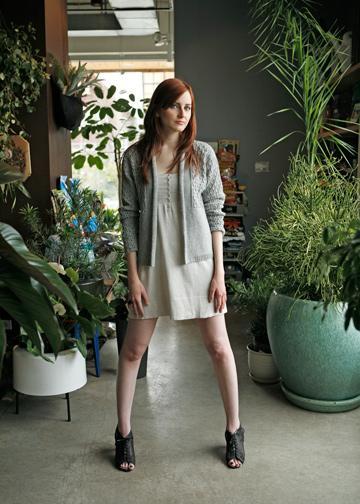 Photo via Craftsy member Chic Knits
Cerisara
Texture is another way to vary your knitting and gain a work-ready piece with panache. Cerisara makes use of a delicate lace pattern that mimics cables in its flow to result in a fun, elegant cardigan you'll love to wear. A highly textured stitch pattern can be obscured by yarns that are too variegated or tonal, so choose a yarn with minimal or no color changes to make sure that the texture is visible. Brown Sheep Cotton Fleece is a great, wearable yarn for this sort of pattern.