Recipe courtesy of Mike McCarey from Advanced Cake Sculpting: Bobblehead Cakes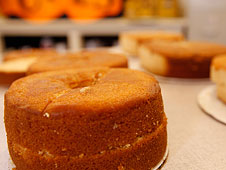 Ingredients
1 cup (240 ml) butter (two sticks)
2 cups (400 gm) sugar
3 whole eggs
2 1/2 cups (325 gm) cake flour
1 teaspoon (5 gms) baking soda
1 teaspoon (5 gms) baking powder
1/2 teaspoon (3 gms) salt
1 1/2 cups (355 ml) buttermilk
1 teaspoon (5 ml) vanilla
Directions
Cream butter, sugar and eggs. Sift flour, soda, baking powder and salt. Add flour mixture to the creamed mixture with buttermilk, starting and ending with flour. Beat until creamy.
Pour into cake pans and bake at 350°F (177°C) until golden brown and cake springs back to the touch.
Cool in pans 10-15 minutes before removing from pans.
When cake is completely cool, wrap in plastic wrap and refrigerate until use.
This recipe makes 2-8 inch round cakes. 
High Altitude Adjustments: Increase flour to 3 cups, decrease baking soda to 1/2 tsp, and decrease baking powder to 1/2 tsp. Bake cake at 325°F for 25-30 minutes.