One can never have too many pancake recipes. It's just not possible.
And this recipe for buckwheat pancakes with berry compote is no exception to that. While you may shudder at the thought of buckwheat pancakes, I dare you to give them a try and not love them.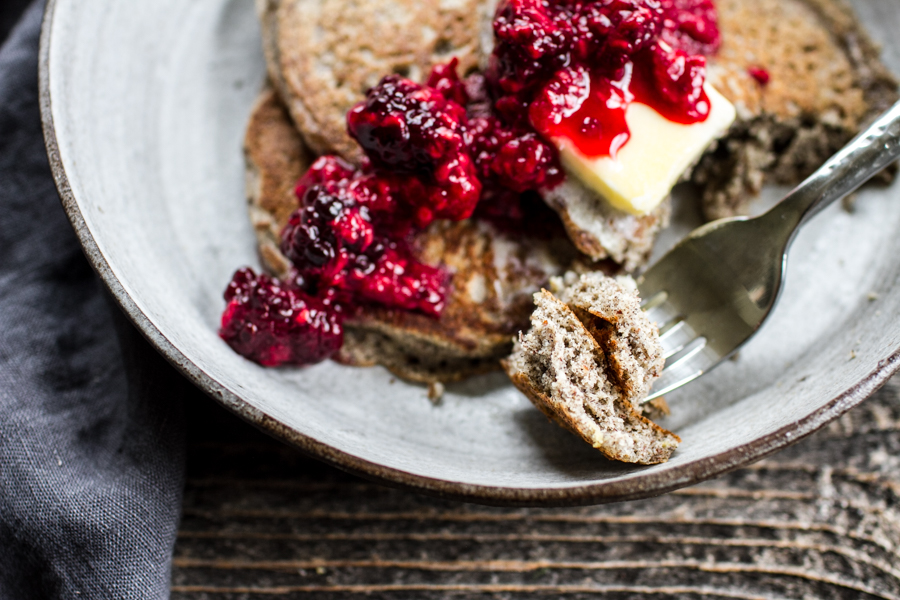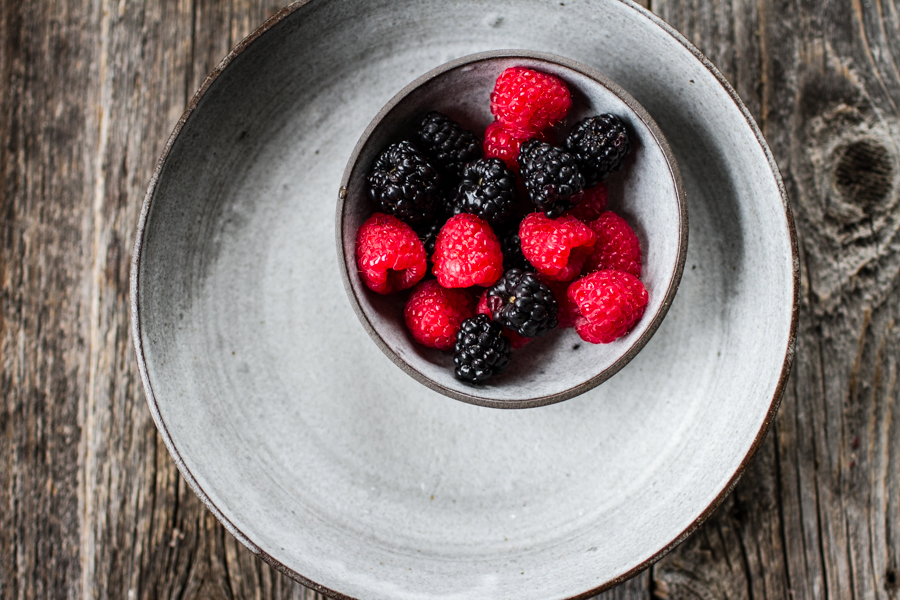 Despite being gluten-free and filled with nutrient-dense flours, these golden brown buckwheat pancakes have a light and fluffy but also cakey texture to them. They're honestly my new favorite pancake and one I feel good about eating all week long.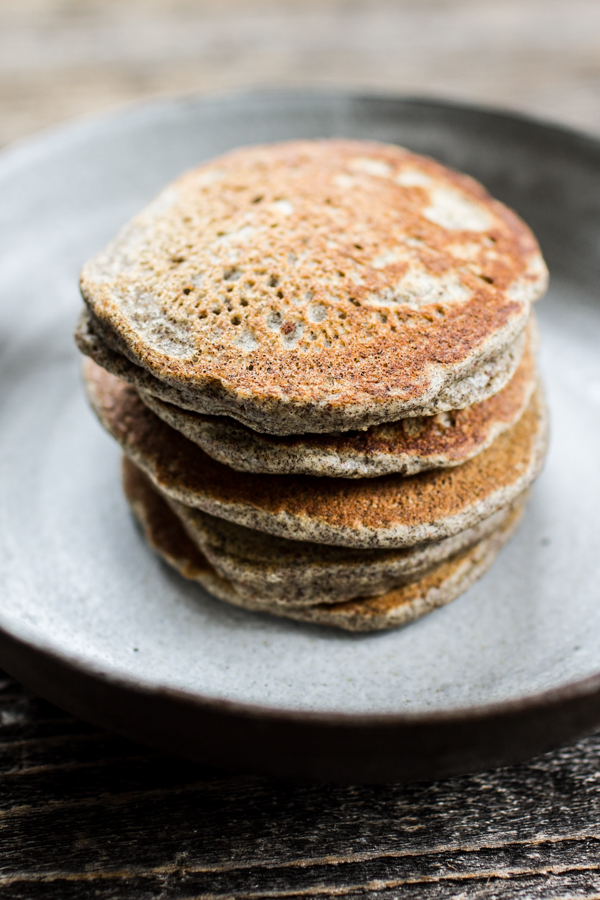 I used to use a lot of sweet rice flour in my gluten-free baking, which helps give baked goods a bit of doughy, gluten-like texture. However, it can be tricky to source (although, you can always find it at an Asian market!) and offers little to no nutritional value.
Not every recipe I make needs to be packed with protein and fiber, but I always love the challenge. And if I'm able to create a nutrient-dense recipe while still yielding something totally delicious, you better believe I'm going to do just that.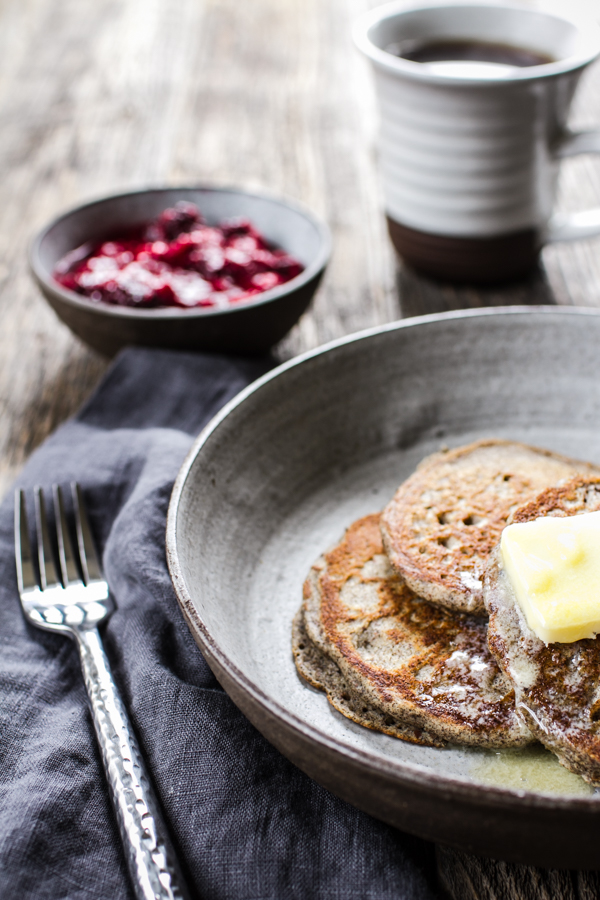 You'll find a hint of lemon zest hiding in these pancakes that contrasts nicely with the nutty buckwheat flour and pairs well with the juicy berry compote. It brings the whole recipe together but doesn't overpower.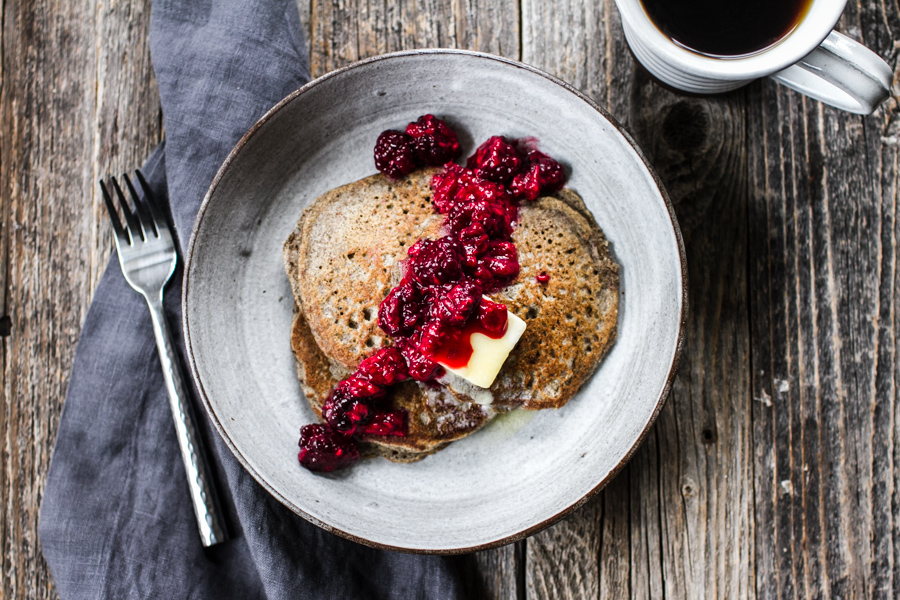 What I love about these pancakes (well, one of the things) is that they're almost entirely naturally sweetened. While I enjoy a good dousing of maple syrup from time to time, this berry compote will win my vote every day of the week.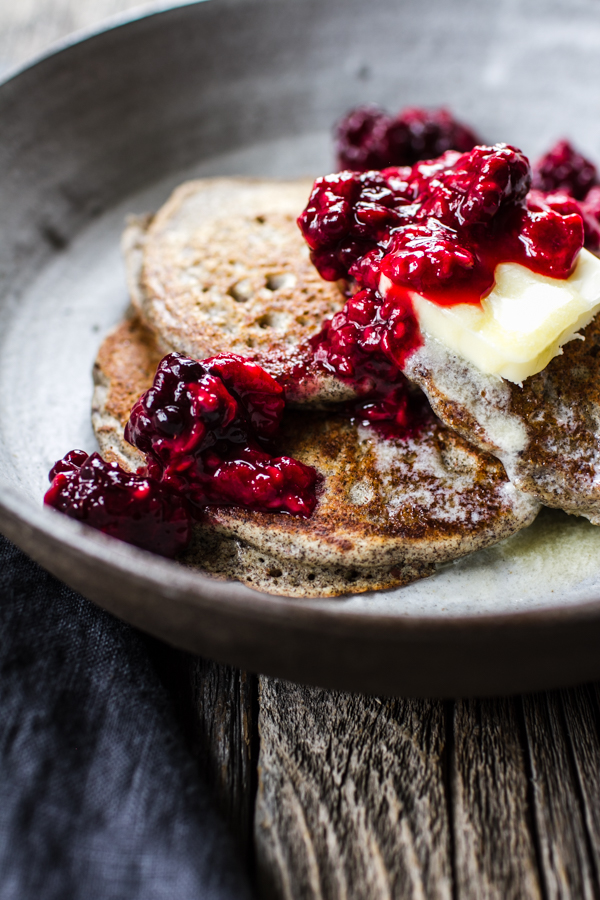 This recipe would be great to double and stock your fridge or freezer with to eat throughout the week. For a transportable breakfast, just heat and slather on your favorite nut butter. Pancake sandwich to go! I'm not ashamed to admit that I'll even eat these cold from the fridge!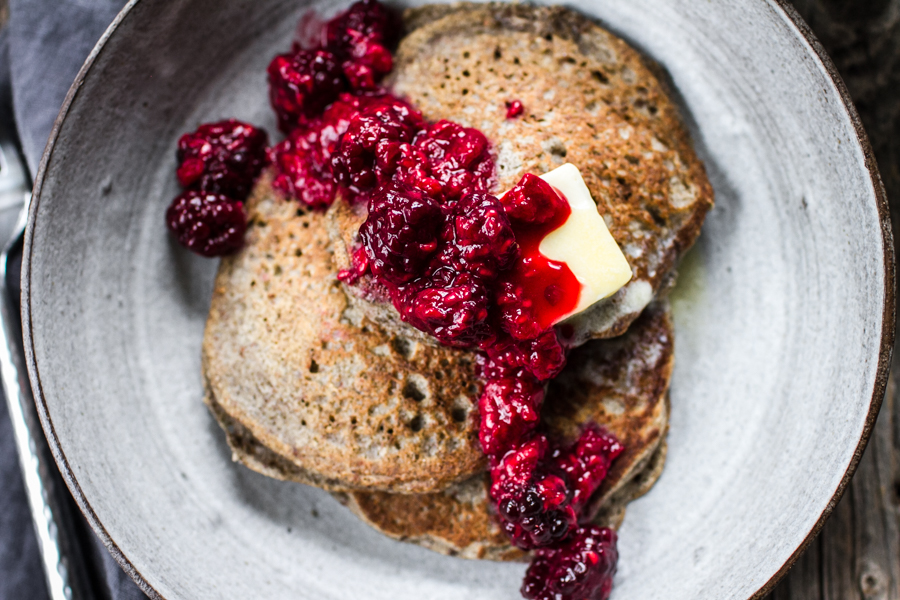 Buckwheat Pancakes with Berry Compote
Yield: 8-10, 4-inch pancakes 
Ingredients:
1 1/2 – 2 cups fresh berries
2 tablespoons maple syrup, divided
1/3 cup buckwheat flour
1/3 cup oat flour (gluten-free certified if needed)
1/3 cup almond meal
1 teaspoon baking powder
1/4 teaspoon salt
2 large eggs
1/2 cup whole milk (or unsweetened almond/soy)
1/4 cup plain whole milk yogurt
1/2 tablespoon lightly packed lemon zest
1 teaspoon pure vanilla extract
2 tablespoons melted coconut oil (lightly cooled)
Step 1:
Place the berries and 1 tablespoon maple syrup in a small pot over medium-low heat. Let come to a simmer, stirring occasionally. Reduce heat just above low and stir every few minutes until fruit is broken down to your liking. Remove from heat and pour into a jar or serving dish. Keep covered in the pan (off the heat) if you want to serve warm.
Step 2:
(optional) If you want to keep pancakes warm while cooking, preheat your oven to 200° F.
Step 3:
While the berries cook, place the flours, almond meal, baking powder, and salt in a large bowl. Stir until combined.
Step 4:
In another bowl whisk the eggs. Add the milk, yogurt, the remaining 1 tablespoon maple syrup, lemon zest, and vanilla extract. Whisk well to combine.
Step 5:
Heat a large skillet (or two) over medium heat with a few dabs of coconut oil. Spread around the pan.
Step 6:
Whisk the coconut oil into the wet ingredients, then pour the wet into the dry and whisk until just combined. Let the batter sit to thicken for 3-5 minutes. It will seem a bit gelatinous when scooped. This is normal. It should be thick but pourable.
Step 7:
Scoop about 3 tablespoons of batter on your greased skillet (I like using a 1/4 cup measuring cup). The batter should sizzle and bubbles should form on the top surface almond immediately. If this doesn't happen your pan is not fully pre-heated or you need to adjust your heat.
Step 8:
Cook for 2-3 minutes until golden brown on the underside and bubbles fill the top. Flip and cook for another 2 minutes until golden brown.
Step 9:
Serve with berry compote or place in the oven on a baking sheet until all pancakes are finished.
Notes:
I do not recommend using no-fat or low-fat yogurt. You may be able to sub a non-dairy yogurt to make this dairy free, but I'm not positive. A dairy free milk will definitely work.
You can most likely sub other nut flours instead of almond meal (ie: hazelnut meal, cashew meal, etc.)
Sub ingredients at your own risk.