There's something missing from most creative pull-apart bread recipes. That thing is waffles.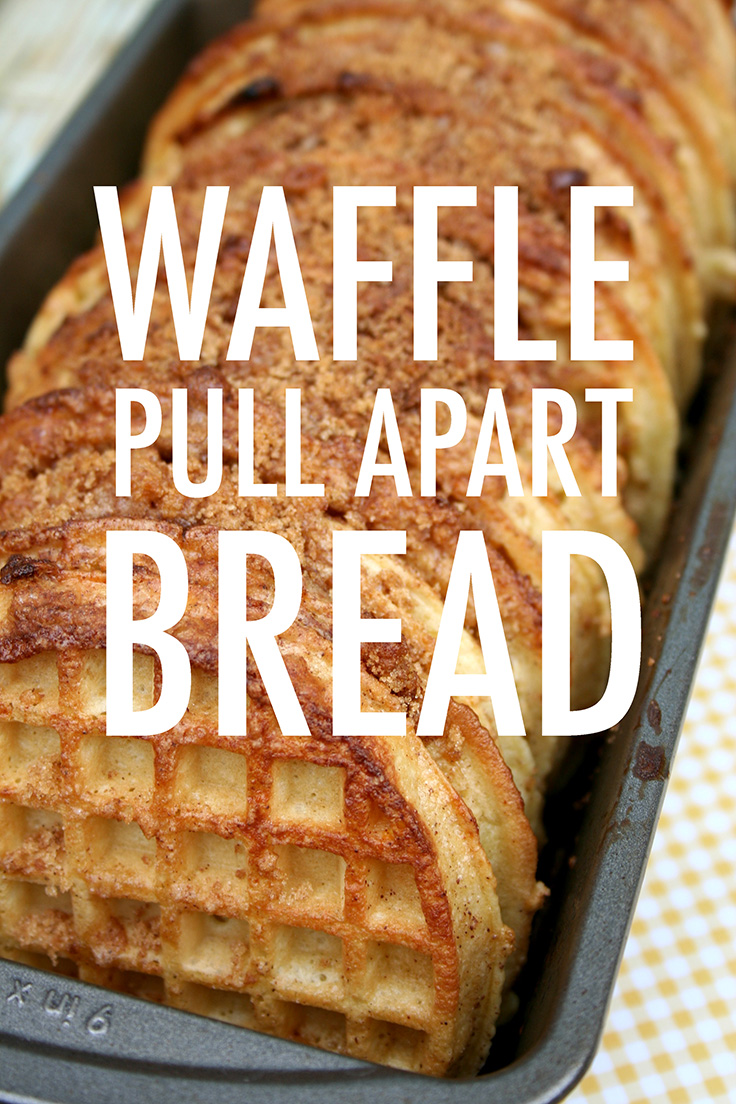 Photos via CakeSpy
Pull-apart bread is a wonderful form of food: decadent loaves composed of layered dough that are baked together, but peel off easily into individual servings. When you combine pull-apart bread and waffles, you've got yourself a bona fide breakfast superstar of a recipe.
To make this lovely loaf, you soak waffles in a mixture of egg, sour cream and maple syrup, then press them into a pan and sprinkle with cinnamon-sugar and bake it up. The resulting "loaf" has a soft, almost custard-like inside, a crispy, crunchy exterior, and a sweet maple sugar flavor.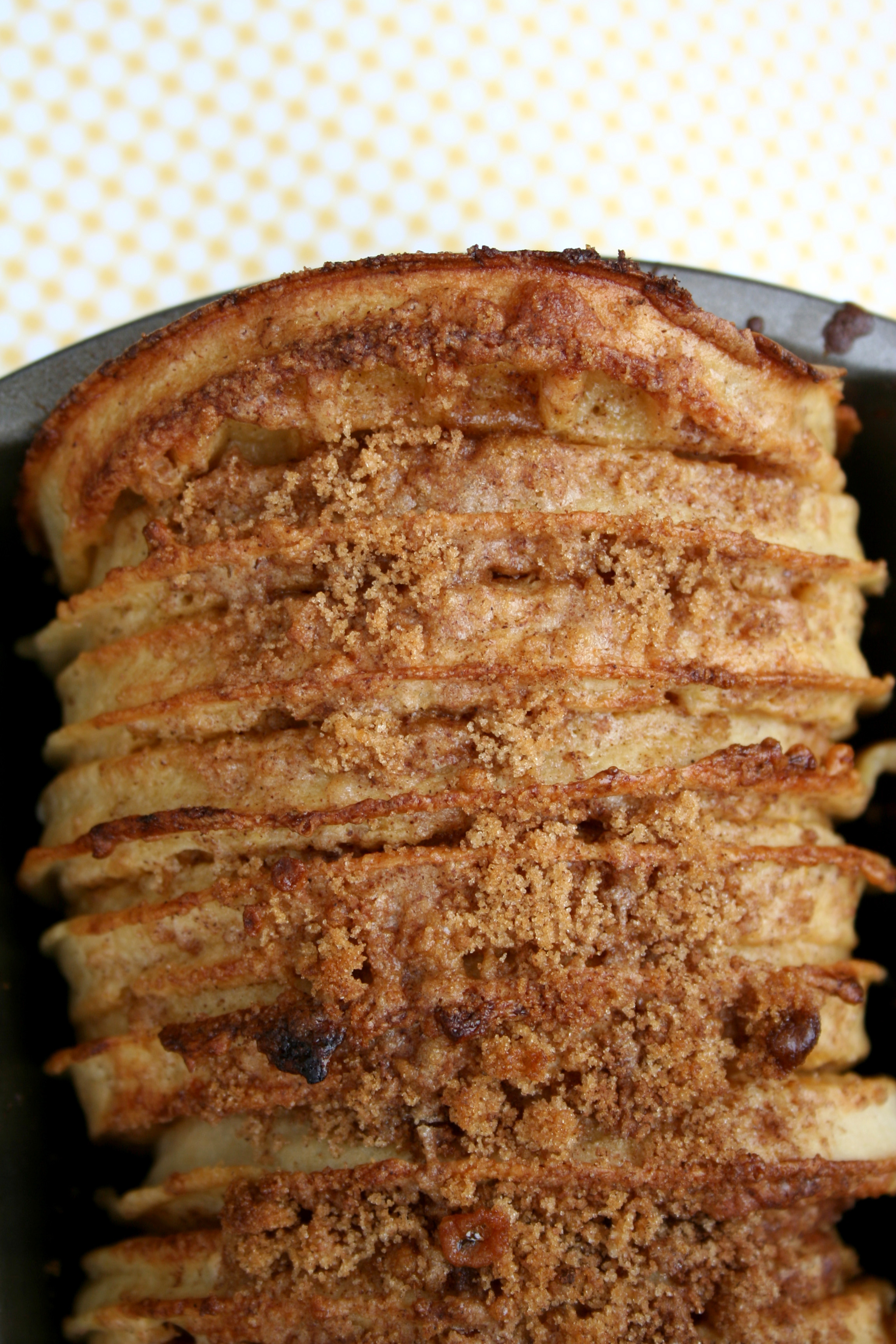 The waffles will stick to each other when they are baked, but will separate without too much resistance, so it is easy to slice off individual portions of your waffle pull-apart bread. 
You may never look at waffles the same way.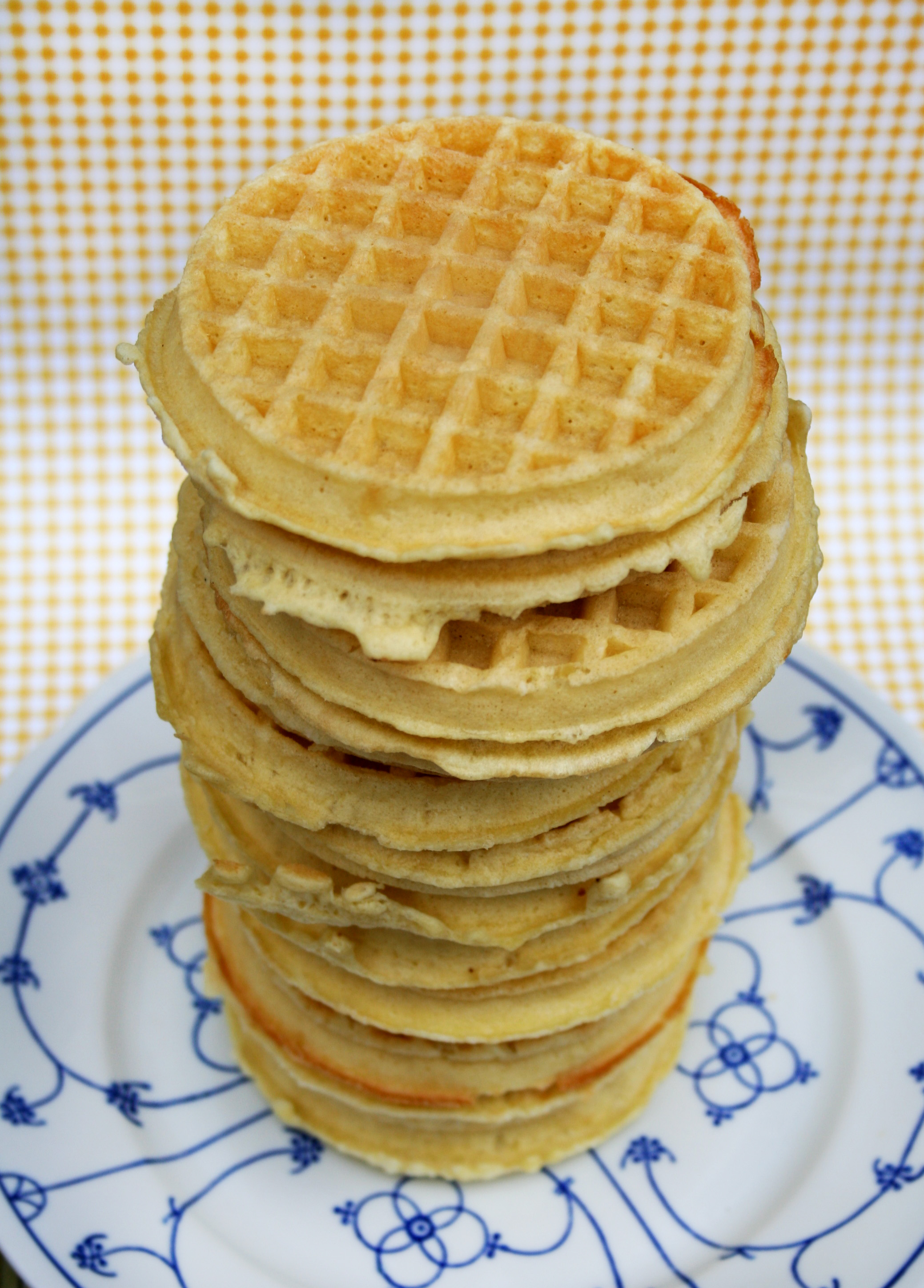 Waffle pull-apart bread 
Makes 6-8 servings (2 waffles each)
You'll need:
For the waffles:
12-16 approximately 4 or 4 1/2-inch diameter waffles 
4 eggs
3 tablespoons sour cream
2 tablespoons maple syrup
1/4 cup milk
Pinch salt 
3/4 cup brown sugar, divided 
2 teaspoons cinnamon
To serve:
Butter or maple syrup, as desired
Note: International readers may enjoy our handy metric conversion guide.
Step 1:
To make sure you have an appropriate amount of waffles, place them in the pan before proceeding. This way, you'll know how many you need to fill the pan. There can be depth variances, especially if the waffles are homemade. 
Step 2:
Preheat the oven to 400 F. Generously grease the bottom and sides of a 5 x 9-inch loaf pan.
Step 3:
In a large bowl, combine the eggs, sour cream, maple syrup, milk, a pinch of salt and a 1/2 cup of the brown sugar. Using a whisk, vigorously mix until everything is combined. If you still have bits of white sour cream sprinkled throughout, like the photo below, keep mixing until it is smooth.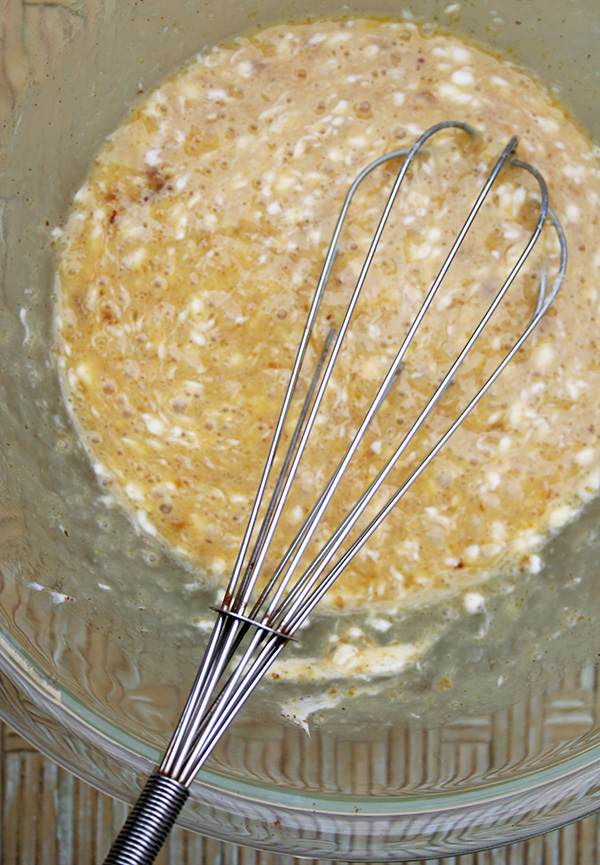 Step 4:
Place the remaining brown sugar and the cinnamon in a separate shallow bowl and keep it close by.
Step 5:
One at a time, dip the waffles in the wet mixture, coating all sides. Remove, let the excess liquid drip off.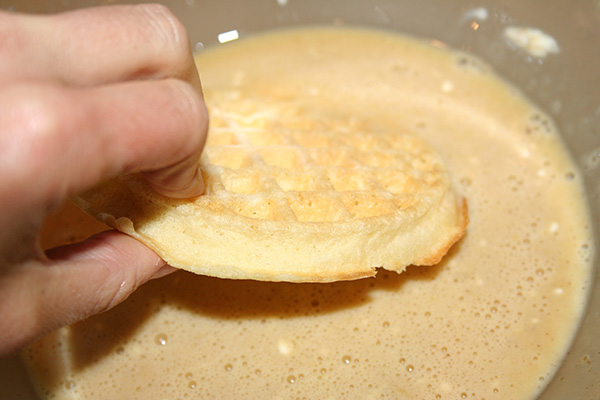 Sprinkle one side with the brown sugar mixture. Place in the pan. Repeat with the remaining waffles until you've used all of them.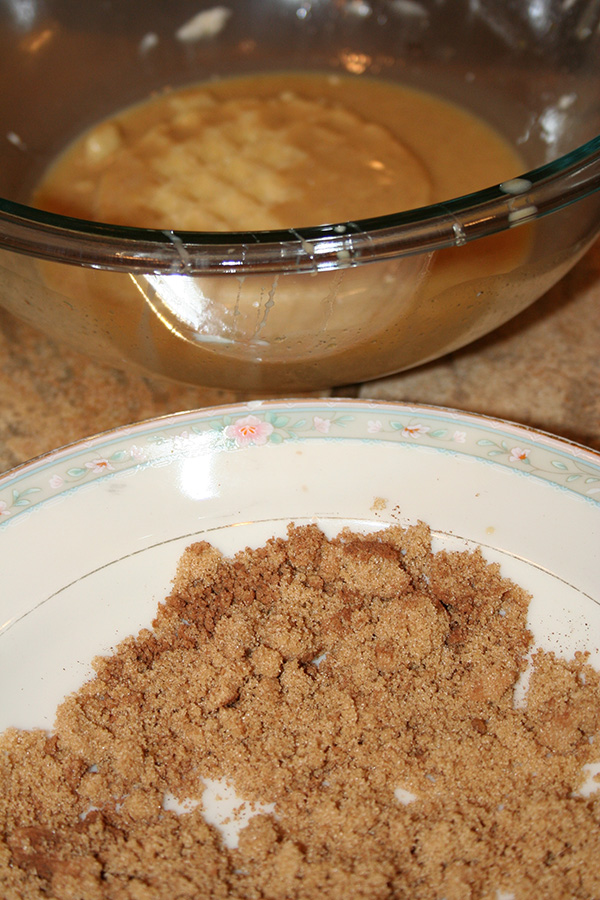 Step 6:
Pour any extra egg mixture on top, and sprinkle the remaining  brown sugar mixture on top.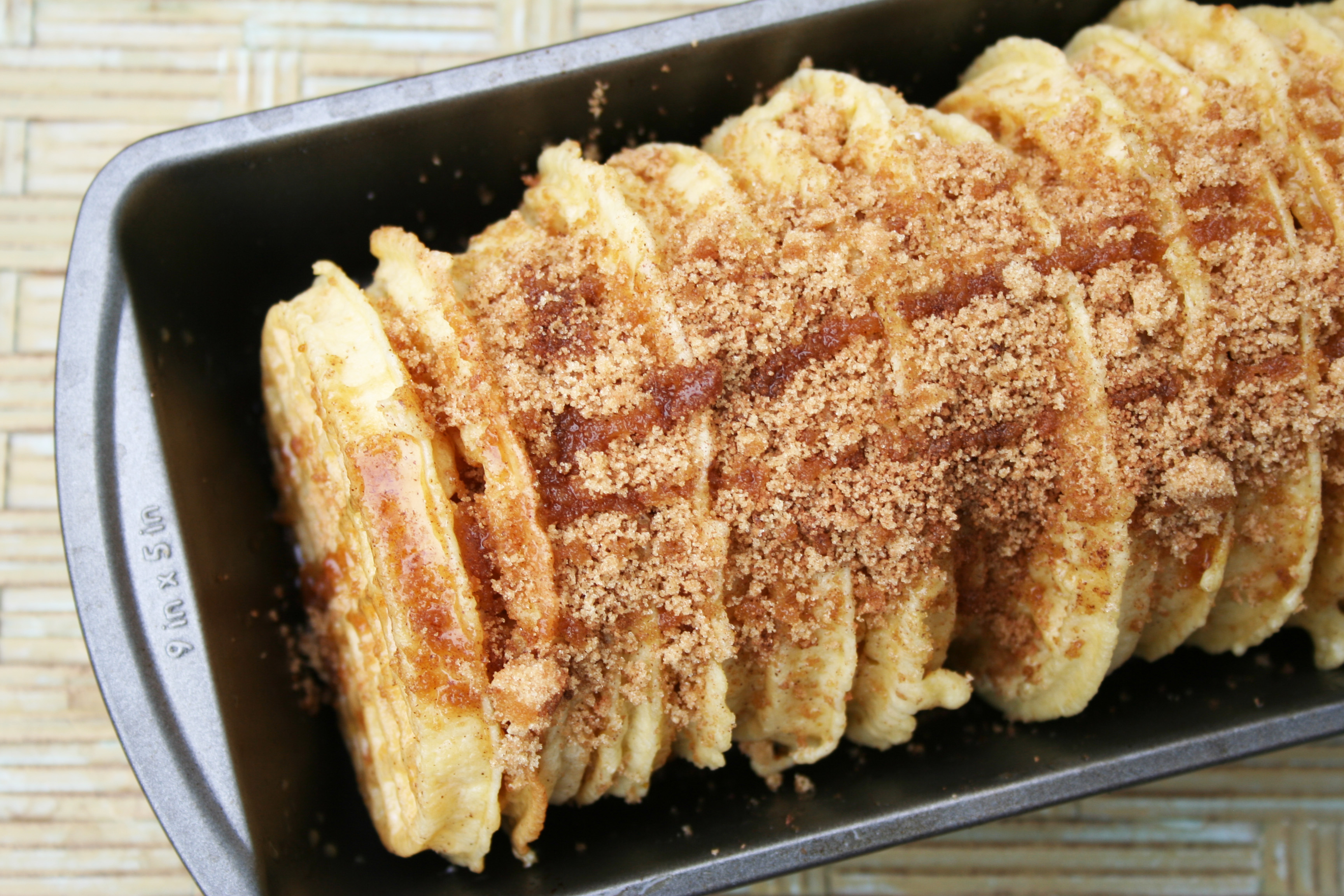 Step 7:
Bake in the preheated oven for 15 to 20 minutes, or until browned and crispy on the top. Remove from the oven and let cool for several minutes on a wire rack.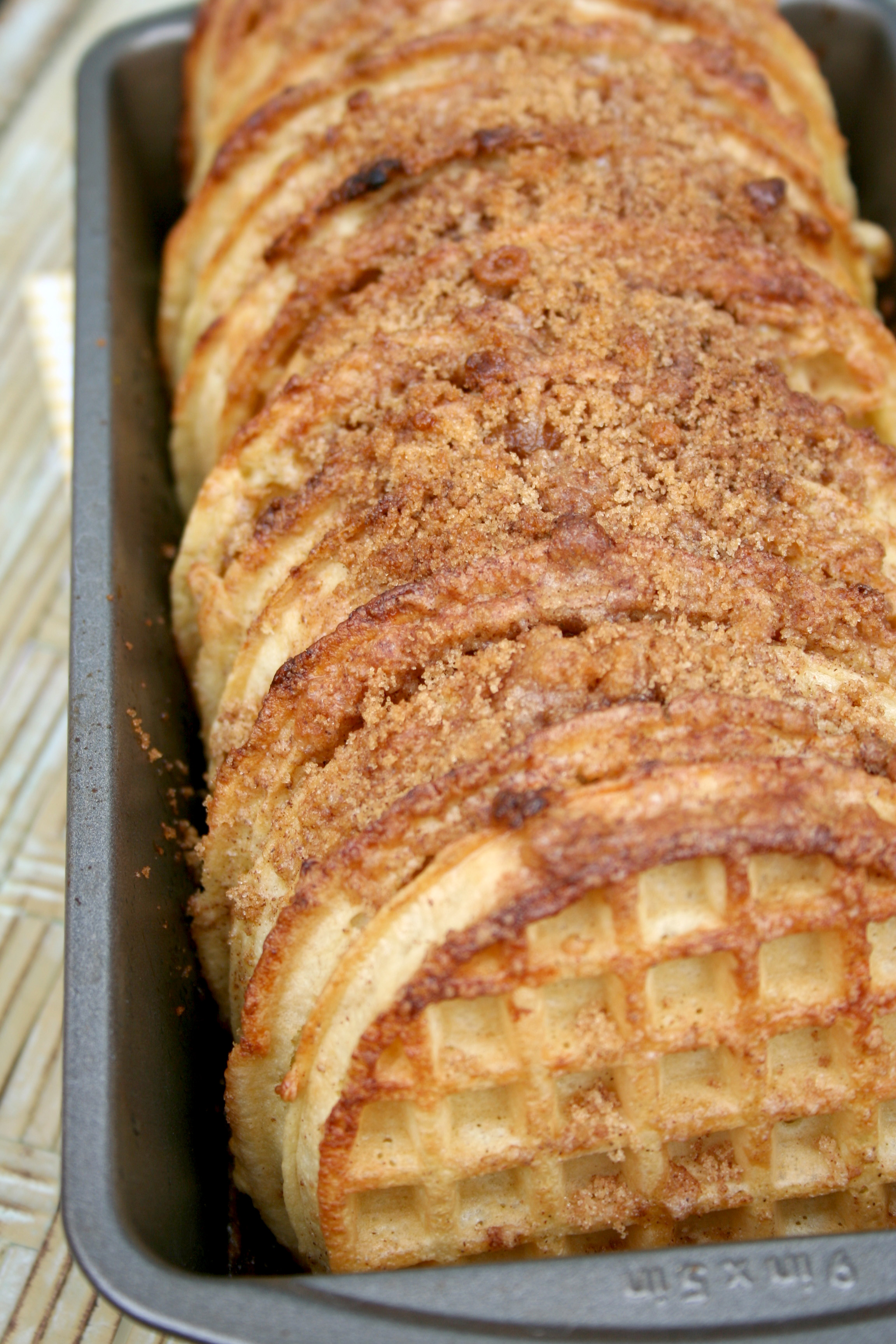 Step 8:
Using a spatula, loosen the waffles to serve. The waffles will slightly stick to one another, but will come apart fairly easily. Serve warm, with additional maple syrup if desired.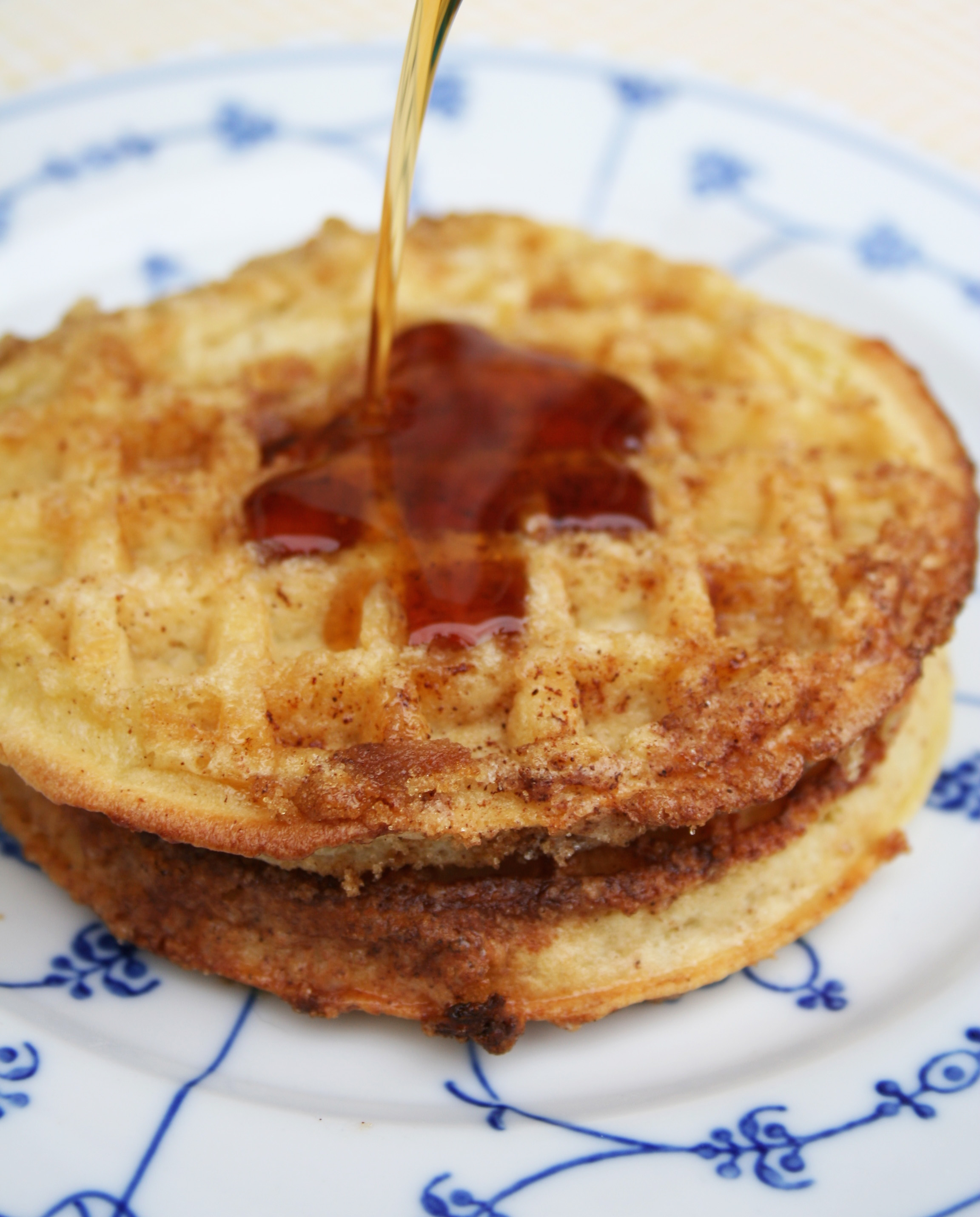 Recipe notes
You can use homemade or store bought waffles for this recipe. Depending on the height and thickness of the waffles, you may need more or less to fill the pan. 
Are your waffles large? Cut them into portions that can be configured to fit the pan; otherwise, follow the recipe. 
Feel like using flavored waffles? That's fine. The texture may differ slightly from the original, especially if your waffles have additions like fresh fruit. You may need to slightly adjust the bake time.  
Don't have brown sugar? You can make your own in a jiffy using granulated sugar and molasses. Here's how.
For variations, you can substitute the sour cream in the recipe with (room temperature)