Did you know that September 8th is International Literacy Day? This was first celebrated all the way back in 1966, and it is still celebrated today! The goal of this day is to bring to light the importance of books, reading and literacy programs. Another objective is to address the highly prevalent issue of illiteracy. Millions of people across the world, both children and adults, do not know how to read. This special day is set aside to encourage reading and education.
Are you a book lover? Many quilters use quilting to express their love of books!
Check out these 8 incredible quilts and projects, all of which were inspired by books.
Surely they will inspire you to sew up your own book quilt!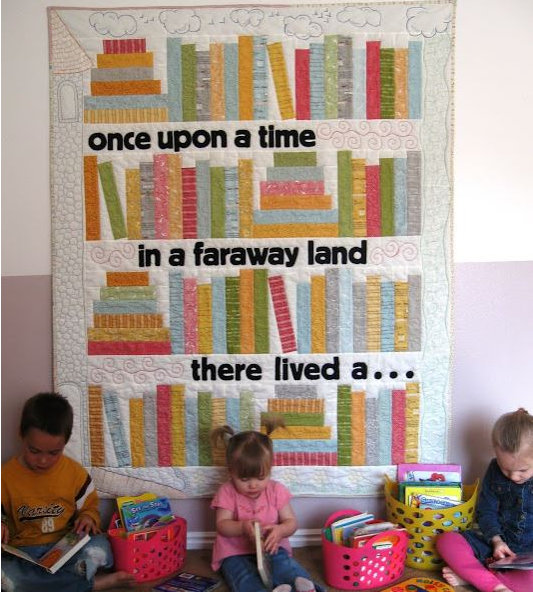 Photo via Happy Quilting
Typography paired with whimsical quilting makes this bookshelf quilt truly unique. Melissa Corry of Happy Quilting designed this delightful project for the Moda Bakeshop. There, she shares a free tutorial full of detailed photos on how to make one of your own. The finished project can be enjoyed as a wall display or used on a twin-size bed.

Photo via Swim Bike Quilt
Katie Blakeslee of Swim Bike Quilt used this free block tutorial by Alissa Haight-Carlton for Sew Mama Sew to make a modern bookshelf quilt. This minimalist fabric library was created for a the do.Good Stitches Charity Bee, and the blocks were sewn by all of the members.

Photo via Cut to Pieces
Check out this precious little girl clutching her beloved book and dreaming dreams. This amazingly detailed mini quilt by Angela Pingel is full of delicacy. The quilting, stamping and fussy cutting are just of few of the special touches in this masterpiece. See more photos and read about her inspiration on her blog.

Photo via Sewhooked
Are there any Harry Potter fans out there? If you love those books, this quilt is for you! The FREE Project of Doom quilt pattern by Bluprint member Jennifer O. was designed for a Mystery Block of the Week project. The award-winning paper-pieced pattern consists of 30 individual blocks.

Photo via Hanies
What is cozier than snuggling up with quilt and a good book? Flickr member Tacha Bruecher used careful cutting and precise raw edge embroidery to create this charming mini quilt. To see the full quilt, check out her photo set on Flickr.
[box type="shadow"]Did you know Bluprint has a Quilting Club on Flickr?
It's a great place to share projects that were inspired by Bluprint classes and patterns, connect with fellow Bluprint quilters, and find inspiration for your next project!
Join the Bluprint Quilting Club on Flickr today!

[/box]

Photo via Lily's Quilt
Lynne Goldsworthy shares her love of the classics in the Penguin Books quilt. Kona solids were used to re-create the beloved book covers in the quilt she gifted to her older sister. To read more about this one-of-a-kind project, check out Lynne's blog.

Photo via During Quiet Time
Are you a bookworm but don't want to commit to a full bookshelf quilt? Perhaps a pillow is what you need! Amy Friend of During Quiet Time created an incredibly cute library pillow for her office. I love the special details, like the pieced books and free-motion quilting.

Photo via Retro Mama
Create your own library tote like Kim of Retro Mama did. A bit of fabric and quilting is all you need to create an eye-catching bag that is pieced and quilted. Who knew a library tote could look so good?
Do you love books and quilts? Have you ever created a book inspired project? Please share!