Happy I Love Yarn Day! Merino wool, silk, bamboo, cashmere, mohair, baby alpaca — if these words are music to your ears, have we got a veritable feast for you today! I have invited fiber artist friends around the world to offer us a peek at their yarn stashes and at the very diverse yarns they live and work with on daily basis.
#ShareYourStash! Check out these fabulous yarn collections from fellow knitters for some serious fiber envy!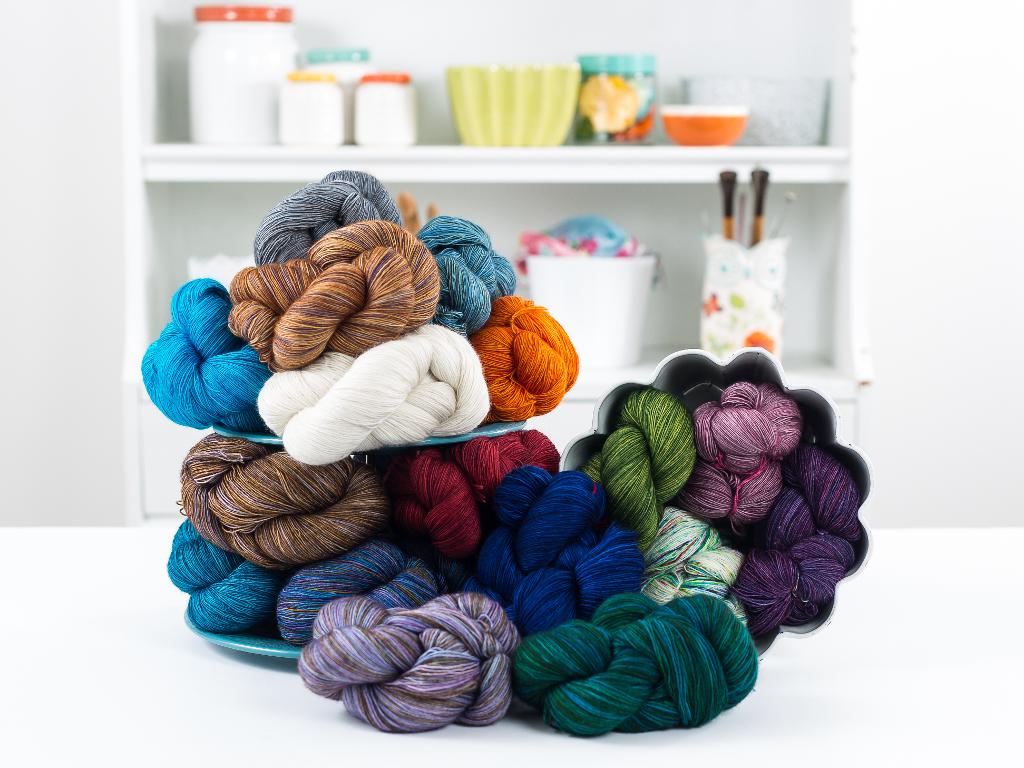 Yarn from the Bluprint Supply Shop!
Must love yarn.
It goes without saying that for anyone who does needlecraft or fiber art, that their passion and appreciation for knitting, crocheting, weaving, and other fiber pursuits goes hand-in-hand with their passion for the material that makes it all possible — yarn.
The purists may say that technically "material" ought to be defined as raw fiber itself, but for the sake of today's momentous occasion, our focus is on yarn, yarn, and more YARN. From major brands, to hand-spuns, to art yarns, to discontinued, hard-to-find yarns… we welcome them all. We love yarn so much, chances are some knitter out there is even responsible for adding a word to our vocabulary – sproingy!
Whether you currently classify yourself as a yarn fanatic or a yarn fiend, everyone's yarn stash started small and modest, growing over time. If you have spent years in fiber pursuits, your yarn stash has more than likely taken on a life of its own, and, perhaps, even taken over your life!
With a few shelves here, and a few bins there, a storage cabinet or two, a spare closet, there are skeins, and hanks, and cones everywhere in sight. Well, at least that is what things look like in the home studio from where I write today. My personal fondness for yarn has passed through many stages, from keen interest, to passion, to obsession (and, beyond?). What can I say, I absolutely love yarn!
The exotic stash collection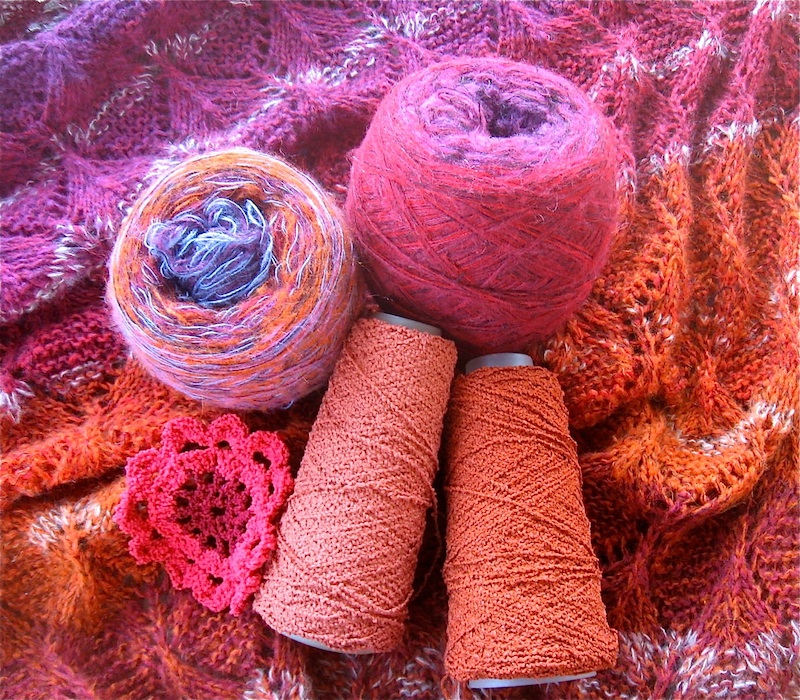 From Catherine Bayar's Yarn Stash
Catherine Bayar, a long-time textile enthusiast, expert, and collector, runs Bazaar Bayar in Istanbul, Turkey, and on the web. Catherine says: "I treasure hunt my yarn stash in the bazaars of Istanbul, finding everything from lush Turkish kid mohair to excess designer boucle cotton. Favorite yarns for my home decor collection are Wrapture by Inese's imaginative mohair mixes." How downright delicious is this still life from Catherine's yarn collection!
The weaver's collection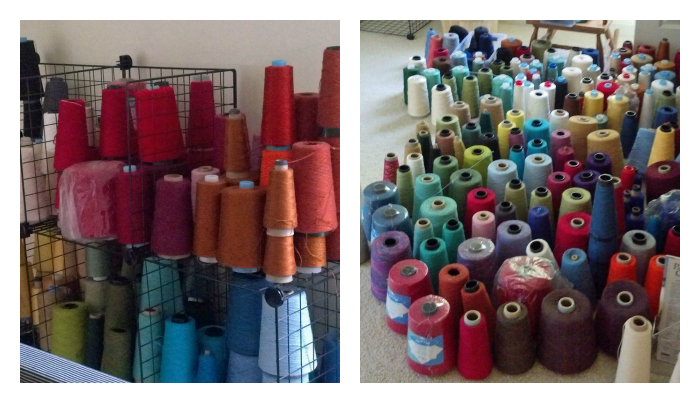 Kate Kilgus / Nutfield Weaver – Weaving Yarn Stash
Kate Kilgus is a handweaver in Londonderry, New Hampshire, home to her design studio, Nutfield Weaver. Her yarn stash has weaving yarns in every imaginable color — a must for her home decor, women's and men's accessories, and textile jewelry designs.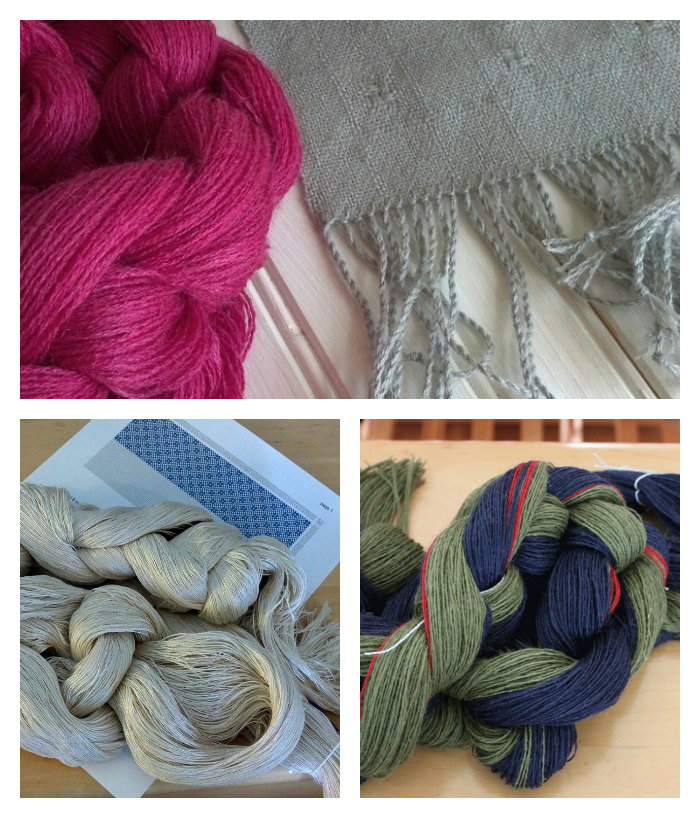 Yarns and weaving projects from Kate Kilgus
Whether Kate is working on a ladies' lace scarf in alpaca and silk, or a gentleman's scarf in the "Barclay Hunting Plaid" traditional tartan, she knows how to pick yarn with just the right weight, fiber content and color from her vast yarn stash.
The eclectic collection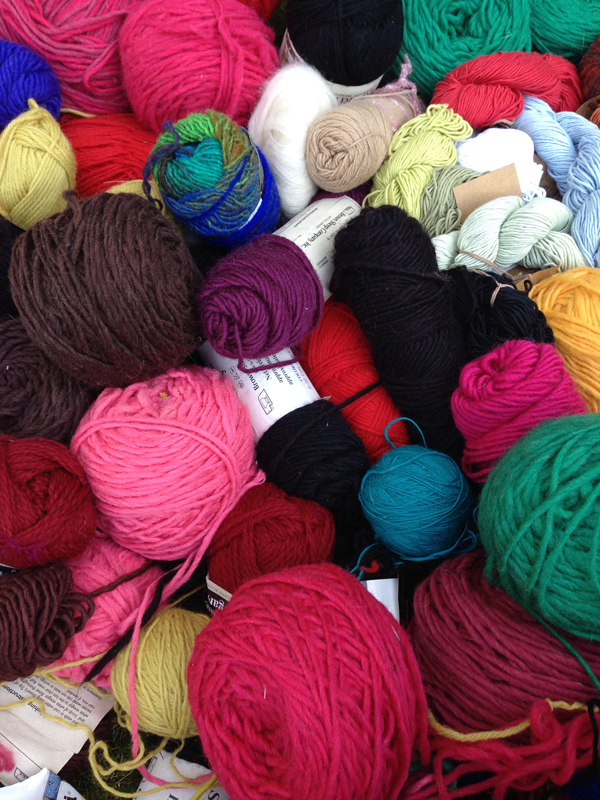 Robbin Firth's Yarn Stash
Robbin Firth of HeartFelt Silks may be an internationally known felt artist and teacher today but one of her first fiber art loves was knitting, and even now, years later, she owns a bountiful yarn collection. When working on her felt art, Robbin knows the perfect application for a multitude of fibers, and her yarn stash shows a similar diversity too, with rare breed wool yarns, mohair and lots of lovely blends.
The rare-yarn enthusiast collection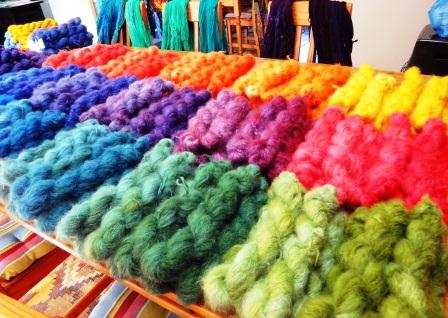 Dana Biddle's ColourSpun Yarns
Dana Biddle and her ColourSpun yarns hail from South Africa. According to Dana, these are no ordinary yarns — merino wools, kid mohair and pure cotton are carefully selected, and dyed in the artist's studio using earth-friendly dyes. Dana's rich palettes are absolutely magnificent.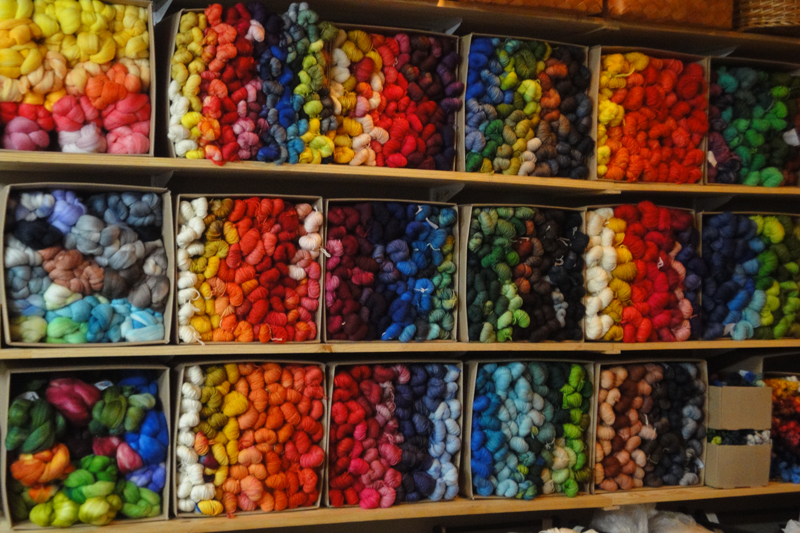 Know Your Yarn: Choose the Perfect Yarn Every Time is a great class to take for in-depth education in our favorite subject. Color-Patterning With Hand-Dyed Yarns is another excellent class for the advanced student.
But sometimes, it's time to say goodbye.
Elena Rosenberg's destash yarns
Of course, where there's a yarn stash, there's also a distinct possibility of a yarn de-stash.  Here's a group portrait of some of the yarns I recently decided to part with in a destash, as hard as parting with any yarn might be. Confession: The destashed yarns have been replenished with new acquisitions. And, yes, I am still convinced that there will be the perfect project for every yarn I own. Some day.
[box type="shadow"]
Ready to start stocking up your stash with fresh, new yarns? Start shopping incredible, high-quality yarns with the Bluprint Supply Shop! Browse our collection from the comfort of your own home and have beautiful yarn shipped straight to your door!
Start shopping now! >>
[/box]
What are the most cherished and prized yarns in your possession?