Recipe courtesy of Molly Stevens from Secrets of Slow Cooking: Mastering the Braise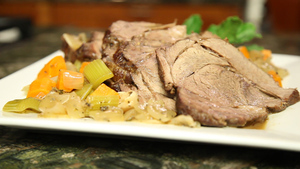 Ingredients
1 3 1/2- to 4-pound (1.5 -2 kilo) boneless beef chuck roast, preferably top blade roast, tied to hold its shape if necessary
Kosher or medium-grain salt and freshly ground black pepper
2 tablespoons neutral oil or other fat
1 large yellow onion (about 8 ounces), chopped into 1-inch pieces
1 carrot, chopped into 1-inch pieces
1 clove garlic, smashed
1 tablespoon chopped fresh thyme
1 bay leaf
1 1/2 cups beef, veal, or chicken stock, homemade or store-bought
2 tablespoons chopped flat-leaf parsley, to finish
Splash red wine vinegar
Directions
Preheat oven to 300 °F (150°C).

Browning the meat: Pat the surface of the pork dry with paper towels. Season the beef all over with salt and pepper. Heat the oil in a large Dutch oven or other braising pot (5-quart works well) over medium heat. Add the beef and brown it on all sides, turning it with tongs as you go, 12 to 18 minutes total. Remove the beef and set it aside on a large plate or dish that will collect any juices that the meat releases. If there are any charred bits in the pot, remove them with a damp paper towel, but leave behind any tasty-looking drippings.

The aromatics and braising liquid: Return the pot to medium-high heat and add the onion, carrot, celery, garlic, thyme and bay leaf. Season lightly with salt and pepper. Cook, stirring often, until just starting to brown, about 5 minutes. Pour in the broth, scrape the bottom with a wooden spoon to loosen any of the cherished cooked-on bits of caramelized beef juices, and boil to concentrate the liquid a bit, 5 to 8 minutes. Return the meat to the pot. Cover with a piece of parchment paper, pressing down so that it nearly touches the meat and the edges of the paper overhang the pot by about an inch. Set the lid in place.

The braise: Transfer the pot to the lower third of the oven and braise at a gentle simmer, turning the roast once halfway through braising, until fork-tender, about 3 hours. Peek under the lid after the first 10 to 15 minutes to check that the liquid isn't simmering too vigorously; if it is, lower the oven heat by 10 or 15 degrees (3°C).

The finish: Remove the pot from the oven. Lift the beef out, set on a carving platter to catch the juices, and cover loosely with foil to keep warm. If desired, strain the cooking liquid, pressing down on the solids to extract as much liquid as possible, and discard the spent aromatics. Whether you've strained or not, let the braising liquid settle, then spoon off and discard as much fat as you easily can with a wide spoon. Heat the cooking juices over mediumhigh heat, and boil for 1 or 2 minutes to concentrate the flavor. Taste. Add the chopped herbs and a splash of vinegar. Season as needed with salt and pepper.

Serving: Slice the roast into 1/2-inch thick slices and spoon a bit of sauce over the meat and serve immediately. Pass any remaining sauce at the table.
Braising Time: About 3 hours.
Yield: Serves 6.