Did you know that gourmet crab cakes can be made easily in the comfort of your own kitchen? In fact, this crab cake recipe is so easy and fuss-free that it can become a staple weeknight dinner. Just assemble, bake and eat! Seriously, it's that easy.
What makes these crab cakes so different?
This recipe for crab cakes is completely simplified — without compromising quality and flavor! They're also baked, which means you have to spend less time over a stove guarding yourself from sizzling, stressful mess!
The rule of thumb for crab cakes: the less filler, the better.
Since these are baked and not fried, the recipe focuses on flavor and omits extra added guilty pleasures, like mayo and flour. We don't need those ingredients, which are primarily used to help keep the crab patties together and prevent them from drying out while frying.
Lump crab meat, which is the base of this recipe, can be found in the refrigerated seafood section of your grocer, sold in plastic tubs or cans. Lump crab meat or jumbo lump crab meat is ideal for this recipe, although a combination of lump and claw meat is also ok to use. Please do not use imitation crab meat.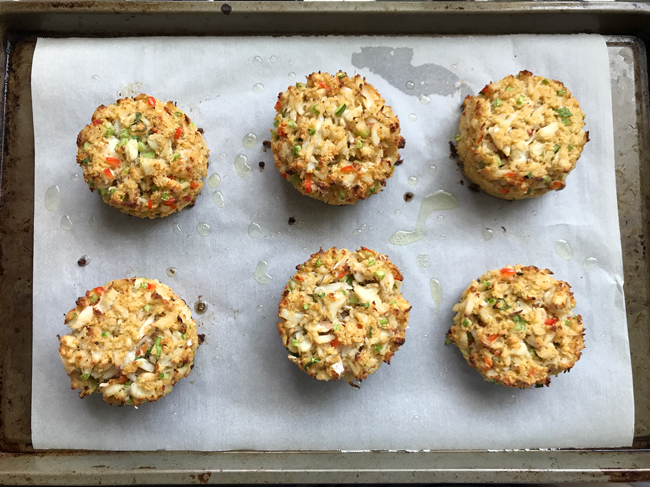 Easy baked crab cakes recipe
Makes 6 crab cakes
Ingredients:
1 pound lump crab meat
2 celery stalks
1 red bell pepper
1 green onion, plus more for garnish
1 teaspoon Old Bay seasoning
1½ tablespoon dijon mustard
¼ teaspoon salt
¼ teaspoon pepper
2 eggs
1 cup breadcrumbs
Lemon wedges for garnish
Step 1:
Preheat your oven to 400 F. Line a baking sheet with parchment or foil and lightly drizzle the bottom with olive oil. Set aside for now.
Step 2:
Drain the crab meat really well, but don't rinse the meat! Pick over the crab meat from the container to ensure there aren't any shells left behind. Place the meat into a small bowl. I like to break down the lumps of meat into smaller pieces, but it's not necessary.
Step 3:
Prepare all the chopped veggies.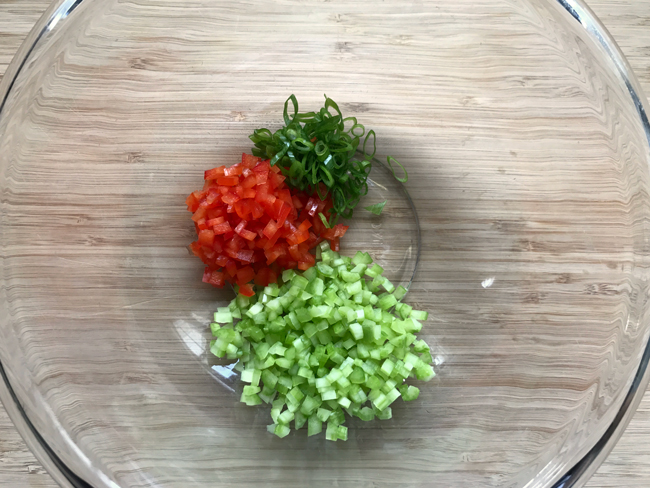 Chop the celery stalks into a small fine dice. Split them lengthwise a few times before cutting crosswise. You'll need about ⅓ cup or a bit more.
Cut out a third of the red bell pepper and chop that portion into a small fine dice. Cut thinly lengthwise, then cut thinly crosswise. You'll need at least ¼ cup. (Read my suggestion at the end of the recipe for what to do with the remainder of the bell pepper).
Lastly, chop the green onion very thin. Place all the veggies in a large bowl.
Step 4: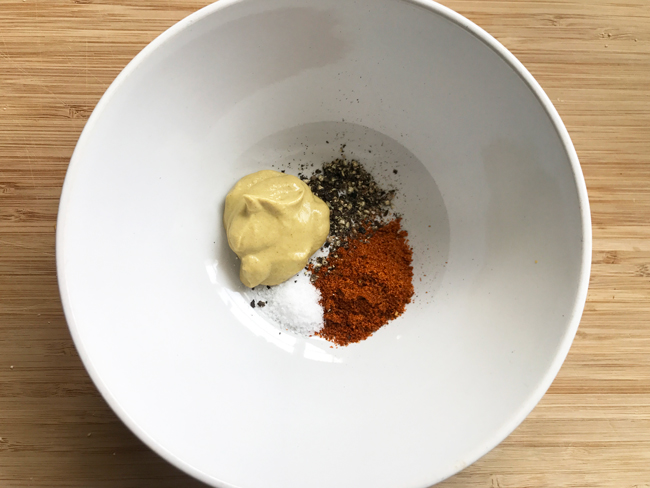 In a small bowl, place the Old Bay seasoning, dijon mustard, salt and pepper. Whisk these ingredients together. Then add two eggs and whisk until combined.
Step 5:
Add the crab meat to the chopped veggies and mix well.
Pour the egg mixture over the top and add the breadcrumbs. Mix until all ingredients are combined.
Step 6: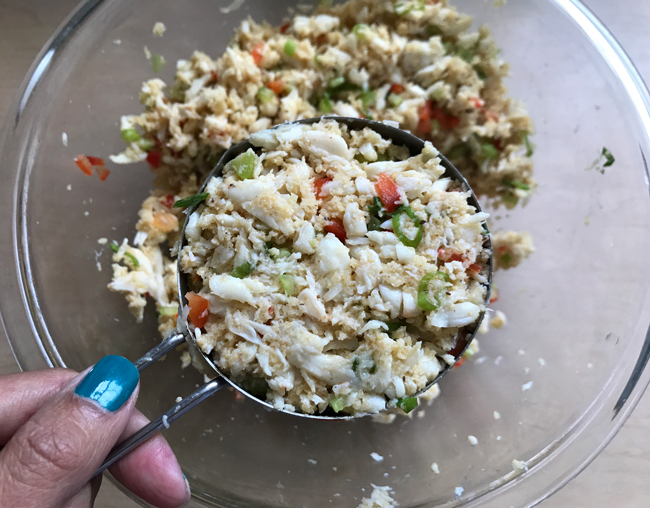 Spoon crab mixture into a ½ cup measuring cup and gently press it down, but not too much (you don't want to get it stuck in there).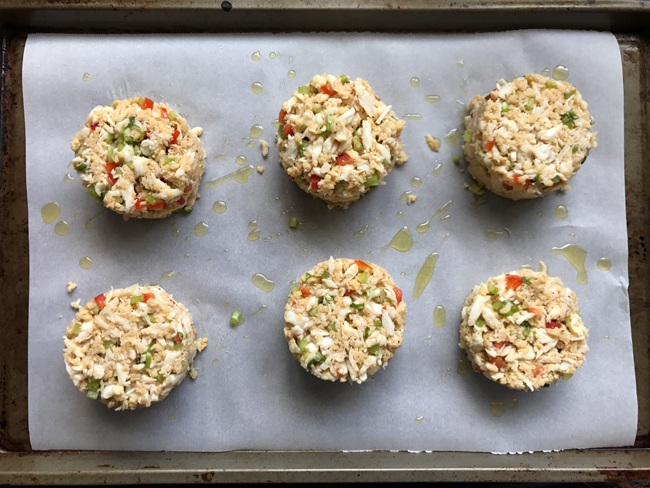 Invert the crab cakes onto the oiled baking sheet.
Step 7: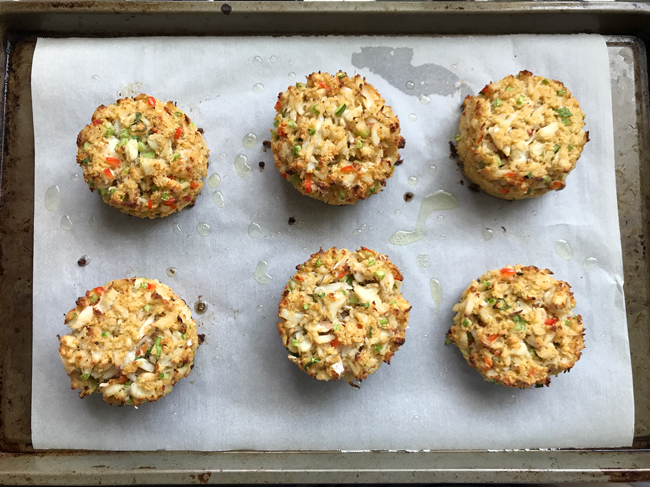 Bake the crab cakes for 25-30 minutes or until the tops are golden. No need to flip! Garnish with green onion and serve with lemon wedges and/or red bell pepper (read more below).
Optional: Cut the remaining red bell pepper into strips, drizzle with olive oil and roast for 10-15 minutes in the 400 F oven as you assemble the crab cakes. Place a couple of strips over the top of each crab cake to garnish.
Serving suggestions
Crab cakes are a great accompaniment to very basic and subtle flavors. Serve them with:
Salad greens
Pasta swirled in butter, garlic and Parmesan
Cornbread
Baked potatoes
Finely chopped slaw with sesame dressing
Couscous