What is a background filler quilting design and why do you need one? I like to think of background fillers as the supporting actors in an awesome quilt. The background quilting provides texture and dimension so your primary design can shine.
Help your quilt backgrounds win "best supporting actor" with these filler design tips!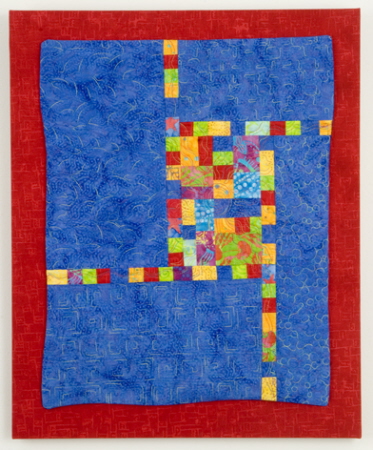 Tip #1: Try more than one filler design.
In the Building Blocks quilt, pictured above, I used bright primary colors to create a block-style design that reminded me of the Legos my sons used to play with. The blue background would look very plain without the texture of the background quilting filling in the blank space.
It's fun to use more than one filler design when you can because it's more interesting to stitch, and it's more interesting to look at when you're finished. This quilt has pebbles, square spirals and fan designs, for instance.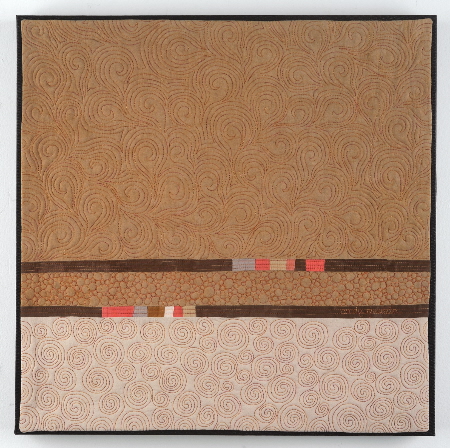 Tip #2: Start with pebbles.
In some cases, the quilt composition may be very simple, like my Sand Dollar above. The background filler quilting designs add texture and interest here to make the quilt really sing. Pebbles, in the center band, are a great way to add wonderful texture to an open space.
Start by stitching a circle, then add another right next to it. Keep adding circles until the space is filled. You may have to stitch over your lines occasionally, but that's fine. Vary the size of the circles to add even more texture.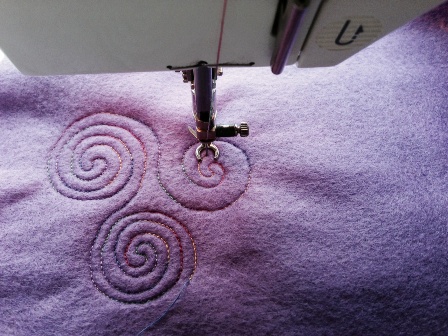 Tip #3: Try nested spirals
Nested spirals are another versatile background filler design that is good to have in your repertoire. Stitch a spiral, making sure to leave room to come back out again. Travel a short distance and make another spiral that nests into the first one. Continue until the space is filled.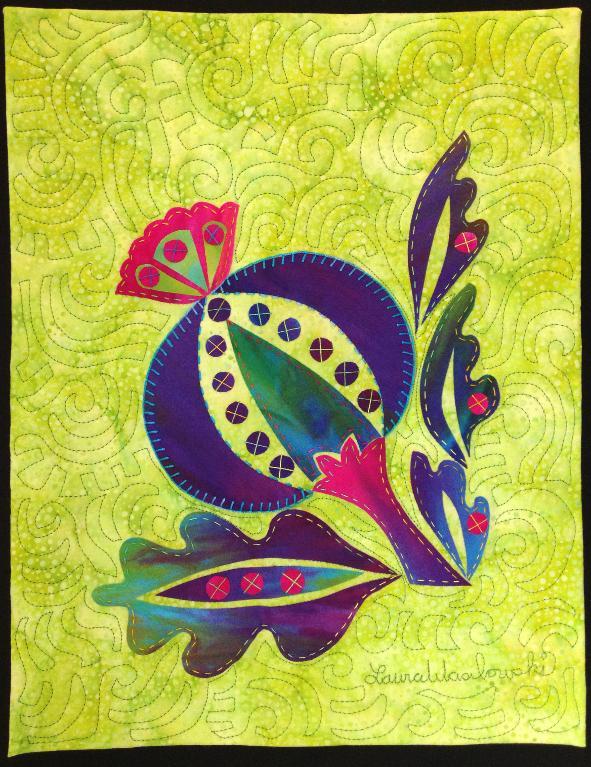 Photo via Craftsy instructor Laura Wasilowski
Tip #4: Personalize your design.
In her pattern King Poppy, Craftsy instructor Laura Wasilowski makes great use of a unique background filler quilting design. Loosely based on a traditional fan pattern, this design uses spirals and wavy lines to create an interesting texture that is part of Laura's signature style.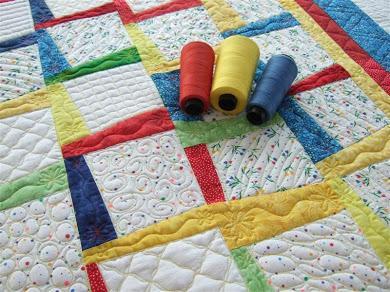 Photo via Craftsy member Marcia Wachuta
Tip #5: Mix in some simple lines.
Looking for something quick and simple? Craftsy member Marcia Wachuta uses simple cross hatching and diagonal lines for some of the blocks in her ZigZag Primary Colors Baby Quilt, along with stitched flowers and loopy swirls.
A baby quilt is a good place to try some new-to-you background filler designs because they are usually smaller and tend to get a lot of wear. Besides, babies aren't too critical of the stitching — they just want to cuddle up in the quilt!

Photo via Craftsy instructor Leah Day
Tip #6: Try a class!
If you'd like more ideas for background filler quilting designs, try a class. Craftsy instructor Leah Day is an expert in free-motion stitching, and teaches two awesome just on on free-motion filler patterns: Free Motion Fillers Vol. 1 and Free Motion Fillers Vol. 2.
She'll teach you so many incredible free-motion backgrounds, including help you learn how to group designs into categories, such as independent, stacking, pivoting, echoing and branching stitch families, so you can choose the type of design that works best for your project!
Do you mix and match your background filler quilting designs? What's your favorite?