Get ready for "awws" and applause when you knit these projects for the new little man in your life. This collection is full of baby boy knitting patterns that are perfect for baby showers and birthday gifts. 
You'll find patterns for everything a baby boy needs: a head-to-toe wardrobe, nursery decor, cuddly toys and more inspired by favorite little boy adventures like racing cars, sports, flying high and being just like daddy!
Photo via Tin Can Knits
1. Clayoquot Toque
Like father, like son! Knit this FREE pattern for matching hats for new baby and his proud daddy. This modern fair-isle hat comes in multiple sizes, from Newborn to Adult, so father and son can be two of a kind at any age! Bluprint member Tin Can Knits also has a great sweater pattern for father and son pullovers.
Photo via Rainebo
2. Knit Li'l Football
You'll score major points with this FREE knitting pattern for a soft little football toy. Knit in the round using the magic loop technique, this toy is approximately 6½" long.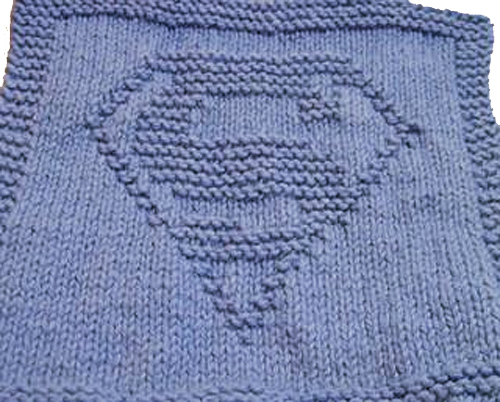 Photo via Amy-lynne Mitchell 
3. Hero Cloth
You don't need super knitting powers to knit this FREE washcloth pattern for your super baby because it's designed with just knit and purl stitches. You can also use this motif for blanket squares, sweaters, and other knitting projects. Knit with cotton yarn for a soft, durable wash cloth. 
Photo via Alma Mahler
4. Baby Trainers/Sneakers Booties
Cute AND practical, the high tops and laces not only look adorable but also help the booties stay on active little feet that can't stop moving. The pattern comes in two sizes: 0–6 months and 6–12 months. The booties are seamless and partly knit in the round. If you've never tried knitting in the round before, the Knit Lab: In The Round class is a really great starting point.
Photo via OGE Designs
5. Baby/Child Stylish Jacket
Your little man will look all grown up in this jacket cardigan just like daddy's with a shawl collar and button front.  The pattern includes sizes for 0–6 months up to 5–6 years and is knit with sport weight yarn.
Photo via Julie Taylor
6. Cabled Baby Aviator Hat 
–

Dayton

Any baby boy would be flying high in this cabled baby hat with single button chin fastening, ear flaps and an aviator-style front flap. The pattern in DK yarn features a simple cable with a six-row repeat that is an easy first cable project for beginners.
Photo via Bluprint member Tin Can Knits
7. Rocky
These retro boxer pants will give a one-two punch of cuteness and comfort. Work them up in fingering weight yarn in any size ranging from newborn to 2 years.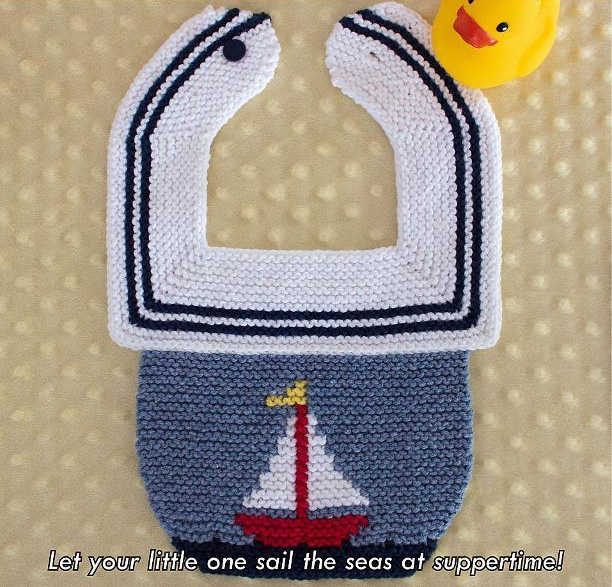 Photo via 10HoursorLess
8. Sweet Sails Baby Bib
Knit this bib in 5 hours for a quick shower gift! Worked in garter intarsia, this bib features a sailboat below a unique sailor collar neckline. 
Photo via OasiDellaMaglia
9. Baby Pants Diaper Cover
What self-respecting baby would go out in a plain diaper when he could wear this cover with its sweater-like design of ribbing, purl stripes and triangle stitches?  This pattern is easy and quick to knit in sizes for 1 month, 3 months or 6 months.

Photo via jenniferlori
10. Personalized Pennant: Cars
Turn the nursery wall into a race track with a fun, custom banner of stuffed cars that spell out baby's name using intarsia and duplicate stitch. Each car is approximately 8″ x 6″ and filled with 1 inch of stuffing to give it shape and double as a toy.
Photo via Lil Pig
11. Toy Boat, Toy Boat, Toy Boat
This baby blanket features three boats on each end with sails pointing to the center of the blanket. You'll definitely want to swatch the design because a change in gauge could distort the sailboat. Knit and purl motifs like this work best with a quality wool or cotton worsted weight yarn that makes the stitches pop.
Photo via KnitographyByMrs.Mumpitz
12. Hot Air Balloon Mobile
Here's a fun way to use up leftover scraps of yarn and make a gift that baby will treasure! This is an easy project that only requires knowledge of basic stitches, knitting in the round, and how to do simple increases and decreases, but you are only limited by your imagination!
Photo via Amy Gaines
13. Puppy Knit Pattern
This 8-inch puppy is designed to be baby's best friend. Knit in worsted weight yarn on straight needles, this softie is made cuddly with Fiber Fill stuffing. 
Photo via woollymagic122
14. Charlie Car Amigurumi Knitted Toy
This 4-inch toy car is the perfect size for little hands and the perfect amount of fun to play with. It's knit with DK weight yarn, and you'll need some basic with intarsia skills to add the details.
Photo via Mary's Knittin' Designs
15. Newsboy Cap & Suspenders Set
Extra! Extra! Read all about how extra cute and extra easy this Newsboy Cap & Suspenders Set is! It's a great idea for newborn pictures and easy to knit in stockinette.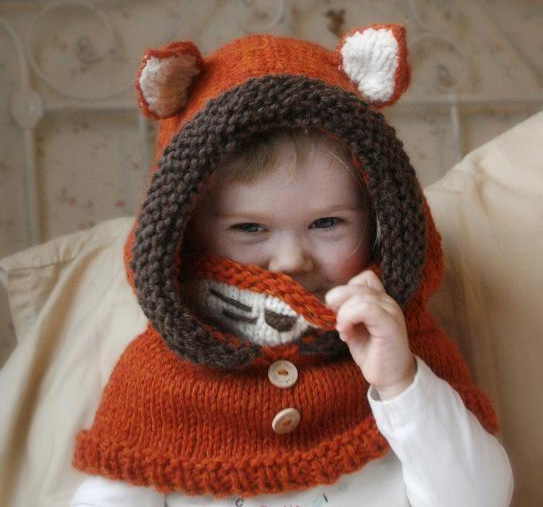 Photo via Muki Crafts
16. Fox Hood Cowl Rene
The fox face cowl inside this furry friend hood adds extra protection from cold winds and extra cuteness. Would you rather have a cat or wolf hood? Just use different colors of chunky yarn to match the animal within! The pattern comes in four sizes: baby, toddler, child and adult.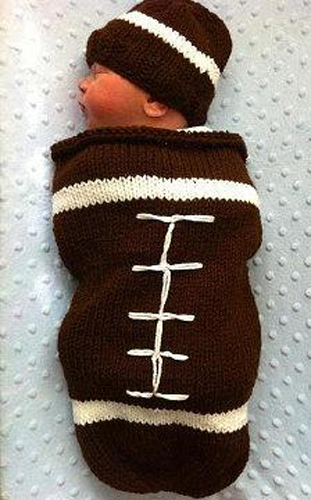 Photo via Design by C
17. Football Cocoon and Hat
Your little quarterback will love being sacked when it means snuggling down in this football-inspired cocoon! This sleep sack is knit in the round with worsted weight yarn. 
Ready to get knitting? Remember, nap time for baby can be knit time for you!