I live in New England, the place to be for leaf peeping and everything that is gloriously autumn. Beautiful foliage, pumpkins, apple cider, apple crisp and apple picking are around every corner. I find this time of year so inspiring. Gone is the sloth-like feeling brought on by the heat and humidity of summer. Welcome are gorgeous days accented by sparkling sunshine, gorgeous blue skies, clear and crisp air, cool nights and foliage! It's the perfect time to get back into the studio and create beautiful autumn jewelry!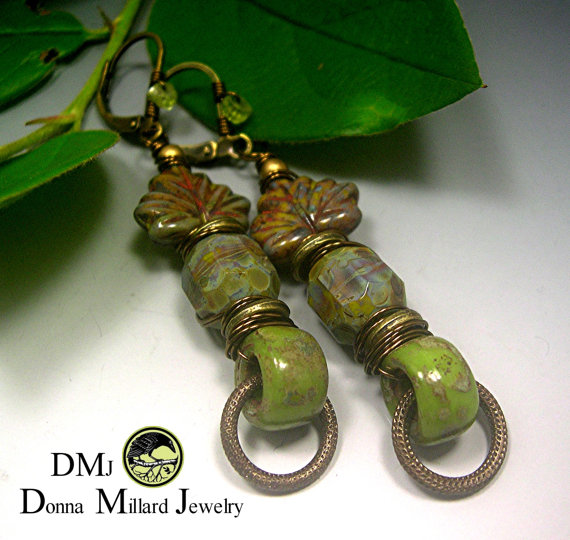 Photo via Donna Millard
I've been seeing autumn jewelry designs popping up in the bead groups I'm involved in and thought a post showcasing the diversity of beautiful jewelry designs that reflect the season was definitely in order. Luckily my jewelry designing friends were willing to share their gorgeous creations with us.
The earrings picture above have been created with Czech glass beads, faceted beads, lampwork glass and brass for a lovely combination of beads that reflect the leaves as the foliage begins to change color.
Inspired by nature
Let's begin with a look at some designs I would consider classically autumnal. These designs incorporate acorns, leaves and the colors we normally associate with fall like reds, greens, oranges and browns.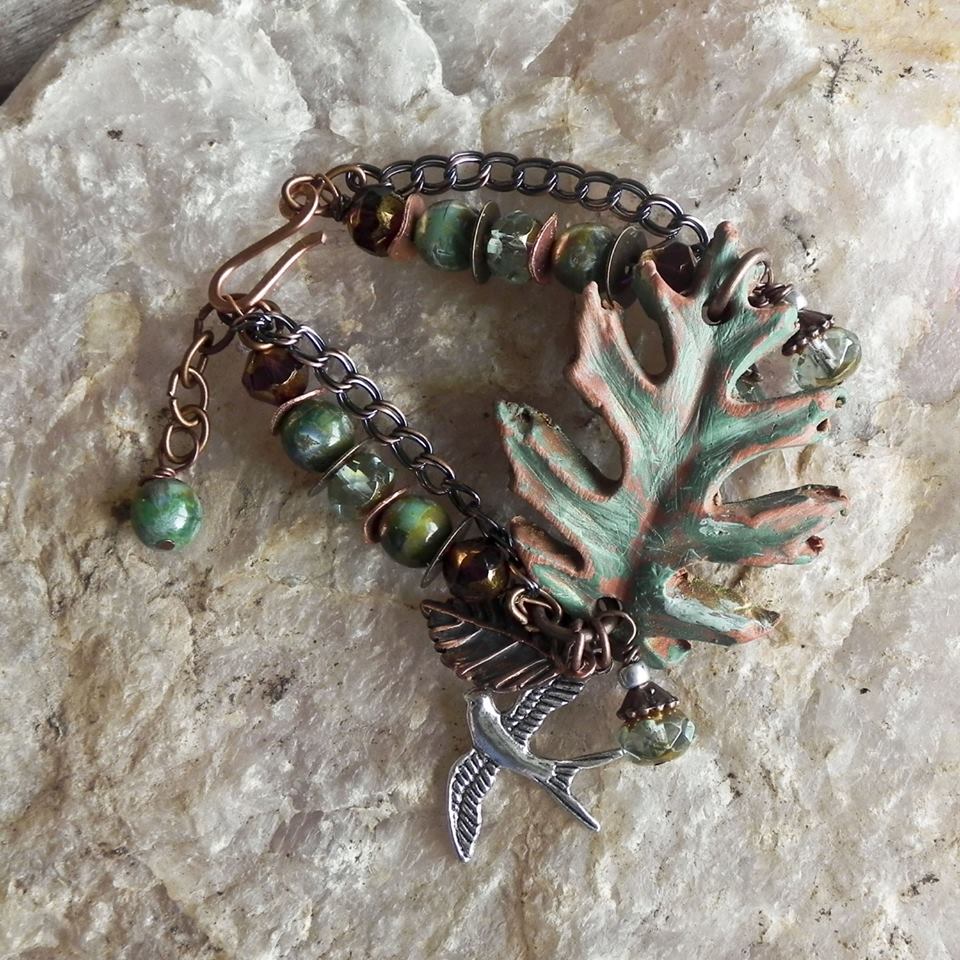 Photo via Claire Lee
A beautiful polymer clay leaf is the focal piece of this bracelet designed with a combination of metals – a wonderful mix of materials.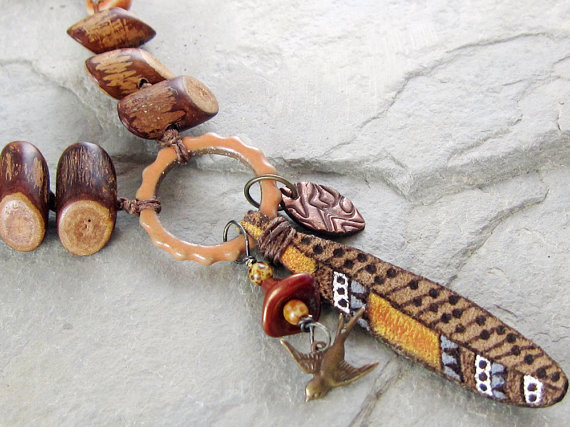 Photo via Linda Landig
Wooden beads are attached to a ceramic ring along with a leather feather focal piece, copper, brass and glass charms to create the feeling of autumn in a peaceful forest setting.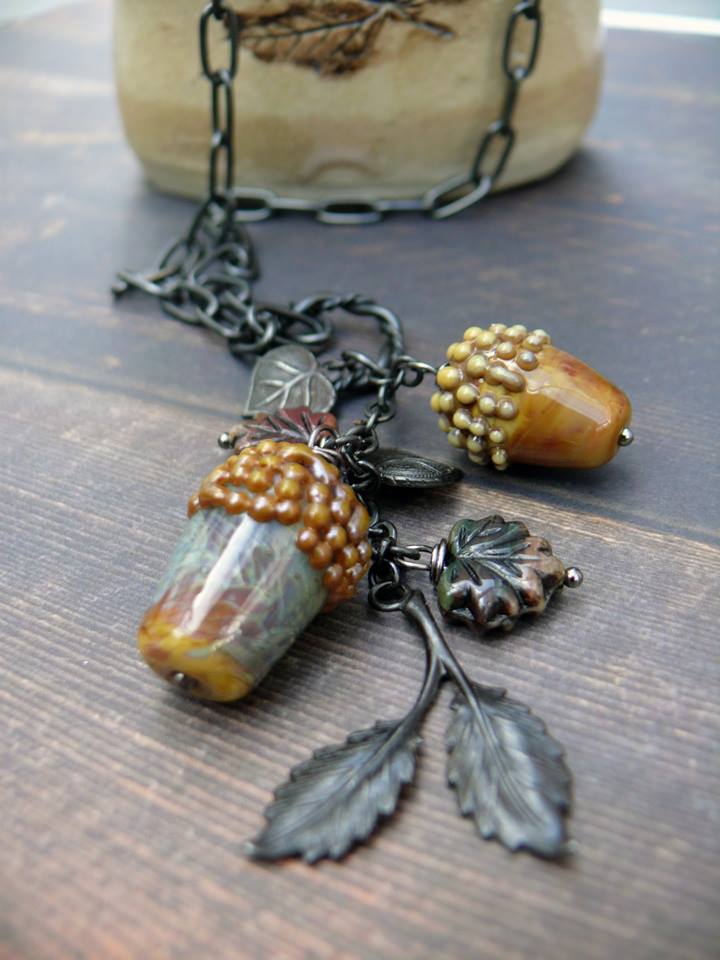 Photo via Lindsay Philipson
Beautiful lampwork glass acorns are adorned by Czech glass leaf beads and metal leaf charms to create a lovely necklace.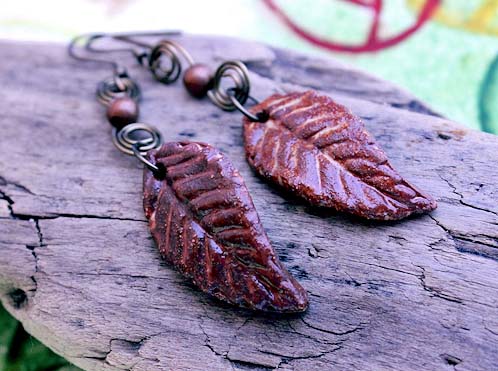 Photo via Shelley Graham Turner
Polymer clay leaves adorned with swirling metal create exquisite earrings.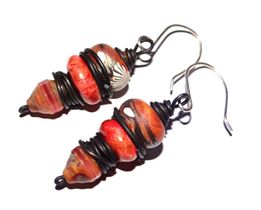 Photo via Natalie McKenna
This pair of earrings are made using handmade polymer clay beads, ceramic beads and Czech glass beads, incorporating the vibrant orange associated with autumn.
 Photo via Lesley Watt
Lampwork glass beads are paired with beautiful, handmade fold-formed copper leaves.
Halloween theme
As the month of October rolls along, our thoughts turn toward Halloween. Halloween is a fun time accented by pumpkins, candy corn, bats, skulls and orange and black colors.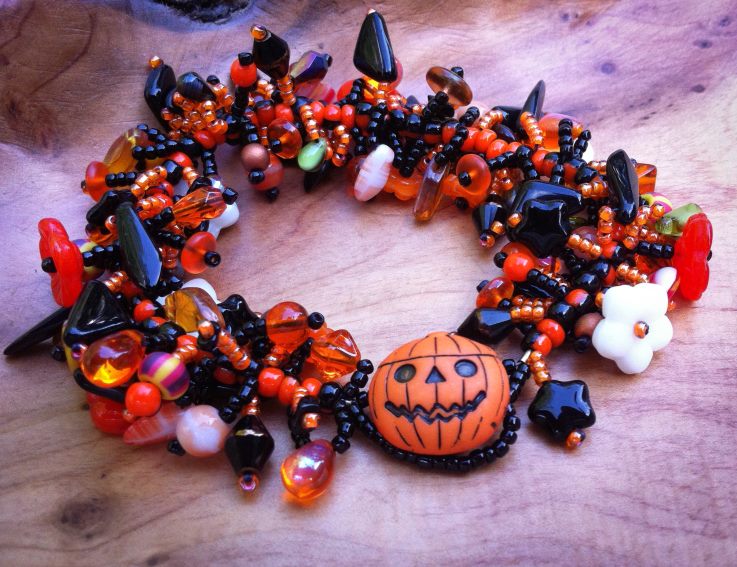 Photo via Linda Younkman
By combining a variety of beads that remain true to a the color theme of orange, black and yellow, a true Halloween themed bracelet is created. I can see Czech glass, seed beads, polymer and glass beads in this lovely, chunky bracelet design.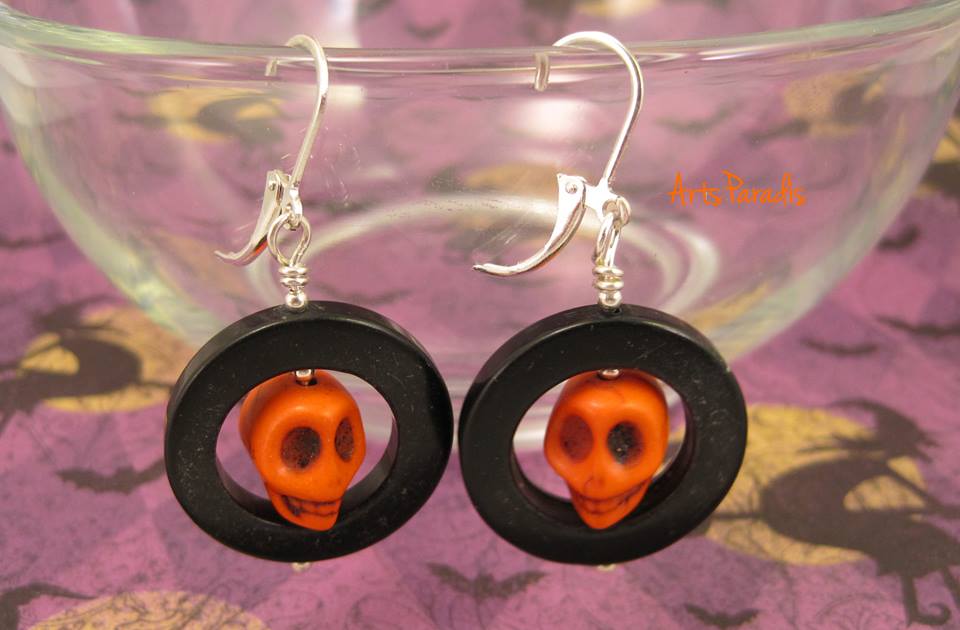 Photo via Charlene Wood
Wouldn't these these earrings pair well with a black and orange bracelet? Black stone beads encircling the orange skull beads is a simple, yet effective design for these spooky skull earrings.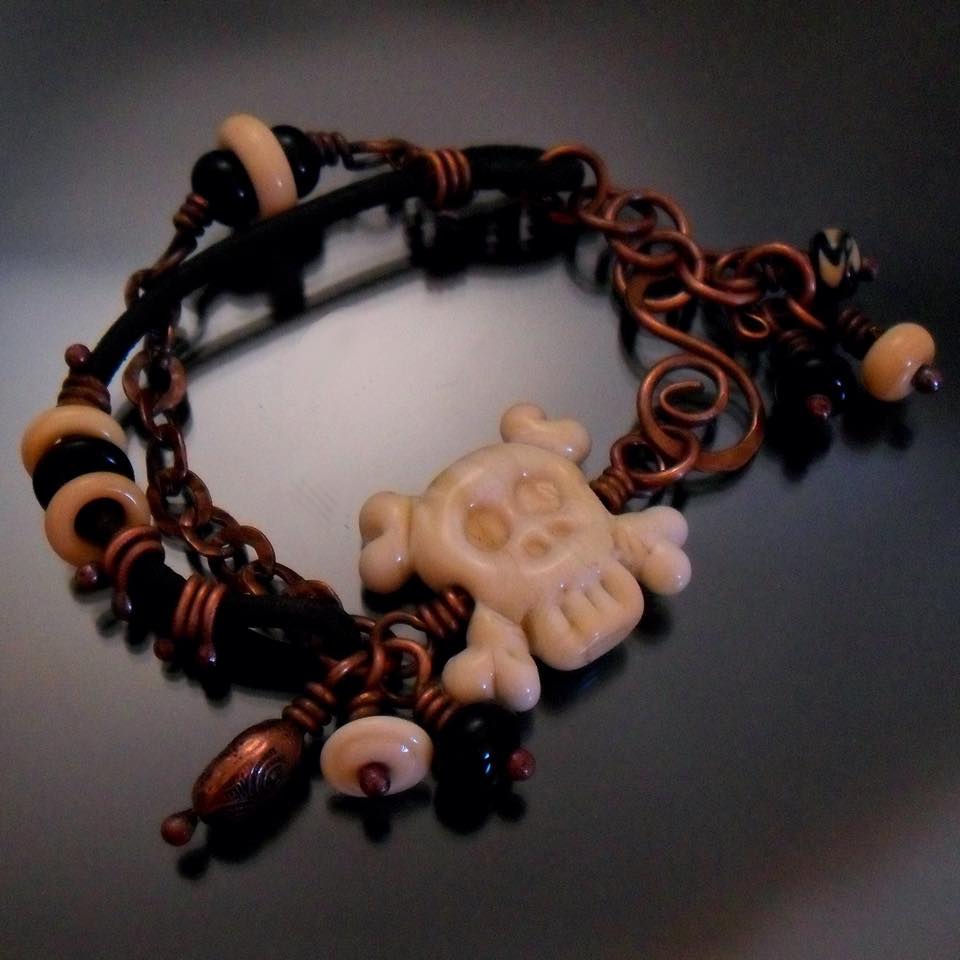 Photo via Tracy Bell
A fun lampwork skull and crossbones focal piece is combined with a variety of lampwork spacer beads and copper accent beads to create a ghoulish Halloween bracelet.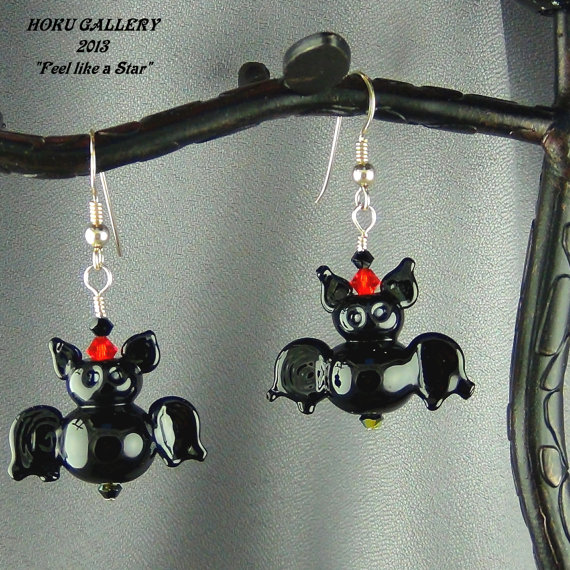 Photo via Diane Gerbert-Ballum
Artfully crafted lampwork glass bat beads make fun themed earrings.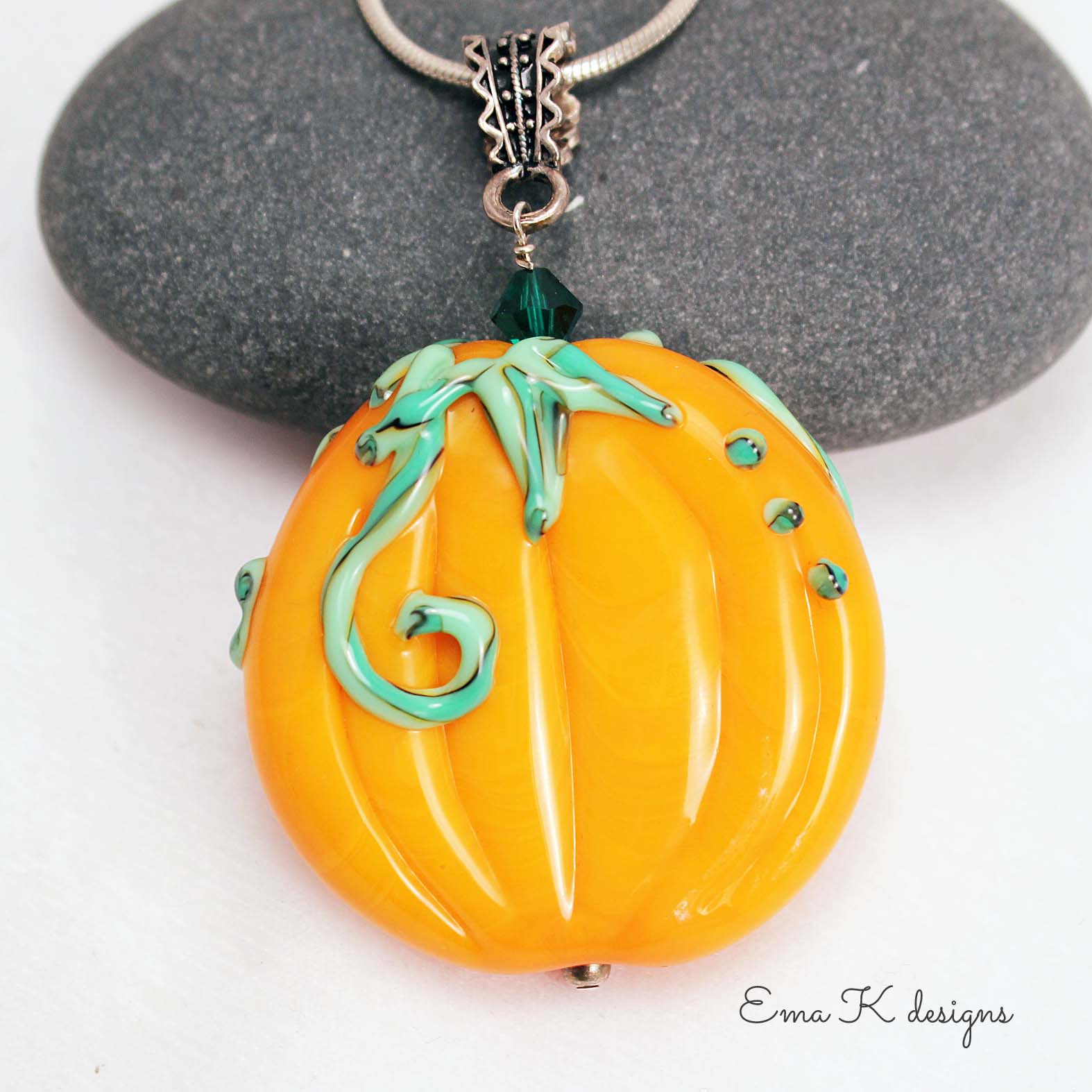 Photo via Ema Kilroy
Let's not forget the great pumpkin. This lampwork glass focal bead is perfect for pumpkin lovers.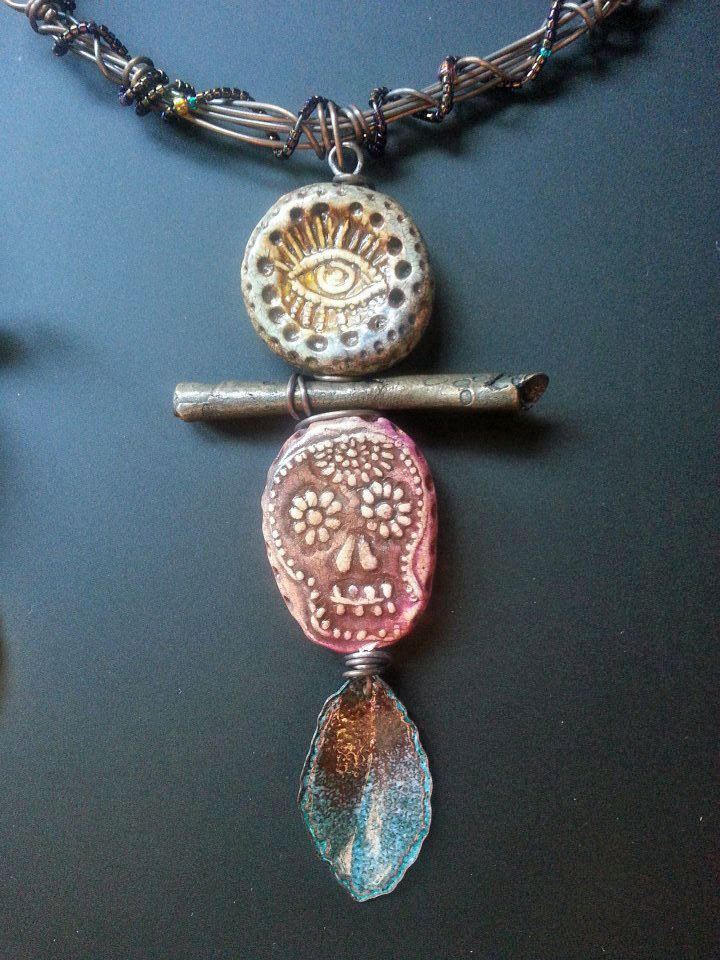 Photo via Staci Louise Smith
Skillfully designed and hand-painted polymer clay beads provide the perfect feature for this necklace.
Sugar skulls are great anytime of the year but particularly fun around Halloween.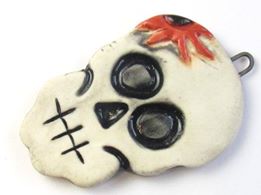 Photo via Marla James
Above is a cermaic clay sugar skull pendant ready to become the focal piece in a wonderful necklace.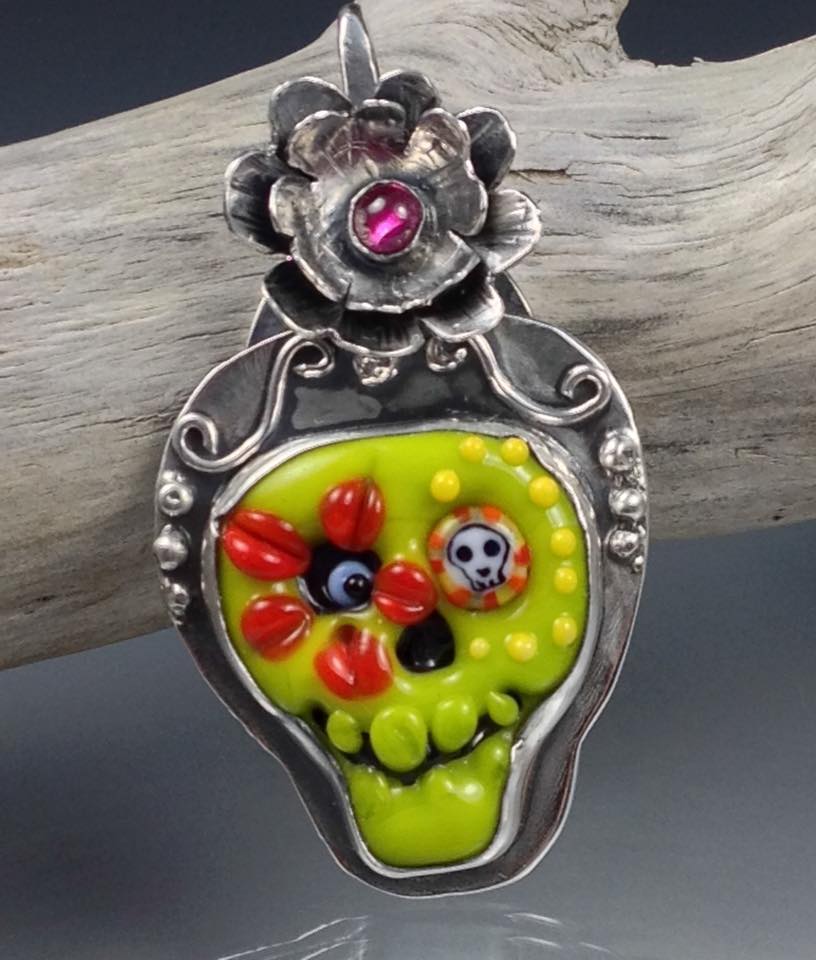 Photo via Kristi Brokaw
A gorgeous lampwork glass sugar skull encased in silver makes a beautiful pendant by itself or surrounded by accenting beads in a necklace design.
We can also find autumnal inspiration in beautifully embroidered jewelry designs.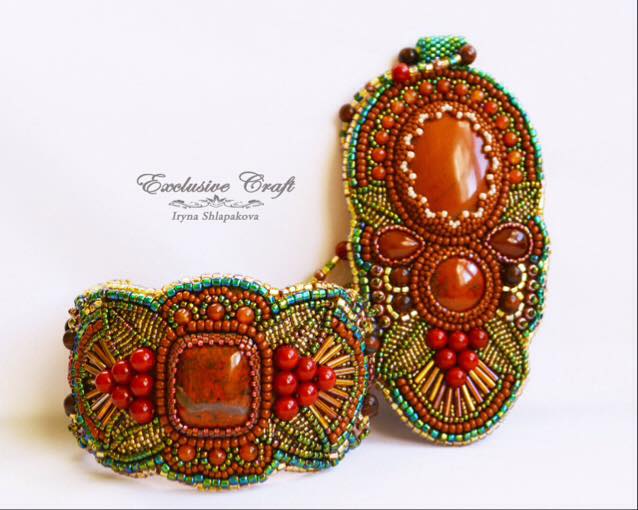 Photo via Iyrna Shlapakova
Using a gorgeous stone and surrounding it with bead embroidery is a beautiful way to add texture and the colors of fall into jewelry designs.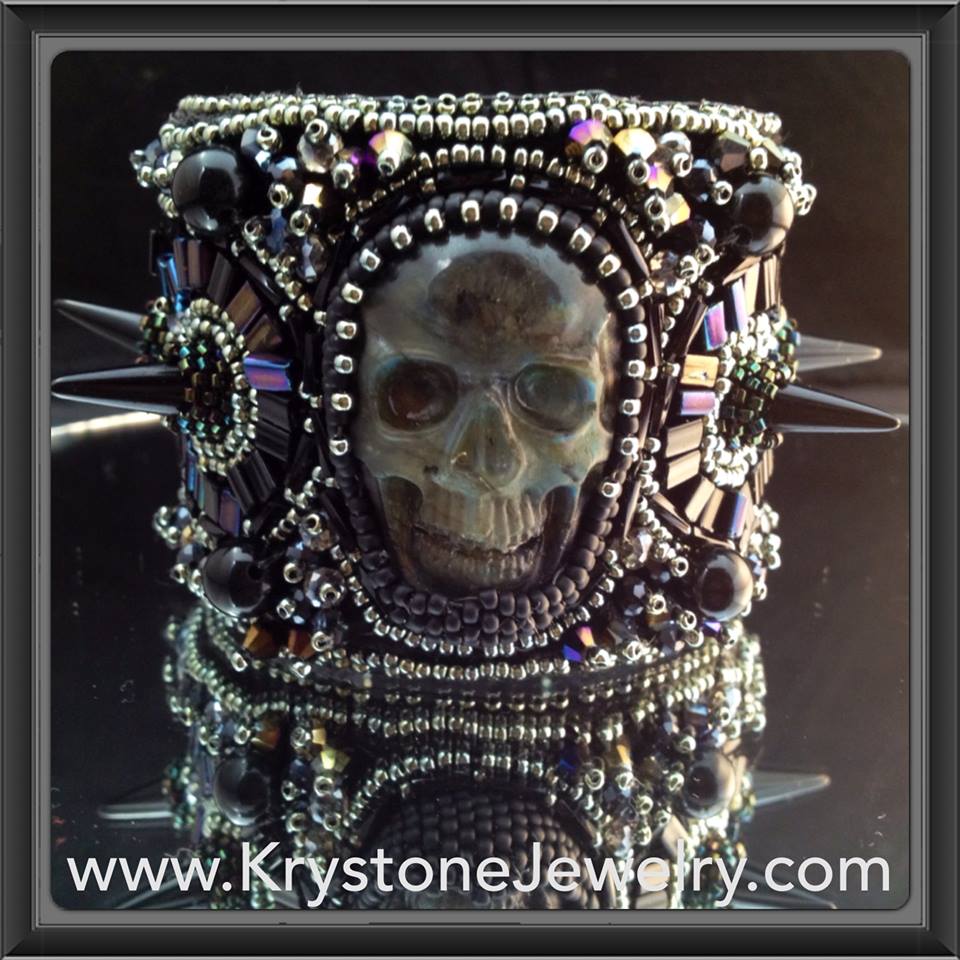 Photo via Wendy Vasconcellos
Bead embroidery can include skulls and spikes to take the work to another fantastic level.
Wire wrapping
Wire-wrapped jewelry designs absolutely amaze me. I love the amount of detail wire-wrapping techniques bring to a design. Perfect for autumn, Halloween or anytime of the year!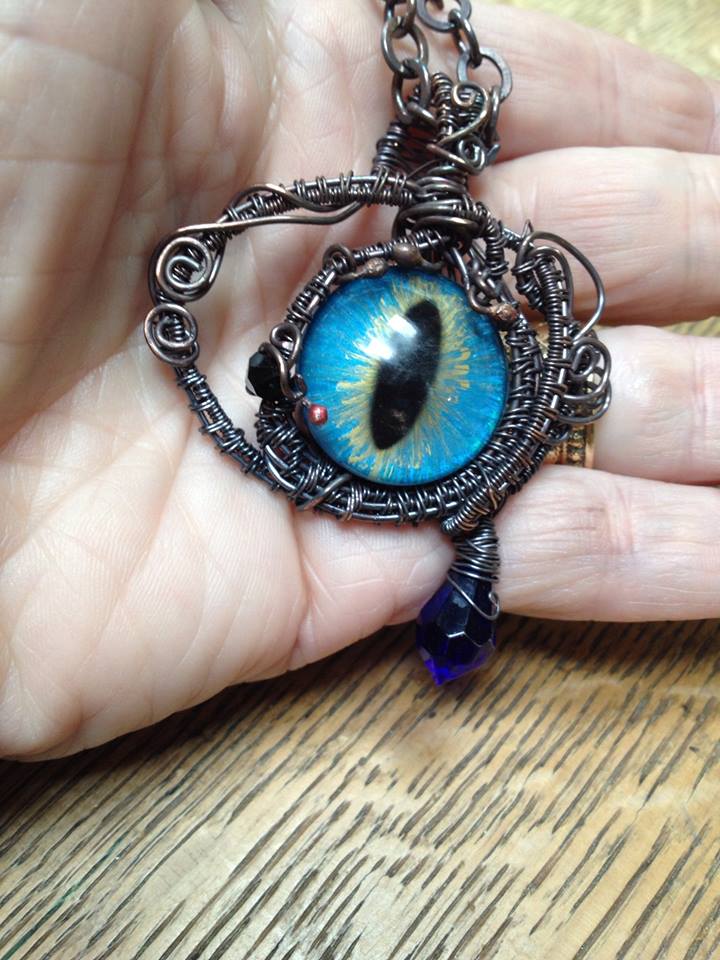 Photo via Bernice Craft
I hope this post has given you some inspiration for designing your autumn jewelry. I encourage you to visit the artists who have shared their wonderful work with us. Many of them sell beads as well as jewelry. Take a few moments to peruse their shops and I'm sure you'll find beads you can't live without.
If you're feeling inspired by autumn or any another season share your seasonal creations with us. Are you creating a piece of jewelry inspired by the season you're experiencing?
[box type="shadow"]
Bluprint offers a variety of jewelry making classes. If you're looking to expand your jewelry making skill set you'll want to check out our classes.
[/box]