Have you seen art quilts online or at a quilt show and wondered how to create one for yourself? Art quilts are generally works that rely more on free-form techniques and surface design, and less on traditional patterns. They are also often intended to hang on the wall, rather than be used as a throw or bed covering.
Get ready to channel your artistic side with 5 ideas for making your very own art quilt!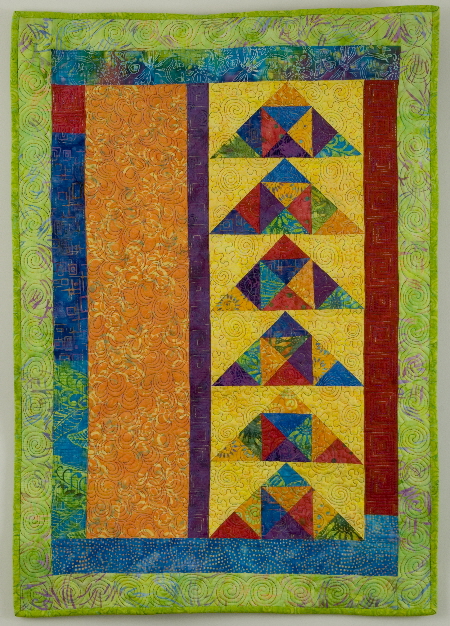 Tip #1: Use a traditional pattern for inspiration.
Often the easiest way to get started making an art quilt is to use a traditional pattern for inspiration. Make the pattern bigger, or smaller, or try an off-center composition. Use nontraditional fabrics or colors. In the Wild Geese in Flight quilt, pictured above, I started with a variation on the traditional flying geese pattern and made five large "geese" blocks. I used bright batiks and set the blocks in an asymmetrical design with lots of open space for free-motion quilting.
Tip #2: Try a landscape.
A stylized one, that is. Make freehand curves by cutting wide strips and overlapping the long edges with right sides up on both fabrics.  Then use your rotary cutter to cut a gentle curve through both strips. Discard the excess, put the two pieces right sides together and gently sew the curved seam. Press and add additional strips to the unit until you have the size you want. To create more interest, add a pieced detail to one of the strips before you make the curved cut.
Free-motion stitch pebbles, swirls and abstract flower and leaf shapes to give life to your art quilt landscape! You may want to try wide borders to give lots of room to add texture.
For more ideas on pictorial and landscape art quilts, check out the Craftsy classes on Pictorial Quilting Techniques by Wendy Butler Burns and Linear Landscape Quilts by Gloria Loughman.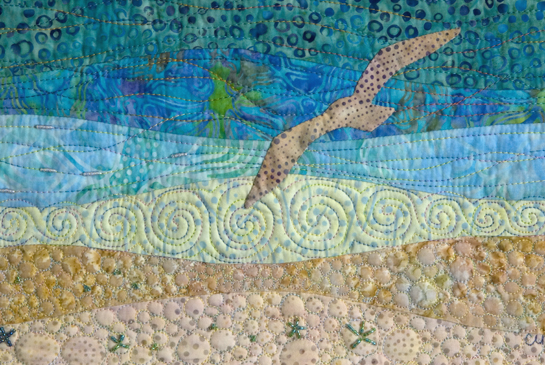 Tip #3: Add Beads or Other Embellishments.
Many art quilters use beads and other embellishments on their work to create dimension and interest. You can make the embellishments as simple or as elaborate as you wish. In the detail of the Sunrise on the Beach quilt, above, I used tiny white seed beads to imply froth in the blue wave section of the landscape, and blue-green ones for shells or starfish on the beach section in the foreground.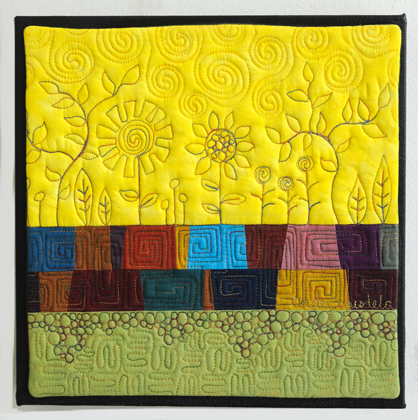 Tip #4: Use Negative Space.
Create a simple composition with your fabrics, then be inventive with free-motion stitching to add texture to your art quilt design. Combine different stitching motifs to give interesting texture and dimension to your work. Draw stylized flowers for a garden, then add pebbles, spirals and swirls, for example.
Consider using variegated thread in some areas, particularly those that you want to stand out. Variegated thread comes in a wide range of colors, from those that use all the colors in the color wheel to those that are more subtle, covering just blues, perhaps, or just greens. Experiment and see what you can create. 
Tip #5: Take a class.
If you'd like more guidance to get started creating your own art quilt designs without a pattern, try an art quilting class! Wendy Butler Burns offers Art Quilting 101: Design Basics on Craftsy to go over all the basics. Or maybe you want to learn how to create your own fabric? You can try The Art of Cloth Dyeing with Jane Dunnewold, or Fabric Patterning with Wax Resist taught by Malka Dubrawsky. These are just a few of the options available on Craftsy!
There are as many ways to create art quilts as there are art quilters. It's all about expressing your individual creativity.
What's your favorite art quilting technique?