You might be an art-loving knitter if…
…your love of artistic line, color, and texture draws you to beautiful knitting projects. You pin works of art to your Pinterest boards almost as often as you pin knitting patterns. You took an art history class because you enjoyed it, not because it was required. You can recognize a pointillism painting or a Mondrian the way others recognize sports team logos.
If this describes you, don't hide your inner art nerd! Celebrate the art aficionado within with these great art knitting patterns inspired by artistic masterpieces and movements.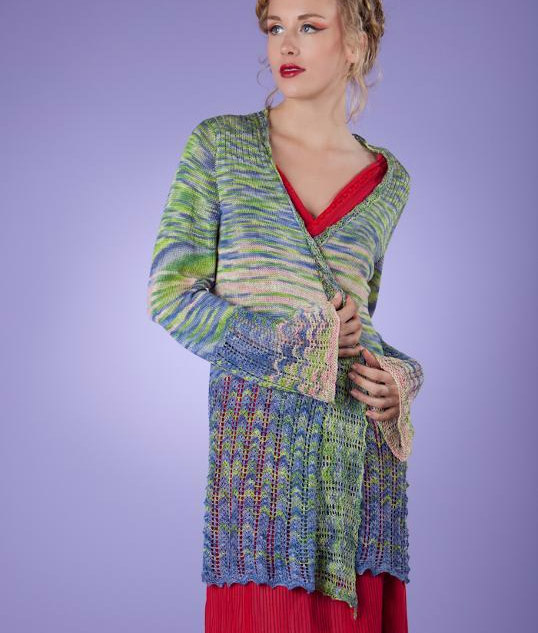 Photo via Bluprint member ArmyofKnitters
1. Waterlillies
Inspired by Claude Monet's paintings of his flower garden at Giverny, this cardigan evokes Monet's soft impressionist colors and brushstrokes with softly draped knit lace in tonal colors. As a bonus, this knitting masterpiece is completely seamless and worked from the top down, so you'll have no seams to sew up!
Photo via Bluprint member Patchworks By D
2. Mondrianesque
This geometric sweater honors Piet Mondrian, a 20th-century Dutch painter, whose neoplasticism distilled the essence of art to primary colors in black grids on a white background. The colorful pattern is knit with intarsia colorwork.
Photo via Bluprint member Maschenkunst
3. Klimt
Austrian painter Gustav Klimt's masterpieces like "The Kiss" were characterized by gold leaf, rich jewel colors in mosaic tile shapes and organic swirling lines. This sweater uses richly colored yarns and Artyarns Beaded Mohair & Sequins to capture the shimmer and luxurious look of Klimt's paintings.
Photo via Bluprint member janukke
4. Tiling Butterfly
Dutch artist M. C. Escher's tessellations (tiled designs) still amaze us today with their ingenuity.  His 1948 watercolor of butterflies, Tessellation 70, is captured cleverly here in knitted patchwork. The butterflies are knit separately and then sewn together, making this a great portable project. You can take a butterfly with you wherever you go! If you need help knitting the short rows to create the butterflies, check out the FREE Short Rows Bluprint class.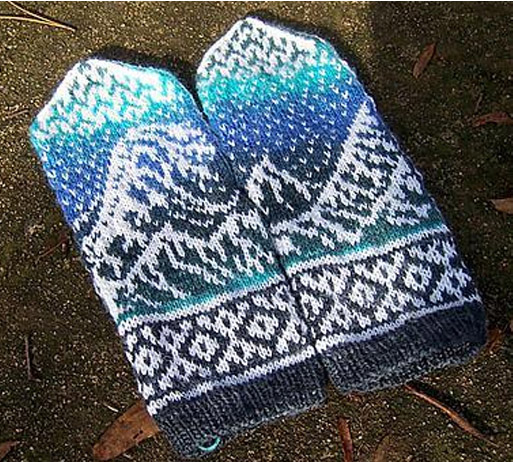 Photo via Bluprint member Kulabra Designs
5. Great Wave Mittens
The world-renowned Japanese artist Hokusai created "The Great Wave Off Kanagawa" in the late Edo period (the early 19th century). Bluprint member Kulabra Designs interpreted Hokusai's woodblock print masterfully in stranded colorwork on mittens. If you want to learn how to knit detailed colorwork, check out the class Stranded Colorwork: Basics & Beyond.
Photo via Bluprint member Patchworks By D
6. Pop Top
This Pop Top hat is inspired by Andy Warhol's iconic 1962 painting "Campbell's Soup Cans" that helped spark the pop art movement. Just as 1960s pop art used popular images in artistic context to challenge views of culture and art, we hope this pattern gives you a new perspective on knitting hats!
Photo via Bluprint member Kulabra Designs
7. Starry Night Socks
Inspired by Vincent Van Gogh's famous 1889 masterpiece "The Starry Night," these socks capture Van Gogh's expressive sky in the whirls and swirls of stranded colorwork. The pattern is written for circular needles using the magic loop. If you'd like to learn more about knitting socks before trying this more intermediate pattern, check out our Knit Sock Workshop video class.
Photo via Bluprint member Melissa Lemmons
8. Nouveau Beaded Capelet
The art nouveau movement from 1890-1910 embraced the lines and shapes of organic forms like flowers and plants to create sumptuous patterns and designs. Those rich, elegant curves and scallops are reflected in this capelet, which is embellished with beads.
Photo via Bluprint member Patchworks By D
9. Pointillism Series
Stripes will seem so ordinary after you try this new approach to knitting with different colors of yarn! Named after the pointillism technique that created images from small dots or strokes of distinct colors rather than blended paint, these hat patterns are a unique way to showcase (or use up) different colored yarns and a great introduction to colorwork if you are new to stranding. Once you make a hat, try the matching mitten pattern.
Photo via Bluprint member Patchworks By D
10. Delusions Op-Art Shawl
Op art, short for "optical art," was a 1960s art movement that used geometric black-and-white shapes that seemed to vibrate to trick the eye and brain into perceiving motion. This repetitive, brain-teasing op art shawl is knit from a chart.
Photo via Bluprint member Kulabra Designs
11. Da Vinci Cat Mittens
Many of the great artists listed here challenged the art establishment to create their masterpieces and refused to take academic art rules too seriously. I like to think some of these artists would appreciate this feline interpretation of Leonardo Da Vinci's famous "Vitruvian Man" drawing. Just as Da Vinci portrayed ideal human proportions within geometric forms, this knitting pattern expertly depicts the ideal cat in mitten medium!
Knitting Kits You'll Love!
Your next project, made easy: Get a designer pattern & perfectly paired yarnShop Kits Now »