As much as I love apple pie, I don't save all the apples in my kitchen for dessert. I also bake with them for breakfast! These apple spice muffins with a cinnamon streusel topping are a wonderful way to start a fall breakfast or brunch, especially when paired with a mug of hot coffee or tea to take away the morning chill.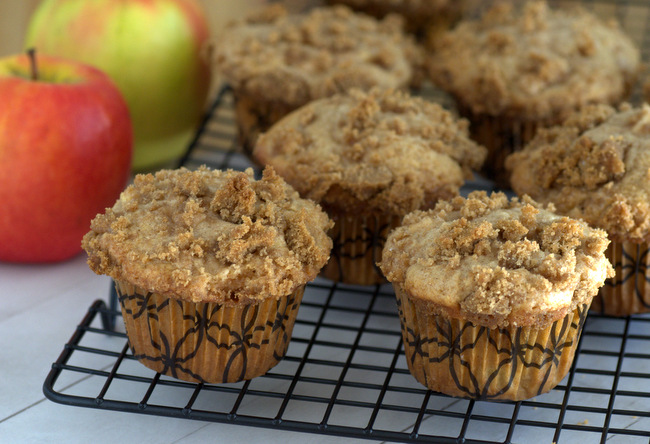 The fluffy, cinnamon-spiced muffins are packed with apple chunks, so you get one in every bite.
And if that weren't tempting enough, they're also topping with a buttery streusel and are very easy to make.
The muffins
The muffin batter uses a one-bowl technique, where the dry ingredients are combined, then the wet ingredients are added and everything is stirred together. What that really means is the batter will come together in just minutes!
I used ground cinnamon, nutmeg and vanilla as the flavor base of these muffins, all of which complement the apples that are in the mix.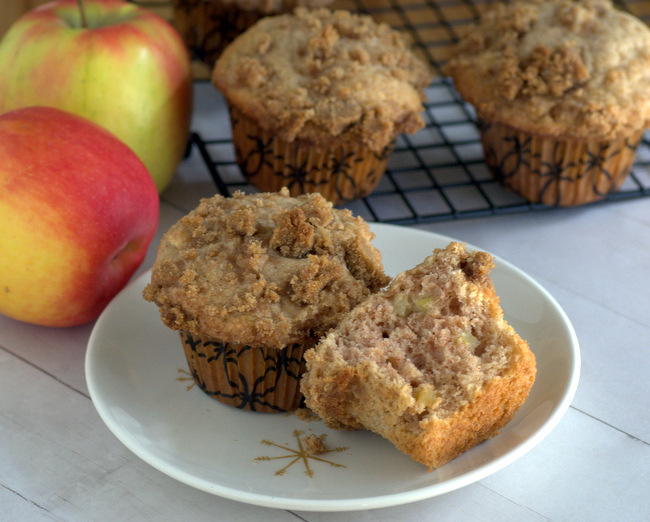 The apples
I only needed one apple for this recipe, but you may need two if you're apples aren't particularly big.
When it comes to the apples in these muffins, you can use just about any kind you can find. Crisp, tart apples and softer, sweeter apples will both work here, largely because the muffin's short baking time means you don't need a firm apple that will keep its shape after an hour in the oven.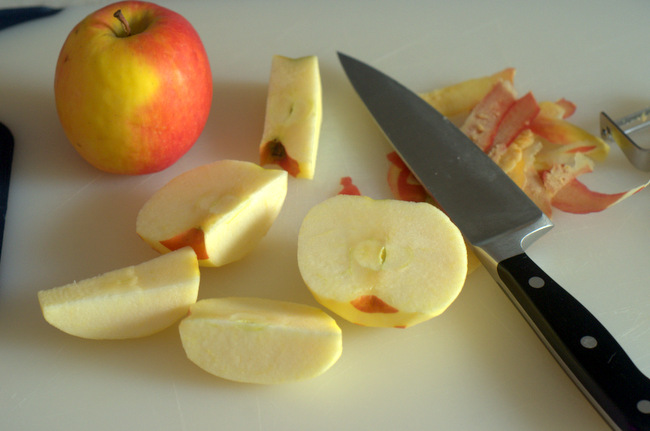 The apples should be peeled — because apple peels can be a bit tough — and cut into fine dice. A smaller dice works well in this recipe for a couple of reasons:
First, smaller pieces give you a better distribution of apples in each muffin.
Second, smaller pieces cook quickly, unlike large chunks of fruit that can remain overly firm after baking. 
The apples do not need to be coated with any kind of lemon juice or citric acid to prevent browning, as other recipes may call for. These muffins actually look better finished if the fruit is slightly brown.
That said, I'm not suggesting that you prep your diced apples hours in advance, because they would be overly brown. But don't worry if they're sitting around for 15 minutes while your oven preheats and you prep the rest of your ingredients.
The streusel
Though the muffin batter can be made in one bowl, you'll need another small bowl for the streusel. The topping is a simple mixture of flour, brown sugar and spices. Stir all these ingredients together with butter to make a crumbly streusel mixture.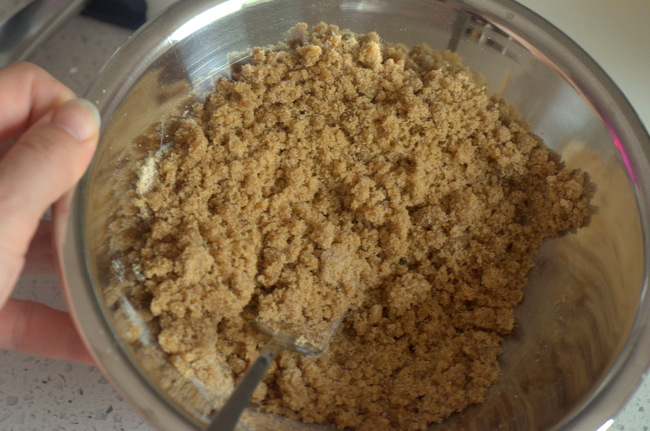 You'll have plenty of streusel to cover the tops of the muffins, so be generous when you pile it on! The streusel bakes up to be buttery and crisp — the perfect contrast for the tender muffins.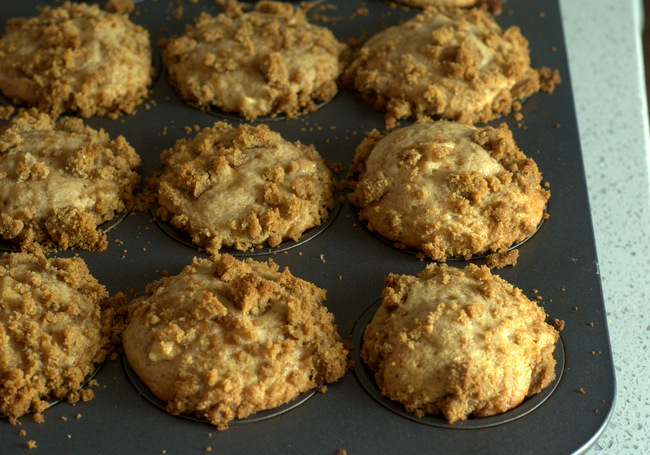 Apple spice muffins with cinnamon streusel
Makes 12
Ingredients:
1 medium-large apple
2 cups all-purpose flour
1 cup sugar
1 teaspoon ground cinnamon
¼ teaspoon ground nutmeg
¼ teaspoon ground allspice
¼ teaspoon salt
1 large egg
1 cup buttermilk
1/3 cup butter, melted and cooled
1 teaspoon vanilla extract
For the streusel:
¼ cup all-purpose flour
½ cup brown sugar
½ teaspoon ground cinnamon
1/8 teaspoon salt
2½ tablespoon butter, melted and cooled
Step 1:
Preheat oven to 375 F. Line a 12-cup muffin tin with paper liners.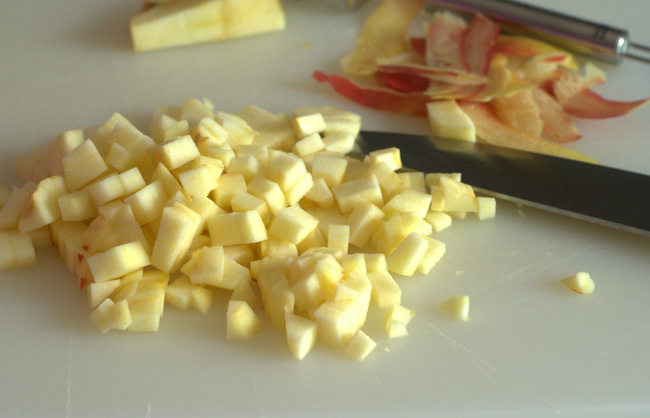 Peel and core the apple. Cut peeled apple into fine dice. You should have at least 1 cup of diced apple.
Step 2:
In a medium bowl, whisk together flour, sugar, spices and salt. Make a well in the dry ingredients and add in egg and buttermilk. Whisk until combined, then add in butter and vanilla and stir until completely incorporated.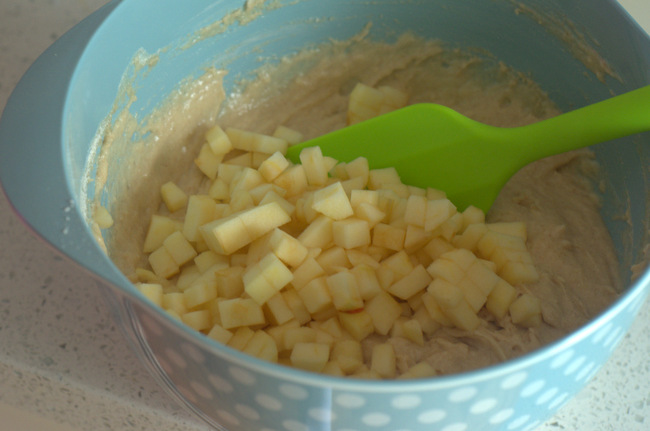 Fold in apple chunks until well-distributed.
Step 3:
In a small bowl, prepare the streusel. Combine the flour, brown sugar, spices and salt and stir with a fork. Pour in butter and stir until mixture resembles coarse, wet sand.
Step 4: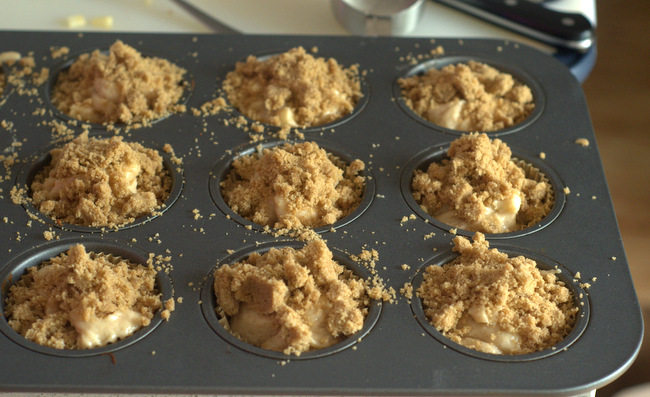 Divide the batter evenly into prepared muffin cups. Then, divide the streusel mixture evenly over the top of the muffin batter.
Step 5:
Bake for 16-19 minutes, or until muffins tops are set and a toothpick inserted into the top of one comes out clean, or with only a few moist crumbs attached. Allow muffins to cool before serving. 
No Comments