This apple spice cake will keep you warm and satisfied this fall! The combination of fresh apples, aromatic spices, brown sugar and caramel make for a luscious treat that can be enjoyed any time of day.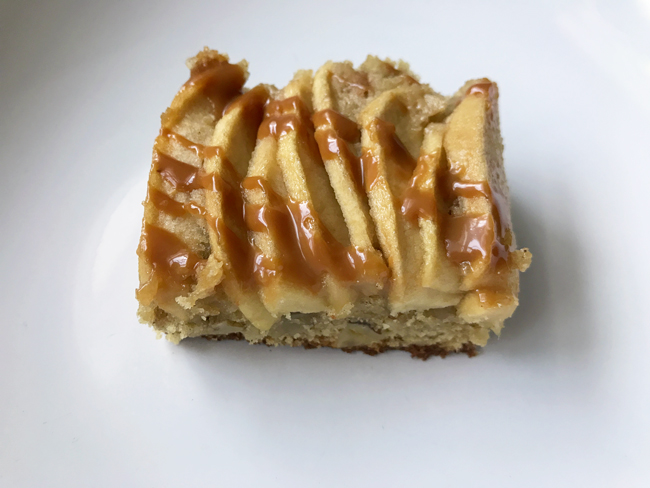 Serve this cake warm on its own or à la mode. Enjoy a slice with a cup of coffee for breakfast for the best morning pick-me-up! The flavor is awesome and the ease of making and baking it is even better.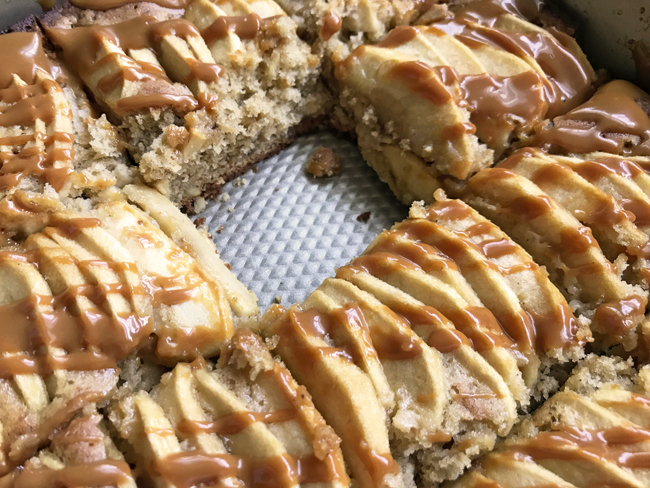 What kinds of apples are best for this cake?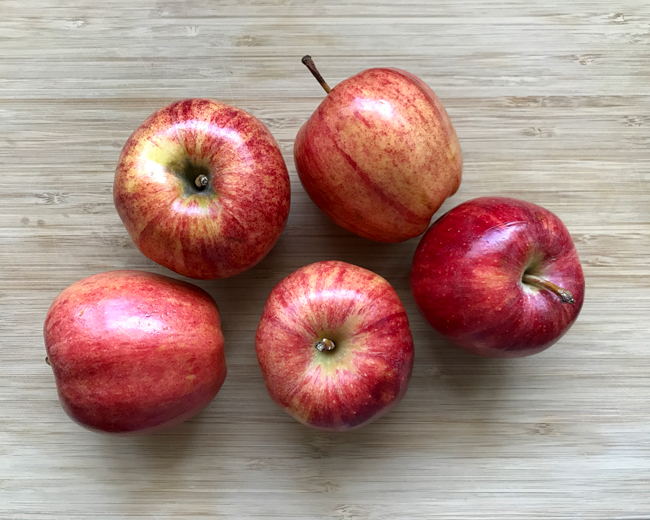 There are so many different varieties of apples, and not all apples bake equal. Plus, depending on where you live, you may have different varieties available. Some apples become mushy or release too much liquid when exposed to heat. Others are too sweet or too tart.
The best apples for this recipe are Granny smith, gala, Braeburn, golden delicious or honeycrisp. For a bit more of tartness, use Granny smith apples or a combination of Granny smith and one of the others mentioned. Let's get to making this beautiful cake!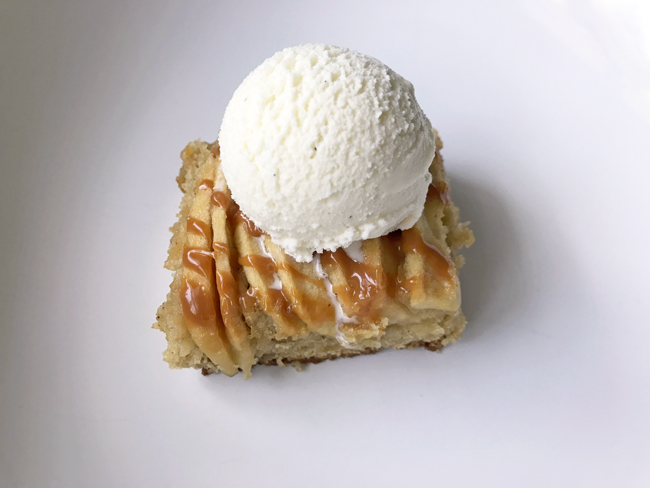 Warm apple spice cake recipe
Makes one 9″ x 13″ cake
Ingredients:
2 cups all-purpose flour

1 teaspoon pumpkin spice

2½ teaspoons baking powder

1 teaspoon salt

¾ cup butter, at room temperature

2 cups light brown sugar, divided

3 eggs, at room temperature

2 teaspoons vanilla extract

¾ cup chopped walnuts

5 medium apples

Juice of one lemon

Salted caramel sauce
Step 1:
Preheat oven to 375 F. Butter a 9″ x 13″ pan and set aside for now.
Step 2: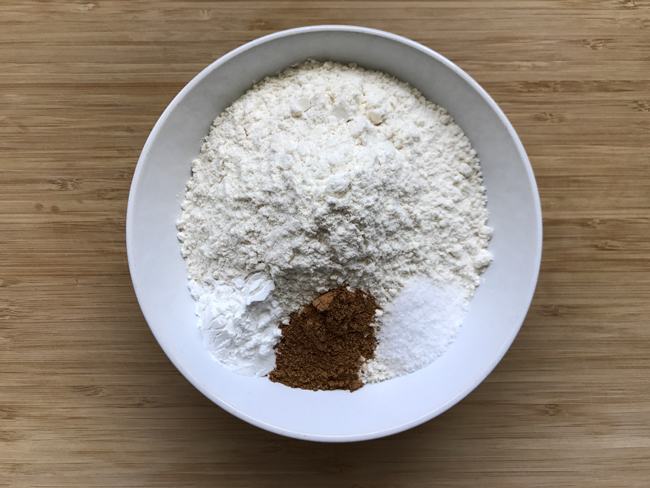 In a medium bowl, whisk together flour, pumpkin spice, baking powder and salt and set aside. I chose pumpkin pie spice and not apple pie spice because the hint of ginger and cloves (along with the cinnamon, nutmeg and allspice found in both pumpkin and apple pie spice) really complements this cake.
Step 3:
In the bowl of a stand mixer, add butter and and 1½ cups of the sugar. Using the paddle attachment, cream for about 2 minutes at high speed. This mixture should look really creamy. Add vanilla and one egg at a time until incorporated. Beat at high speed for 2 minutes. The batter will lighten in color.
Step 4:
I like to buy walnut halves and pieces in bulk. If you have larger walnut pieces, chop them into pieces, then measure out ¾ cups after chopping. The walnuts lend this cake such a wonderful texture!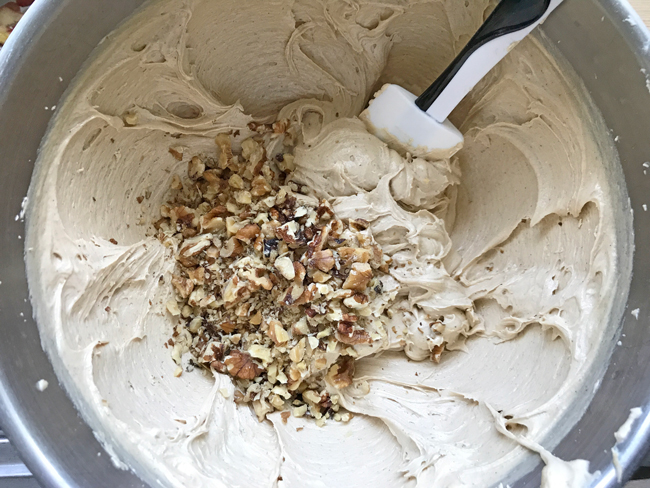 Add chopped walnuts to the batter and fold them in.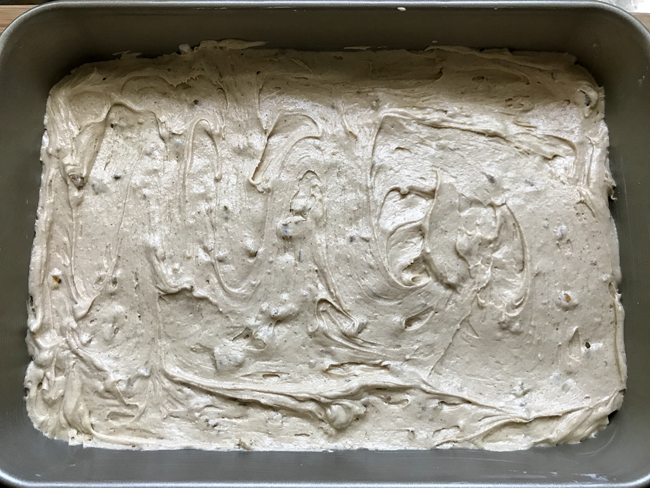 Pour the batter in the prepared pan then spread and smooth evenly. Set aside.
Step 5: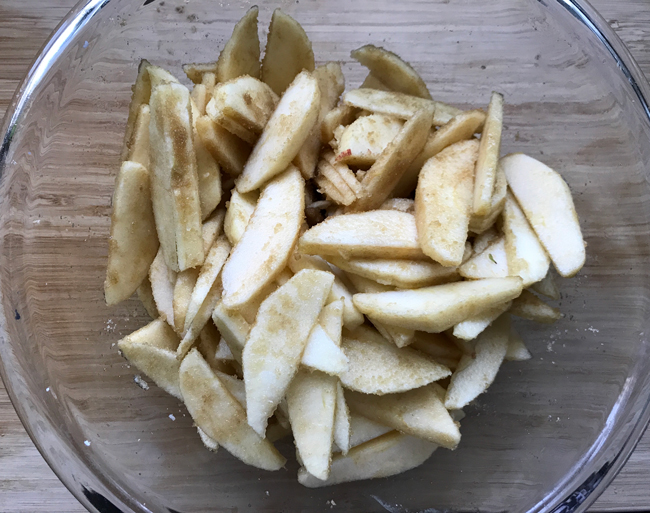 Juice one lemon into a large bowl. Peel, core and chop apples into thin slices and toss them in the lemon juice. Add remaining ½ cup brown sugar to the apples and toss until all pieces are coated evenly.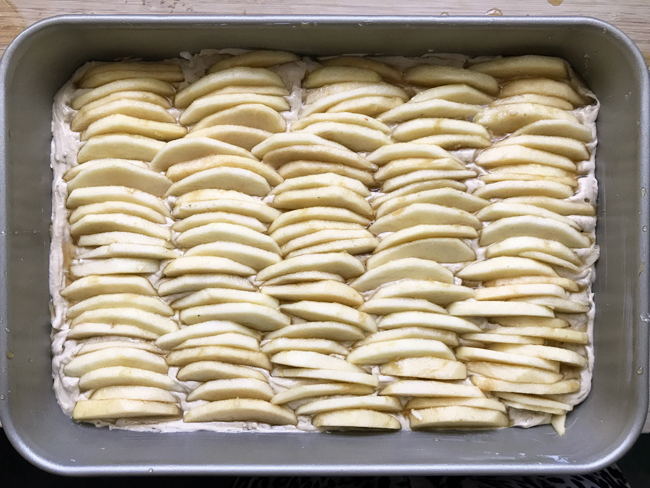 Arrange the apples in overlapping rows by gently pushing the straight edge into the batter.
Bake for 40-45 minutes or until a cake tester from the middle (choose an area between apples) comes out clean.
Step 6: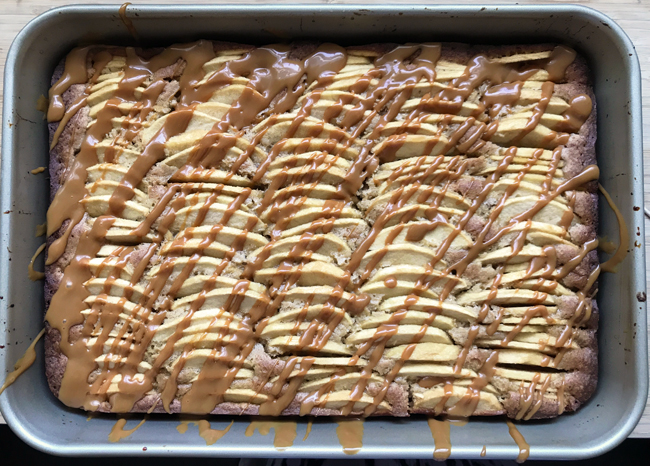 Drizzle with salted caramel sauce and serve while warm. Top with a scoop of vanilla ice cream for the ultimate autumn dessert!