Sure, you love apple pie. But if you're looking for a dessert that's just a little bit cuter, apple pie tacos are just what you need. In this easy recipe, a simple apple pie-style filling is prepared on the stovetop, then used to fill cinnamon-sugar dusted tortillas.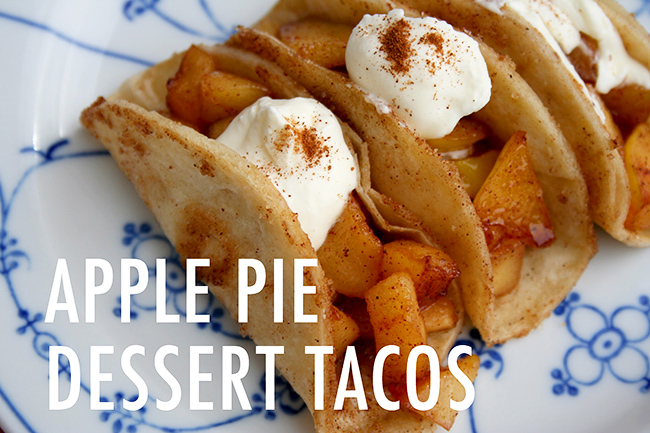 Photos via CakeSpy
Finished with a dollop of whipped cream and a cinnamon garnish, these "tacos" are adorable to behold and delectable to eat. They only require about 20 minutes to prepare, but are bound to gain you at least an hour worth of compliments.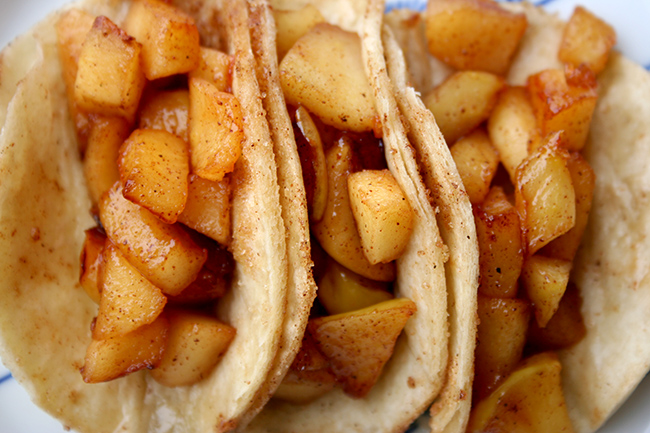 Apple pie tacos recipe
Makes 6 tacos
For the filling:
2 medium apples, peeled, cored, and chopped into small pieces (½" or so)
1 teaspoon lemon juice
1 teaspoon cinnamon
2 tablespoons brown sugar
A pinch of salt
1 tablespoon unsalted butter
For the shells:
6 small (3″ – 4″ inch) flour tortillas (see recipe note)
½ tablespoon unsalted butter, melted
2 teaspoons brown sugar
1/8 teaspoon cinnamon
To serve (optional):
Dollop of whipped cream
Dash of cinnamon
Step 1:
In a medium bowl, toss the apple pieces with the lemon juice, cinnamon, sugar and salt. Set aside for the moment.
Step 2:
In a medium to large heavy-bottomed skillet, melt the butter over medium heat. Once melted, add the apple mixture. Cook over medium heat until the apples are softened to your desired texture, 5-10 minutes. Remove from heat.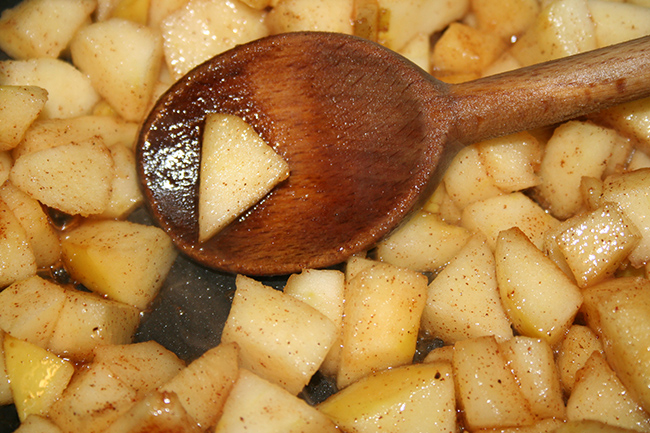 Step 3:
Prepare the shells. In a small bowl, combine the melted butter, sugar, and cinnamon. Brush the tortillas on both sides with with the mixture.
Step 4:
Heat a medium skillet over medium heat. Once the skillet is hot, place the tortillas, a few at a time, on the hot surface. Heat briefly, until you see slight puffing on the edges, then flip and heat the second side. You're not trying to toast them, but to slightly soften them and infuse them with cinnamon sugar flavor. Remove from heat, placing the tortillas in a stack to keep them soft and warm. Continue with the remaining portions.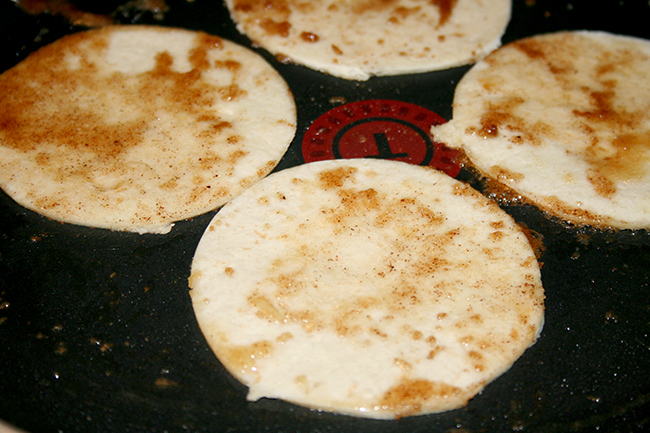 Step 5:
To serve, place a healthy spoonful of the apple mixture on top of the tortillas. Fold into the traditional taco shape, and garnish with a dollop of whipped cream and a small shake of cinnamon. Serve immediately.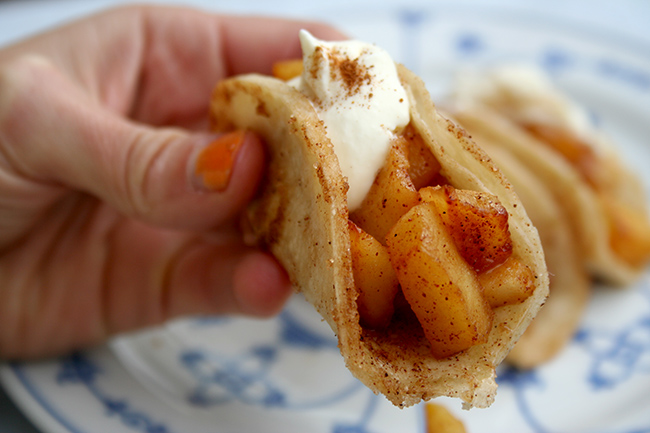 Recipe notes
What type of apples should you use?
Really, any type you'd like!
Speaking of the apples, if you happen to have any leftovers of the cooked apple mixture, it tastes great served with ice cream or yogurt, or you can add an extra spoonful of it on the side with your finished tacos, almost like a dessert salsa.
If you have trouble finding small tortillas, there are solutions.
One is that you can simply purchase larger tortillas. They won't be quite as lilliputian-adorable, but they will still be delicious.
Or, you can cut larger tortillas in half. They won't have the same shape, but they'll taste equally good.
Another option is that you can cut out 3″ to 4″ circles from the center of larger tortillas. Cut the leftover portions into triangles and make some homemade tortilla chips by tossing them with oil or melted butter and salt and baking them at 400 F until toasty.
Consider a butter substitution.
If you'd like to keep this recipe vegan or dairy-free, you can substitute a non-butter substitute for both the apple mixture and for brushing the shells. Coconut oil works excellently, and has a flavor that works harmoniously with the apple filling.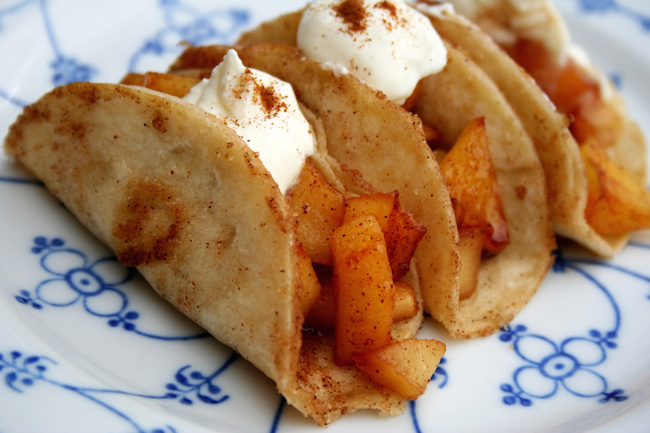 Want to expand your pie-making prowess? Check out the Craftsy classes Perfecting The Pie Crust and Classic Pies Made Easy. Between these two courses, you'll master both crust and filling recipes as well as a myriad of pie-making techniques. With these skills under your belt, your new nickname will be the Pie Master in no time!