Textiles featuring alphabet embroidery patterns have been around for a long time, passed down from generation to generation. These timeless patterns are fun projects to do whether you like to embroider by hand, quilt or machine. Here are eight great alphabet embroidery patterns to get you started!
Modern Alphabet Cross-Stitch Sampler Pattern via Bluprint member weelittlestitch
Hand embroidered alphabet samplers
Samplers show some of the earliest examples of hand embroidery featuring alphabets. Created long before books were printed or cameras were invented, samplers served as a physical collection of stitches on cloth. They were highly treasured heirlooms passed down through families.
Almost exclusively created by women, the collections included basic stitches as well as any additional stitches the artisan deemed unusual or suitable for a future project.
Today, these pieces are more than just technical tools. Because they were recorded by firelight, they provide a historic glimpse into the lives of people years ago.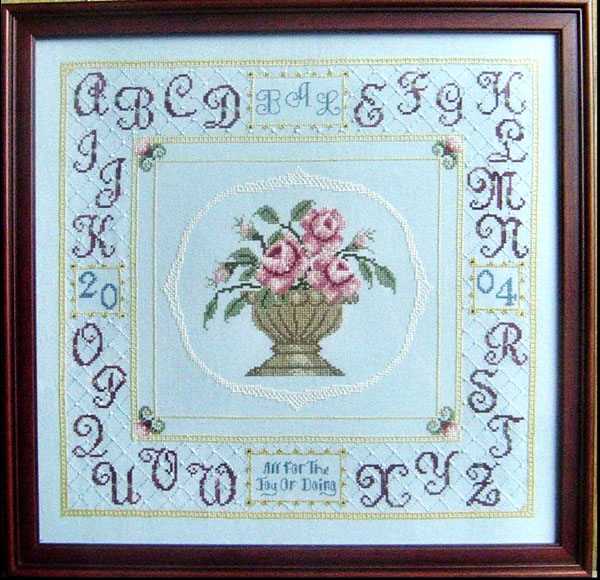 Photo via Bluprint member Bobbie Ashley Designs
Just like ABCs were scrawled by hand as children, it was natural for young embroiderers to use alphabets as their first embroidery projects. They practiced their stitches, eventually creating samplers, monograms, quilts and other household items.
The All for the Joy of Doing Sample Pattern by Bluprint member Bobbie Ashley Designs is rated for beginners but is still a great project for any skill level. It can be personalized with a monogram and year, making it a nice witness piece for special occasions such as a marriage, birth or new home.
The addition of topstitching simulates quilting while the beaded pearls add classic elegance to the finished piece. 
Get the All for the Joy of Doing Sampler Pattern.
Photo via Bluprint member Designs by Fee
Bluprint member Designs by Fee has created a four-pattern Alphabet Sampler Quilt. The project features hand embroidery and basic piecing to stitch a wall quilt. This piece is great because it is modular, portable and can be completed in sections. 
Get the Alphabet Sampler Quilt Pattern.
Machine embroidered alphabets
Most often, machine embroidery alphabets are created using individual fonts or alphabet styles. Fonts can consist of outline stitches, satin stitches, fill stitches, appliqué and any combination thereof.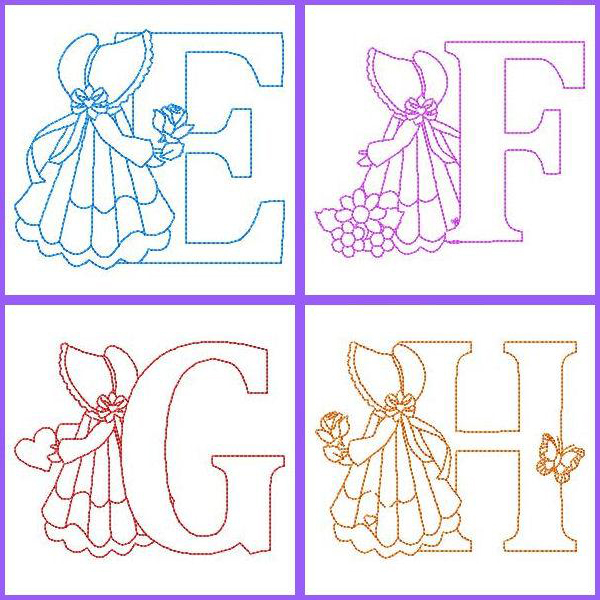 Photo via Kreative Kiwi
This design by Kreative Kiwi is an alphabet with lovely outlined sunbonnets. The sunbonnet girl stands beside the alphabet letter, which would be adorable in a quilt or an ABC picture book. Stitching with a heavier weight thread would make the design appear more like hand-stitched redwork.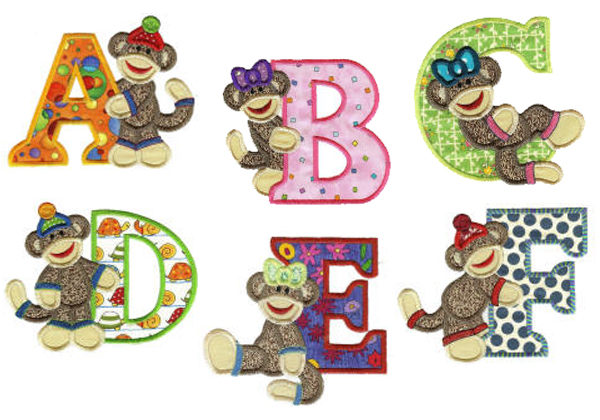 Photo via DesignsbyJuJu.com
Appliqué can hardly get any cuter than this sock monkey alphabet from DesignsbyJuJu.com. Multiple appliqué areas allow a tremendous amount of variety throughout the alphabet.
Sets include both girl and boy sock monkeys. In addition to a full alphabet, they would be fun as single monograms or to spell out children's names.
Get the Sock Monkey Alphabet Appliqué Designs.
[box type="shadow"]
Want to try using appliqué but are confused where to start? Take the Bluprint course Machine Embroidered Appliqué and learn how to create quick, perfectly stitched appliqué on your embroidery machine!
[/box]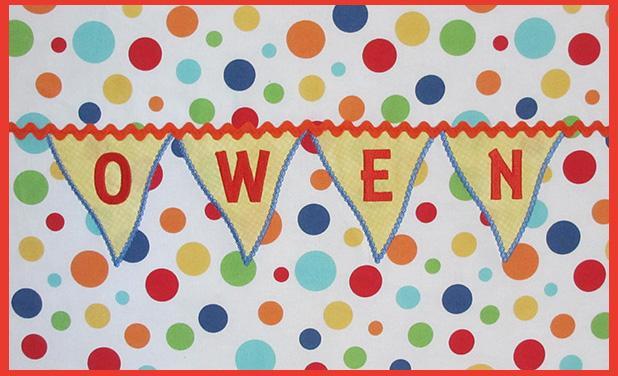 Photo via Bluprint member Marjorie Busby
Bluprint member Marjorie Busby uses both appliqué and block-fill letters in her personalized Banner (Bunting) Alphabet Pattern.
This banner can be hung freestanding or included in wall hangings, table covers or pillows. The triangles are appliqué with big, block-filled letters. See how Marjorie made this in her Bluprint blog post on machine embroidery celebration banners.
Get the Banner (Bunting) Alphabet Pattern.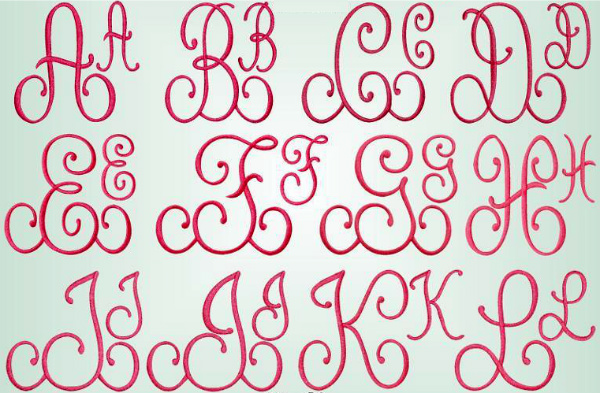 Photo via Bluprint member Edies Designs 
Alphabet Fonts
For those who enjoy machine embroidery, alphabet fonts have both advantages and challenges. Fonts are available either as a separate design file or a keyboard font.
Most alphabet design sets come as 26 separate designs, one for each letter A through Z. Each letter must be opened and placed into the embroidery design and arranged manually before stitching.
Get the Monograms 3 Machine Embroidery Designs Pattern
Keyboard fonts
Keyboard fonts are selected in your embroidery software and typed directly from the keyboard. Some are already built into your embroidery machine while others can be purchased and downloaded for use as a compatible component of your specific embroidery software.
Some font designers like Rivermill Embroidery are now including BX format files. These fonts will work as keyboard fonts with programs such as Embrilliance Essentials, AlphaTricks and Designer's Gallery EmbroideryWorks.
Regardless of your favorite alphabet styles, there are so many embroidery options available for stitching by machine or by hand.
What is your favorite type of alphabet to embroider?