By definition, embroidery is the process of adding decorative designs onto fabric by hand or via machine embroidery. Simply put, to embroider is to decorate an object using thread. Fabric and paper are commonly embroidered items. Many quilters like to add embroidery to their work. This is a very attainable craft that adds a big bang to any project.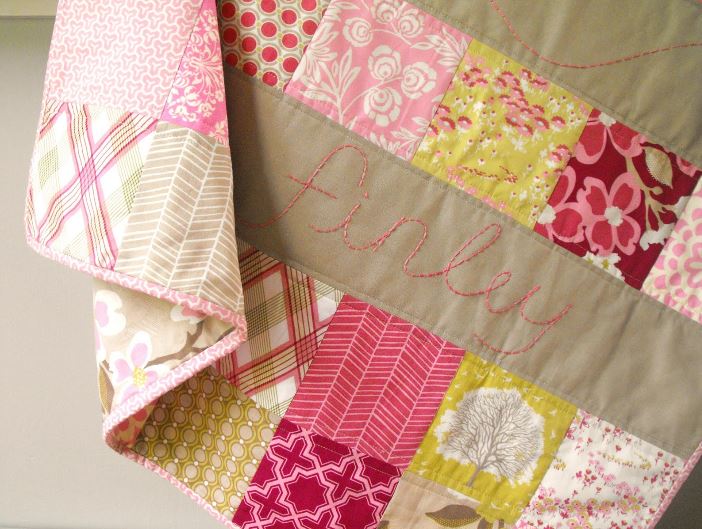 Photo via Fussy Cut
What can a quilter embroider onto quilt? The possibilities are endless!
Names, motifs, pictures and labels are just a few items that can be stitched onto a quilt. A wide variety of stitches are used to create these items on quilts. All of the basic embroidery stitches are suitable: chain, running, backstitch, vine, blanket, satin, french knots and cross stitch are a few that are commonly used.
As with any quilt, always use care when washing one that has been embroidered. Much time and effort has been invested into the project, in both the sewing and embroidery, so be attentive when laundering. Cool washing with a gentle detergent is the key to successful care. To learn more about the appropriate way to wash and care for quilts, check out the article on cleaning quilts.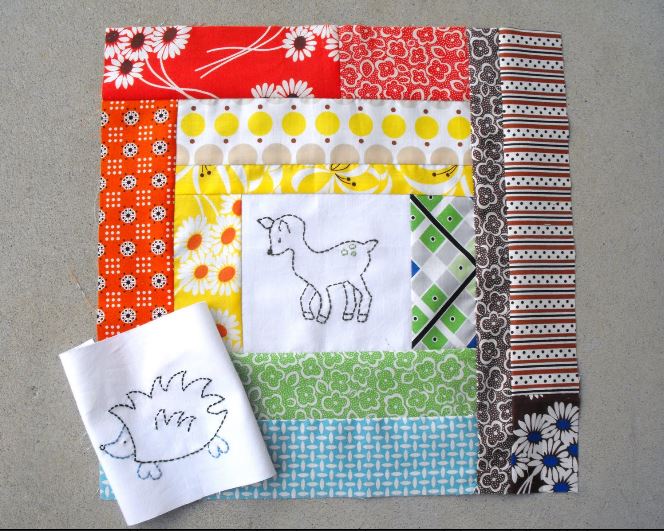 Photo via Fussy Cut
Before starting your next project, check out these tips for embroidering on quilts:
Prewash fabric and batting if there is a concern about shrinkage. Once the fabric has shrunk due to washing, the embroidery may become slightly distorted. This is a precautionary step that may or may not be necessary, as many quilters say that the distortion is pretty insignificant.
Always choose a high quality embroidery floss. They are sturdy and full of vibrant color. The biggest bonus: You don't have to worry about the color running when the quilts are washed.
Determine the best time to embroider your project before you begin. If the plan is to embroider individual blocks, stitch them up before piecing them into the quilt. If a mistake is made, you can easily tear out stitches or start on fresh fabric. If you are embroidering long strips of fabric or a border, it may be easier to stitch those fabrics once they are sewn into the quilt top.
Be careful when choosing dark colored floss for light fabrics. The thread can show through the fabric in an undesirable way. If you are using this combination, try to keep the floss on the wrong side of the fabric neat and tidy so that it is not visible through the fabric.
If you are new to embroidery, start small! Make a mug rug, mini quilt or a label that can be sewn onto the quilt. See if you enjoy the process before tackling a larger project. There are many other small projects that can be a lot of fun to embroider. Think pillowcases, dish towels and handkerchiefs!
Are you ready to put your sewing machine to work? In The Machine Embroidered Quilt Craftsy online class, accomplished author and sewist Eileen Roche will teach you easy ways to enhance your quilts with beautiful texture by adding embroidered designs.
Also check out this adorable embroidered block quilt-alongs available for free online: Embroidery 101 by Clover & Violet.
Have you decorated your quilts with embroidery?