We're planning our 2017 Block of the Month Quilt Kit, and we want to know which quilt kit you just can't wait to start stitching! For the first time ever, we're putting it to a vote — but you only have 48 hours to tell us which kit is your favorite.
Keep reading to find out more about the techniques each BOM quilt kit would include.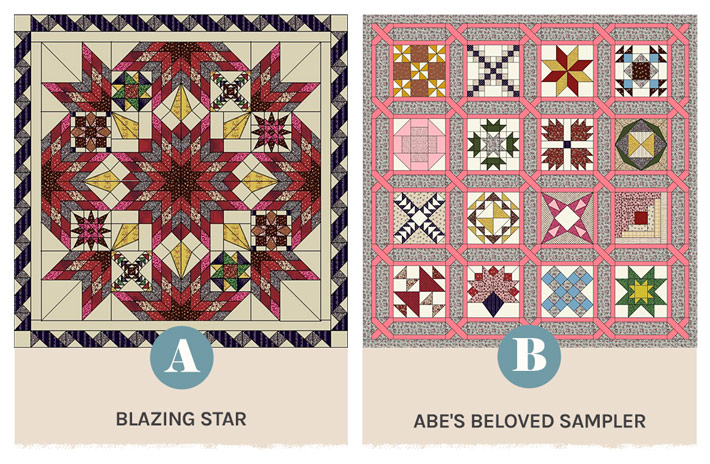 A) Nancy McNally's Blazing Star
Explore a variety of techniques, including strip piecing, accurate cutting, and partial and y-seams. Plus, learn how to cut geometric shapes without a template or special ruler. Complete your quilt with a ribbon border that's designed to impress.
B) Sandra Clemons' Abe's Beloved Sampler
Try your hand at techniques such as pinwheel seams, strip piecing, foundation paper piecing, inset seams, half-square triangles, flying geese, hourglasses and more! Set it off with a unique sashing that's easier to piece than it looks.
Thanks for voting — we love hearing your opinion. Once we've counted the votes to pick the pattern, you'll have the chance to help us choose the fabric for the 2017 BOM!
If all this BOM talk has you itching to start a new project, you're in luck! We're only a few weeks away from launching our Summer Block of the Month, featuring a one-of-a-kind quilt design. Stay tuned!
More Quilting Kits You'll Love!
Your next project, made easy: Get a designer pattern & perfectly paired fabric.Shop Kits Now »