Did you know that the peanut is not actually a nut? Technically it is a legume, making it more closely related to a pea than a nut. Peanuts grow underground, as opposed to nuts like pistachios or pecans, which grow on trees. Popularized in the United States by George Washington Carver, the peanut has become most popular in the United states as the key ingredient in peanut butter. Yet it's worth taking a few moments to explore recipes that celebrate the peanut itself.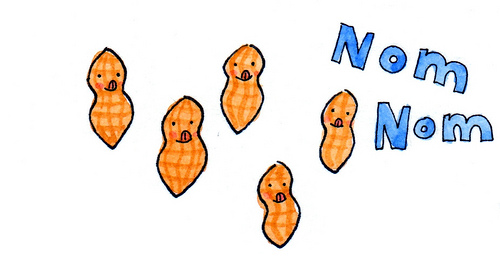 Here's a collection of 12 fantastic peanut recipes, some sweet, some savory, all delicious.
Note: Although some recipes contain peanut butter as well, the peanut itself is the star of these recipes.
Sweet recipes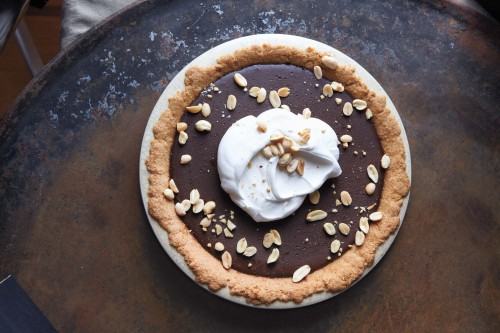 Photo via Sang An for KCRW
Milk chocolate pudding pie with salted peanut crust:
This recipe boasts a long title, and a serious mix of flavors and textures. It combines the sweet smoothness of pudding with the salty-crunchy peanuts in the crust. Feeling daring? Create a decorative pie crust to make this peanut pie shine. If you're really looking to impress, check out Evan Kleiman's Perfecting the Pie Crust and really wow the crowd. Recipe here.
Peanut brittle bars:
Like a softer, more substantial version of the traditional treat, and extremely easy to make–this recipe includes only four ingredients. Using salted peanuts makes these sweet-salty treats exceedingly addictive. Recipe here.
Peanut cookies:
What peanut cookies are: a traditional Chinese New Year treat, crumbly cookies made with ground roasted peanuts. What peanut cookies are not: peanut butter cookies. Go ahead, bake a batch and see the difference for yourself! Recipe here.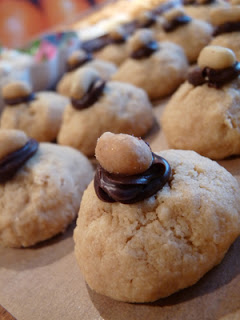 Peanut stick doughnuts:
It's a specialty in the Buffalo, New York area, but delicious everywhere: a cake doughnut, glazed and then rolled in crushed peanuts. Salty-sweet-crunchy-rich-delicious. Recipe here.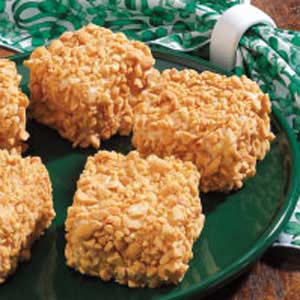 Photo via Taste of Home
Peanut cake squares:
The sweet icing and salty peanuts are an irresistible combination that make these simple cake squares shine as a showstopping dessert. Recipe here.
Peanut milk:
Don't confuse this recipe with a peanut milkshake–it's actually "milk" made from raw peanuts. It's an acquired taste, but can inspire serious cravings once you've become accustomed to the flavor. Recipe here.
Sweet potato peanut shortcakes:
Here's a recipe that is bound to stand out: peanut butter and sweet potato come together to make a shortcake unlike any you've tasted, garnished with peanuts for a fetching finished product.Recipe here.
Savory recipes
Boiled peanuts:
This is a popular snack in the southern United States, wherein raw peanuts are boiled in salt water for hours over a fire. The shells get waterlogged; the peanuts take on an earthy, lentil-esque flavor (they are, after all, a legume). With minimal ingredients, all you need is time and patience to make them. Recipe here.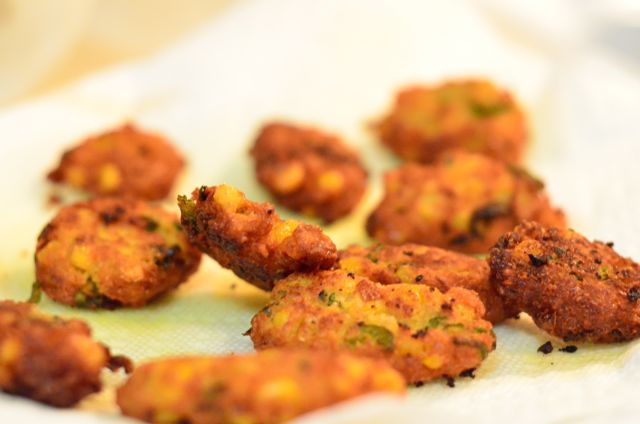 Photo via Flip Cookbook
Corn-peanut fritters:
Sort of like pakora meets hush puppy, these tasty fried treats made with corn, chickpea flour, onions, jalapeños, and toasted peanuts are lightly spicy and highly flavorful. Recipe here.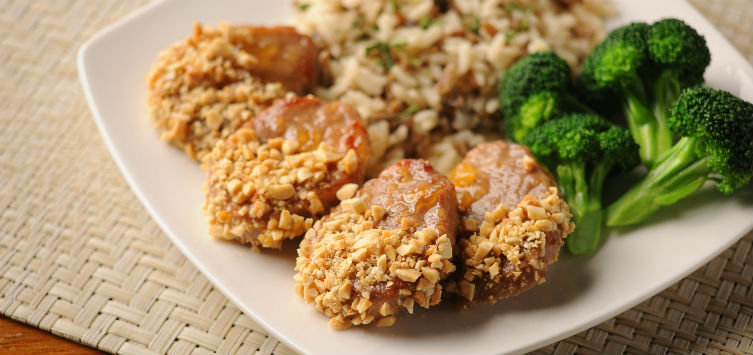 Crunchy chutney pork:
Imagine an unctuous pork tenderloin, sliced into "coins" and lightly pan-fried. Simple but perfect, right? It gets even better–and with a fascinating flavor–by adding crushed peanuts as a coating, which take it from average to fantastic. Recipe here.
Kung pao chicken:
There's nothing like kung pao chicken, a spicy dish made with soy sauce, scallions, plenty of peppercorns, leeks, and assorted spices…and to bring together that melange of flavors, a smattering of fried peanuts which add texture and a rich, hearty flavor that rounds everything out. Recipe here.
West African peanut soup with chicken:
This soup is rich in peanut flavor, containing both peanut butter and crushed peanuts. Used as a base to blanket a melange of vegetables and spices, it's a protein-rich and delicious, nutritious soup. Recipe here.
Sometimes you feel like a nut–and sometimes you feel like a nutty legume. What's your favorite non-peanut butter use for peanuts?