Zippers are one of those things that always seem like something I should be able to do something with – they're metal, and I work with metal, and so voila! Right? 
Not so much. 
It's the CLOTH part of the zipper that always throws me off. Despite wanting so badly to use those tiny little teeth in my wire or polymer clay steampunk jewelry, I can never – quite – figure it out. So I was really pleased to see such detailed and beautiful zipper jewelry patterns waiting here for me right here on Craftsy! 
Since it's such a finicky thing – a mixture of cloth and metal – you won't find many tutorials out there for how to make zipper jewelry. Luckily, we have the best zipper jewelry patterns right here in this roundup!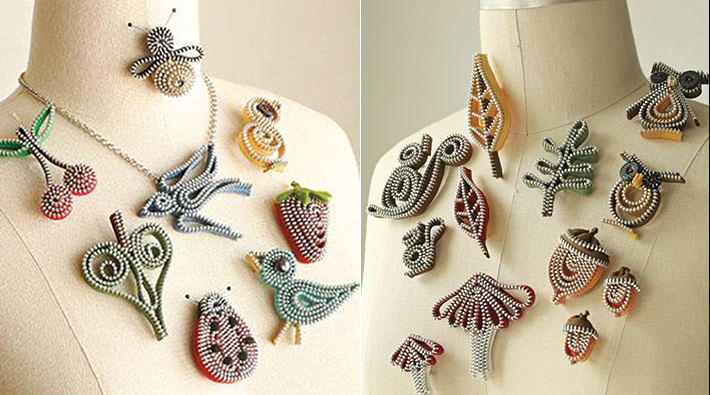 Photo via Craftsy member Amy Barickman
1. Springtime & Woodland Zips
How adorable are these? Two patterns from the same designer, these are fun, flirty jewelry to create from new or recycled zippers. Celebrate spring with our favorite motifs: bumblebee, ladybug, cherries, strawberry, chick, bird, leaf & a sparrow necklace. Or, create wonders of the woods from new or recycled zippers. A sweet squirrel family (two sizes) or two adorable owls to add a bit of whimsy to your wardrobe. The leaves (3 versions), acorns (2 sizes) and mushrooms (two sizes) are a must for nature fans.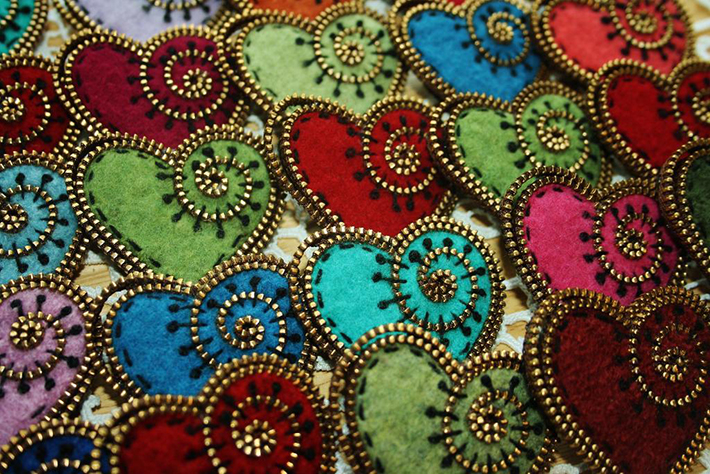 Photo via Craftsy member Woolly Fabulous
2. How to make a felt and zipper brooch
The hearts might be my favorite, and to be perfectly honest, I don't usually like traditional heart shapes. But this is a super design, and the pattern designer hints at a secret that is making my order-finger twitch: there are over 65 photos of detailed step-by-step instruction in this zipper jewelry pattern, and the creator is offering unlimited email support to help you make this fun brooch – along with tips for making different shapes once you figure out the technique.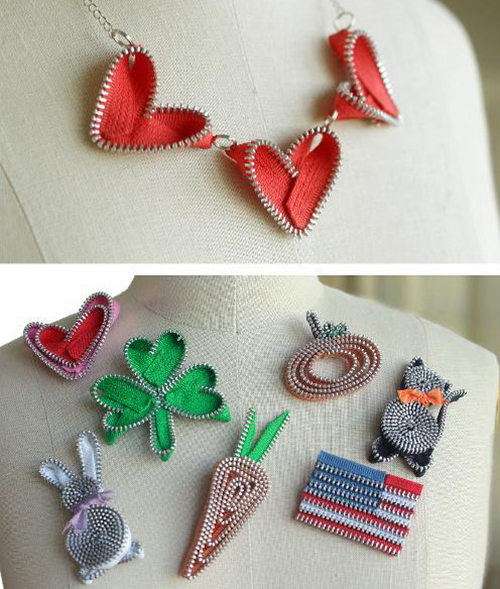 Photo via Craftsy member Amy Barickman
3. Every Day's A Holiday
Celebrate all your favorite holidays with a bit of whimsy! This sweet collection of zipper jewelry includes pieces for Valentine's Day (heart pin & necklace), St. Patrick's Day (shamrock pin), Easter (bunny & carrot pin), the 4th of July (flag pin) and Halloween (cat & pumpkin pin). There are really some super fun designs here!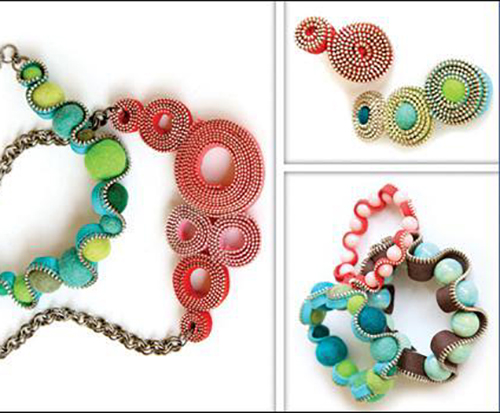 Photo via Craftsy member Amy Barickman
4. Zipper Jewels
This versatile pattern features spiral and wave motif necklaces, brooches and bracelets with a modern twist. 
What I like about the zippers is that you can recycle old metal zippers or use new zippers to build your designs – and these days, you can get zippers in almost ANY color you can think of! For instance, these Coats & Clark zippers available right here in the Craftsy Supplies Shop.
Zippers are truly a versatile little ribbon to add to your jewelry-making repertoire – it can add texture and a pop of color and metal to just about any design. I love collecting techniques and materials – and zippers are now on my list! Maybe they'll be on yours, too?
You might also enjoy our FREE 5-Minute Zipper Bracelet Tutorial.