I've always been a little obsessed by world records. As a kid, I used an encyclopedia to look up how long I'd have to swing on my swing set to break the then-current world record for swinging. (I was disappointed to see that I'd actually need to apply and supply plenty of evidence in order to break the record. Too much paperwork for an 8 year-old.)
I'm still obsessed with world records today, except that instead of checking into playground-related records, I'm checking into knitting world records. And you wouldn't believe all the possibilities there are for breaking a world record in knitting.
Want to break a world record in knitting?
From longest finger knitting to longest scarf, learn more about some of the current world record holders in knitting, plus what you'd have to do to beat them!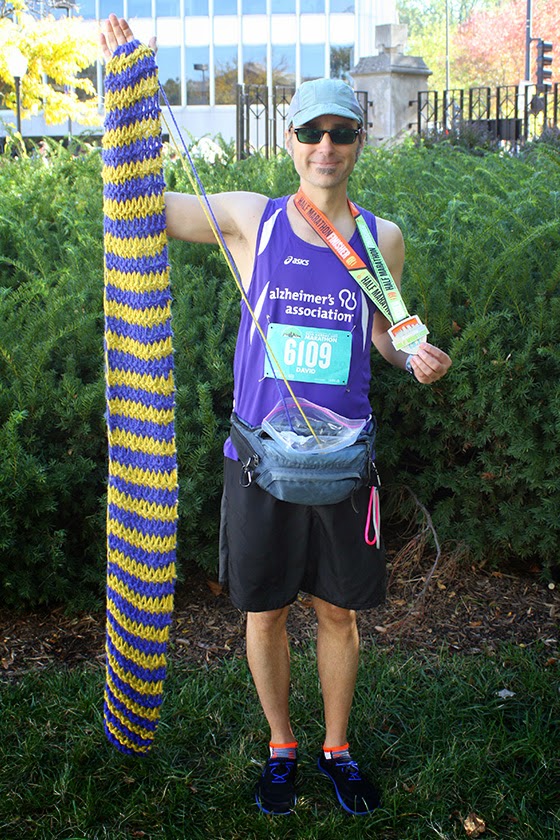 Photo via Julie Babcock – Kansas City Half Marathon 2014, finger knitting
Longest scarf knitted whilst running a marathon
David Babcock knitted a scarf that was 3.7 meters (that's a little over 4 feet) long. David knitted the scarf while running in the Kansas City Marathon in Kansas City, Missouri. But the really awesome part about David's record is that he runs in support of Alzheimer's Association Heart of America Chapter. To find out more about David and his charity work with Alzheimer's, check out his blog The Knitting Runner.
Longest finger knitting by a team
A team of 42 children in the Netherlands worked for a whole year to finger knit a piece that's 66,437 ft in length. Read more about their world record here.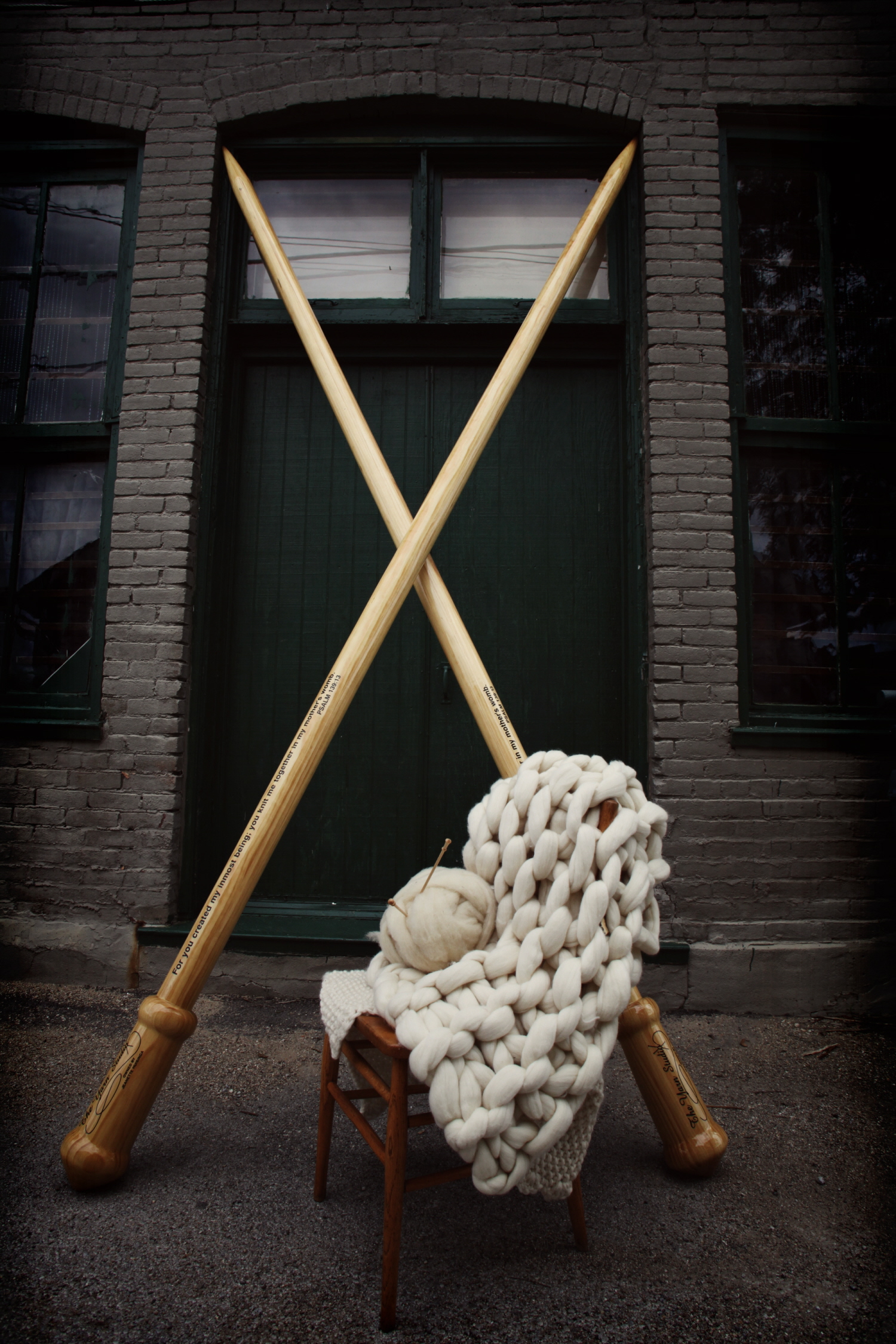 Photo by Ashley Littlejohn Photography; courtesy of Jeanette Huisinga
Largest knitting needles
The largest knitting needles are 13 ft 0.75 inches long and have a diameter of 3.25 in. In order to make the record official, Jeanette Huisinga, owner of The Yarn Studio in Casey, Illinois, had to knit a swatch that was ten stitches by ten rows. The needles were made by Jim Bolin and are on display at The Yarn Studio. You can see more about the knitting needles here.
Most people knitting simultaneously
The National Federation of Women's Institutes in London organized 3,083 to knit at the same time at an event.
Largest knitted sculpture
Looking at photos of this sculpture freaked me out a little. After almost five years of knitting, a group called Gelatin Collective placed their 200-foot long pink rabbit in the Italian Alps. The rabbit used 2,200 pounds of wool, and it took 7 weeks just to place and stuff it. The rabbit was placed there in 2005, and the group plans to keep it there until 2025. You can see photos of the rabbit here.
Largest tea cozy knitted
The coolest part about this world record is that it was set by nursing home residents. BUPA care homes organized the knitting of the tea cozy with more than 300 care homes. Residents created squares that were then connected to create the cozy. You can see photos of the tea cozy here.
How to start the record-breaking process
Before you even begin practicing your fast knitting or organizing your record-breaking event, you need to apply with Guinness World Records. Get all the info on applying, plus other frequently asked questions, here.
Bluprint has all kinds of classes to prep future world-record breakers! Improve Your Knitting with Patty Lyons is a great option if you want to speed up your knitting. Patty will demonstrate different styles of knitting that can make stitching faster — and more comfortable!
There are so many more world records for knitting that I didn't have room to include. Search for "knitting" on the Guinness World Records web site to see more. Warning: You may get pulled into an internet wormhole full of entertaining knitting records, then suddenly look up to see it's dark outside, and you haven't moved from your chair for two hours. That's what happened to me.
What knitting world record would you like to try and break?
Special Savings on Popular Knitting Classes
Learn from the best instructors. Get up to 33% off classes you can watch anytime, anywhere, forever.Enroll now to save »