A wood lathe vacuum system adds a lot of versatility to your work holding ability on the lathe, however, it is a "nice-to-have" item for your woodworking shop, so it would normally be something that you would pick up further down the line. On the other hand, this is something that you can build yourself.
The heart of the whole project is the ability to create a vacuum, and the best way is with a vacuum pump. Happily, you can put one together with a few spare parts from around the shop and perhaps a bit of scrounging. It will be far cheaper than buying something new.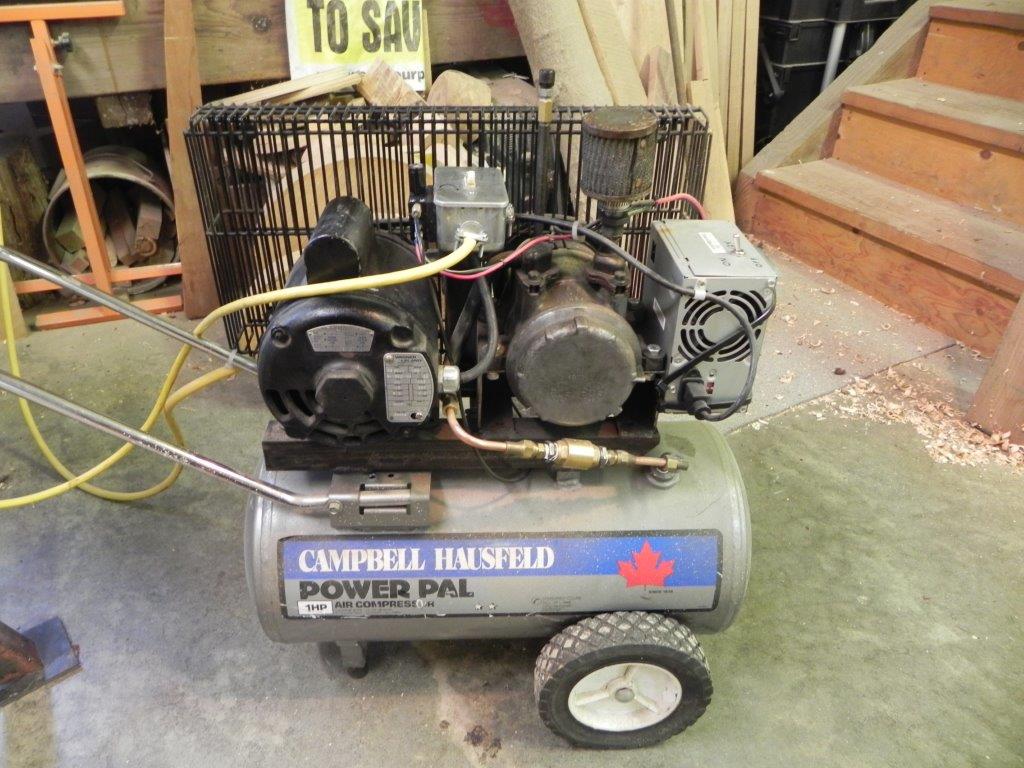 Above, you'll see a deluxe model vacuum pump with all the trimmings. No, Campbell Hausfeld doesn't make vacuum pumps. That's a retired compressor tank re-purposed. The motor is on the left, rotary vane pump on the right. The large silver box is the 12v power supply. The on/off switch is on top with the black 12v vacuum switch bolted to the side of the switch box. Check valve in-line between tank and pump prevents vacuum loss through the pump when it's not engaged.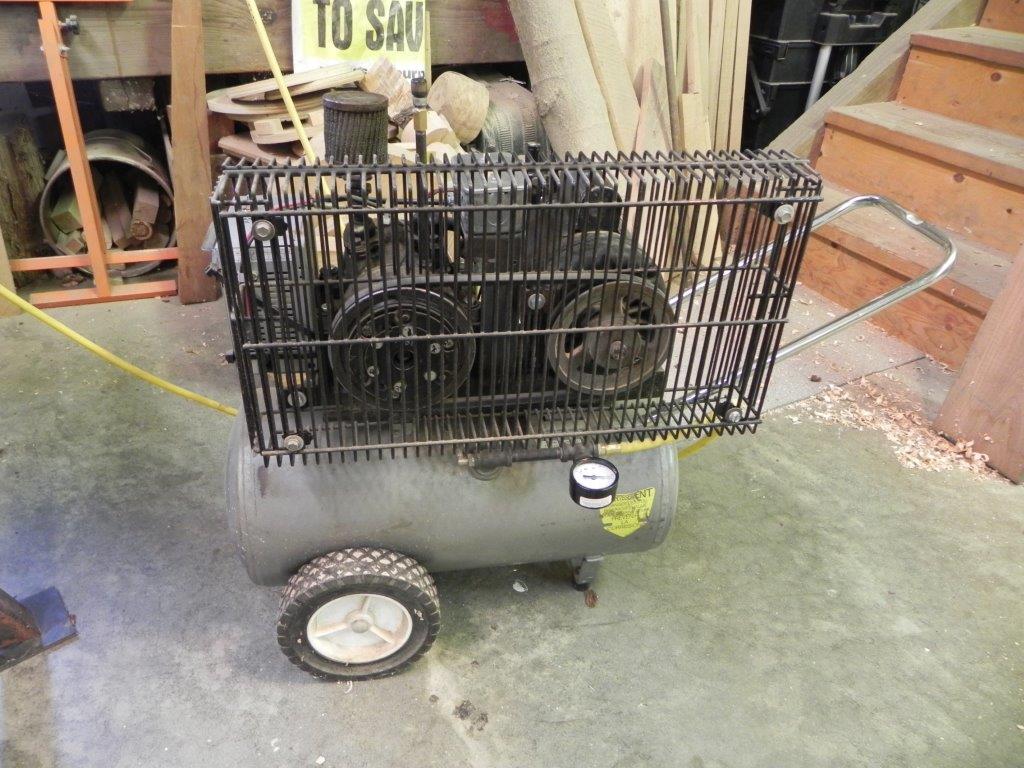 The drive side above shows the electric clutch, belt guard and vacuum gauge on tank. The "muffler" has been replaced with a coiled 50′ length of garden hose and the V-belt has been replaced by a quieter link belt. The whole package is now very quiet in operation.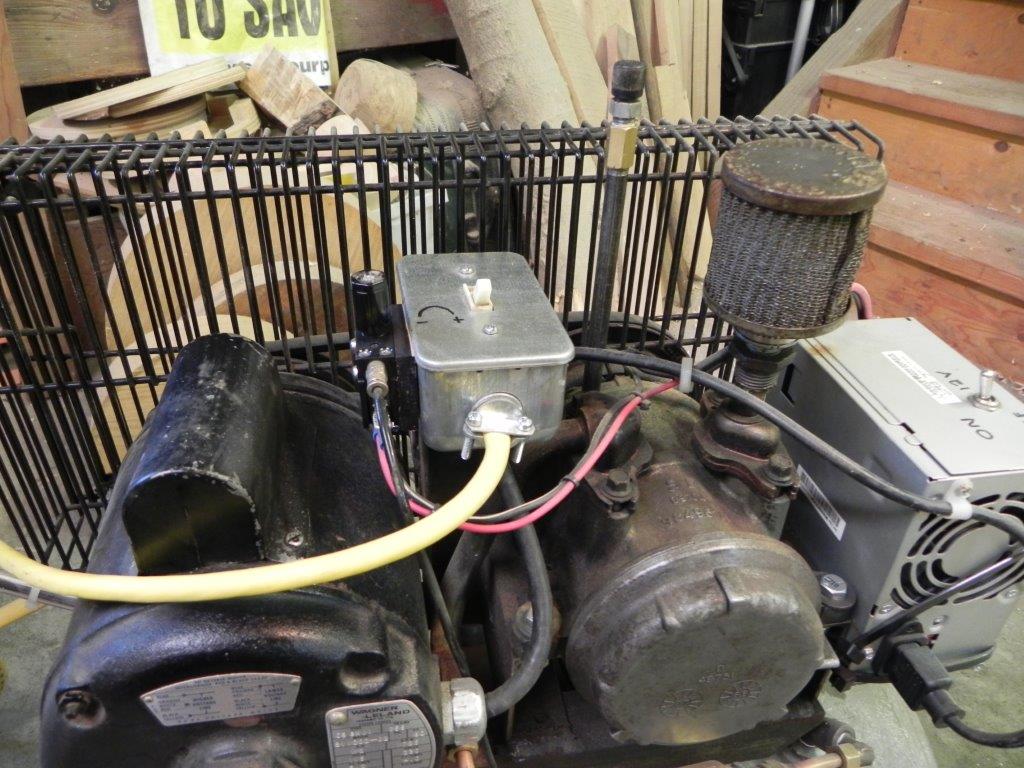 The 12v wire and vacuum line controlling the vacuum switch are more evident as is the small inlet pipe for lubrication.
The basic elements
Creating a vacuum can be done in a variety of ways, but a positive displacement pump driven by a motor, from a home builder's point of view, is probably the simplest. The power required is a minimum of 1/4 hp but 1/2 hp is better. Any more is a waste unless you have something larger "in stock." Quarter horse motors are inexpensive (often free) and readily available as a used item with half horse being a bit more pricey. Pumps can be piston or rotary vane. I've had both and the rotary vane is more efficient and somewhat quieter. Automotive air conditioning compressors are a good choice for a pump.
Why a compressor when I'm trying to make a vacuum, you ask? All pumps have an inlet and an outlet. We'll use the inlet to draw the air from the system so that our pump now creates a vacuum rather than building pressure. The outlet simply goes to atmosphere. It will need a muffler but we'll talk about that later.
So there you have your basic system: a motor driving a pump to create a vacuum. For a long time that's all I had and was quite happy with it. The small downside is that it has to run all the time while you are turning. Even my upgraded model with tank and vacuum switch still runs the whole time if the wood is very porous, so not to worry.
My source for AC compressors (extras for spares and for friends) was the fire department training yard where I worked. Stripping the air conditioning compressors from the wrecks didn't reduce their value as training props. Wrecking yards will want a few bucks but with a bit of luck you may find one for the right price.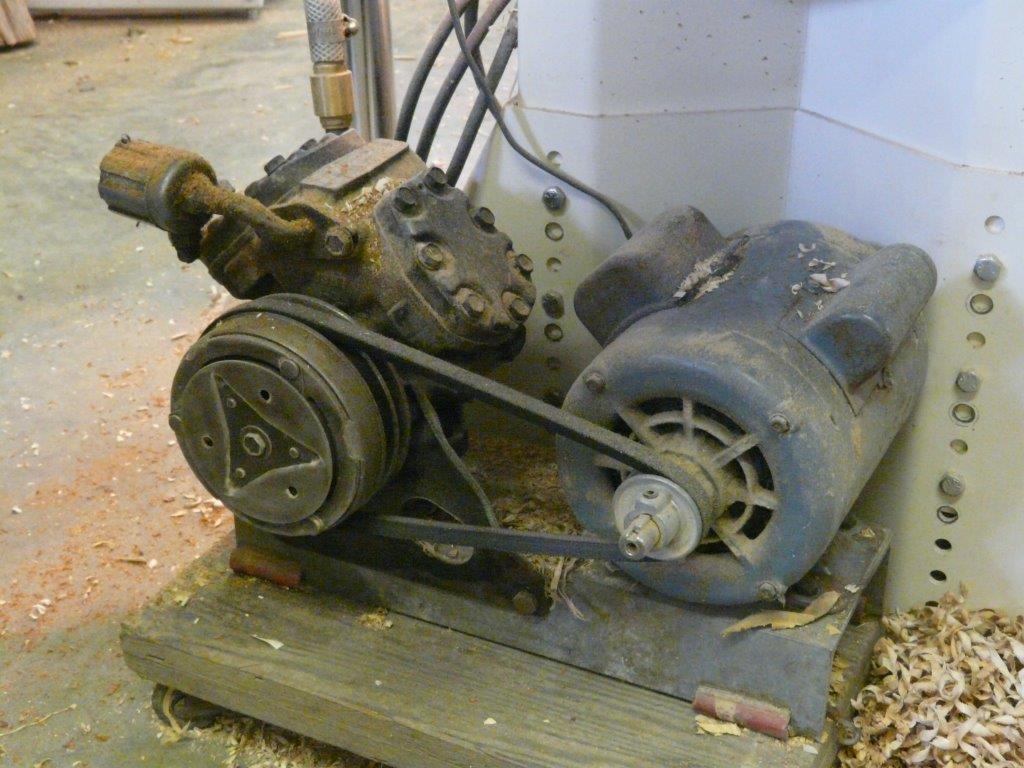 My original vacuum pump. Minimal but very serviceable. Note V-twin piston arrangement. This pump was VERY loud.
Beyond the basics
To make things a little more sophisticated, a reservoir (tank) is a nice touch. For one thing, loss of power to the motor won't result in a sudden loss of vacuum, so you will have time to shut your lathe down if you have a reservoir. No particular size is required, just something for some cushion. My tank was donated from an old air compressor that retired itself in a very spectacular way. A standard plumbing check valve in-line between the pump and tank will prevent any leaks in the pump causing vacuum loss while the pump is not running.
Another cool addition is an electric clutch on the pump which, happily, all automotive AC compressors have already. As a matter fact it's something that you have to lock up if you don't use it (see the weld beads on the clutch/pulley combination in the photo above). To take advantage of it, you have to have a 12-volt transformer in your system, but it's handy. I used a 12-volt power source from an old computer. Believe it or not, that was easier than trying to find and buy a 12-volt transformer. Now you can switch your motor on without it having the full load of the pump right away, then switch the pump on once it's running at full speed. Your motor will thank you for that.
The "piéce de resistance" is a vacuum switch to control the power to the electric clutch on the pump. This little item will probably not be in your junk drawers and will cost more than $50, but if you can work it in, it's really nice to have. To be effective, you must have a tank as well as the switch. With the vacuum switch in line, the motor will run constantly but the pump will cut in only when the vacuum drops below a set level. The tank will give the pump rest periods the same way it does on an air compressor. Without the switch and tank, the pump runs constantly. As noted previously, if you have a leaky piece of wood, it will run constantly anyway. The vacuum switch, therefore, is a "nice to have."
So, in order of importance: motor and pump, clutch to control the pump (requires a 12v power source), tank then vacuum switch. One thing to consider is that a basic motor and pump can provide for your needs until you have the opportunity to gather the parts to make something more sophisticated like I did.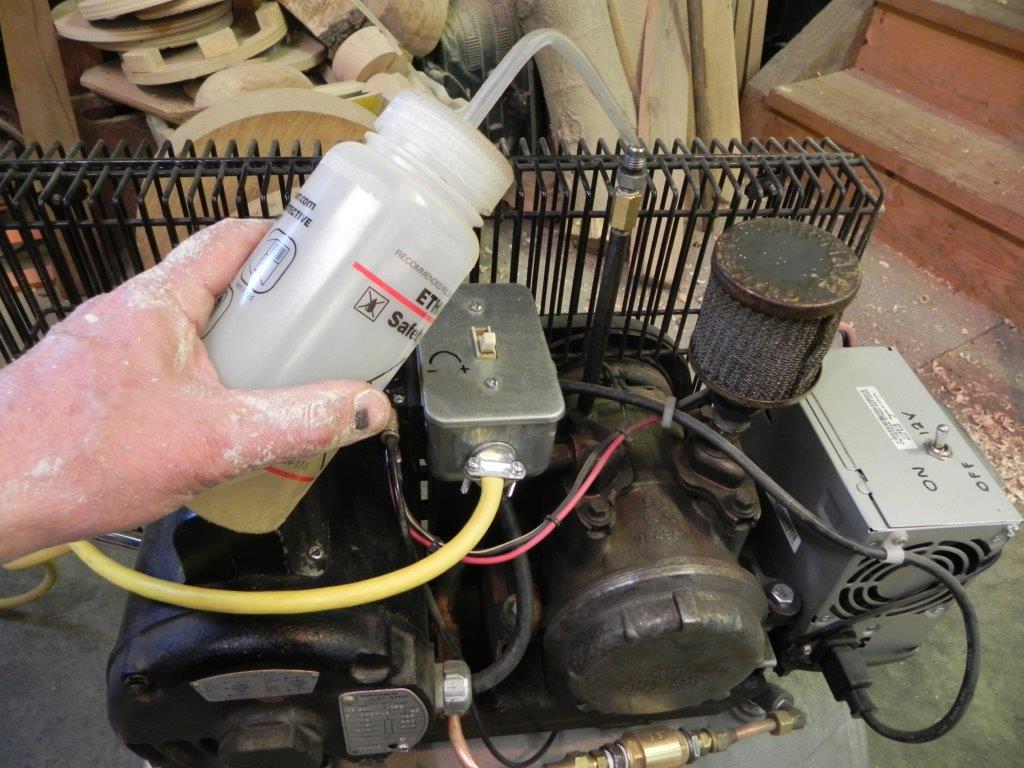 Lubrication of rotary pumps is usually a simple matter of locating the charging fitting and making it accessible.
Notice the inlet and outlet manifolds on top of the pump. Most are very easy to locate, remove and modify.
It bears mentioning that all pumps will require lubrication. Piston pumps will likely have a small crankcase with oil in it. Rotary vane pumps will require a shot of air tool oil each time you use it. The AC fluid that they normally pump has an oil additive in it. All pumps will have a small fitting normally used to charge the system. I extended mine with a small pipe so that I could reach it easily when I turn it on. The vacuum sucks it in nicely and the job is done.
As you can see from the photo, I tricked mine out with a belt guard. A Link-Belt now runs much quieter than the standard V belt in the photos. All vacuum pumps are in effect a small siren so they tend to be a bit annoying. I replaced the ineffective screen filter "muffler" in the photo by simply plumbing the exhaust port with an ordinary garden hose thread, attached an old 50′ coiled hose tucked under the tank, making a fantastic muffler.
I mentioned offhandedly a few times about switching, wiring and plumbing. If you have the ability to throw something like this together, all of this will make sense and the switching and electrical wiring will be elementary. So too, will any plumbing or connecting of hoses. There is no lack of websites dedicated to isolating the 12v power in computer power sources. If wiring something like this seems a little beyond your capabilities, then you should probably settle on buying a pump rather than building something that could quite likely be unsafe. Not to worry, you can still put a complete system together without breaking the bank. The pump — built or bought — must be connected to the lathe with a bit of plumbing. That part is quite easy and I'll continue next week with a post on the necessary plumbing for a vacuum chucking system.
Do you think a basic motor and pump is sufficient or do you think the "deluxe model" is worth the extra effort and expense?