If you want some zany and fantastic cake decorating ideas, look no further than this roundup full of wonky cake inspiration!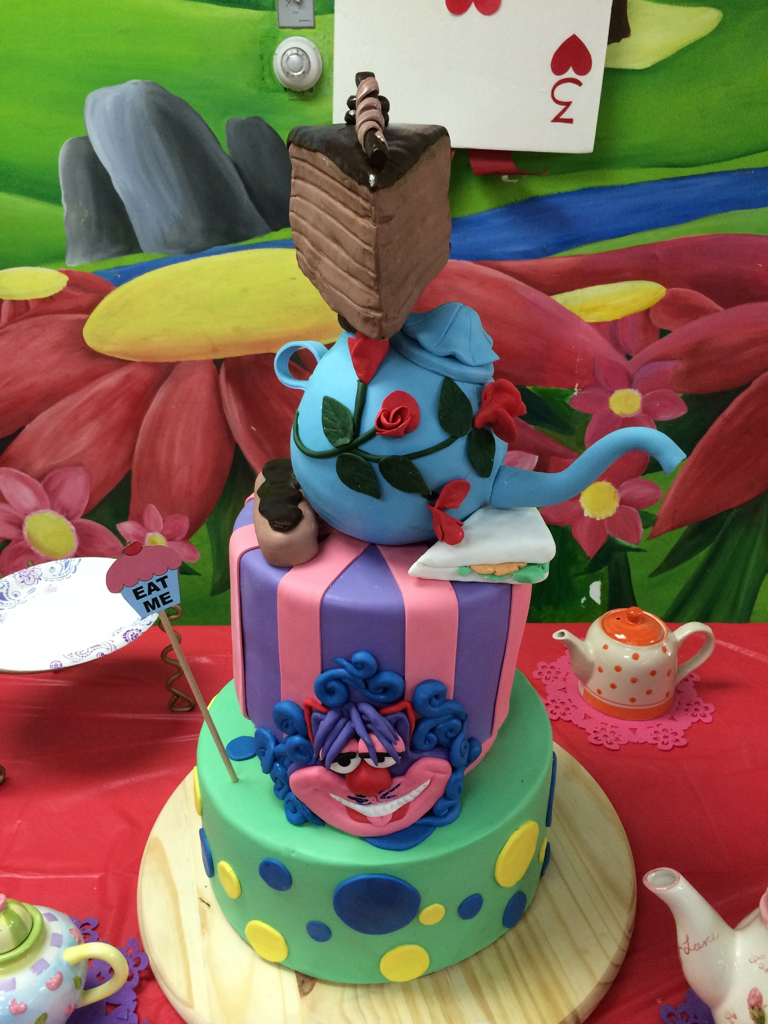 These whimsical and wild cakes may look off kilter, but their construction is sound thanks to Craftsy course Topsy-Turvy Cake Construction. Under the watchful eye of decorating veteran Richard Ruskell, you'll learn what types of cakes and fillings are ideal, how to construct a support system, how to cover your tiers in fondant and how to stack your cake. When you put this delicious eduction to work, you'll end up with jaw-dropping creations.
Let's get zany with this collection of wonky cake designs!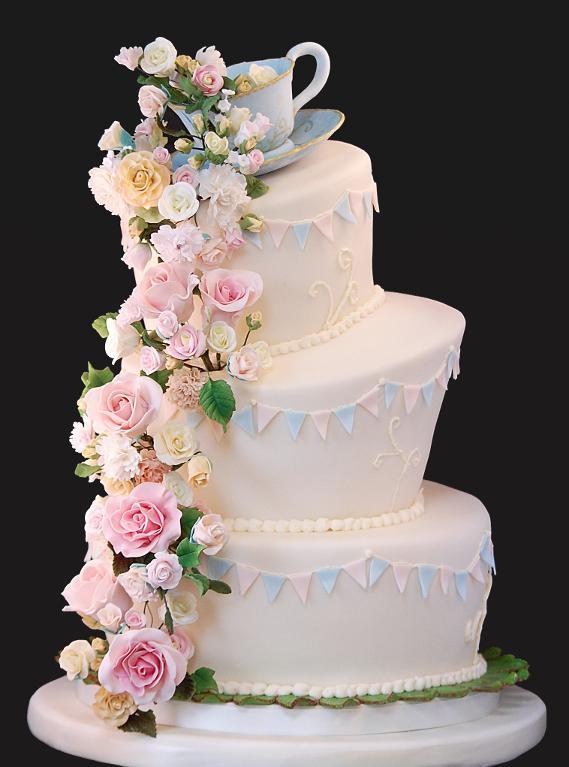 Spring flowers cake via Craftsy member Claire Carousel
May flowers & a tea party
Spring has sprung on this delightful cake, featuring charmingly wonky cake layers festooned with realistic sugar flowers, a teacup topper and a flag border. The piping lining each fondant topped layer is the perfect finishing touch. This quirky cake would pair perfectly with a shabby-chic, mismatched set of antique tea cups.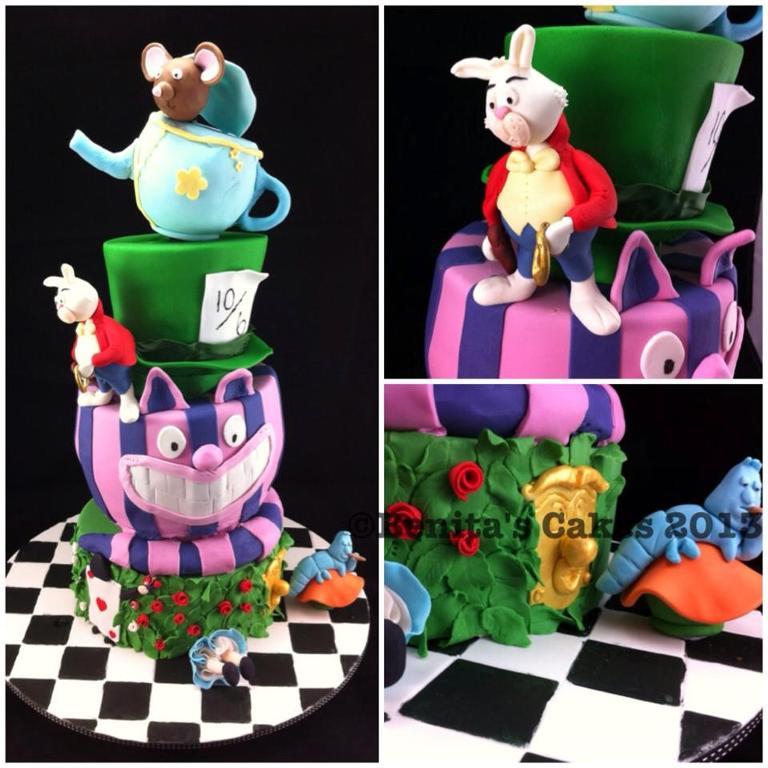 Alice in Wonderland cake via Craftsy member Benitas Cakes
Alice in Wonderland
The Mad Hatter may have said, "We're all mad here," but there's a method to the madness of this wonderful Alice in Wonderland-themed cake. It's more like a wonky wonderland, with tiers featuring a fondant rose garden, a grinning Cheshire cat, an off-centered top hat with what looks like a perilously perched tea pot. Thanks to an inner construction system, though, this cake is built to last.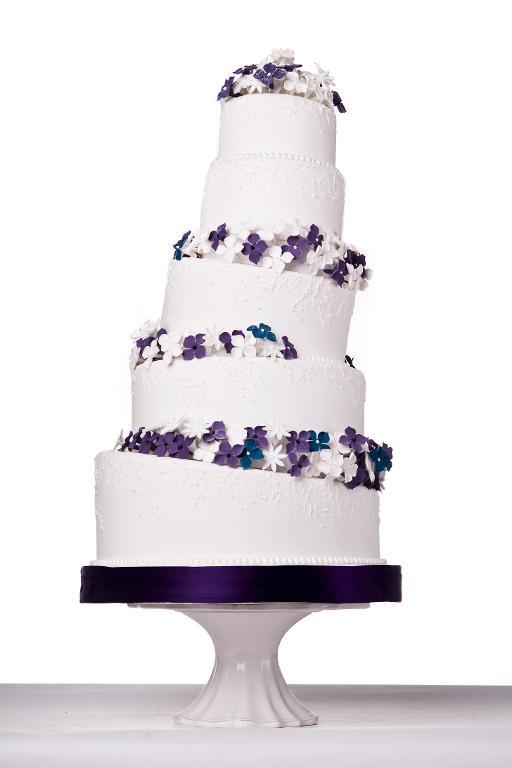 Topsy-turvy wedding cake via Craftsy member L Mcdonald
Wonky white wedding cake
While many associate wonky cakes with wacky whimsy, this cake proves that a  topsy turvy alignment can be sophisticated as well. This wedding cake, with slanted cake layers, is most definitely zany, but its lovely white fondant covering, textured detailing, pearl border and delicate sugar flowers make it appropriate for even a formal wedding.
Wizard of Oz cake via Craftsy member ltwest5
Wonderful Wizard of Oz
We're off to see the wizard! This awe inspiring Wizard of Oz themed cake is wonky perfection. Expertly constructed layers are the sturdy base for this veritable fantasy world of fondant and modeling chocolate decorations. These decorations were assembled in advance and then affixed to the cake, made to resemble all of your favorite characters and settings from the classic film.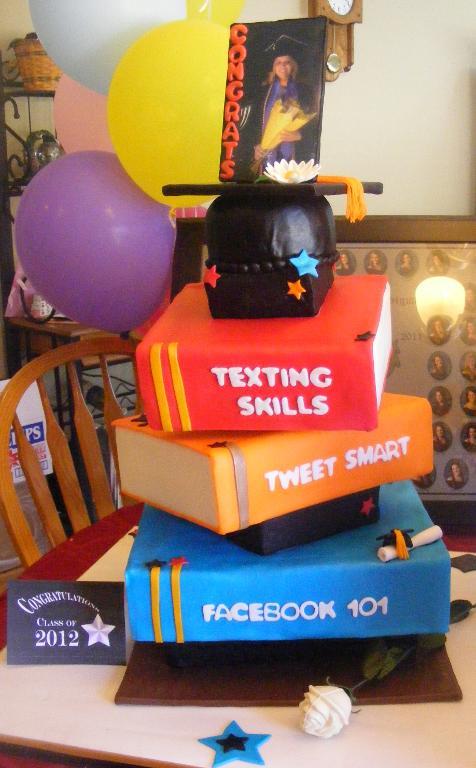 Wonky graduation cake via Craftsy member Agnes Trinidad
Degree in cake decorating 101
An off-centered orientation works perfectly for this graduation cake, decorated to look like a stack of teetering textbooks and topped with a graduation cap. Although an inner support system keeps everything in place, the overall effect is breezy and effortless. This fantastic layer cake features fondant cutout lettering for the tongue-in-cheek textbook titles and a photo transfer of the grad featured as a topper.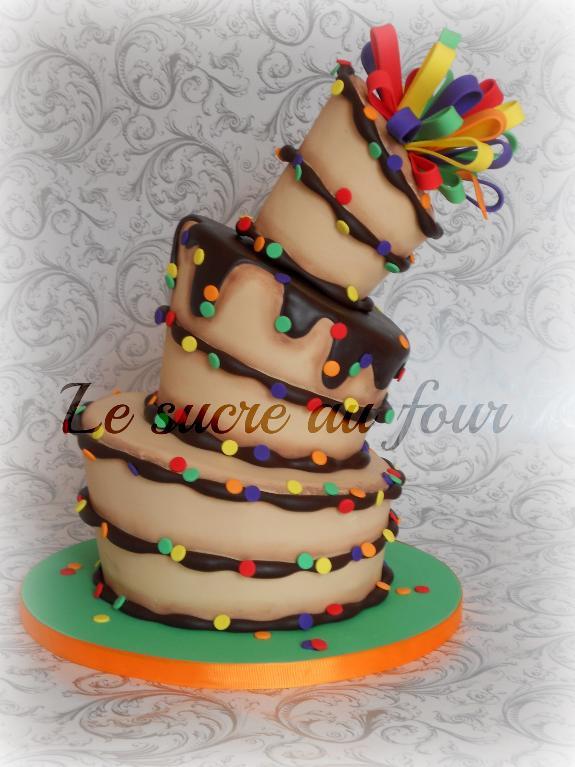 Topsy-Turvy birthday cake via Craftsy member lesucreaufour
Rainbow candy cake
This cake may look like a calamity in the works, but it's really the result of clever topsy-turvy architecture. An inner support system allows the kooky layers to be stacked, so that they look as if they are tipping over. The shape is impressive enough, but the clever decoration, with outside layers decorated in fondant and brushed detailing to look like a stylized, almost cartoon-like cake, gives the cake a whimsical, colorful and completely wow-worthy effect.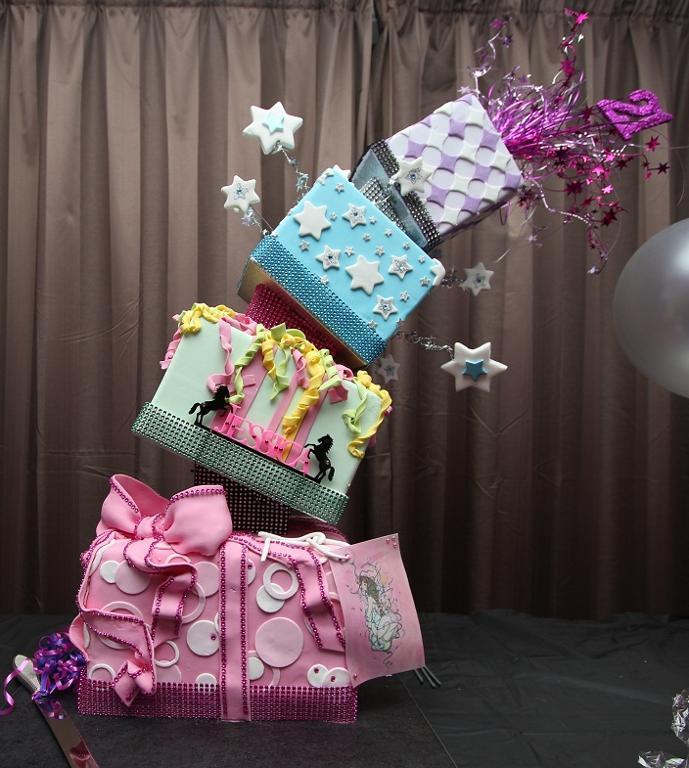 21st birthday cake via Craftsy member Kristin Winsall
Unconventional 21st birthday cake
This photo might have you wishing you could rush to rescue this cake, which looks like it's about to topple over into a pile of magnificent crumbs. But you need not worry: With a similar support structure as the cake above, this cake can lean away. Precise yet crazy layers are all decorated extremely fashionably, with fondant circles,
polka dots
 and
stripes
in a candy-shop color palette. Diamante borders and an acrylic cake topper finish off the delightful effect.
Have you ever made a topsy-turvy cake? What unconventional cake designs have you used?