We're off to see these magical Wizard of Oz cupcakes just in time to celebrate the 75th Anniversary of the timeless movie and its 5-disc collector's edition release! The film, originally released in 1939, has become a classic that has lasted for many generations and continues to be a beloved theme for children's parties and celebrations. Add some magic to your own Wizard of Oz party with these beautiful cake decorating ideas!
This inspiring collection of  cupcakes and fondant cake decor will transport you somewhere over the rainbow to the sweet, magical land of Oz.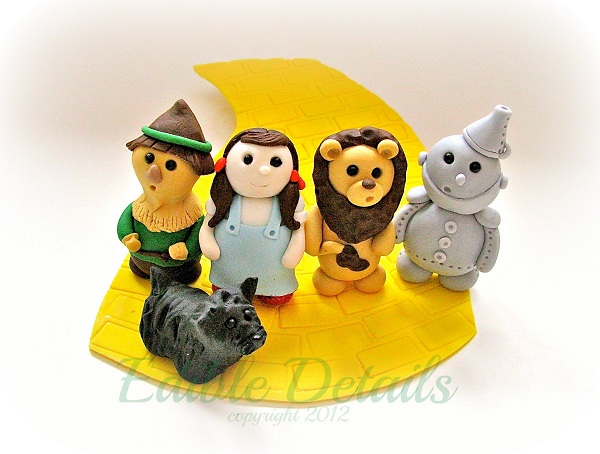 Photo via Edible Details
Wizard of Oz fondant toppers
These sweet and adorable three-dimensional figures depicting the well-known characters from The Wizard of Oz were modeled out of fondant by Edible Details and paired with a sculpted yellow brick road. These fondant toppers make it simple to dress up and embellish any cake, whether covered in fondant or simply iced with buttercream.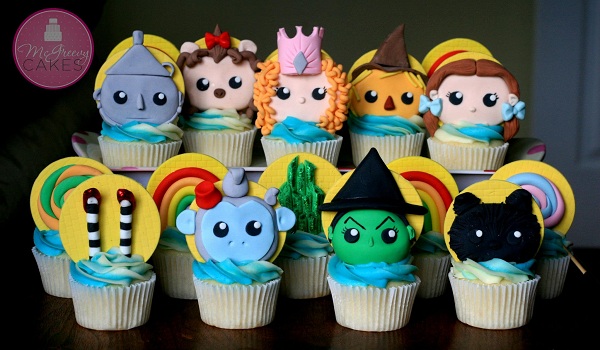 Photo via McGreevy Cakes
Wizard of Oz stand-up cupcakes
McGreevy Cakes topped cupcakes with these exquisite fondant toppers based on the characters and details of the movie. Displaying the sugar decor vertically on the cupcakes provides a creative and fun presentation and allows for a better view of the film's cast of characters. The yellow brick fondant disc utilized in every design provides continuity throughout. This video tutorial demonstrates how to achieve the look with an impression mat, along with the steps to re-create a couple of the characters.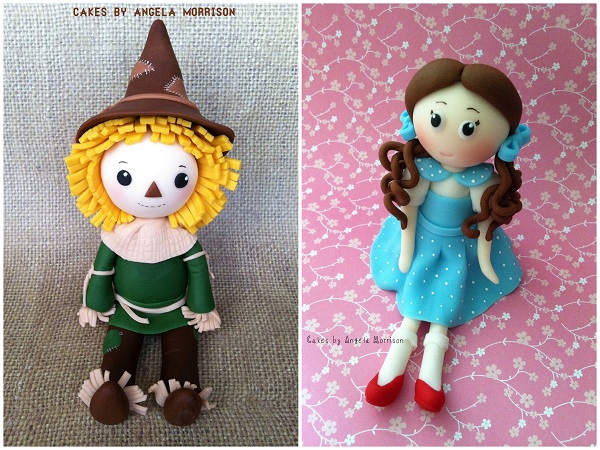 Photo via Cakes by Angela Morrison
Scarecrow and Dorothy fondant figures
Angela Morrison did a tremendous job capturing the essence of a couple the Scarecrow and Dorothy in these charming three-dimensional cake toppers. Modeled out of fondant, these figures demonstrate the artist's ability to interpret and put her own twist on well-known personalities to make them her own design, yet still highly recognizable.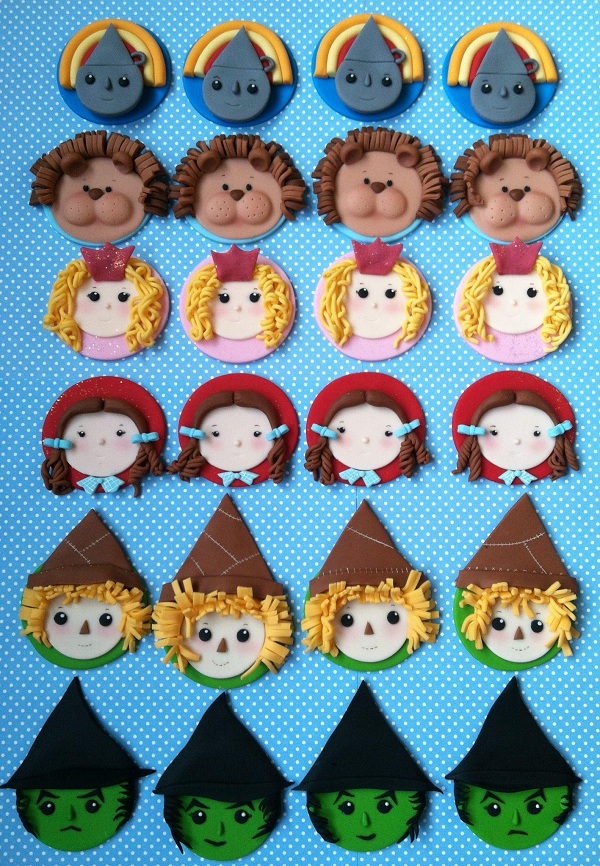 Photo via Cakes by Angela Morrison
Wizard of Oz fondant cupcake toppers
To supplement the figures above, Angela Morrison also created these adorable and captivating fondant cupcake toppers, portraying the movie's treasured characters in a cartoon-like manner. Each person or animal was constructed primarily out of flat fondant designs, while dimension was added with the hair and fur.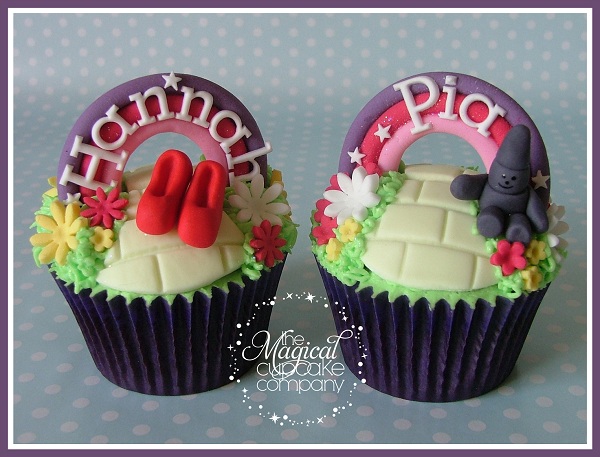 Photo via The Magical Cupcake Company
Yellow Brick Road cupcakes
These sweet and precious cupcakes created by The Magical Cupcake Company were covered almost entirely with a fondant yellow brick road and adorned with flowers, significant and recognizable items from the story, and personalized rainbows. This is a great way to create an entire miniature scene from the film on a single cupcake, which is perfect if you are only making a couple special treats or if you need to single out a few specific items for the guest of honor, supplementing them with simpler designs.

Photo via Carousel Cupcakes
Oz the Great and Powerful cupcakes
Earlier this year, Disney released Oz the Great and Powerful, a film based on the Oz novels by L. Frank Baum that's essentially a prequel to The Wizard of Oz. This dazzling set by Carousel Cupcakes captivates the brilliant and vivid colors and images of the new film, intermingling the classic and familiar elements with the modern aspects of the storyline. The use of edible glitter and hand-painted details give the collection a brilliant and magical quality.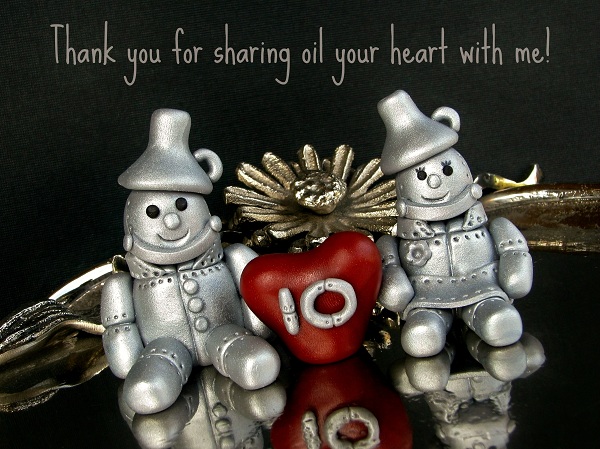 Photo via Lynlee's Petite Cakes
Tin couple fondant figures
This fondant tin couple was inspired by the character of the Tin Man, who longs for a heart, in The Wizard of Oz. Since the traditional gift for a couple celebrating a 10 year anniversary is that of tin, this made the perfect theme to mark this milestone celebration. The figures were modeled out of light gray fondant and once assembled, sprayed with a silver food spray and allowed to dry thoroughly.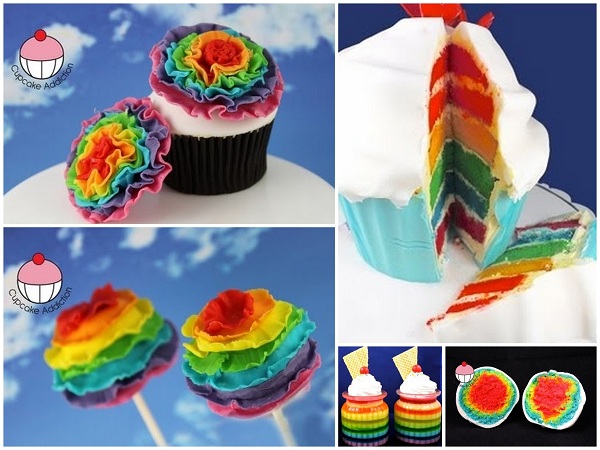 Photo via Cupcake Addiction
Over the rainbow sweets
One cannot think of The Wizard of Oz without remembering the quintessential "Somewhere Over the Rainbow" anthem sung by Judy Garland, which makes rainbows the perfect decoration for this motif! Cupcake Addiction has done an unbelievable job in incorporating rainbow elements to an abundance of confections, including rainbow cakes and striped cupcakes that could easily be applied to this theme. They have generously provided video tutorials for rainbow desserts. The instructions include the steps to making rainbow embellishments for treats, such as cakes, cupcakes and cake pops, as well as baking the pattern within them.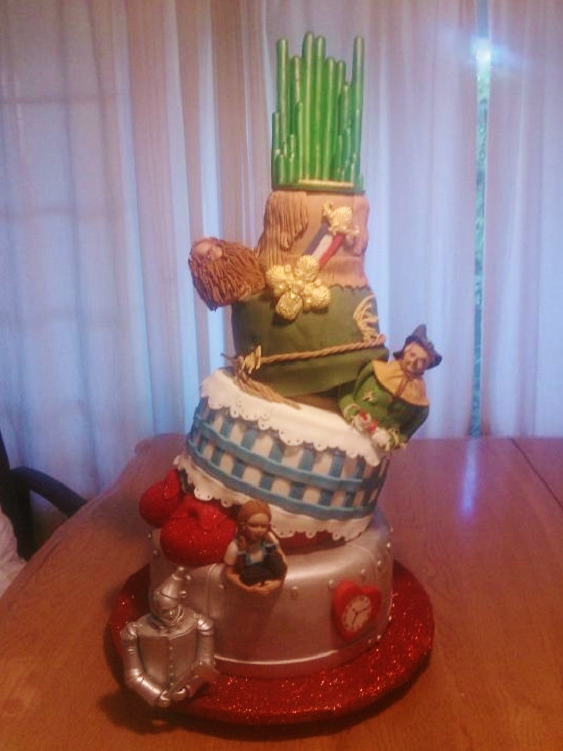 Topsy Turvy Wizard of Oz via Bluprint member ltwest5
Topsy-turvy Wizard of Oz cake
This incredibly elaborate topsy-turvy cake was made by Bluprint member ltwest5 with the help of the course Topsy-Turvy Cake Construction with Richard Ruskell. Each tier was inspired by the clothing worn by the characters of The Wizard of Oz and fondant figures were sculpted and placed by their corresponding costumes, along with significant items. The beautiful and innovation design of this tiered cake demonstrates the possibilities of finding creative inspiration in so many different elements of an overall theme.
How will you transform this timeless classic into a sweet creation of your own?